After playing through a few hours of both Mega Man X Legacy Collection volumes, it's safe to say that this is the Mega Man X collection you need whether you're a fan or you're just curious about the series.
Here are our tips on what you should do and what you need to know before jumping head-first into this collection
Mega Man X Games Are Still Tough AF
My reflexes aren't what they used to be. While I still remember the recommended order of boss takedowns from part 1 to part 6, I have to remember that these games came out during a time when 2D platforming and run-&-gun games were at their prime. This means that the levels in this collection (at least from parts 1 to 5) are tough but fair. When you reach the penultimate stages, you're expected to know how to use each animal boss' acquired weapon and be on-point with your dashes, air dashes (horizontal AND vertical), and wall-climbing.
This is where the collection excels at: reminding gamers that this Mega Man spin-off is damn good at delivering quality action and shooting mixed with semi-open-ended level structure and design.
Mega Man Fans Are Going To Love The Museum
You have artworks on display along with some info on the heroes and antagonists. You have a music player featuring all of the game's tracks. You even have a list of toys and ads of the X franchise straight out of Japan (where he's called Rock Man). They're all laid-out well and available from the get-go; no need for you to replay the game over and over to unlock them.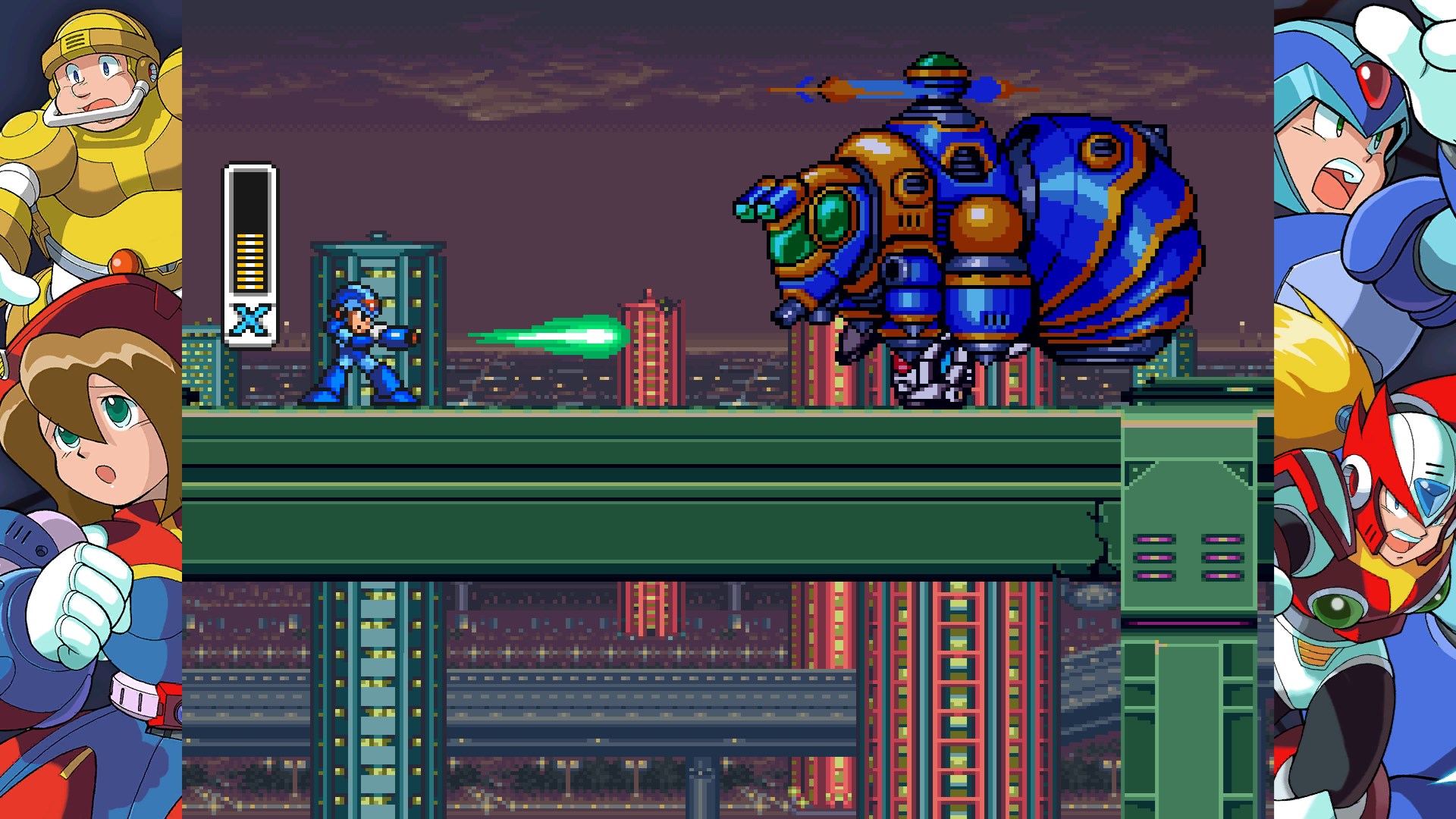 Mega Man X1-4 Are Still God-Like
If you had to pick between Mega Man X Legacy Collection volume 1 and 2, just go for 1 because it contains 3 of the best games in the series. As a bonus, you can change between the Japanese versions which means you can enjoy the Mega Man X4 cutscenes and dialogue in its native Japanese language.
Mega Man X6 And X7 Are Still Bad
No amount of remixes and remasterings can cement the fact that Mega Man X6 and X7 are poorly conceived and designed from the get-go. Although X6 gets the advantage due to its 2D nature, it's just like choosing between a turd and a slightly less-smelly turd.
The X-Challenge Is A Decent Diversion
Both Legacy Collection volumes feature a new mode called X-Challenge, where you control Mega Man X and fight two bosses from the series at the same time. You'll find extravagant combos such as Frost Walrus and Chill Penguin, as well as Crescent Grizzly and Slash Beast.
Fighting each of them on their own can be challenging, but imagine having two of them use their same distinct patterns on the same battlefield. It's going to be a chaotic playing field in which you have to defeat the both of them within a time limit. Fortunately, you're allowed to pick up to three weapons so of course, you're going to use the weapons they're weak against. Since this mode has its own leaderboard, you'll have fun trying to get the best times and compare them with other Mega Man X fans.
The Switch & PC Version Needs To Be Fixed
You might be thinking: why not get the Nintendo Switch version since there's portability to be had when playing these awesome games? Simple: because the Switch's hardware isn't up-to-par with Capcom's choice of emulation. The first 3 Mega Man X games pushed the SNES to its limits, which means that there are bits of slowdown in key areas.
However, the Switch version seems to show off more slowdown than usual. Whether they're during quiet moments or frenetic wall-climbing bits, these Switch foibles are inconsistent.
What's weird is that these slowdowns don't happen in the second volume's X7 and X8. Neither PS2Â MMXÂ game has ever appeared in an anthology before, and that means their emulation was likely written from scratch. So I'm guessing that Capcom's emulator for the first volume is outdated and not compatible with Switch hardware.
Meanwhile, on the PC version, we get quirks like unoptimized resolutions (the game is locked to four), which means possible chances of misaligned pixels in available resolution if you're running the game on a 4K TV. The game also cuts down its frame rate if you set either volume to run in pure fullscreen mode instead of borderless fullscreen.
Let's hope Capcom fixes these bugs and add in new resolution features in the coming few weeks.
The Best Version Of The Collection Is Still On Consoles
The Xbox One and PS4 versions so far are working with no hitches or glitches whatsoever. So yeah, buy those versions if you need the best version of the collections.
https://www.facebook.com/kakuchopurei/videos/1495086970595713/