No one likes a faker, especially in the video games industry.
If we're talking LoL's Faker, that's a completely different story. But that's beside the point. There are far too many new players encroaching the games industry who want to create an app or at least sell the promise of making and implementing one.
Not game publishers and game developers mind you; I'm referring to people who encircle and create apps, websites, and social profile services around existing games of the esports variant. For every successful(?) one like competitive gaming betting site Unikrn to cryptocurrency fares like Enjin Coin, there are many others who spout the "fake it 'til you make it" mantra.
Meta.us is anything but that mantra & what it stands for. At least, as far I know based on my conversation with the company's cheery and wise CEO Alan Chou.
But What Is Meta.us?
It's a website that caters to esports, be it low-level aspiring players to even high-level teams. A "LinkedIn for esports gamers", if you will. When I heard that phrase, I think of past endeavours like Rezli and Duxter that try to establish that platform to help out the esports ecosystem.
Somehow or other, they did not make much of a dent, especially when you compare it to other social platforms like Raptr and Discord.
So what makes newcomer meta.us special? That's the easy bit: community and authenticity. While competitors exist in this esports third-party platform space, he truly believes that his team's background makes them stand apart from the rest.
I don't think [Meta.us] is a necessarily unique idea, but it's all coming down to execution. We come from the game industry, so it's not enough for someone to say "oh I play games". 
"Esports is part community and part commercial and part relationships. It's a small ecosystem. What we've done is that we've built something, knowing the community, having reached out to them, understand their needs, features, and their pain point, and then build that."
He also adds that being authentic is crucial in making Meta.us work. "It's REALLY important. Your actions need to be parallel with your marketing taglines. This demographic is very, VERY sharp and they can smell some things that aren't authentic very, VERY quickly."
The Meta.us team has gamer cred; huge one at that after a few hours at their personal after-party to celebrate the site's launch. Alan himself has played HotS, Overwatch, and a slew of other games even after hours from the Blizzard Singapore offices.
His team consist of true gamers, with one of them being the few players who completed the P.T demo for PS4 from start to finish while being pissed-scared. Another member who handles content is a true Dota 2 insider who worked on various Dota 2 esports-related articles for sites like Red Bull.
The site's designer & her significant other are huge Final Fantasy fans, having played and invested her free time in Final Fantasy XV: A Realm Reborn and its subsequent expansions. Throughout their experiences, they know what the esports community want out of an esports platform like Meta.us.
"When I was at Blizzard," Alan said, "we had our own esports tournament. I had a chance to meet up with a lot of the team and they ask simple questions. Like how should I become a professional StarCraft player or Overwatch player, but I was never able to answer the questions. I would be saying at the time "play the game well, and maybe you'll get lucky?"
"Now that esports is this huge industry, it seems strange to me that no one can really answer that question."
And deliver they shall threefold.
Finding Teams & Sticking With Them
Meta.us aims to solve three major hurdles in the esports game growth. The first is accessibility for newbies who want to get into the esports field.
"If you're a player and the first game you want to start competing in is Dota 2, and you're doing well in pub, that's great," said Alan. "But if you want to compete and find four people who are at the same level as you…right now it's hard. If your circle of friends is limited and if you can't find cybercafé friends, you're stuck."
Once you sign up for Meta.us and answer the necessary questions, you can start using the platform's team-forming and team skirmish search features.
The second problem is finding tournaments to gauge your skill level as a group. Finding a full team of 5 for a scrim/practice session like Dota 2 is hard, according to Alan. "Right now you have to use Discord or a chat channel to look. And you wait; it's really inefficient."
And even after a few scrims, these teams have to find tournaments to rank themselves. "No one's going to jump into a major; they have to start at a lower level and work their way up. These tourneys are common but aren't easy to discover." That's where Meta.us comes in: players who register will have these options laid out for them.
"We spent a lot of time making the site look good, intuitive to navigate and create an account," Alan added. "Everyone understands how to create an account, find a player, create a team, and find players."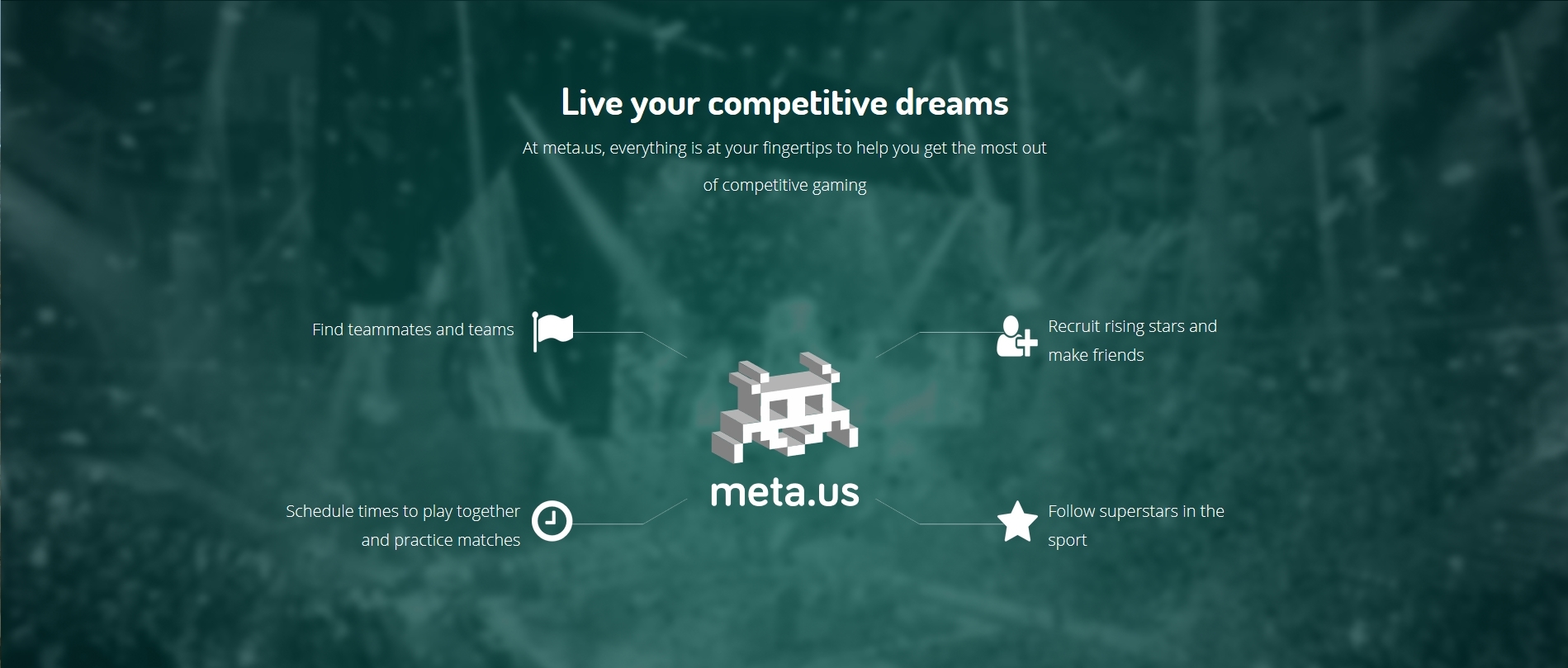 Going Big
Even if you're a renowned team in either The Philippines or Vietnam, it's hard to get your name out there in the international circuit. Alan said that the Meta.us team talked to a lot of players and teams.
All of them have different needs for their side, be it a special page to talk about their achievements, a dedicated social media presence they can control, or sponsors who believe in their dream.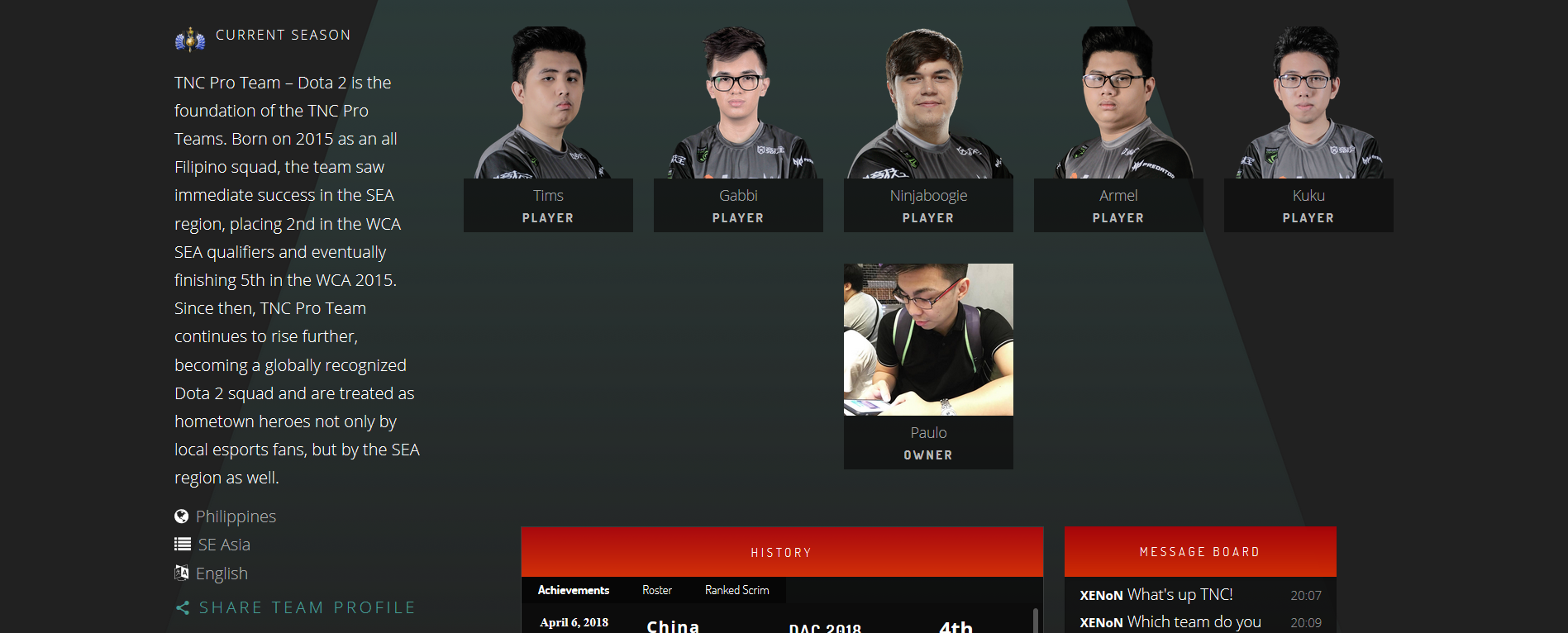 One example of how Meta.us helps certain big teams out is TNC Pro's case. "This team does not have problems with finding scrims," said Alan, "but they want to find ways to create something compelling for their fans to follow the team and build the fanbase."
"So we created [a custom page & toolset] for them so that they can put up videos, streams, and profiles without filtering through a backlog of third party sites. In addition, there are animations to make it look awesome and fit their profile."
Meta.us also hopes that its LinkedIn-esque nature can help with the sponsor-searching step. "At the end of the day, if a team is winning tournaments and want to quit their day jobs to find sponsors; that itself is the biggest hurdle for any esports team. They don't know how to reach, pitch, and market themselves to sponsors."
Meta.us has tournament locators within regions and countries, as well as an option to contact sponsors to help with the pro gaming journey.
Why Dota 2?
Meta.us right now is catering towards one game: the ever-popular Dota 2. The platform will add in more games in the future, but for now, Dota 2 already has a stable community; perfect for Meta.us' demographic.
When it came to the key thing in esports, Alan came to a realization that numbers aren't everything.
"We thought stats were going to be important and Steam has an API that lets you pull stats. It turns out that stats aren't necessarily the most important thing that people view and make a decision. It's the community."
"What is it that people look at when determining the player? It's not just stats, but it's about being a team player. Either they watch the VODS or how you play in any tournament or stream and they can tell how you play overall. Another way is playing with the person to gauge how they really are in a public fight or a tournament-level match."
The Future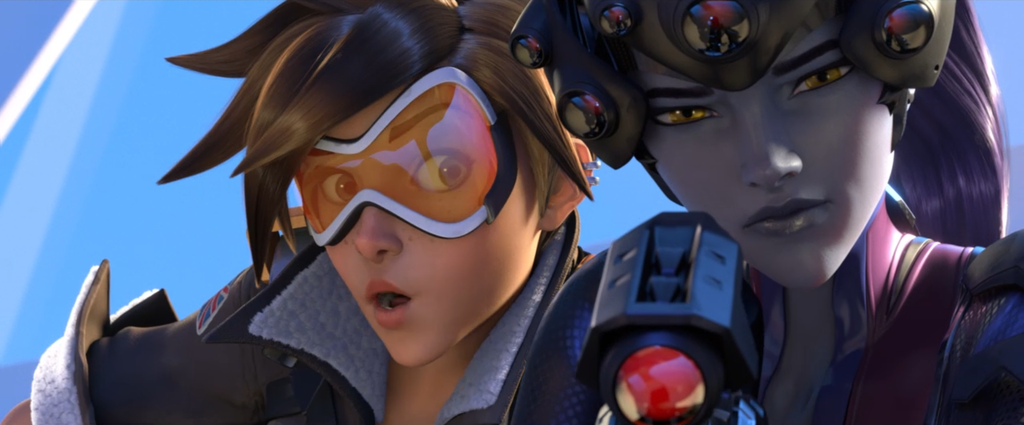 All in all, Meta.us strives to be the competitive gaming platform that ties in the crucial aspect of esports: the team, the players, the fans, and the community.
Alan adds that the platform is "competitive gaming at your fingertips" to cater to all levels: beginners, intermediates, advanced & pros. "Whether you're starting out or at the highest level, there are features that can help you and accommodate your skill level; at that particular level of gaming."
In fact, the platform's journey isn't over yet. In the next few months they'll be implementing the following:
A social feed for users to post updates and activities on their account.
More games apart from Dota 2. "In terms of next game," Alan said, "we are open to what the community ones. That includes mobile games; Southeast Asia loves their mobile games like Mobile Legends and AoV. We're not limiting ourselves."
A competition feature where tournament organizers list their tournaments for free so that players know about it and sign up easily.
Profile Types option. While the website caters to players, the site will create templates for other roles like managers, owners, coaches, and personalities.
Monetization, or at least a semblance of it. Alan said: "There are ways we can add value to the customer base; it will be cosmetic in nature."
To follow up on that last point, Alan stressed that Meta.us will always be free. "Everyone can use it and there's no cost to it."
Even in its early stages, Meta.us is shaping up to be the tie that binds all esports players together in Southeast Asia. In an age where information and connections are crucial, Meta.us could be the platform that can be that missing piece in grassroots & high-level esports communities.
To cap off this piece, here are more nuggets of wisdom from Alan because he's such a blast to talk to.
On Bringing His Past Work Experiences Into Starting Up Meta.us
"I've learned a lot [during my time in Xbox and Blizzard]. The main thing I learned is that the community knows what it wants. They just need someone to listen and learn their pain points/ weak spots."
"When they hear that someone is building a platform to address these weak points and what they want, they'll stick to it."
On The Dangers Of Starting A New Company
"Starting your own company is making me very energized. I'm building something that I believe in and building something for yourself and the community. The two doesn't feel like work; cliched I know."
"To cite "The Hard Things About Hard Things"; there are two types of CEO – the peacetime CEO and the wartime CEO. When you're in a big company, in a stable company, you're in peacetime. Everything's set: you have PR, finance, the PR; you're extending that."
"When you're in a startup, you're a wartime CEO through and through. Nothing's set, nothing's define, you do everything."
"There's no room for you to sit and wait; if you have the mentality where "it's someone else's problem" when you identify a problem, you're going to die."
"Everything matters and you have got to get on everything. It took some adjusting for my end to have that feeling hit home to me."
Related