After 7 Seasons, Voltron: Legendary Defender Is A Great Case For Anime Adaptations
This post is originally from The Last King podcast. Do check out their awesome audio shows here. 
Adaptations are a tricky thing to pull off. Steer too far from its source material and you get an alien product that may not gel with its target audience. Stay too close to the source word for word, and you'll chase off people who want to see a different directorial take on the subject matter. That's why the Lord of the Rings trilogy is a darn good adaptation while Avatar: The Last Airbender by M. Night Shyamalan is reviled by both critics, casual moviegoers, and fans.
While it's one season away before its eventual conclusion, I can safely say that Voltron: Legendary Defender is a heartfelt adaptation of the classic 80s series Voltron, which itself is based on the Beast King GoLion anime.You can check out all of the old Voltron cartoons on this channel, but the more I rewatch it, the more I realize why I don't go back to the original.
It's a product of its time: Lotor and Zarkon's Galra Empire does something bad, Team Voltron gets to the bottom of it, and there's a Ro-Beast they need to fight. And Allura probably gets kidnapped or hesitates because she's inexperienced and it's a time when it's OK to put women soldiers on the bench.
Its Japanese source material is still a few layers deeper with some lore about the lions and the gestalt bot they form, but it's hard to sit through. At the very least, it's a guilty pleasure of a series that is better watched while inebriated.
Trust the same team who did Avatar: The Legend of Korra -Studio Mir, Joaquim Dos Santos, & Lauren Montgomery- to turn things around with an adaptation worthy of the series. I'd even go as far as to say that this show supercedes its source material even if we're officially up to its 7th season. I'll explain why:
Actual Character Depth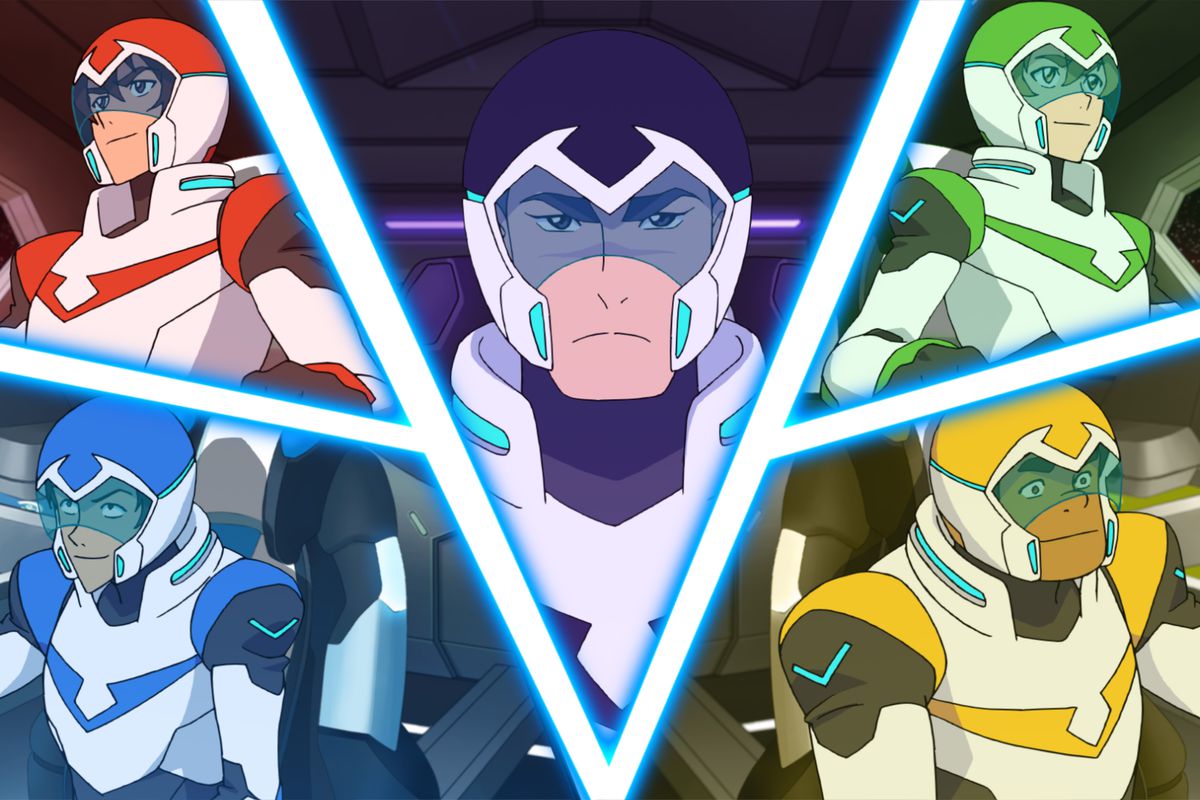 For an all-ages show, there's a lot to keep track here. You have your main characters Shiro, Keith, Lance, Pidge, Hunk, and Princess Allura. Each of them have their moments in the spotlight throughout the 7 seasons, like Pidge's true identity, Keith's lineage & his conflict with Allura, and Hunk's story arc early on in the season. Later seasons bring in darker plotlines in the story; seeing as the galaxy is in constant warfare thanks to the Galra Empire, there's always someone presumed dead or missing amidst the chaos. Oh, and the narrative adds more galaxy traveling than its predecessors. More on that later.
Even bad guys like Emperor Zarkon, Hagar, and Prince Lotor have their own backstories revealed over time, at least after the second season. In some ways, we see that they have the best of intentions for their nation, but their minds are corrupted by a combination of Quintessence "poisoning" and making amoral decisions for their nation's greater good.
They even made Altean captain Coran fun. Instead of being a background prop with a moustache like in the original Voltron, they made Coran eccentric and (sometimes) competent. Props to Rhys Darby for fleshing out this guy in full.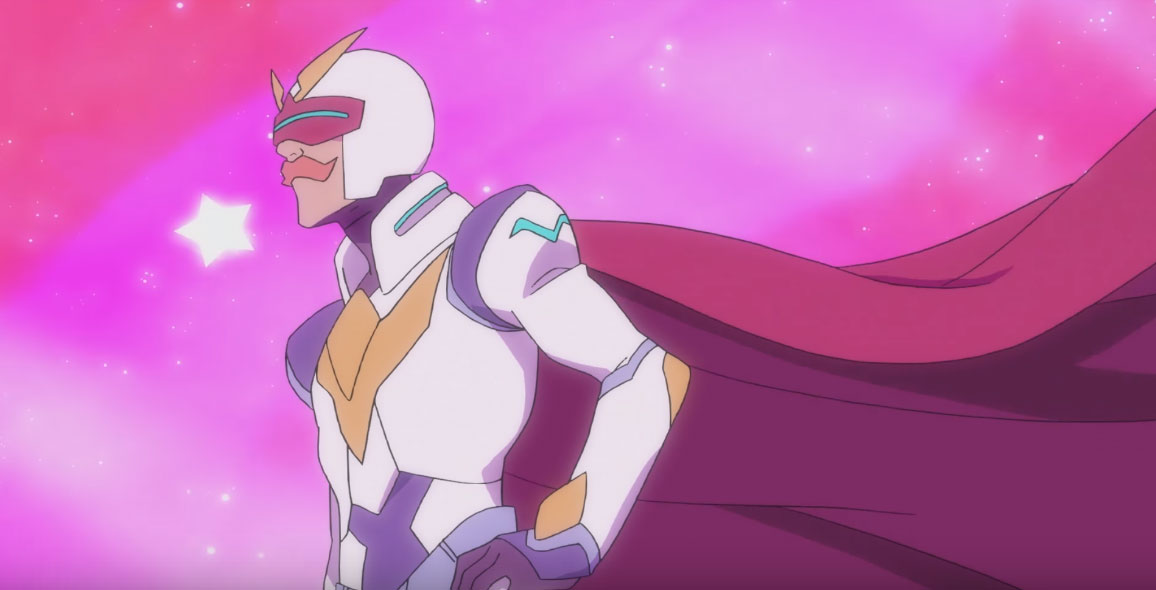 All in all, the show introduces some twists but they flesh it out rather well in an episode or two, or even have that narrative span out in more than a single episode. The showrunners opt not to stick to tradition and trusts its audience to keep up story-wise.
Scaling Power Levels
As with any shonen anime or show that mimics these tropes, you need to have unassuming heroes learning things and be outclassed early on so that they can "git gud" and eventually surpass tougher obstacles in later seasons. It shows character growth; it's really no fun to see shows where a hero is almighty and solves all problems in a template shonen anime unless it's satire (like One Punch Man).
From the first season up to the seventh, we get to see the Voltron paladins go from "n00bs" to powerhouse warriors. The power scaling of our heroes gets higher over time. They struggled with a lone Emperor Zarkon in the first season, then managed to barely defeat him in a fight in later seasons when he uses a Robeast.
Having this sort of power scaling means that you get to see guys like Shiro, Keith, and Lance grow as characters and showing off new weapons their Lions can generate out of thin air if they will it. Even the Alteans have their moment in the spotlight combat-wise, especially with Allura and her Season 2 badassery. Speaking of which…
Large-Scale Fights….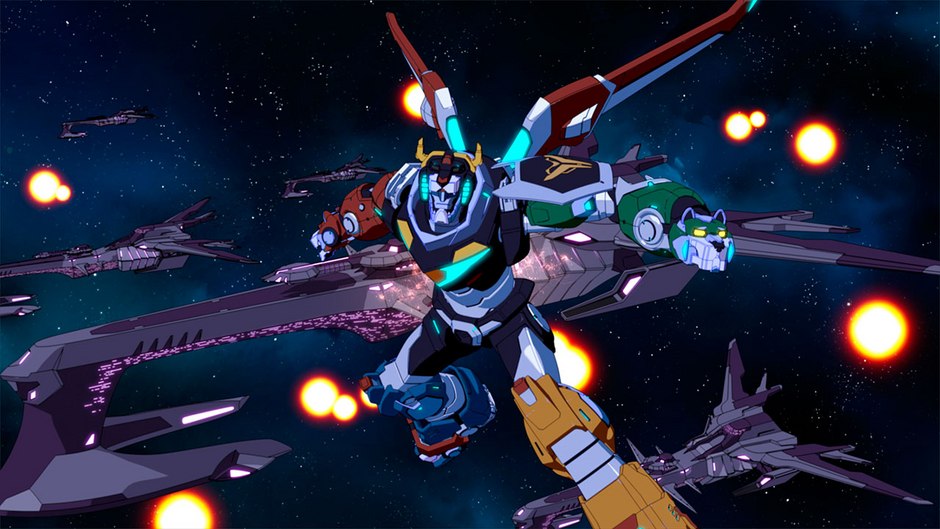 I think Season 7's last half showcases the power of animation and grandeur anime tropes where the heroes have to reclaim what was theirs from the big bads. Voltron: Legendary Defenders rely more on the long-term plan and build-up when it comes to pacing. Rather than have a large-scale fight in an earlier season or so, they save the best for last and even make some encounters a tad more personal, like the fights with Lotor and his all-female armada.
If we're talking about older episodes and arcs, even the first & second seasons have impressive setpieces and battles like the bit with the rock alien tribe's liberation, and that epic showdown in season 2 where Allura and the Blade of Malmora faced off against Hagar and her druids to help dissipate the forcefield protecting Zarkon when he's fighting Voltron.
And I mentioned "galaxy traveling" earlier on; all these action scenes and fights take place in so many different places, be it the paladins fighting with their weapons or in their Lions. We get awesome forest fights with tree mechas, a couple of epic duels and showdowns in and out of space, and alternate dimension shenanigans.
Just when you think the animation studio did their best, they top it off with better ideas that are either large in scale or big in stakes.
…With Badass Mechs
Next to the titular gestalt mech, we get a lot of cool robot and mecha designs. Any shonen anime-style series needs impressive designs and visuals to wow its audience, and this show never fails to impress. We get different Robeasts, a bunch of Neon Genesis Evangelion Angel-esque monstrosities, and a unique take on a gestalt mech.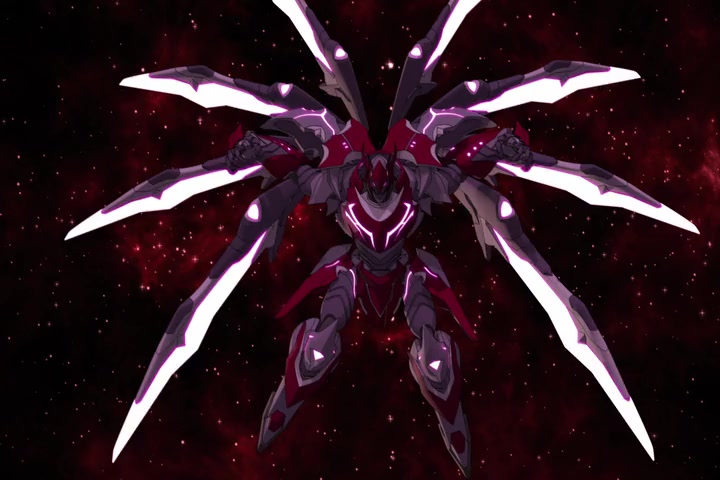 Jesus, I could never forget Zarkon's personal Robeast; it's like a Gundam from the depths of Hell. If Hell was filled with sharp mecha designs.
Its Fervorous Fan Base…
I'm still on the fence whether this is a good thing or not. Go to any Pinterest or Tumblr, type in Voltron Legendary Defender, and watch as your browser is filled with so much fanart and shipping art, you might as well print out the pics and make a museum exhibit out of it. RM2 per entry would do to set you for life financially.
In all seriousness, this Voltron adaptation joins the ranks of other popular animation that has a huge shipping fandom. I say if they have more people tuning into the show due to Tumblr art, more power to the show for an ever-growing fanbase.
…And Its Comedic Bits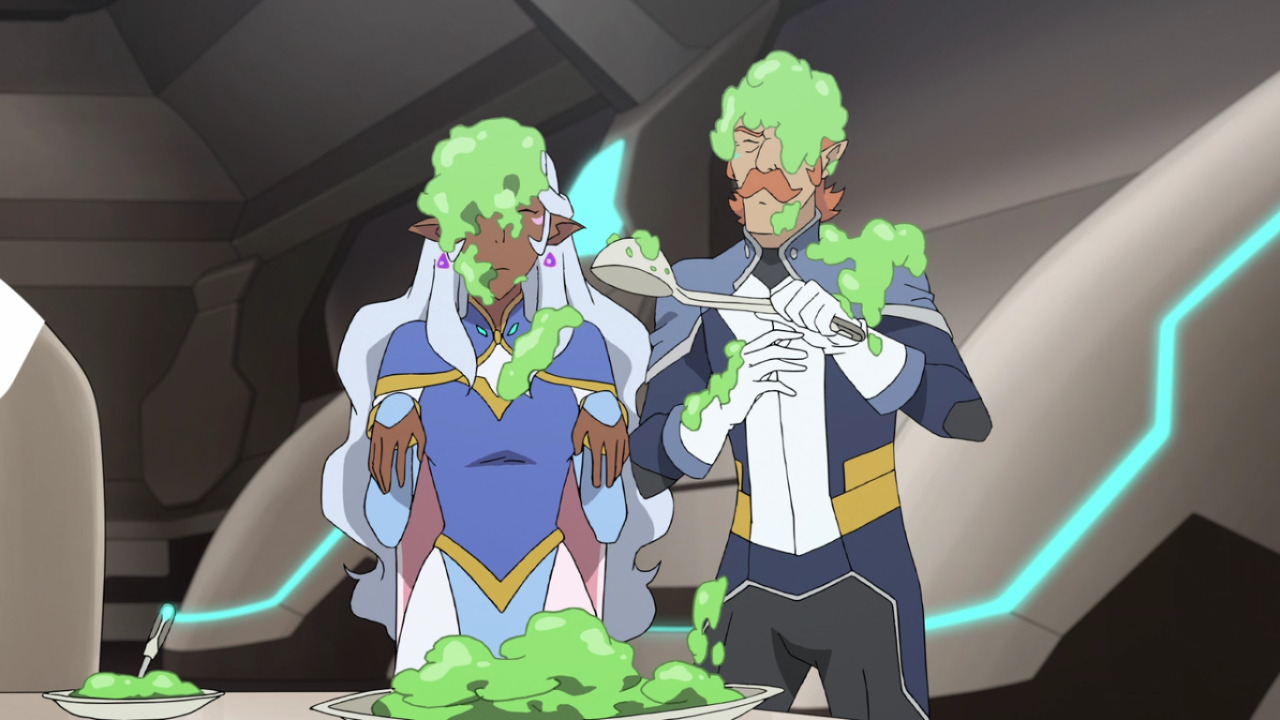 There's no harm in having some downtime episodes; Voltron Legendary Defenders has them and they're pretty refreshing. For every serious plot point and galaxy adventure the team experiences, we get a few offbeat episodes where the team gets stuck in an interplanetary mall, or even shrunk down to the size of ants, or even gets trapped in a game show where they have to compete against their Galra adversaries. They even shoved in Sven from the 80s Voltron show somehow and made a joke out of it. Talk about the mother of all throwbacks!
This show even has its own Dungeons &Dragons-centric episode. As we all know, any TV show with a D&D episode not called Big Bang Theory is always A+ material in our books (see Community, Futurama, etc…)
To Sum It Up
While it's not as impactful as all-ages fare like the Avatar series (The Last Airbender and Legend of Korra), Voltron: Legendary Defender is still a lovely series to get into. In their quest to pay tribute to Beast King GoLion and Voltron: Defender of the Universe, the team led by Joaquim Dos Santos & Lauren Montgomery ended up creating a far, far better show that improves upon its legacy tenfold.
It's disheartening that the upcoming season's the very last one, but at least it won't be outstaying its welcome. I'm pretty confident that the show will end on a very high note since it has quite a cliffhanger in Season 7.