My only memory of 2016's No Man's Sky was the following:
I mined a ton of rocks and minerals.
I flew around in space a bit and robbed some aliens.
I fought a bunch of space pirates with more guns than I do. I was mauled repeatedly as a result.
10 planets and a few solar systems later, I traded my PS4 copy for The King of Fighters XIV.
I figured it was the end of Hello Games and Sean Murray's development/snake oil-selling career. How wrong I was, as I heard recently that No Man's Sky now has a mega-patch called Next that really changed up the game and experience. Oh and it's also out for Xbox One, so that helps, I guess.
So what's new with this version of No Man's Sky? Is it worth getting back to after all these years? Let's highlight the good and bad bits of this major revamp:
It's Not A Full Retail Game
Thank god for that. If you still have an old copy of No Man's Sky lying around, you can just pop that sucker in and get the major update for the price of absolutely nothing! Of course, if you're like me and sold it off aeons ago, you can just get a copy for US$20-ish (or SG$29+) either on Steam, on PSN, or on Xbox Live game store.
You Can Play With Friends!
For starters, the game has multiplayer. You can have a bunch of online players traversing around the same solar system. You can even team up with them to deal with the aforementioned space pirate problem. Having friends on board, or bumping into random online strangers does add a lot of company in the void of seemingly-infinite space.
You Can Do A Lot More This Time Around
Base building and crafting have received several upgrades, and there's a noticeable uptick to No Man's Sky's visuals that reinvigorates the now two-year-old game. New story missions continue to push you into exploring the unknown, adding photography, feeding, freighter attack and defense, archaeology, and hunting variants to No Man's Sky formula.
In short, there's a lot more you can do and a bit more purpose and context to push you towards a clear direction.
There's A Lot More Random S***
The procedurally generated content in No Man's Sky has been upgraded so that you'll come across more esoteric things when you're out adventuring into space. You can visit a colourless planet that may or may not be filled with aliens who look like the xenomorphs in Aliens.
You also get planets where starfishes walk on land and the landscape is 80% blue all over. No matter what new save you create, your experiences with No Man's Sky will be totally different than another person's space walk.
The Graphics & Music Are Still Enchanting
Say what you will about the borked 2016 release of the game, but you can't deny the game's lovely aesthetics. The music is still mesmerizing up to this day. The new third-person perspective feels nice, though it's just a minor change.
And you get creative gamers who managed to capture pictures like these (via Reddit):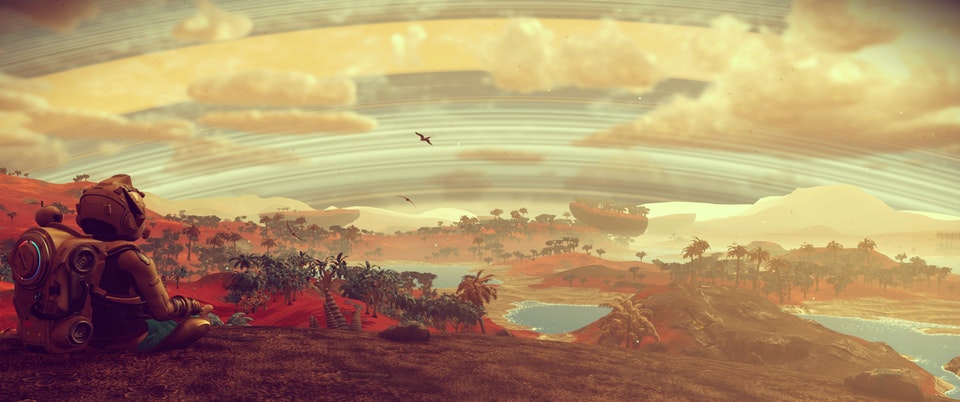 It's The Game We Were Supposed To Be Playing 2 Years Ago
While this update is nice and all, it doesn't hide the fact that Hello Games messed up its previous launch, only to keep silent, update the game in increments, and then come up with an apology 2 years in the making.
Still, it's more than what most companies have done in their lifetimes when supporting a seemingly-dead game.  99% of any other game devs would have chocked it up as a loss and worked on No Man's Sky 2. However, Hello Games actually worked tirelessly for years under extreme scrutiny and prejudice to bring us a game worth our time and money. That at least should earn them a modicum of respect.
I'm just glad that with a lower price point and with a developer's commitment to atone for its past mistakes, more people will be willing to forgive and forget with their wallets.