Do Fortnite and esports go together like peanut butter and bread? At this point in time, we're not sure.
The latest data from Newzoo, a video games market intelligence for games, esports, and mobile, shows that while Fortnite rules the streaming realm thanks to its popularity, the game is still a way off from being globally accepted as an esports title.
As shown in the latest finding -September 2018 to be exact- Fortnite dominated the overall table for both Twitch and YouTube but trail when it comes to esports hours. Newzoo described 'Esports hours' as content from professionally-organized esports competitions and does not include individual (pro-player) streams.
Combining this number with consumer content makes up the total hours watched (see below).
Twitch.tv – Esports Hours
YouTube – Esports Hours
Twitch.tv – Total Hours Ranking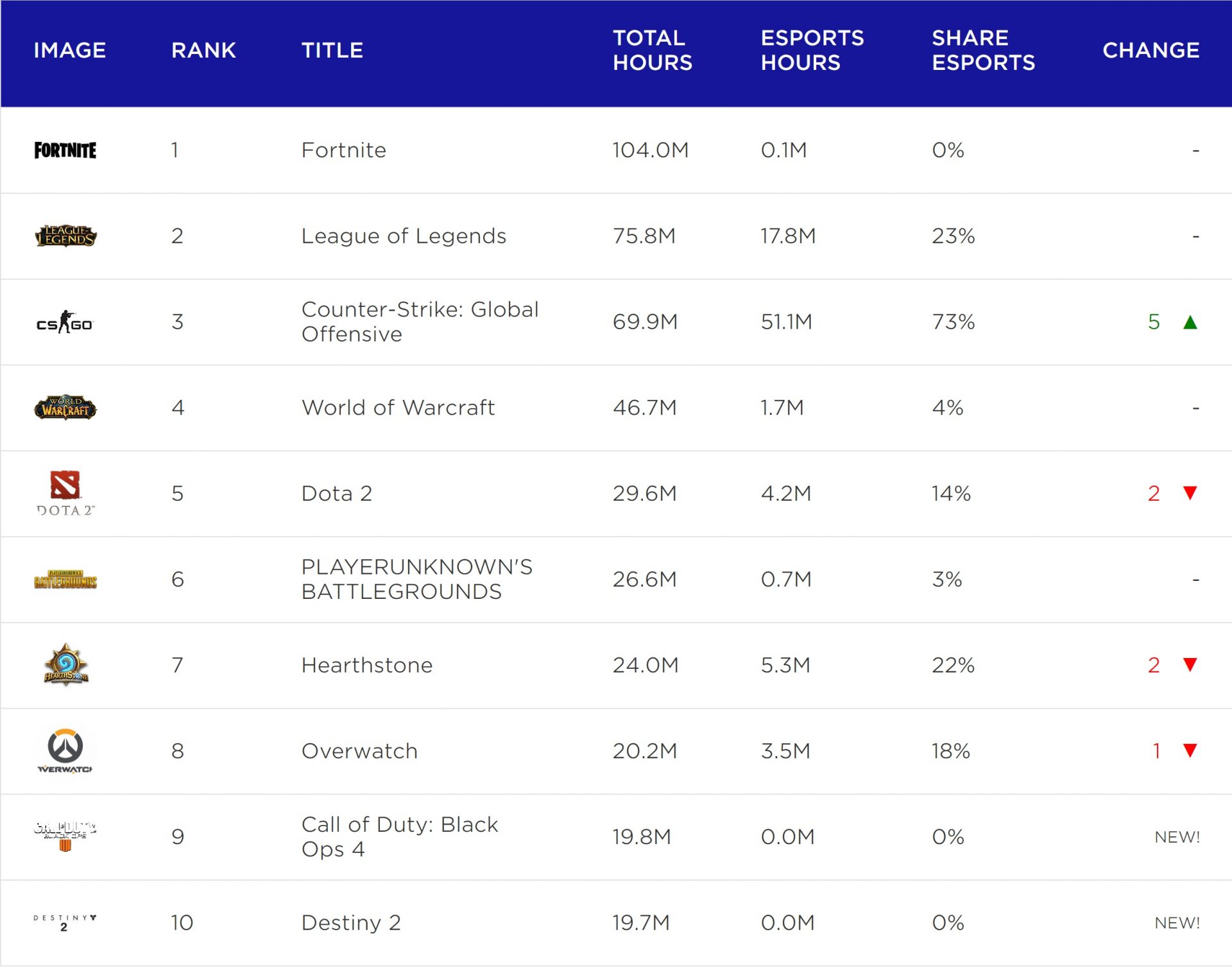 YouTube – Total Hours Ranking
Our key takeaways:Â 
Twitch.tv is still the preferred platform to stream games by both professional teams and casual gamers.
League of Legends and CS:GO owe a lot to their respective esports scenes for their stream hours as both occupy the top two spots on Twitch and Youtube's esports rankings.
Streams of battle royale titles are exclusively community-driven at the moment despite its popularity.
Games with professional circuits rely a lot on its ongoing tournaments and events to keep the numbers up – for example, Overwatch suffered a drop in viewership as the Overwatch League head into post-season. 3.5m hours of esports viewership in September was a far cry from its high of 17m in March when the Overwatch League was in full swing.
We estimate that Call of Duty: Black Ops IIII's battle royale mode, Blackout may have a lower overall number than Fortnite and PUBG for October statistics but could very well clock a higher number under the esports category.
Twitch.tv is the go-to platform for Blizzard titles (Heroes of the Storm, Overwatch, WoW, Hearthstone, StarCraft II)
Youtube is the more popular choice for FPS and RTS titles, while Twitch offers a wider variety of games (e.g Hearthstone, Rocket League)
Youtube is the preferred platform for mobile RTS with AOV and Mobile Legends: Bang bang breaking into the top ten for both overall and esports segments.
Certain titles are almost purely driven by its esports scene: CS:GO, Rocket League, Age of Empires; while
Some are almost entirely dependent on its casual players base. Examples include Fortnite, PUBG, Destiny 2, and World of Tanks.
On rare occasions, some title have a good balance of a healthy esports scene alongside a vibrant casual player base. These include DotA 2, Overwatch, League of Legends, and Hearthstone.
Hopefully the data above sheds insight to folks who plan to take up streaming as a career. It will also be helpful for those who are still unsure which platform is best for the games they intend to stream.
What do you think of the findings above? Which is your preferred streaming service by the way? Is Facebook a viable option at this moment? Sound off in the comments section below.