Some of you might groan at the idea of another Assassin's Creed title barely a year after 2017's Assassin's Creed Origins, especially after Ubisoft promised to slow down and stop annual releases for the franchise.
However, I'm here to reassure everyone that Assassin's Creed Odyssey is definitely a better overall experience compared to its predecessor, albeit with a sense of déjà  vu permeating throughout the game. It improves in several aspects but unfortunately carries over several mistakes as well.
First things first, let's clear out the popular misconception about Assassin's Creed Odyssey. It was not developed after Origins, nor was it lazily and hastily churned out in one year. Odyssey's development was led by Ubisoft Quebec, best known for developing 2015's Assassin's Creed Syndicate while Origins was led by Ubisoft Montreal, best known for 2014's Assassin's Creed IV: Black Flag. Both Origins and Odyssey were in development at the same time, concurrently.
This is Sparta!
Assassin's Creed Odyssey takes place in Ancient Greece, at the height of the Peloponnesian War between Athens and Sparta. Players assume the role of either Kassandra or Alexios. Regardless of whom you choose, he or she will be a 'Misthios' or mercenary who possesses the First Civilization artifact called the Spear of Leonidas.
The plot of Odyssey puts a special emphasis on family, as most of the story missions focus on searching for your long-lost family. Throughout your Odyssey, you will discover hidden truths about them and cross paths with the Cult of Kosmos, who are hell-bent on controlling all of Greece.
I was more invested in Odyssey's main narrative and world-building in comparison to Origins. Kassandra's/Alexios' troubled past and search for her/his family was infinitely more compelling than Bayek's by-the-numbers tale of revenge.
Its depiction of Ancient Greece is authentic and captivating, recreating the iconic city-states of Athens, Sparta and more.
History buffs would surely appreciate the amount of attention to detail that went into crafting Odyssey's rich Greek setting. Origins made the mistake of not going all out with its Egyptian setting, especially since it was at a time when Egypt was ruled by a Greek dynasty of all things. That made Origins already kind of proto-Greek, instead of the true Egyptian representation it could have been.
Story Ain't Half Bad Either…
I also enjoyed the characters in Odyssey more than I did in Origins. Why? To me, Origins' Bayek was dull and stoic, which left little room for character development. Another problem is that you can't do anything to change that, unlike in Odyssey. Odyssey benefits from its deeper RPG elements, making it more like The Witcher 3: Wild Hunt (which is essentially one of the best compliments one can give a game).
The dialogue choices help you shape Kassandra or Alexios into whomever you want them to be. These conversations often end with hilarious/unpredictable outcomes. Sure, you can kill everyone you meet by choosing an answer that's sure to end in violence, or you can choose to talk them out for a peaceful solution. That said, some of the romance options are downright cringe-worthy, but most of them are one-time flings anyways, so you can basically sleep with every possible NPC without any repercussions.
The comparison with The Witcher 3 doesn't end there. Odyssey has definitely derived some of the best elements from the aforementioned RPG masterpiece, and that includes sprawling, unforgettable sidequests. Remember the Bloody Baron sidequest or any of the longer branching side-quests in The Witcher 3? Odyssey has those. Quests in Odyssey are split into the main story 'Odyssey' quests, side 'World' and 'Character' quests, and Destiny 2-like timed ' Contract' quests. The 'World' and 'Character' quests can oft-times be as big as the 'Odyssey' quests.
For instance, I was pleasantly surprised by a particular sidequest storyline encountered on the island Naxos, which had me participating in a local rebellion movement against their governing oppressors. Maybe it was just me, but it felt like a little Star Wars homage, with the rebel leader Kyra even turning out to be the oppressive government leader's daughter *cough, Darth Vader, Luke/Leia, cough*.
The relationship I developed with the Kyra was unexpectedly moving, later blooming into romance. This turned out to be one of the more serious and surprisingly touching romance options in the game.
Gameplay Improvements
The gameplay in Assassin's Creed Odyssey remains almost identical to that of Origins. Several mechanics have been added, at the expense of yet several others. Odyssey has removed the ability to block, along with the absence of shields of any kind. Therefore, players will have to dodge and parry their way to victory in battles.
Not to worry, the game still doesn't go anywhere near the level of Dark Souls or Nioh levels of precise and punishing combat. Odyssey has also removed the various gadgets that Bayek had at his disposal in Origins, which I personally thought was unnecessary bloat.
Additionally, the skill tree comes with three main branches: Hunter (Bow and Arrow), Warrior (Melee), and Assassin (Stealth). What makes it even better is the ability to re-spec and re-allocate your skill points/ability points at any time in the skill tree menu by spending an insignificant amount of Drachmae (in-game currency). This allows players to change their playstyle whenever they feel like it, and experiment with different load-outs.
That's not the only quality-of-life improvement that makes it seem like Odyssey has somewhat learned from the mistakes of Origin. Some skills, like the ability to turn day to night and vice versa, are automatically unlocked in Odyssey.
At a certain level, the player even receives the ability to completely negate any and all fall damage. Materials you collect will now be used solely to upgrade weapons or upgrade your ship. All of these subtle improvements certainly makes the Odyssey's gameplay that much more enjoyable.
Another gameplay feature of note is the new Mercenary mechanic, where Bounties would be put on the player for committing crimes like murder and stealing. You read that right, stealing and looting means different things in this game.
The more crimes you do, the higher the bounty and these other mercenaries will come for you even in the middle of a story quest. There's also a ranking system in the Mercenary mechanic, where you kill other fellow mercenaries and try to be the best Misthios. It feels pretty reminiscent of Middle Earth Shadow of War's innovative Nemesis system.
Besides that, the addition of Conquest battles makes for exciting large-scale Dynasty Warriors-esque 100-man skirmishes. However, siding with either Athens or Sparta in Conquests battles will often have no bearing on the story. It only changes which side is in control of a particular region at a time.
You could repeat them countless times for loot, but that's it. Players with playstyles emphasizing bow or stealth would also have a harder time during these Conquest battles, which means a strong bias for melee players.
Naval Battles are Back
Fans of Black Flag and Rogue can look forward to naval battles being at the forefront of gameplay once again in Odyssey, albeit lacking in cannonballs and rum. You get a massive ship early on in the game, along with the crew. You can recruit lieutenants to fight with you and your crew during boarding naval battles, as well as provide a variety of buffs like increased arrow damage and more.
While fun in its own right, the only qualm with naval battles is that the only way to upgrade your ship is by using materials since it doesn't gain experience or abilities from battles.
Not upgrading the ship means that it will be severely outmatched, making naval battles harder than it should be, considering most naval battles have at least two or more enemy ships coming at you at the same time. This is apparent during Conquest battles fought on sea instead of on land, which happens on the island territories in the game.
On another note, I loved hearing the distinctive sea shanties sung by my crew, which would change if the crew was either male or female.
Grind or Die
Despite all these welcome improvements, it looks like Odyssey can't escape from some of the same flaws that afflicted Origins. In some cases, it remains as frustrating as Origins. Odyssey's main story alone takes at least 40-50 hours to complete, making it both larger in scale and longer than its predecessor.
This might be mean bang for your buck and many hours of game time, but it could also be a daunting undertaking for some. The absurd length of time it takes to complete the game is further exacerbated by the return of Origin's grinding problem.
It's because of this reason that even 36 hours into the game, I still haven't completed the game's story yet.
The story progression is gated by levels, and now there's even forced level scaling. Quests and enemies will level up with you, which means that no matter how much you grind, you won't be over-leveled, and enemies will still give you a relatively difficult time. The pacing can grind into a halt when the story quests suddenly require you to be a certain level and force you to level up in order to progress.
Both of these combined makes for a frustrating experience, especially for those who just want to play the game for its story. There were several moments where I died from a few hits from an enemy that's just one or two levels above me. Those deaths felt cheap and were unfairly punishing players who don't grind.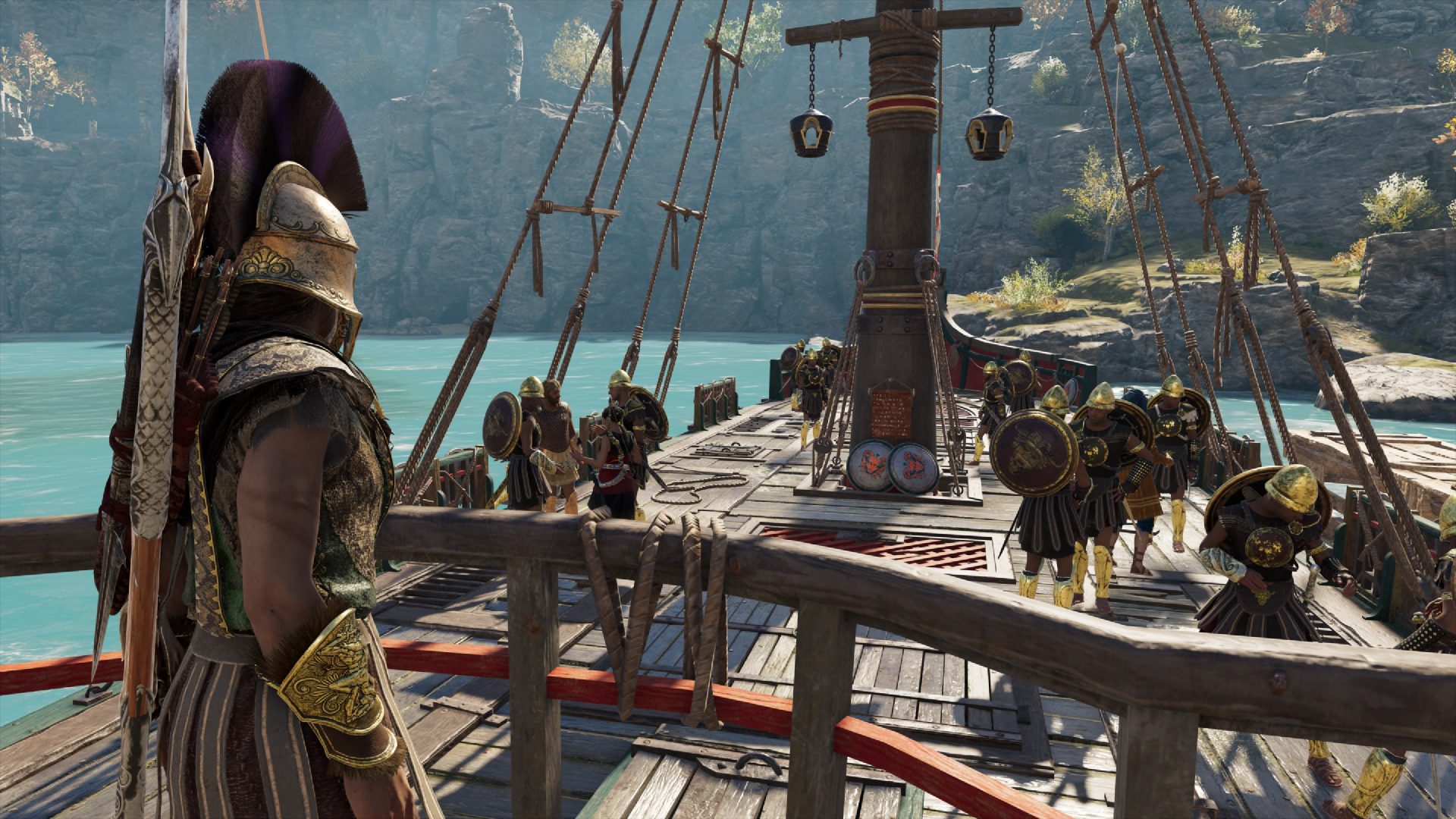 Is It All Greek To Me?
Despite that hurdle, I feel that it's a testament to Ubisoft Quebec on how much Assassin's Creed Odyssey has improved from last year's Origins, which was itself a soft reboot of sorts for the franchise. Odyssey may play like Origins 2.0, for best and for worst, but it is still ultimately better than its predecessor.
It may not be what fans would expect from a traditional Assassin's Creed title, but if this is a sign of things to come for the franchise, I look forward to seeing more titles like Odyssey.
Pros:
– Ancient Greece comes to life like never before
– Complex characters and narrative
– Refined gameplay mechanics and quality-of-life improvements galore
– Sprawling and branching side quests of epic proportions
– Naval battles
Cons:
– Gated progression and forced level scaling
Score: 90/100
Assassin's Creed Odyssey was reviewed on the PlayStation 4 Pro, via a review copy courtesy of Ubisoft Singapore.
Related