In a field "crowded" by the Call of Juarez series, Activision's Gun, and not much else, it's not that hard to be the best Western game out there. Especially if you're Rockstar Games and you have a great template and the Rockstar Advanced Game Engine (alongside the Euphoria and Bullet software) to back up your future projects.
After showcasing the best of their abilities back in 2008 with Grand Theft Auto IV, RDR was announced in 2009. It was still being produced since 2005, was supposed to be the successor to Red Dead Revolver, was delayed numerous times through its four-year development, and was infamous for having crazy work hours and saddled with questionable managerial styles courtesy of studios Rockstar San Diego and Rockstar North.
And the insane part? It was all worth it. Red Dead Redemption won numerous Game of the Year awards and was considered a masterpiece in action-adventure open world gaming. Heck, I gave it an 8 out of 10 back in my GameAxis days.
But is it considered the best Western ever made, if you compare it to the likes of The Good The Bad and the Ugly, Once Upon A Time In The West, and any of Sergio Leone's works? Is it the video game equivalent of a Spaghetti Western?
I'd answer with a resounding "yes", if only because of these key points.
Disclaimer: I'm going into pure spoiler territory for an 8-year old game. Proceed with caution if you wish.
The Narrative & Its Cast
After a life of crime, my protagonist John Marston tries to redeem himself by hunting down his old gang. To do this, I have to collude with a bunch of unsavouries, a Mexican army, a Mexican rebel force, and even work together with the Bureau.
The storytelling in RDR is both cinematic and intimate. You get to see John Marston reason with people and even the Dutch gang before he has to go fight them. You get to take a peek at his lifestyle and how he tries to support his wife and kid while trying to lead an honest life. John Marston is a try-hard skeptic you want to root; if you treat him with respect, he'll do so in kind, man, woman or otherwise.
Well, "try" is the operative word because you're most likely wandering around robbing stores, causing mayhem, and tying ladies to railroad tracks.
You also get to witness his son taking over the Marston open-world action gaming mantle at the tail end of the story mode. Speaking of other characters, you also have your outliers and bad guys. You have revolutionary leader Abraham Reyes and Mexican Army colonel Agustin Allende who could have been part of a Sergio Leone flick as charismatic antagonists. You also have federal agent Edgar Ross: cold, calculating, and always makes other be on their guard.
If you can get past the fact that you're given the reins to make John Marston do whatever he wants that has little to no consequence, then you'll find a solid Western script that details the death of the West and how a steadfast cowboy deals with it. The Euphoria and Bullet helped flesh out the animations and little movement details to breathe life into this tale.
The Landscape & Period
RDR is set in 1911 where the lawlessness of the Wild West is dying. Much like how ronin wander around looking for jobs during the Meiji Period, so too do cowboys and gunmen do what they do when the world around them is changing and technologically evolving. They fight. And ride.
Ride they did, because the made-up locations of New Austin, West Elizabeth, and Nuevo Paraiso, are beautiful and vast to explore in. Take in the sights of the ridges, the expansive desert, the Mexican battlegrounds, and even the snowy bits up north in the mountains.
Heck, if you are familiar with North American geography, you get to see virtual recreations of the rock formations in Monument Valley.
And the only way to experience all of this? Why on horseback, of course. As much as the landscapes and vistas in Unforgiven and A Fistful of Dollars are great, you really wish you could explore it a bit more. Red Dead Redemption lets you fulfil that one gallop at a time.
True, the horses in RDR travel much faster than in real life, but you'll need to spend a lot of hours getting from one end of the state to another. There will be a lot of distractions in-between your journey, be it the oddball characters or the random cougar and/coyote pack trying to kill you.
But you'll get to soak in a lot of the frontier, vast and empty as it is. If your sole objective is to explore every nook and cranny, RDR has that in spades. It also makes you appreciate the outdoors a lot more, given that Rockstar put in so much detail into this 2010 game.
The Expansion That Flipped Everything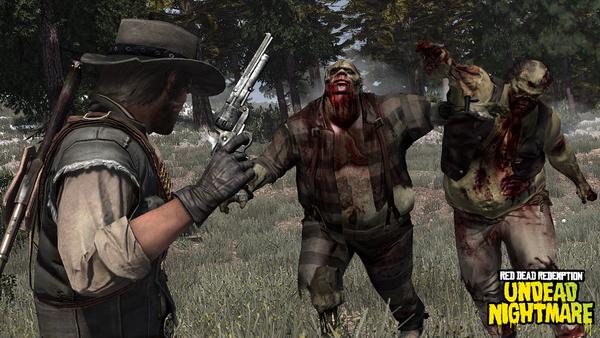 Red Dead Redemption had an expansion pack subtitled the Undead Nightmare where John Marston has to hunt down zombies and the Four Horses of the Apocalypse while looking for a cure for the zombie epidemic. It's what you expect from a mish-mash of a spaghetti western and a zombie film: cowboys in the dead of night fighting the zombie horde with whatever limited technology they have.
Oh, and a bunch of mythical monsters like the Sasquatch and El Chupacabra to hunt. The quest for the former is actually a turning point in a game that questions whether humans truly needed saving.
That Last Stand
I'll put this here in case.
Just before you can relax with your family after completing what the Bureau asked you to do, along comes the feds and their army, ready to hunt you down. Try as he might, John Marston isn't going to win this fight, but I didn't know that at the time.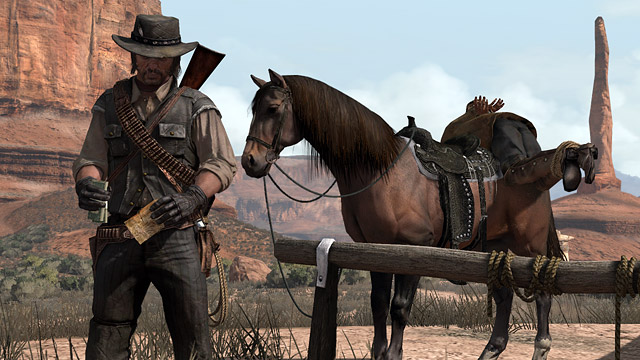 In Marston's last seconds, he has no Deadeye energy, no bullet time to save himself. He's resigned to his fate. And with that too dies the Wild West of Red Dead Redemption. This moment resonates really hard with me and many others who played through RDR from start to finish. This man's journey in the dying West is over; ended on a heartfelt and devastating note. The song that played throughout the moment didn't help either.
That One Song That Heralds The Fading Western "Glory Days"
Yes, you know the one.
Music has, and always will be, the one powerful element that drives a game and establishes tone and context over what you do. When you cross Mexico, Jose Gonzalez's "Far Away" plays as you ride off south of the border. It feels random, yet somehow it's appropriate given the fact that this is a moment of respite as you gallop your way to your destination. Or just to wander around, knowing full well that the West is fading away, with you in it.
Playing this game a second time means that you end up getting and understanding the design decisions and thought process made by the Rockstar folks. I sure as hell don't know if the second Red Dead Redemption will surpass what this game did, even after multiple playthroughs.
But I do know this: sometimes it takes a slow death of a genre to fully appreciate what entails. Red Dead Redemption and its kinda silly-but-bleak expansion pays its respect to the Wild West by making a story set in its dying days.
You don't know what you've 'til it's gone, right? Let us know your Red Dead Redemption moments right here or on our Facebook page.
Related