We're in the final stretches; this is yet another SNK article in conjunction with Retro DNA, who will have an SNK tribute booth at GameStart Asia 13th-14th October. Check out our other SNK feature offerings here. 
If you love collection SNK games and Neo Geo AES boards, chances are you have a high-paying job and you are a hardcore gaming nut in the 90s. Why? Because these boards and collections are astronomically expensive.
Over its lifespan, Neo Geo's hardware and software have been a treasure for old-school gamers willing to part from their hard-earned money to own a few of these. Two or so decades have passed, and its value has all but decreased and are currently the most expensive retro items out there.
So it boils down to this: what's the most expensive Neo Geo AES game out there? Kakuchopurei has that sorted out for you.
Disclaimer: Prices will be denoted in US, and they're from Neo Geo Kult based on a March 2018 update. Unless stated, the prices listed below are overestimations so you should use these as benchmarks for your l33t haggling skills. 
Kizuna Encounter (EURO version)
Used Value: US$35,000
Mint Value: US$50,000
While this tag-battle fighting game is kinda fun in short bursts, its physical arcade board is a sought-after treasure especially if you're in Europe. While other versions of the game from US and Japan are common and cheap (US$50 or so per AES board), there are supposedly a few European AES boards of this game available in the world.
Coupled with the fact that the European version wasn't commercially released and was recalled by SNK during the 90s, it's no wonder this AES cost a bomb.
Metal Slug (US version)
Used Value: US$19,500
Mint Value: US$22,000
Known universally for its hand-drawn, over-the-top comic carnage, the original Metal Slug is an amazingly difficult find on the Neo Geo AES and is the most treasured US release on the system. Even though it became increasingly popular and is much more affordable on other platforms and formats, Metal Slug wasn't produced very high quantities for the AES, possibly due to the popularity of the PS1 port of the game which added a lot more the arcade version lacked.
Even though you can take a few other approaches to play the game on SNK hardware, most Neo Geo fans can't go without the game in their AES collection and are willing to pay a hefty fee for it.
Metal Slug (JP version)
Used Value: US$10,000
Mint Value: US$12,500
The Japanese version of Metal Slug is a thousand US$ cheaper than your US version. It's still one tough mother for your bank account if you plan on just keeping and displaying the board.
Metal Slug 2 (US version)
Used Value: US$4,500
Mint Value: US$6,000
The sequel to Metal Slug is also not as common as you would think despite introducing new characters and having unique stages like the desert. The third game onwards elevated the brand to "best 2D shooter" status, which means that there aren't that many AES boards that have the first two games on hand.
As such, the boards become a valued commodity among collectors. While Metal Slug 2 US version isn't as expensive as its prequel, it still can fetch quite a price if you happen to stumble onto it.
Neo Turf Masters (US version)
Used Value: US$15,000
Mint Value: US$20,000
This SNK-powered golf game is fetching a super-high price due to the fact that SNK does not make golf games on a regular basis. The company's first foray in the sport is more of a fad than anything, but it's a decent game that's enjoying its time being a 5-digit priced AES board.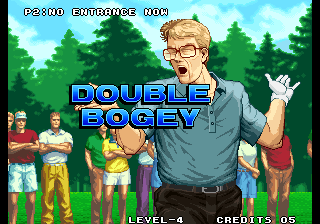 Big Tournament Golf (JP version)
Used Value: US$7,500
Mint Value: US$9,500
The Japanese version of Neo Turf Masters' price is nothing to sneeze at, though it's significantly cheaper than the US version. Then again, Neo Turf Masters is a better name in my humble opinion. Maybe that's enough to earn an insane price tag.
Ultimate 11/Super Sidekicks 4 (EURO version)
Used Value: US$35,000
Mint Value: US$45,000
Waitasec, there's a fourth Super Sidekicks game? No wonder it's rare AF.
Actually, it's just a rehash of Super Sidekicks 3. If you want a better SNK-powered football game, just go for part 2. This one's meant for collectors: it's hard to find and the prices itself are just speculative purposes.
Tokuteh 0h 4 (JP version)
Used Value: US$4,500
Mint Value: US$6,000
The Japanese version of Super Sidekicks 4 is significantly cheaper than its European cousin. So if you need an SNK football game in your life and can't afford the other version, just go for this one.
Double Dragon (US version)
Used Value: US$3,500
Mint Value: US$5,000
Did anyone ask for a 2D fighting game based on the Double Dragon movie starring one of the Iron Chefs and the T-1000? Neither did I, yet we got one on SNK arcade machines featuring Billy, Jimmy, Marion, Abobo, Burnov, Robert Patrick's character Shuko, and a bunch of other fighters I don't care about.
This fighting game's also quite a rarity since it's only been ported once on the PlayStation One.
Last Hope (US version)
Used Value: US$1,500
Mint Value: US$1,950
Back in 2006, German indie developer and possibly SNK superfans NG:DEV.TEAM released a shoot-em-up for the Neo Geo AES, Neo Geo CD, and the Sega Dreamcast. It was a beautiful work of art that threw you back in the 90s where pre-rendered graphics were a staple in aesthetics.
The AES cartridge was sold directly by the developers and was limited to only 60 copies. To be fair, it was an unlicensed indie release and these things cost a bomb to make. But it damn hell was sought after, with mint prices going up close to US$2,000. Fans and collectors who bought it around US$730 back in 2006 were the lucky ones who could have sold it off for higher prices.
Stakes Winner (US version)
Used Value: US$5,000
Mint Value:Â  US$6,500
Horse-racing made fun, SNK style! The company cashed in on the horse-racing and horse-betting games in the 90s that plagued Malaysian arcades.
This particular version was SNK's first foray that made it out of Asian shores. Which means it's no surprise that the US version of the AES game is jacked up as such, probably being discontinued and made obsolete by actual horse racing and horse betting. For comparison, the Japanese version of Stakes Winner is a piddly US$1,200 in mint condition.
The King of Fighters 2003 (US version)
Used Value: US$1,650
Mint Value: US$2,000
I can't end an SNK price guide article without any mention of their flagship royal title. Over in the US during the 00′ era, arcade games hype was slowly dwindling and fighting games grew out of season before Street Fighter IV entered the fray in 2008 and resurrected the whole dang scene.
KOF 2003 came in during an interesting if tumultuous time in fighting games, and as a result, fetches a pretty high price over the years. KOF 2003 introduced the MvC-style real-time tag system and single-round fights; it was quite an experiment that was perfected in KOF XI. Basically, KOF 2003 was the red-headed stepchild that tried to innovate but was more or less a framework than a meaty KOF experience.
Still, Mukai was a pretty awesome boss with a kick-ass stage (see above). Though not as highly-priced as the other games on this list, KOF 2003 is currently the most expensive KOF game in AES form.
Know of any other SNK AES games that can destroy your bank account? Let us know!