Happy belated 19th birthday, Batman Beyond. When I first about this back in the late 90s that Warner Bros. is doing a futuristic Batman show, I laughed my ass off. Surely this was just Warner Bros. Animation Studio cashing in on the 90s future comic book look a wee bit late, right?
Thankfully, I shut my goddamn mouth and went along for the ride. 52 episodes and an epic movie later, I was enamoured, impressed, emotional, and even dumbfounded. How can a successor to the already-legendary Batman: The Animated Series, be this criminally good?
Welp, it had the same team developing it: Bruce Timm, Paul Dini, and Alan Burnett. It brought back Kevin Conroy to voice an elderly mentor Batman/Bruce Wayne to be alongside Will Friedle as Terry McGinnis. Yeah, that charming-yet-underachieving brother from Boy Meets World is voicing the next Batman, and goddamn he nails the smarmy-and-tough-yet-sincere teenager very well. Then again, this VO brought us the awesome Ron Stoppable from Kim Possible, so the pedigree is clearly there.
No doubt about it, this show is not only a worthy successor to BTAS but it also kicks ass in its own right thanks to its spin in the Batman mythos, its memorable cast, and its awesome futuristic aesthetics. Crystal Method opening, yo! To celebrate the birthday week of this landmark show, I'm highlighting my favourite episodes from this illustrious sequel.
"Dead Man's Hand" – Melanie & Terry-shipping(?)
The story here is about Terry, after breaking up with his girlfriend Dana following his new job with Bruce Wayne, ends up becoming awfully friendly with Melanie, a pretty new girl in town. The other problem? Melanie is Ten of the Royal Flush Gang, a family of card-themed super-thieves who has a bone to pick with Batman.
You know that Black Cat-Spider-Man romance-slash-rivals dynamic thing? This is the DC Animated version of that, and it's portrayed in a pretty cool, slick, and emotional manner. There's just something sensual about Melanie; I'd pick her over Dana because of her broken home background, her disposition, and her hairdo.
But what's cool about this episode is that the plight between Melanie and her family escalates as more episodes come into the fray, portraying her as just someone stuck in the family feud crossfire. It's also fun to see the both of them doing their respective crime-related jobs (one busts, the other commits) and wrap it up in time for their date, unaware about each other's secret identities.
"Inqueling" – Mother Knows Best?
The villains in Batman Beyond aren't all doing evil things just because. For instance, the shapeshifting Inque is a criminal saboteur for hire who does her jobs because as this episode shows, she's financially supporting her daughter Deanna Clay. Unfortunately, she's pretty irresponsible with her money, which means Inque has to do bigger and riskier jobs.
This episode comes packed with great twists and turns that revolve around family and betrayal. You may even feel some sympathy for both Inque and her daughter, seeing as the former is just a mother trying to do right with her daughter.
"Terry's Friend Dates A Robot" – The Premise Writes Itself
The title says it all. Terry's pal Howie builds his own girlfriend bot after he has trouble with the opposite sex. His lady friend is cool and all, but shes's revealed to be a combat droid who has temperamental issues. The whole episode is a nice slice of comedy and action amidst all the heavy-yet-awesome moments like that time Bane's venom formula affected high school athletes in Terry's school, or the times Commissioner Barbara Gordon was at odds with the new Batman.
Imagine Weird Science, but in the DC animated universe. Yeah, I'm gonna be using this phrase a lot, deal with it.
"The Call" – Two-Parter Justice League Action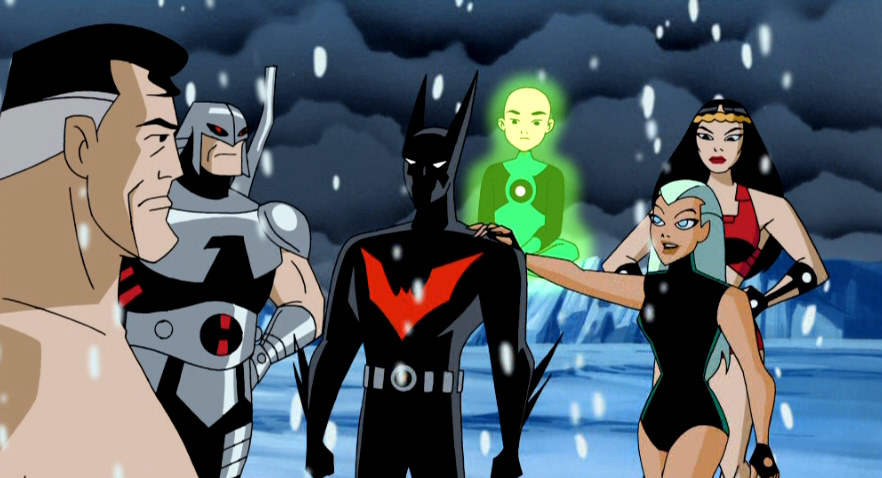 This two-parter brought out the futuristic Justice League featuring an older Superman, Big Barda, Aquagirl, Warhawk, new Green Lantern Kairo, and Micron. It also showcases how Terry can step out of his predecessor's shadow and do some sleuthing/fighting of his own, especially against a mind-controlled Justice League later on the show.
April Moon – Gotham City Noir
If you want a less outlandish Batman Beyond story -a bit tough to come by given its setting- look no further than this emotionally-gripping story about a doctor blackmailed into helping a bunch of cybernetically-enhanced thieves to save his kidnapped wife April. I did say "less outlandish", right?
The truth, as Terry finds out, is way more bitter. Those who believe that Batman Beyond is inferior to BTAS may want to tune in to this episode to witness for themselves that the writing is still on-par and evolving. Plus, the soundtrack for this episode hearkens back to your 40s and 50s crime dramas; nice touch!
"Out Of The Past" – Return of an Old Flame
What makes this third season episode great? Three words: Batman – The Musical.
Kidding aside, the rest of the episode focuses on Bruce Wayne's past loves and a chance for him to go back being young again thanks to a chance encounter with his former love Talia Al Ghul and the Lazarus Pit. We also get to witness a young Bruce Wayne and Terry McGinnis tag team and fight off the episode's slew of adversaries (the League of Shadows this time) which is more than enough to make fans of the show old and new get all tingly inside with glee.
Seriously though, someone should make the Batman musical a real-life thing; get Stephen Schwartz and Lin-Manuel Miranda on-board.
"Epilogue" – A Finale Most Fitting
Even though this episode is on Justice League Unlimited, it's essentially framed as the last Batman Beyond episode after Season 3 wrapped up.
This episode provided closure for the long-running Batman Beyond series. Not only did we get to see Terry slightly more grown up, we get to see his relationship with Bruce Wayne tested as well as find out what happened to Cadmus' Amanda Waller and how Terry's origin story really played out. It also featured another great Batman story involving the Royal Flush gang in a flashback, proving that when you're wearing the black outfit, it's not just about the gadgets, the money, and the kick-ass moves.
It's about the man inside and what he does that defines him. I feel like I've heard that somewhere before. If you have a favourite Batman Beyond story, let us know.