Item Combination: What You Need To Make 'Em Bleed
During the AI battles, you'll stand a chance to get an item drop when you kill an AI enemy. These items are crucial to your game. Items can be equipped to your units and they are permanent and be carried over through unit upgrades.
Players who lose all their health have their items randomly distributed to other players.
Some items can be combined to create more powerful items. For example, the Broken Sword + Shield creates a Blademail which returns damage on attack. This synergises well with Redaxe Chief's ability Taunt where all enemy units in 1 grid around him are forced to attack him.
Some items grant extra mana per attack. I usually equip this to Tsunami Stalker or Pirate Captain so that their AOE stuns happen more often.
Getting 2-Star And 3-Star Units
This is the key to gain more powerful units quicker than your enemy. Since the piece pool is limited, try to snag whatever you see that you already have. This will lower the chances of your opponents having the same unit.
If you favour a particular playing style, like oh say focusing more on mana source regenerators and assassins like The Source and Soul Breaker respectively, just save 3 to 4 slots for these guys if you want them going to 3-Stars.
Economy
In the early games, try to balance stocking up on pieces while levelling up your avatar. This gives you the best opportunity to quickly place more units on the board while
How To Get More Gold?
You'll get 5 Gold each round, sounds a lot, but don't spend it all.
Here's why: Each round you'll gain an extra gold for each 10 gold you have in your reserves. Keep in mind, however, that you can only earn a maximum of five gold per round in this way. Once you have more than 50 gold in the bank, it makes sense to start spending at least some of it.
Winning and losing streaks also contribute to your income. So the worst case scenario is winning and losing alternatively and not gaining any streaks.
You can also refund units who you think aren't important anymore.
Encyclopedia
All this mumbo jumbo is definitely going to confuse newer players, so the game as conveniently included a helpful encyclopedia for players to study the game in depth.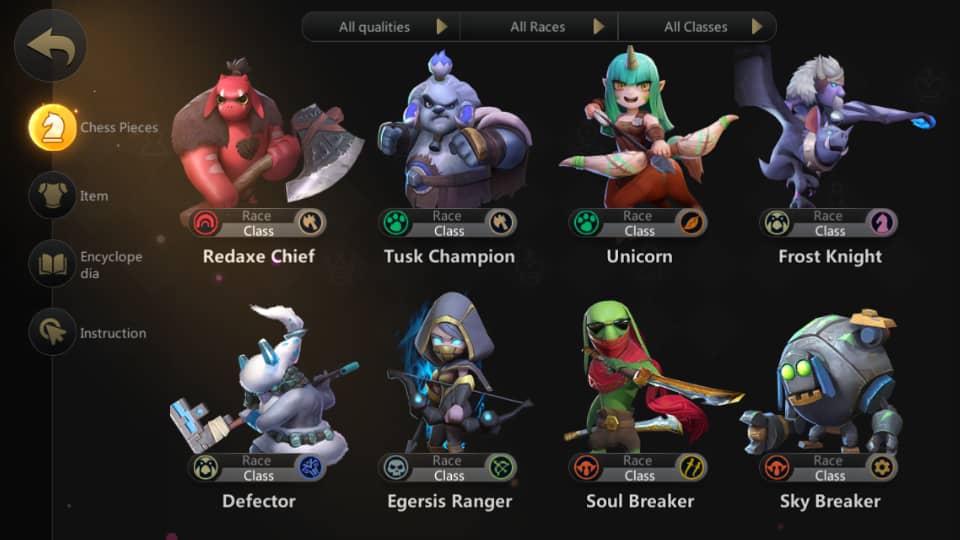 The page has the info of all the units and item combination in-game in detail, so you'll have an idea of what is what during gameplay.
You can access this by pressing the icon highlighted in the top right as indicated in the picture below. Whether you're new or a veteran in Auto Chess, this encyclopedia is essential in getting the lowdown of your pieces.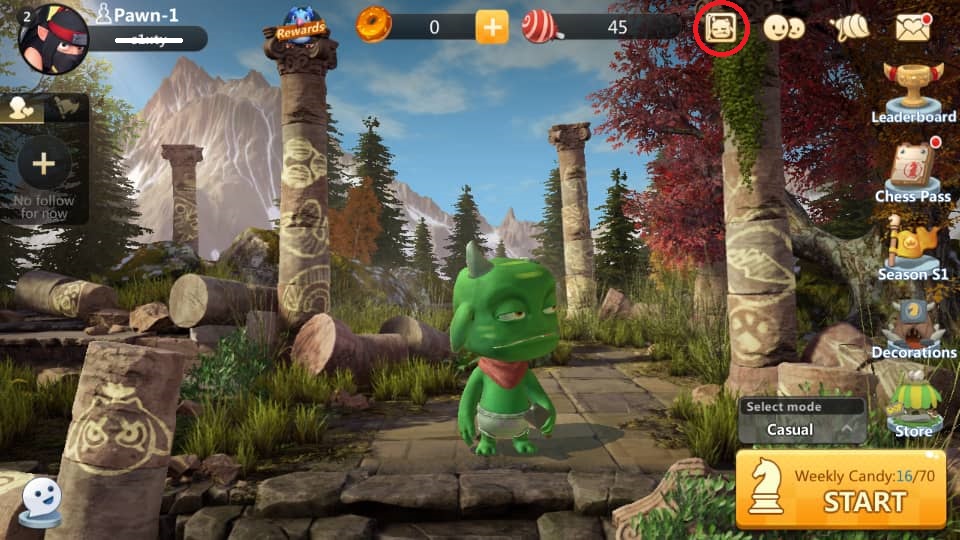 Extras
We found these bits of information helpful to squeeze out an advantage against your opponents.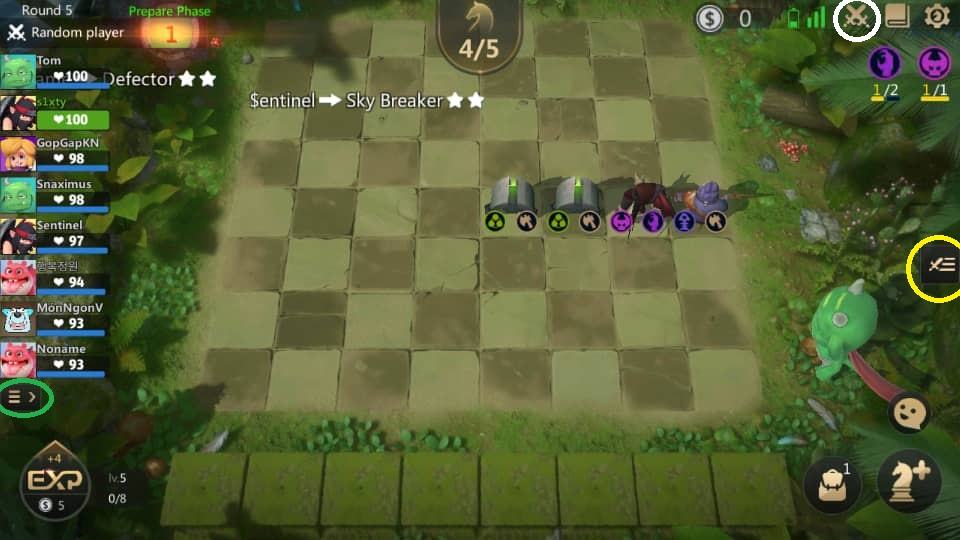 White Circle: Battle records; you can check who beat you and who you trumped in previous rounds.
Green Circle: Lineups; Chech what your opponents have on their board and their bench, and plan what you want to snag from the store.
Yellow Circle: DPS; This shows the DPS numbers of each unit you own so you can strategize positioning as well as item placement.
Some Positioning & Piece Placement Strats From Online
Via _darkish. 6 knight/dragons, 8/10 units, tier 1/3-star.
6 ELVES 3 ASSASSINS, 9/10 UNITS.
3 KNIGHTS 4 TROLLS, 8/10 UNITS.
ORC MAGE, 9/10 UNITS.