Ant-Man And The Wasp Quantumania is the next Marvel Cinematic Universe (MCU) film and it's set to be a big one, sparking Phase Five of the expansive cinematic universe. It will also introduce the next Big Bad of the MCU after Thanos died in 2019's Avengers Endgame, and his name is Kang The Conqueror (who is portrayed by Jonathan Majors).
Who is Kang? Kang The Conqueror is perhaps one of the most complicated villains in Marvel Comics. The reason why is simple, even though explaining his origins never is. It's because the character and his origins are rooted in time travel. Anything involving time travel is usually convoluted and that applies to Kang The Conqueror as well. There are several versions and variants of him in the comics, many of which are just the same version of Kang but just from different eras or timelines.
If you think that you won't get along well with your past or future self, Kang takes that one step further by warring with himself from other timelines. He has conquered the future (the 40th-century) with a galactic empire of his own so now he often goes back to the past to conquer them. Why? Just because he's already conquered the future, so what's left but the past?
Tickets for Ant-Man And The Wasp Quantumania are already on sale right now, so you can head over to this link to book yours now at any TGV Cinemas branch nearest to you. It's slated to premiere on 16 February 2023, but with early screenings on Wednesday night (midnight on 16 February 2023).
Overall, Kang's origins are quite complicated and convoluted, so I'll try to simplify them and discuss his most significant versions/variants below.
Kang The Conqueror
Born on Earth-6311 in the 30th century, Nathaniel Richards, who would later become known as Kang the Conqueror, discovered part of a time machine (which is likely left behind by either Doctor Doom). That's how he started time-travelling.
Despite having no natural superpowers, Kang has an indomitable will and super-genius-level intelligence. He learned how to use the time machine and became an expert in his future's advanced technology, creating battle armour that endowed him with what seemed like superhuman abilities.
Bored of his era's peacetime, Kang originally used the time device to travel to Earth-616's ancient Egypt where he became the pharaoh Rama-Tut. That was his first taste of power, but he was defeated by the time-travelling Fantastic Four, a young Apocalypse, the moon god Khonshu, and Doctor Strange and the Avengers.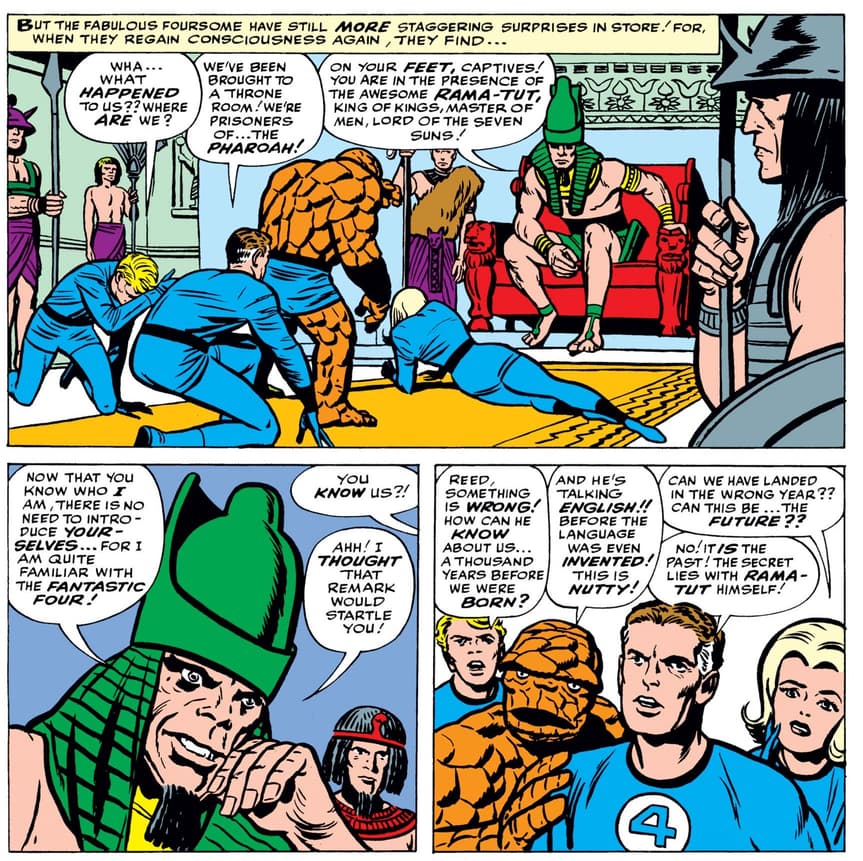 This conflict forced Rama-Tut to flee his time machine, but a "time storm" diverted him to the modern era, where he rescued a space-lost Doctor Doom. Inspired by Doom's visage, he created the armoured identity Scarlet Centurion but later abandoned it after losing to the Avengers in another timeline (Earth-689) in one of his various attempts to rule that world.
After abandoning the Scarlet Centurion identity, Nathaniel tried to return to his native time but ended up in Earth-6311's 40th century when the world was decimated by war. While there, he assumed the moniker Kang The Conqueror, and became a warlord replete with an army. Although, he did spare the kingdom of Carelius for the King's daughter's hand in marriage, Princess Ravonna Renslayer.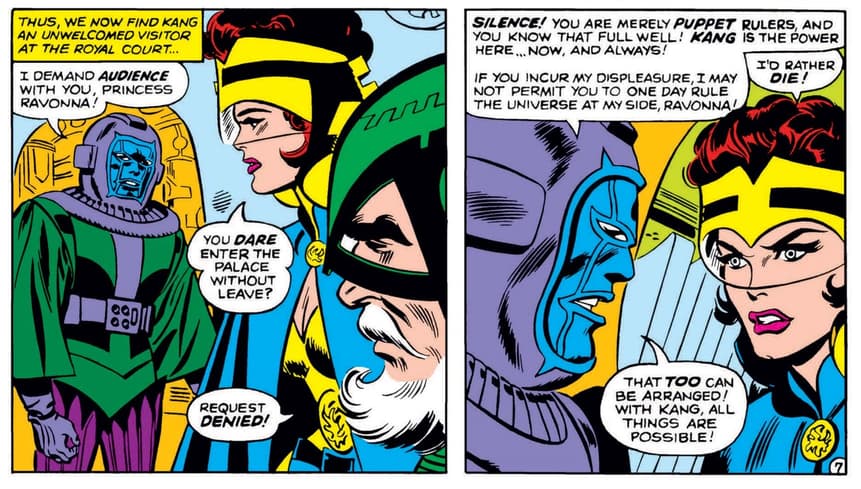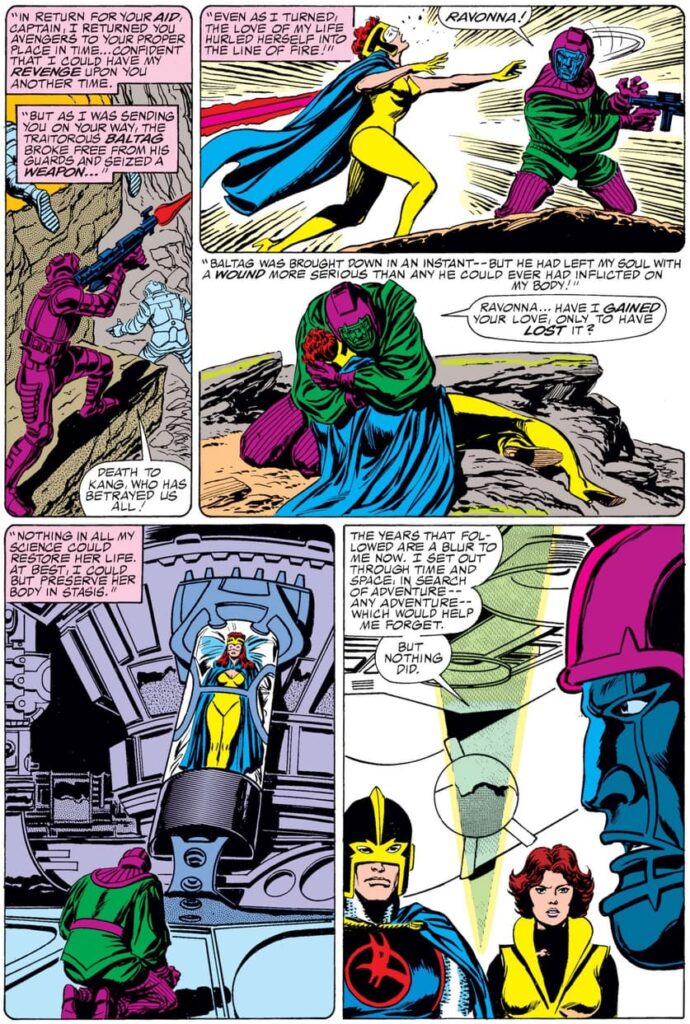 Down the line, Ravonna realized her love for Kang and saved his life from a disgruntled commander within his ranks. Putting her in a kind of stasis, Kang eventually found the means to save her prior to her death, but in doing so created a divergent reality where Kang perished instead. Peering into time, he also discovered that his exploration had caused additional divergent realities and more Kangs with which to contend; the Council Of Kangs.
Immortus is the far future version of Kang, who became obsessed with the Avengers after the Time-Keepers directed him to destroy Earth's Mightiest. Unlike Kang, Immortus is more scholarly, and he bends at the knee to the Time-Keepers in return for control over a certain period of history. That's why Kang despises his future self as a weakling, and he has vowed to never become Immortus.
However, the reason why Immortus doesn't really appear in Marvel Comics much anymore is because Kang succeeded in changing his fate in 1998's Avengers Forever when Kang and Immortus were separated from each other. Now, both variants can have a life of their own without having a shared history.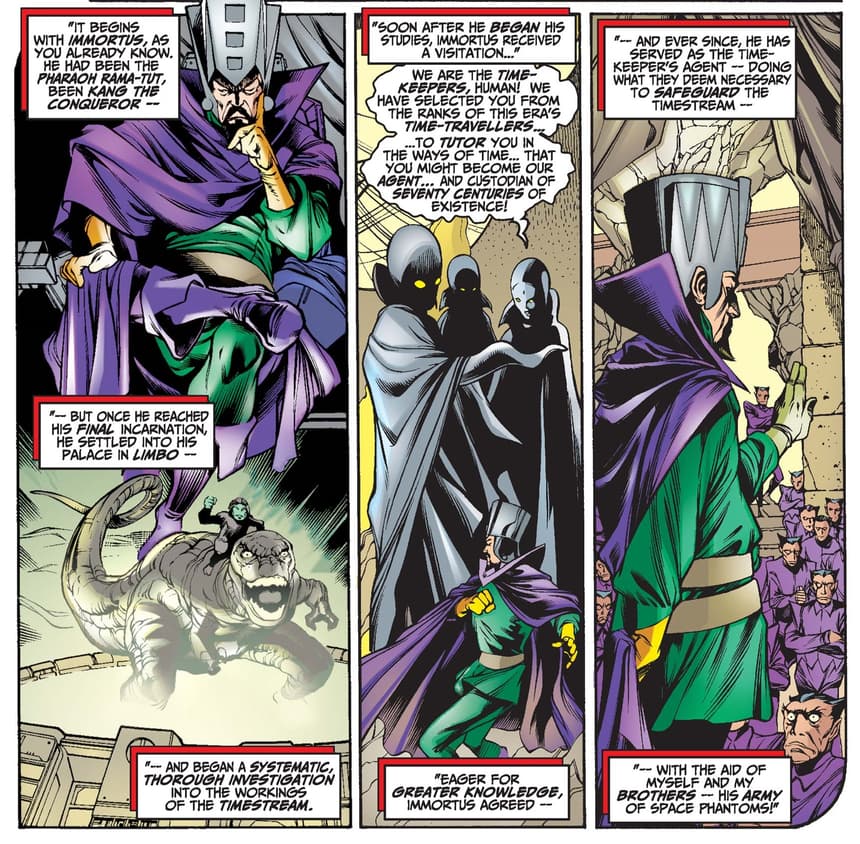 The brilliant inventor and industrialist Victor Timely was a convenient identity that Kang Prime used in 1901 to plot his conquest of Earth-616 from Timely, Wisconsin. While there, he built a technology manufacturing business that spanned generations, thanks to Kang posing as his "sons" Victor Timely, Jr. and Victor Timely III. This is what led to the Kang Dynasty event, which is how Kang took control of Sentinels.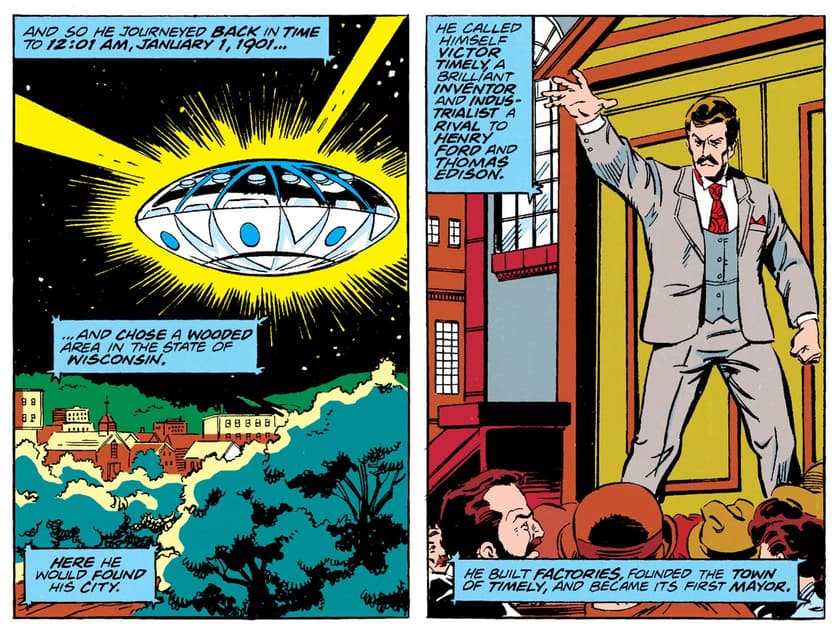 After the Council Of Kangs destroyed each other, came the Council Of Cross-Time Kangs came along and invited Kang Prime to join. It's important to note that not all of these Kangs were variants of the original. Some were creatures and aliens who usurped the role of Nathanial Richards' Kang in their own timelines. Kang despised the Cross-Time Council, and he later sicced interdimensional space-cloud Alioth on them.
There's also his younger self, who joined the Young Avengers as Iron Lad and attempted to stop his older, embittered variant from becoming Kang the Conqueror.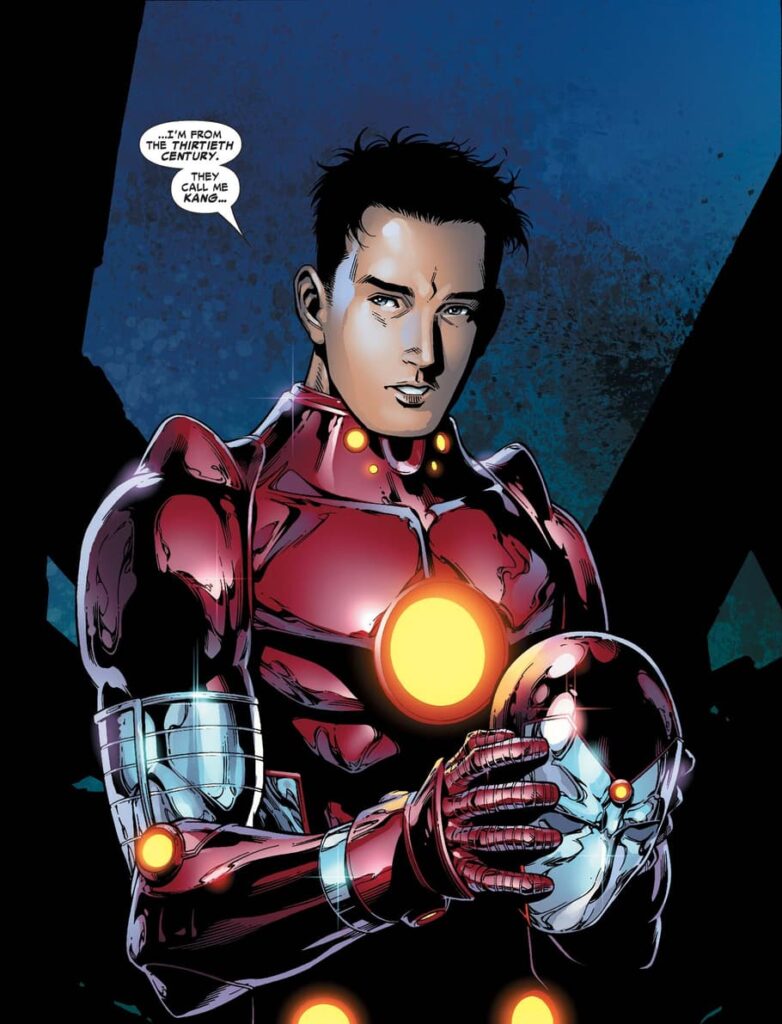 If all that sounds confusing, trust me, it is. What's ultimately important is that you know the gist of Kang The Conqueror, Iron Lad and Immortus. Those are the three most important and significant variants of Kang. The others aren't as important in the grander scheme of things.
That being said, the MCU might change a lot about Kang The Conqueror, like they did with Thanos. As such, we'll probably have a better idea of the MCU's version of the character after watching Ant-Man And The Wasp Quantumania. There's still too much we don't know and it's impossible to sift through more than 80 years of comic book history in a single article. Not even the Comics Lord can do that.
Also, here are some more Kang-related characters to crack your head:
Scarlet Centurion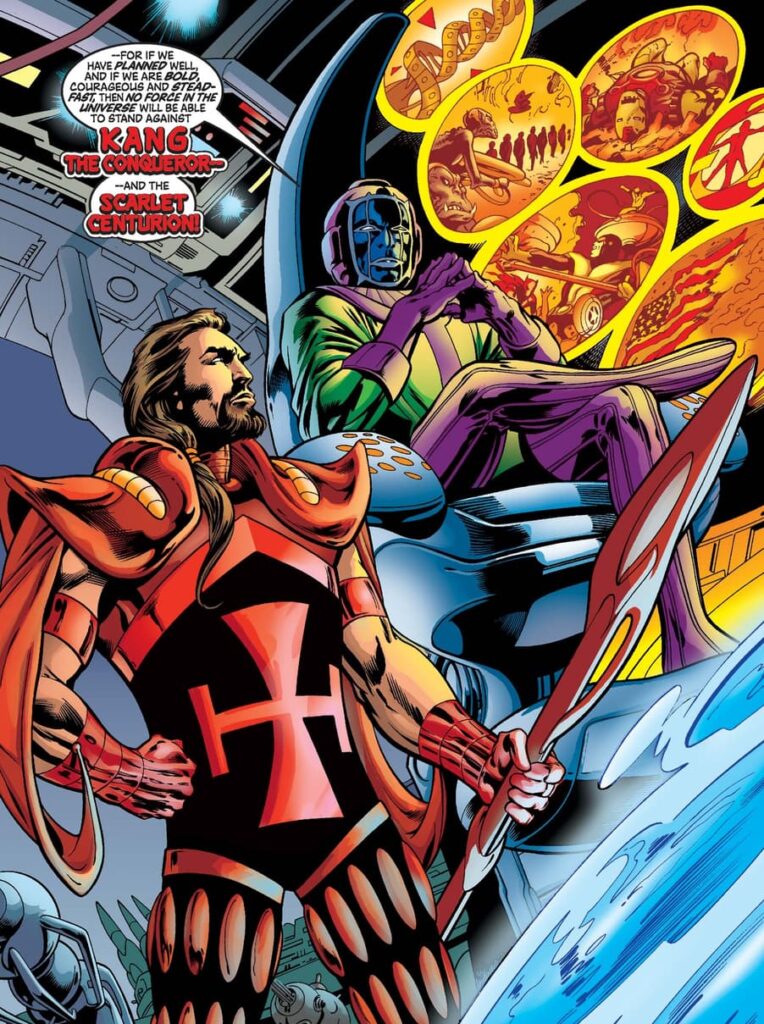 While a variant Kang used the moniker Scarlet Centurion for years, readers were introduced to his son, Marcus Kang, during the "Kang Dynasty" arc. Marcus also took on the identity of the Scarlet Centurion, and while Kang was proud of his son's potential, he felt the need to murder him because Marcus hid a minor betrayal. Marcus also refused to let his father languish in captivity or death, but he didn't foresee that freeing Kang would lead to his own demise.
That's all for Kang, folks. I can go into more detail after the movie comes out and after we have more of an idea of who the MCU Kang The Conqueror is. In the meantime, head on over here for my article on the members of the Ant-Man family and check out what to to prepare for Ant-Man And The Wasp Quantumania.
There you have it, folks. In the meantime, check out the trailer below:
Related