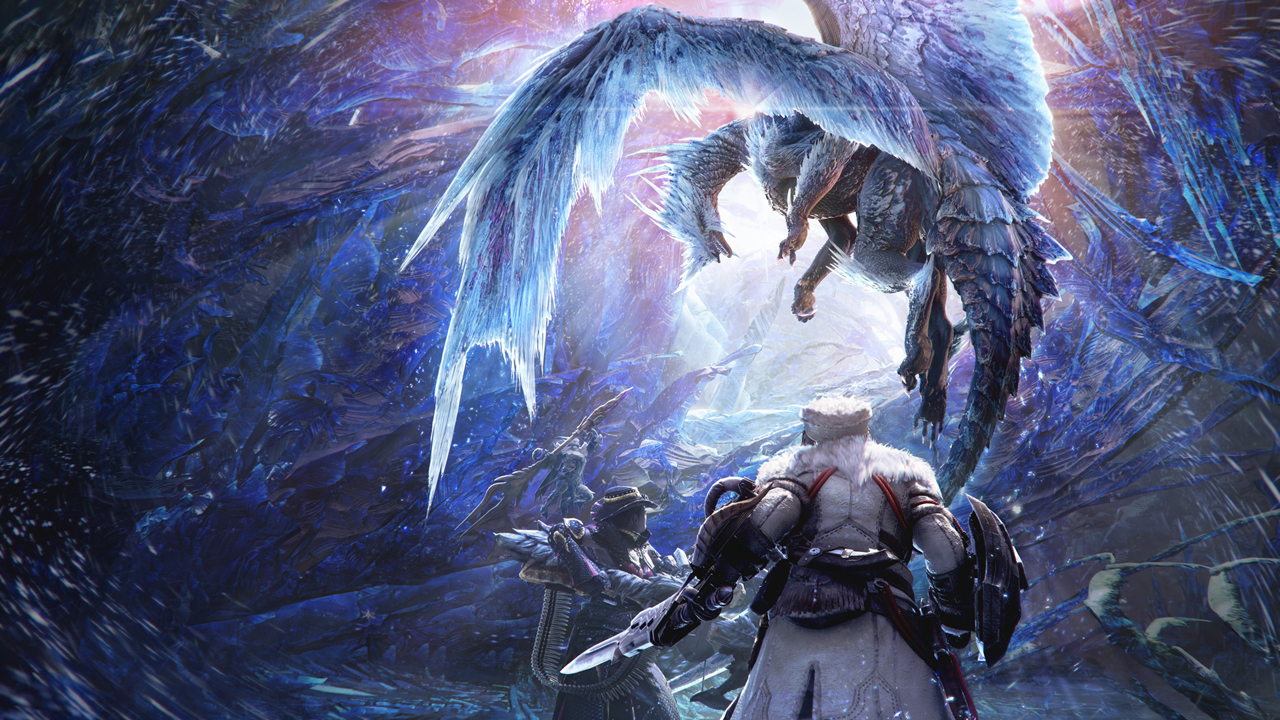 by in
Fans of the Monster Hunter series are keeping their eyes on the upcoming massive expansion for Monster Hunter World. Ryozo Tsujimoto and Kaname Fujioka, Iceborne development team leaders, held an interview during E3 and addressed some questions like Iceborne players playing together with non-Iceborne players, why the 'G-rank' naming scheme was dropped and more.
Removing 'G-rank'
G-rank is the highest known hunter rank in the Monster Hunter series and features tougher monsters with more valuable loot. Some monsters are only available in G-rank.
Ryozo Tsujimoto spoke to 4Gamer, revealing that the nomenclature has been altered so it is more streamlined.
"Monster Hunter World has players connect around the world globally, so from a communication standpoint we thought it better to streamline the title and rank names. This time 'G' has been replaced by Iceborne, and G Rank has been named Master Rank."
Kaname Fujioka, executive director, said: "The 'G' was there for the impact," while laughing.
This means that G-rank is here to stay, albeit under a different name. So, don't worry about not being to hunt harder monsters, it's still here.
The Clutch Claw
The Clutch Claw is the latest addition to the hunter's arsenal of tools and weaponry, designed to close in the gap and mount enemies.
The Clutch Claw was created on the concept of using the environment and creating your own openings to attack using it. The Clutch Claw provides one direct option to do so by yourself, according to Fujioka.
Riding Small Monsters
Fujioka pointed out that players will be able to ride small monsters like the Jagras or the Girros after completing a certain challenge. Players will have access to a flute that unlocks the ability to ride small monsters. It won't be immediately available after entering Iceborne.
Playing With Non-Iceborne Players
Players owning the Iceborne expansion can match up with non-owners, and can use the new actions as well. Tsujimoto did say however, that non-owners cannot accept Master Rank quests nor use the new actions.
Kicking Off Iceborne
Fujioka stated that players can immediately begin playing the Iceborne expansion if they've defeated the final boss. Upon installing the expansion, players will immediately begin the event of crossing the ocean to Hoarfrost Reach.
Balancing Master Rank
In previous games, 'G-rank' had only tweaked the status values of monsters, meaning they have increased stats. Fujioka said that's about to change:
"In the past, we only tweaked the status values of monsters, but in recent years if you don't mix it up people will feel it's boring and repetitive, so we've also added new actions that monsters can perform. If you've played recent G Rank games, there shouldn't be a big difference."
---
Monster Hunter World: Iceborne is coming to the PlayStation 4 and Xbox One on 6 September, while the PC version will have a Winter release.
If you've missed it, we've covered all of the new attacks coming in Iceborne, which you can check out here.