It's not always easy to find a game you'll like on Steam. Even with features like suggesting games that are trending among your friends or by following curators who recommend genre-specific games, you might still overlook obscure gems.
I personally found one of my favourite games of all time, Alpha Protocol (now no longer being sold on Steam) ,through acquaintances on Reddit. Prior to that, I never knew Alpha Protocol was available on Steam.
In a bold move to try and improve the way we find games we might love and also maybe because they finally see the Epic Games Store as a worthy competitor, Steam is experimenting with something new. Literally experimenting.
Steam Labs is basically Steam's new feature that allows users to beta test their latest ideas. Everything in the Steam Labs is a WIP and will be improved according to feedback given by you and me.
"These are works in progress. Some of them may turn out great. Others, we may toss out. We hope that most will be improved with your feedback and go on to be a part of Steam. This is the way of Steam Labs."
– stated on the Steam Labs main page.
Currently there are three ongoing experiments and all of them are designed for the purpose of helping you find a good game to buy and play. Here's what they are and how they work:
Less Time, More Games
Just like how microtransactions take only a little of your money for a seemingly big in-game reward, Micro Trailers will only take a little of your time for better game exposure.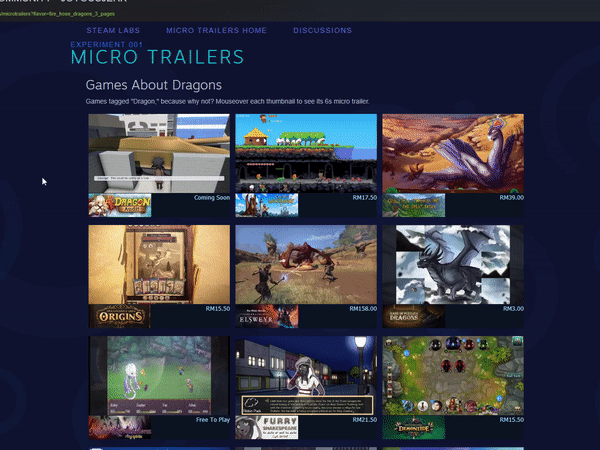 You first select a category you're interested in and by the way, categories aren't always just genres. The category shown in the gif above is "Dragons" and will show you 6-second trailers of games that have dragons.
There are several ways to watch the trailers. Shown above is the mouse-hover method. Other options including simultaneously playing the micro trailers for a row of three games, trailers auto-play as you scroll down the page, and quad videos which lets you watch four different muted clips of a game in a 2×2 format.
Here's a nifty feature: When you click on a game's micro trailer, it opens up the game's store page in a new window. This is really helpful because it means the micro trailers page doesn't refresh itself and forces you to start from the top again.
Siri, What's My Next Social Isolation Plan
Everybody and their grandmother is using machine learning for something nowadays and Steam has decided to join that party. Who needs friends when you've got an AI buddy to recommend you sweet new games? Oh wait, it'll also recommend multiplayer games…
But nevermind that! The Interactive Recommender does more than look at your library and recommend similar games. That's what Steam's Discovery Queue is already doing. The AI actually cross-references yours and other players' play habits to determine new recommendations.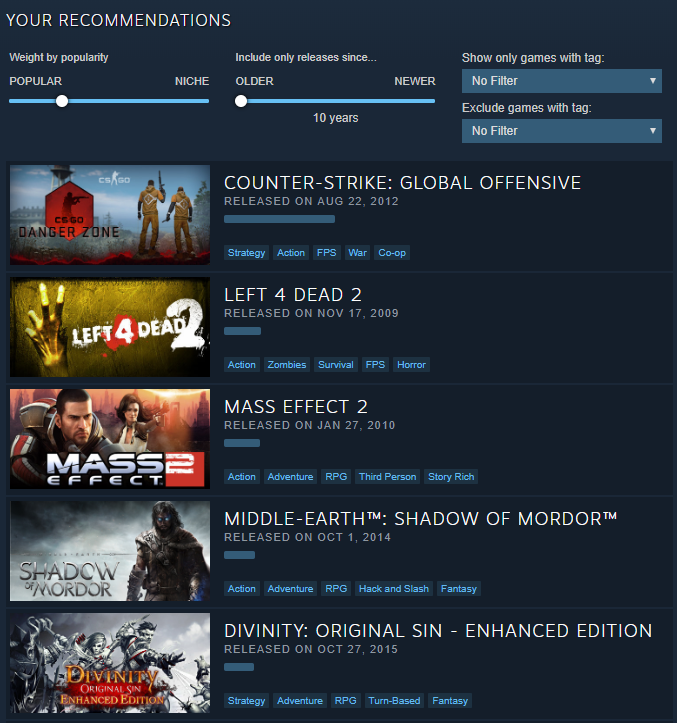 Your play habits are information such as how much time you've spent playing a game and how you approach games of different genres. The AI identifies similar play habits in other users and recommends them in a "these guys like what you like but they also like this stuff you've never tried" method.
That's not all. To avoid the AI from simply recommending just more of what you play, it doesn't look at tags and reviews scores. The only information Steam manually feeds it are release dates. This is helpful if you're playing on a regular laptop or a non-gaming PC and you want to play something that won't fry your motherboard.
As shown above, you'll be able to filter the games through their popularity and release dates. You'll also be able to include and exclude games with specific tags. So if you're looking for something old and obscure but you've got an itch specifically for JRPGs, the AI will make it easier for you.
Sit Back, Grab Some Popcorn, And Empty Your Wallets
Imagine Marie Kondo but instead of teaching you how to organise your house, it's Steam teaching you how you can use that debit card in your pocket.
The Automatic Show is a daily auto-generated 30-minute video of new and popular games. It shows off the games in the similar 2×2 quad video format as the one I mentioned earlier when talking about Micro Trailers. However the video isn't muted and will be playing the audio from only the top left clip.
The game being currently shown will have its title displayed beside the video and clicking on it will open a new window to its store page.
Scroll down a bit and you'll see what Steam is working on to improve the Automatic Show. For now, the bot still requires a human input to start generating the show and Steam wants to find a way to make it fully autonomous. How? That's where your feedback will help.
What's Next?
For now, this is all the Steam Labs is experimenting with but there's bound to be more interesting mechanisms and features in the future. There's discussion page created specifically to talk about Steam Labs and if you've got a cool idea, go ahead and share it!