The Mobile Legends Bang Bang (MLBB) Professional League (MPL) MY/SG Season 4 is going to start soon, with its Regular Season set to take place from 24 August to 29 September 2019. This phase of the tournament will be streamed live on the Mobile Legends: Bang Bang (MLBB) Facebook page every Saturday and Sunday from 4pm onwards.
Mobile Legends fans will also be able to catch the Regular Season live action at viewing parties held at Rasta in Taman Tun Doctor Ismail Kuala Lumpur on 15, 21 and 29 September 2019. Entry is free, but they can also look forward to activities, giveaways and more.
New And Improved Points System
A new and improved points system will be introduced in the upcoming season, where teams will now be ranked based on the number of best-of-three matches won. In the event of a tiebreaker, the teams' win-loss differential (number of games won minus number of games lost) will be considered.
The higher the differential number, the higher a team will rank. If the win-loss differential is inconclusive, the final rankings will be determined by the teams' head-to-head record.
The number of teams qualifying for the Playoffs at the end of the season remains the eight top-ranking teams, where the top four teams will advance directly into the upper bracket of the Playoffs (double elimination), while the bottom four teams will enter the lower bracket of the Playoffs (single elimination).
Team Roster Changes
Two teams from each Malaysia and Singapore respectively have qualified for the Regular Season so far, and they are:
Todak (Malaysia)
Sabah Top Player (Malaysia)
Louvre Esports (Singapore)
Notorious Villains (Singapore)
On the Malaysian side, Todak (who is also Champion of the second-tier MLBB Diamond Challenge tournament) features a lineup of MPL-MY/SG Season 2 veterans, such as Muhammad Rizwan 'Eone' Abdullah, Shahril Anuar 'nenasssss' Abdul Rashid and Mohamad Aiman 'xray' Idris.
Impressively, MPL-MY/SG debutant Sabah Top Player is by far the youngest team to qualify for MPL-MY/SG, with their youngest member Isaac 'Proler' Chang being only 14 years old.
Across the causeway, two standout players Nashrudin 'Fenrir' Kamsani and Ng 'Kolia' Shao Ming from Season 3's NARA Esports SG made a move to form Notorious Villains (formerly known as Nocte Volpe during the Singapore Qualifiers).
Meanwhile, MPL-MY/SG veterans Lim '·ly4ly4ly4' Yang and Jason '·JasonKoh' Koh of the disbanded Bigetron SG are now key players in Singapore's Louvre Esports. They recently competed as NoSponsorGaming in the Singapore Qualifiers and were acquired by the Indonesian esports organisation upon qualification.
The directly invited teams to MPL-MY/SG S4's Regular Season are:
Geek Fam (Season 3 Champion)
EVOS Esports SG (Season 3 Runner up)
Resurgence
XPAX X-Assins
Shopee Bosskurr
Axis Esports
The lineup of Axis Esports includes four former Reborn players: Muhammad Nur Hafis 'Evilx' Jamiran, Saw 'Loong' Kee Loong, Muhammad Firdaus 'Rynn' Abdul Jamil and a returning Fiqri Atiq 'Lacid' Mohd Fauzi Lai who took a season-long break from competitive gaming.
All teams in the Regular Season will enjoy a weekly subsidy of RM1,450 (US$350) per team as well as a bonus prize of up to RM2,490 (US$600) for every match won. Check out each of the team posters below.
Regular Season Schedule
Week
Date
Stream start time
Week 1
24 – 25 Aug 2019
4pm onwards
Week 2
31 Aug – 1 Sept 2019
Week 3
7 – 8 Sept 2019
Week 4
14 – 15 Sept 2019
Week 5
21 – 22 Sept 2019
Week 6
28 – 29 Sept 2019
With a whopping US$100,000 (RM414,000) total prize pool this time around, this season will be one to look out for.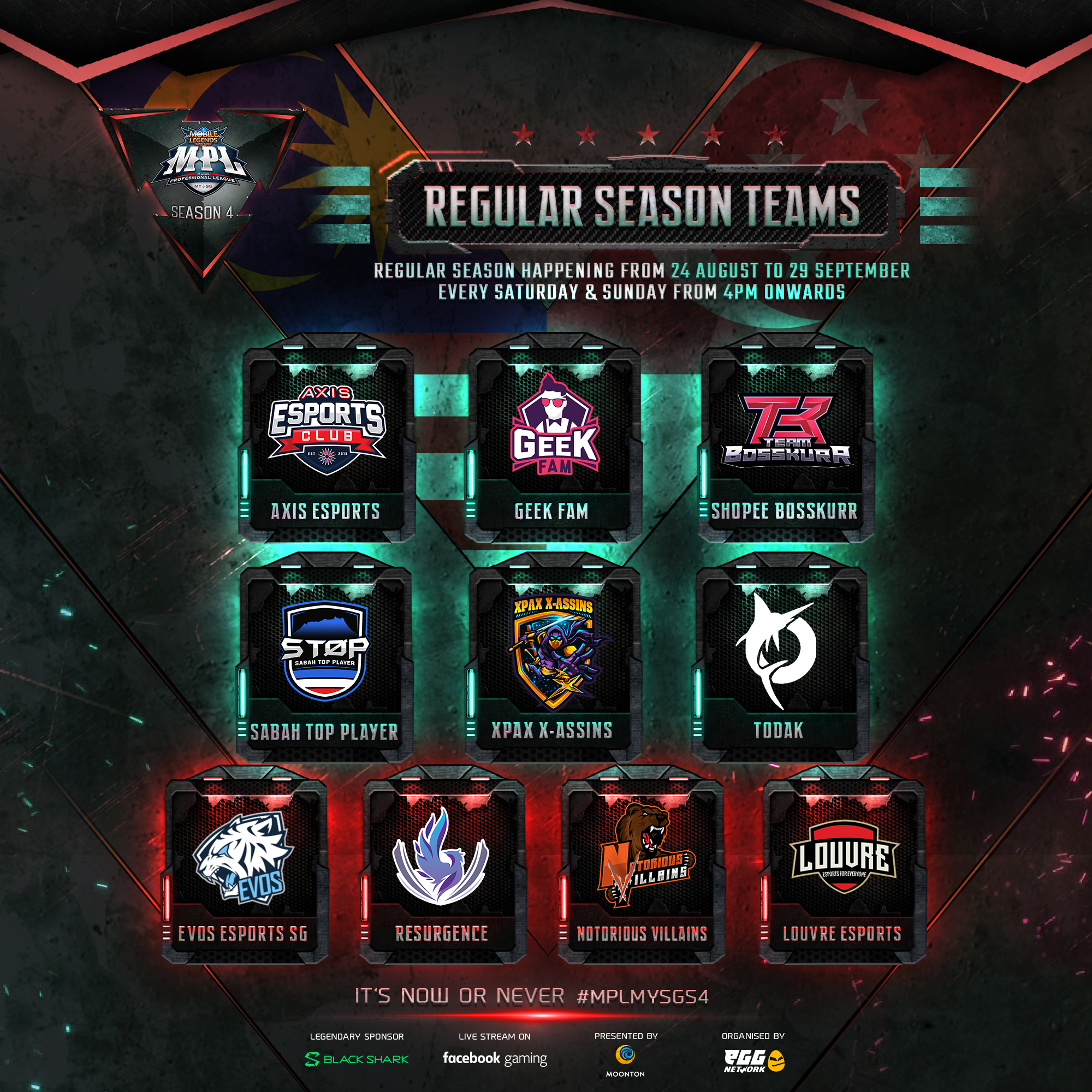 ---