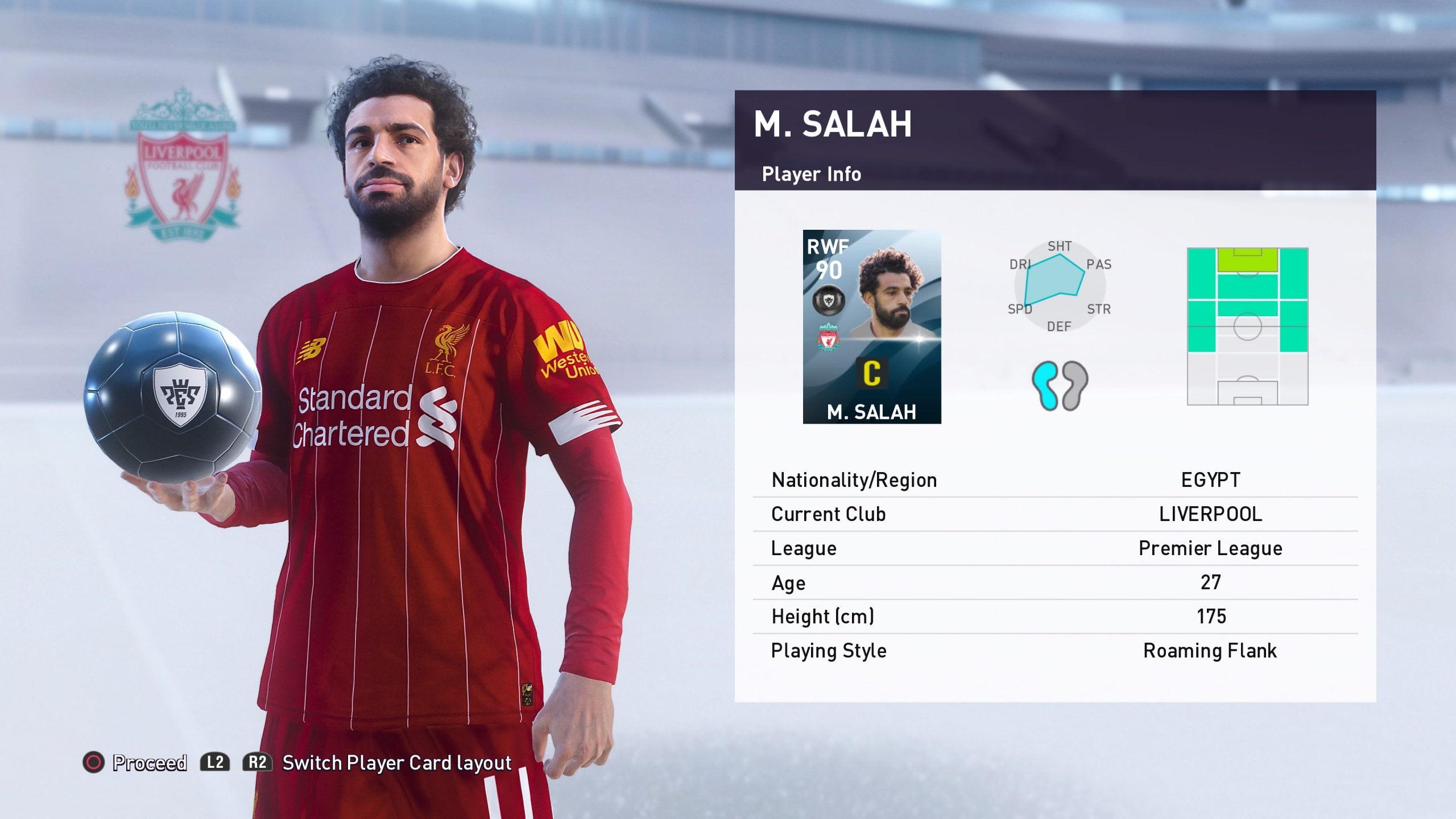 Platform: PS4, Xbox One, PC – Reviewed on PS4
Genre: Sports Simulator – More Klopping, less Ole-ing
If eFootball Pro Evolution Soccer (PES) 2020 was a professional football team, they would have been more of a Liverpool than say, the flashier setups of Juventus or Barcelona. A bit of a stretch? Let me explain.
See, while Konami's yearly football sim is easily the one at the top of the hill following the highly impressive PES2019 – just like Liverpool after winning their SIXTH European Cup last June – both still aren't the sexiest when compared to their continental rivals which popularity and successes over the previous years have put them several leagues ahead in terms of fanbase and foundation.
But does it make PES/ Liverpool inferior in any aspect? Not a chance.
A Championship-Winning Core
Just like how Alisson Becker in goal and Virgil van Dijk play huge roles in making Liverpool such a formidable team, so does the gameplay for PES2020. The solid gameplay we've experienced from last year's game was brought forward with minor tweaks.
Many would point out that the gameplay has been slowed down significantly compared to last year's iteration but before you jump and cry foul of the game being too close to reality, hold on to your butts. The drop in pace subtly encourage players to be more tactical and decisive in their approaches and quickly adapt to their opponent's setup. The A.I have been improved on both sides as well, with wing players being quick to run into space out wide while defensive midfielders intelligently cover passing lanes to shut down counter-attacks.
Gone are the days where you simply ping-pong passes from the get-go as you will not only have to be aware on where the ball is, but all twenty-two players' positioning on the field as well. PES2020 encourages players to be more tactical and decisive than they've ever been in their approaches which puts PES2020 closer to Football Manager rather than any FIFA game we've played.
So don't expect to pull off elasticos, the Marseille turn and score goals off rabona which is ubiquitous and synonymous to FIFA. Realism is the keyword in PES2020 and could be the deal breaker for those on the fence.
If PES2019 was Guardiola's Barcelona with their fancy tiki-taka, PES2020 is Jurgen Klopp's Liverpool and their decisive geggenpress.
Of course, players will eventually be able to pull off those mesmerizing one-touch passes again once they've grown accustomed to this new pace but by then, stringing passes will be much more rewarding as those defense-splitting balls are now products of calculated and deliberate actions.
Shots from outside of the box are harder to pull off now as well, but boy are they satisfying once you are able to master it. Konami has added more variables as to how players are to take their shots – body angle, momentum and interference from defenders are all taken into consideration.
Attempting a shot at goal while being pressured by an on-rushing wingback produces a totally different outcome compared to having a huffing center back five yards clear off you. I just received a PSN trophy for scoring over a hundred goals in the game about three days since playing it and as I can recall, I have yet to score identical ones.
Formidable Front Which Still Needs Further Tweaking
On the presentation front, look no further than Liverpool's trio of attackers which can be counted on to deliver. Every player featured in PES2020 closely resemble their real-life counterparts more than ever before right down to their facial features and iconic celebrations.
However, for every proven starter in Mo Salah, Bobby Firmino, and Sadio Mane, there are questionable inclusions to the squad. These include Divock Origi, a promising yet inconsistent individual, Xherdan Shaqiri who just does the job required of him, and Rhian Brewster who has a ton of areas he needs improving on.
In PES2020's case, Konami could certainly improve in the likenesses for players in smaller leagues. We get that it is a huge undertaking but if previous years games' were taken into consideration, expect this area to receive constant updates with player facepacks which brings improved likeness as the year progresses.
Licensing issues have always been the bane of all PES games in the past and although Konami managed to snap (and retain) several huge club licenses such as Barcelona and Juventus this year, they lost the license for the likes of Liverpool and Borussia Dortmund in the process as well. This is still their Achilles heel which inevitably turn football fans away.  Thankfully, you can circumvent this issue by installing option files which can be found on the internet. In our case? We tried the one by PES Universe which cost about 10GBP and the results are pretty impressive, to be honest.
This slideshow requires JavaScript.
Editor's note: We are not sponsored by PES Universe in any way. Purchases done was purely out of Kenn's curiosity, and was out of his own pocket. 
Malaysian football fans went on a tizzy when local football club, Johor Darul Ta'zim F.C was announced as one of the clubs included in the Asian Champions League competition so if you're either a huge fan of the club or just want to have a blast playing as a local team following years of Malaysian football absence in PES and FIFA, now's the time.
The choice of soundtrack presents more misses than hits and just like Divock Origi, the few that hit the target are the pretty impressive ones that adds much-needed oomph to the menu as you scroll through the various modes.
However, we have to bring up the godawful commentary. Konami is still using the same lines from previous PES iterations and listening to them shout "AND MORE AND MORE AND MOOOOOORE!" makes us want to tackle someone like how Carragher took out Nani.
Some More  Beefing Up To Do
The Master League is still as strong as ever now with subtle tweaks which solidifies itself as being PES' best available game mode. A small downside would be that gone are the days where players get to create their own manager avatar as they are now limited to choosing from a list of preset legendary footballers such as Diego Maradona, Johan Cruyff and Lothar Matthaus.
MyClub which is PES' response to FIFA's FUT is another mode that would easily suck you in for hours. So far, we feel that MyClub's has been so much more generous than FUT in granting in-game currencies and high-tier players with us getting the likes of Mo Salah, Roberto Firmino, Angel Di Maria, Kun Aguero, Raphael Varane and Antoine Griezmann into our squad.
The addition of 'eFootball' in PES2020's official title isn't just window dressing. Konami have implemented a multitude of game modes which lean towards catering to the competitive side of things. Having gone through several online matches using both preset teams and the ones we assembled in MyClub, we found connections to be stable and matchmaking easy to come by. How it will fare in the long run is anyone's guess but things are looking good from the offset.
But like how Liverpool's midfield is this season compared to the last, there's not much improvement seen. Show us more modes, Konami. Wow us with something exquisite. The Be A Legend mode is still a slog-fest of repetitive games and while FIFA teases us with the spiritual successor of FIFA Street in Volta, we don't get anything resembling that in PES.
While the tight gameplay, incrementally improved Master League and MyClub modes will satiate the hardcore fans, I find it hard for casuals, those on the fence and even more so, the ones already invested in FIFA to cross the divide.
PES Control
PES 2020 is another strong annual contender from Konami with improvements in every department, top to bottom. A game for purists rather than casuals, Konami has built a football sim that ticks all the right boxes for those who know their enganches from their trequartistas but scared away those who are looking for a more relaxed approach in the process.
Pros
Solid football simulator gameplay.
Improved graphics year-on-year.
Higher emphasis on tactical setup which translates very well to the field.
Smarter A.I all-round.
More Asian clubs included this year yay!
Cons
Godawful commentary.
Same old modes for solo play.
Loss of several major team licenses.
FINAL SCORE: 80/100