Southeast Asia's ultimate celebration of the best of Western and Asian pop culture will be returning next month in less than two weeks. Singapore Comic Con 2019 is set to take place at the Marina Bay Sands – Sands Expo and Convention Centre from 7 to 8 December 2019.
Tickets are now available to purchase on the official website or on-site, with multiple categories of different prices to choose from.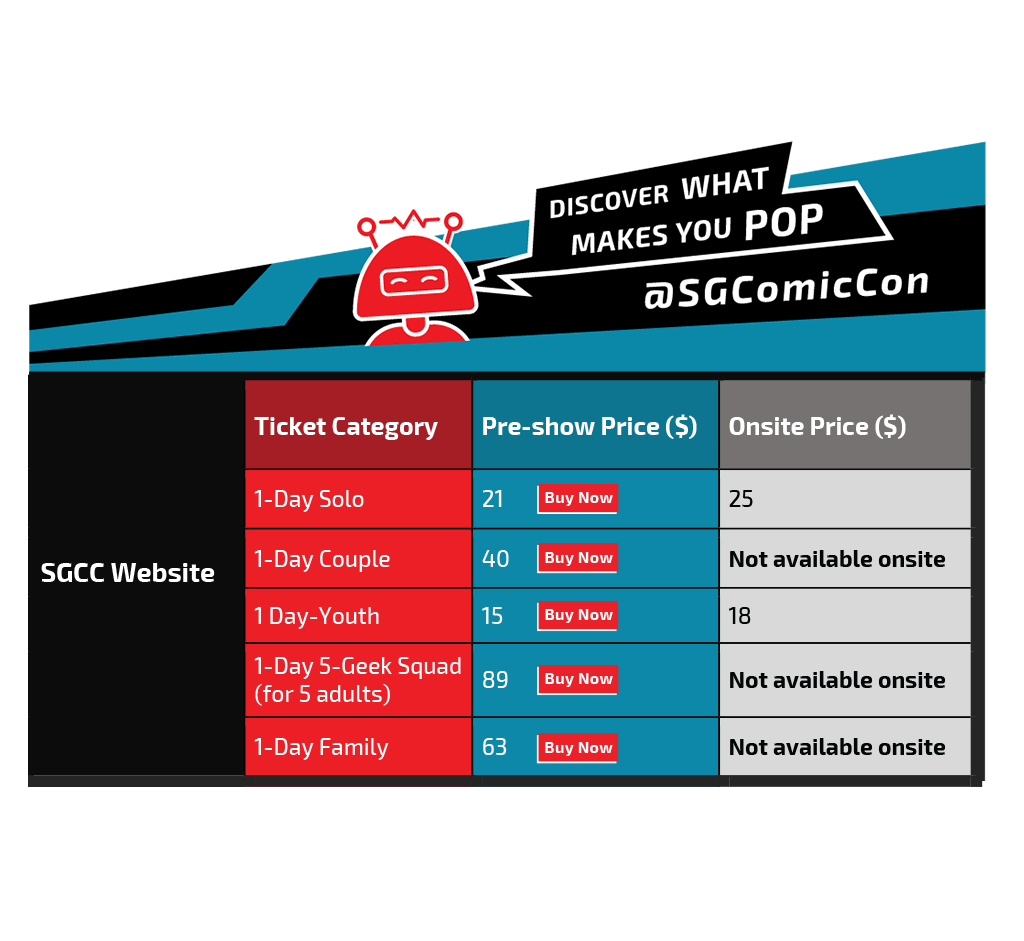 Here's what attendees can look forward to during the two days at the upcoming event:
Artist Alley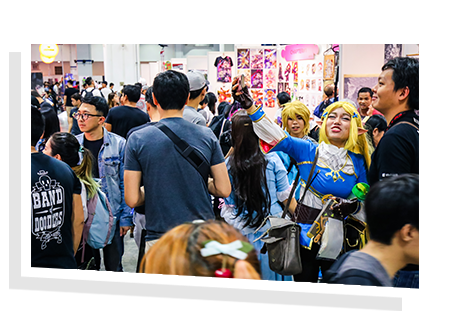 Attendees can discover an amazing showcase of work by both professional and amateur (local and international) artists. If you love unique trinkets, toys and art, or are looking for a special one-of-a-kind commissioned piece of art, this is the place to be at.
You can chat with these talented people and gain a better understanding behind the creativity of their artwork, or browse through the variety of creations and artworks on display.
Creative Space
Those who have an interest in cosplay photography, storytelling through comics or learning how to turn their hobby into a business can visit The Creative Space, filled with talks and knowledge-sharing sessions by SGCC guests and industry professionals.
All sessions are free, but seats are limited, so head on over here to register now and check out the schedule for all the sessions.
Championships Of Cosplay
While registration for the Championships Of Cosplay has already been closed, attendees can still check out the competition and check out the best cosplayers strutting their stuff.
Participants stand a chance to win attractive cash prizes and the champion will win a sponsored trip to represent SGCC in the grand finals at Chicago Comic & Entertainment Expo (C2E2) 2020 to battle it out with representatives from around the world.
Play! Pokémon
Calling all Pokémon trainers. You can take part in the Pokémon Trading Card Game Special Event Championship and the Pokémon Video Game Open (via Nintendo 3DS) at the Singapore Comic Con Pokémon Special Event.
Organised by Maxsoft and Project EXT, grab this opportunity to become the master and earn up to 200 Championship points, which is one of the largest pay-outs in the Pokémon Championship circuit!
Head on over here for details on how to join.
Exclusive Merchandise & Collectibles Galore
Attendees can check out the extensive collection of exclusive merchandise on showcase at Singapore Comic Con, with everything from comics and games to toys and collectibles, many of which are limited edition offerings at our show.
Head on over here for the ongoing list of exhibitors and their product offerings at SGCC 2019.
Exclusively for SGCC 2019, T-shirts designed by renowned guests will also available to purchase at SGD$29 each both online and on-site at the official merchandise store, including ones by New York-based award-winning artist Tara McPherson, Singaporean artist Muffinsaurs and Japanese artist Peach MoMoKo.
PVP Esports Competitions & Gaming

Attendees can witness their favourite players and teams compete in games such as Dota 2 and Mobile Legends at the PVP Esports event at Singapore Comic Con, as well as meet and connect with gaming influencers and streamers like Alodia, Biancake, SherlinTsu (Baby Shark) and more.
The PVP Community League Grand Finals will also take place exclusively at SGCC, with over 400 teams competing for the past several months. Catch teams such as Unstable Network from SIM, Serpentine and Holy from ITE Central, as well as regional teams like Team Teletubbies, Xavier and many more as they compete in this year's finals at SGCC.
Oh, and team member of the two-time Dota 2 The International champions Red Bull OG, Topson, will be there in the flesh.
As the official esports presenter of SGCC 2019, PVP Esports will also feature global celebrity appearances, panel discussions, developer showcases and exclusive giveaways from the likes of Huawei, Secret Lab, Razer and more.
[youtube https://www.youtube.com/watch?v=4NiNcnP0tyk&w=560&h=315]
Special Guests At SGCC 2019
Attendees will receive the opportunity to get up close and meet talented guests on SGCC's star-studded guest line-up from cosplayers to toymakers, gamers, illustrators and comic creators from Marvel, DC and other world-class publishers.
It's a pretty massive lineup, so here are are some of the highlights:
Andy Kubert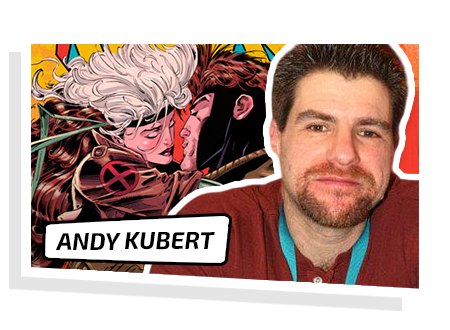 Andy Kubert is a comic book artist veteran who started his comics career as a letterer at DC Comics in 1980. He is best known for his work at Marvel Comics, specifically the company's X-Men titles.
Kubert has also collaborated with novelist Neil Gaiman on the Marvel 1602, a team of writers (Bill Jemas, Joe Quesada and Paul Jenkins) on the Origin limited series (which revealed the early history of Wolverine) and co-created the Damian Wayne AKA the son of Batman with the legendary Grant Morrison.
Donny Cates
Donny Cates is a comic book writer have worked (and are currently working) on a slew of projects at Marvel Comics, including Venom, Cosmic Ghost Rider, Death Of The Inhumans, Guardians Of The Galaxy, Silver Surfer Black, Thanos, and Doctor Strange.
His past non-Marvel works include God Country at Image Comics, a cosmic story set in the most non-cosmic setting possible; a farm in the middle of rural America.
Greg Capullo
Greg Capullo is a comic book artist veteran, who is best known for his 80-issue run on Image Comics' Spawn with Todd McFarlane and highly-acclaimed Batman series for DC Comics with Scott Snyder, introducing famous new concepts like the Court Of Owls.
He is also the creator of The Creech, a sci-fi horror comic published by Image Comics, and has previously provided art for Blizzard Entertainment's World of Warcraft franchise.
David Mack
David Mack is the Emmy-nominated author & artist of Kabuki, and a past writer of Marvel's Daredevil. He has also created artwork for the opening titles of Captain America The Winter Soldier, Netflix's Jessica Jones Netflix TV series, and more.
Mack has also directed popular music videos for Amanda Palmer and Dashboard Confessional, as well as recently completing a new creator-owned project with Brian Michael Bendis for DC comics called Cover. He is currently developing the live-action adaptation of KABUKI as a TV series with Sony.
Tara McPherson
Tara McPherson is an artist based in New York. Creating art about people and their odd ways, her characters exude idealized innocence with a glimpse of hard-earned wisdom in their eyes.
Some of her clients include Microsoft, Bulleit Bourbon, DC Comics, Warner Brothers, Swatch, Rayban, Cirque du Soleil, Kidrobot, SXSW, Pepsi, Fanta, 1800 Tequila, Trust Me Vodka, Gigantic Brewery, Goldenvoice, Penguin, Harper Collins, Bloomsbury, Revolver, Village Voice, Dogfish Head Brewery, and Nike.
[youtube https://www.youtube.com/watch?v=tq1hR6tsA1Y&w=560&h=315]
Astarohime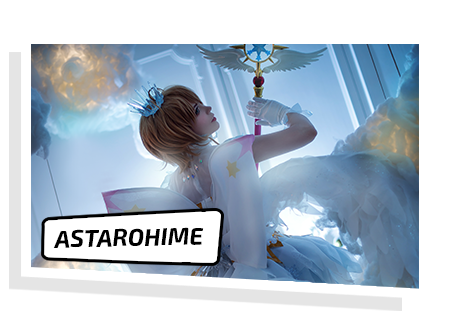 Astarohime is one of the most popular cosplayers in Russia and the world. She's been cosplaying for over 10 years and has more than a hundred costumes in her wardrobe.
Her best-known work is the cosplay of Trinity Blood artbooks by Thores Shibamoto. Cosplays, from sketches to the finest details, are made by Astarohime. That's why Astarohime has been named the winner of over 50 cosplay contests in Russia, Europe and Asia.
Viva La Dirt League
Rowan Bettjeman, Alan Morrison and Adam King make up Viva La Dirt League. This trio from New Zealand merge their two loves of film making and video games to serve up at least three comedy sketch videos each week.
These include the RPG-inspired 'Epic NPC Man', 'PUBG Logic' based on the popular battle royale game, and their comedy series 'Bored' detailing the lives of a group of crazy retail workers.
[youtube https://www.youtube.com/watch?v=tkYgybjt_Yg&w=560&h=315]
---
These are just a slice of everything awesome that's waiting for you at SGCC 2019. For the complete list of guests and activities at the event, head on over here to the official website.
---