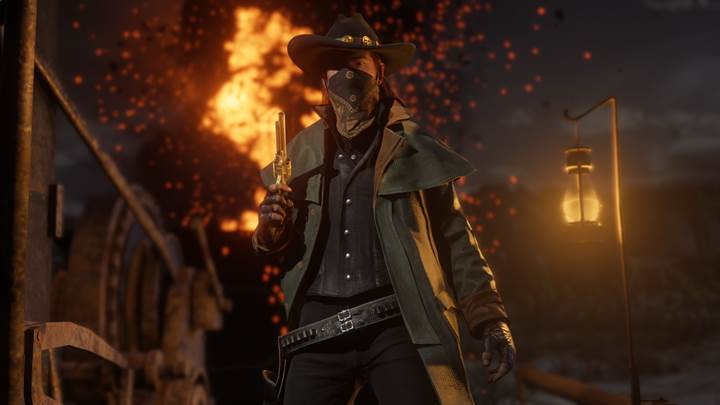 by in
The latest Red Dead Online update is here, bringing a bunch of new content for you budding cowboys and outlaws out there, especially now that the game has been available for the PC since 5 November 2019.
Legendary Bounty: Red Ben Clempson
The biggest addition is a new Legendary Bounty named Red Ben Clempson, notorious sharpshooter and leader of the Red Ben Gang. He's easily noticeable due to his penchant for wearing fancy tailored clothes, but he is still a very dangerous target.
New Clothing
Players can look forward to the Cardozo Vest for a limited time, as well as permanent new additions like The Dunaway Coat, the Purkiss and Pearrow Hats, Union Cap, Farley Shirt and Tillson Sweater.
There are also new colourways of the Ledbetter Hat, Fuentes Poncho and Killiman Vest, as well as new footwear options with the Parson Boots, Rowland Boots, Cerrada Boots and Cibola Boots.
Bonuses
The Wheeler, Rawson & Co. Club and The Outlaw Pass on Xbox One and PS4 will come to a close later this week on 18 November 2019. All exclusive Outlaw Pass rewards up to your current Club Rank unlocks instantly with the purchase of The Outlaw Pass and everything you unlock before 18 November stays with you permanently.
As an added bonus for players on Xbox One and PS4, Outlaw Pass holders who reach Club Rank 70 by the end of the week will also receive an all-white Cardozo Vest, free of charge, in addition to acquiring all the debonair stylings and professional benefits The Outlaw Pass delivers.
Collectors will be happy to hear that they are receiving 25 percent off the Pennington Field Shovel and 50 percent off all Collector Maps, and a 25 percent bonus on RDO$ payouts on all Collector Sets.
PlayStation Plus members can collect the Page of Pentacles, Knight of Pentacles, Queen of Pentacles and King of Pentacles Tarot Cards, simply by playing Red Dead Online any time before 18 November 2019.
Last but not least, players who connect their Social Club account with Twitch Prime will receive the Bounty Hunting License for free, as well as an additional 10 percent off the Field Shovel and Collector Maps above.
In the meantime, check out our review of Red Dead Redemption 2 here.
---