Platform(s): PlayStation 5 (version reviewed), PlayStation 4, PC
Genre: Puzzle game involving polygonally-basic humans, geometry, and real-time strategy mechanics
The years between the late 90s to mid-2000s were a time when video game developers just went nuts with abstract concepts and interesting puzzle games, sometimes both at the same time. From titles like I.Q.: Intelligent Qube to even synasthesia projects like Rez and anything from Tetsuya Mizuguchi, they all challenge preconceptions of games while also being brainteasers and mind-bending experiences you won't forget.
2023's new offering that tries to capture that creative spark is called Humanity, a puzzle game with tons of stages involving you shepherding an infinite number of people to the finish line. Only instead of being an invisible force, you're a magic dog who barks commands & has other skills befitting of a literal spirit guide. And it's quite a trip for its asking price of US$30 and 8+ hours of testing your smarts beyond shooting things in a video game.
Oh, there's some of the latter in the game, but we'll get to that.
Follow The Leader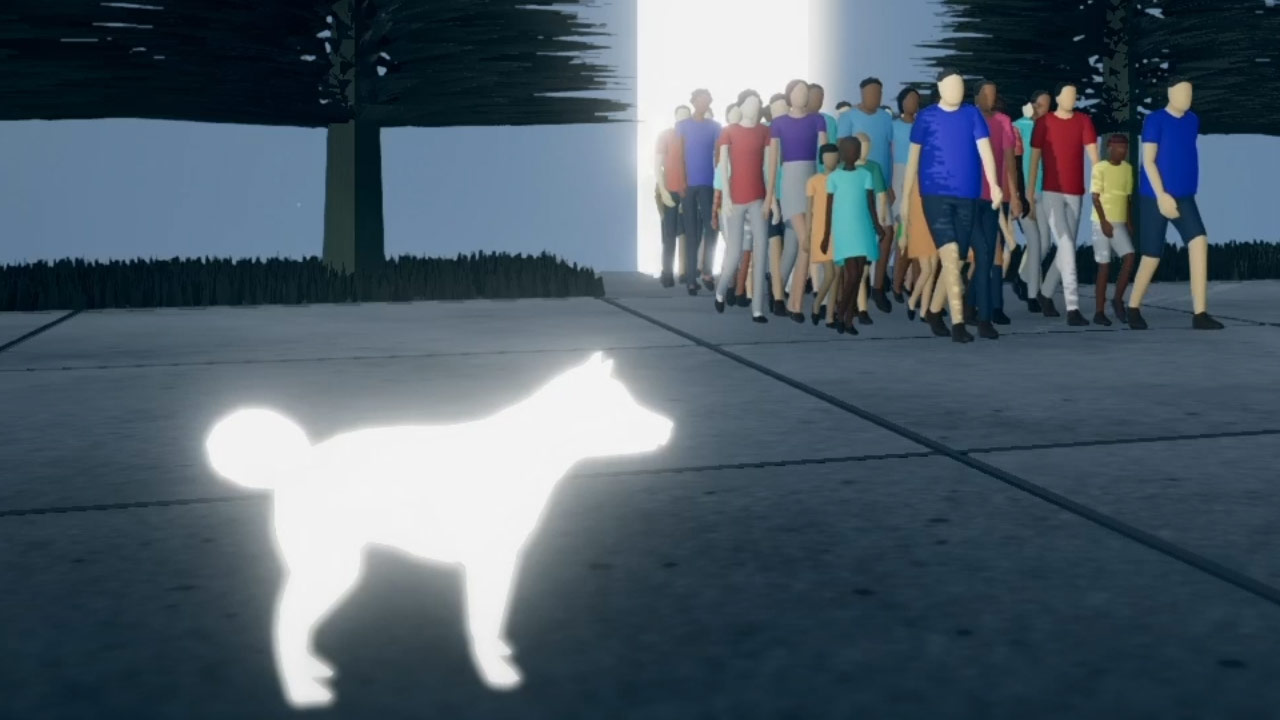 Humanity's gameplay premise is simple enough to get: you control a white shiba inu whose goal is to lead a "crapton" of humans spilling forth from magical gates, from point A to B. Of course, the actual levels here aren't a straight line: there will be tons of obstacles in your way ranging from pits to even deathtraps, and even rival humans called Others.
Your dog has the power to lay out directions and powerups so that the humans don't literally march to their deaths: turn commands, jump, float, and so forth. This is easy enough to do from the get-go, with new power-ups being introduced with each stage and sequence. It's the rest of the level design and structure that will tax your brain moreso than usual past the first Sequence.
The game itself doesn't rely too much on having the humans march straight in real time like in older puzzle games like Lemmings. Some levels require you to lay out commands before you let it all play out like some Rube Goldberg-type scenario. In some stages, you even arm the humans with some weaponry or abstract form of tech to deal with the Others. Heck, some stages require you to make a limited group of humans follow you from start to finish, and even arm them with weapons (and even stationing them as guards!) thus turning the current stage into a mini-real-time strategy segment of sorts. Some stages limit the powers you're allowed to use, making you plan your exit route with finite resources.
You also need to collect Goldies: special golden humans that not only unlock progress to the next sequence (seven total plus a few special "Orb" puzzles), but can also unlock extras and cosmetics. I was diligent enough to collect a ton of them just to dress up my humans with black suits and shades to make my own army of multi-gendered Agent Smiths.
All of this puzzling and solving is accompanied by perhaps the most unique soundtrack I've listened to in a long while since, well, the last Tetsuya Mizuguchi game. Given that developers Enhance and tha ltd. consists of the Rez developer, renowned web designer Yugo Nakamura, and a good number of names associated with past puzzle games like Tetris Effect, it's a given and it's all the more flavourful for it.
And with an easy-to-play control scheme and its slowly-escalating learning curve, Humanity isn't too hard or too easy; it's just right. Having said that, I did need to look up the solutions to some of the tougher puzzles via the in-game video solution. This is mostly for the stages involving block-pushing and conveyor belts, as well as ones requiring forward-planning with directions while avoiding deathtraps like lasers.
Said video solutions in-game are a godsend since a lot of us aren't as gifted in puzzle-solving. However, Humanity isn't a game with a time limit; you take your own pace in solving every stage, even selecting any number of them provided you collect enough Goldies to advance to the next Sequence. Plus, after hours of puzzle-solving, block pushing, literal human trafficking, and course-plotting, the game does drop a boss fight or two where you lead a bunch of humans with magic pistols to fire at enemies, or a giant one with set patterns and attacks.
Humanity knows when to change things up should players get sick of the puzzles; I commend it for its ability to switch things up at the right time. Plus, it's always a joy to see a sea of humans pouring out of the gate and through your planned route and machinations, jumping and floating in unison in one stream from the sky. It's a helluva sight to see your meticulous planning finally spewing tons of humans walking to salvation, alive and well, after repeated failed pathways of course.
And if the 8-hour story stages and conundrums aren't enough for your brain, you can always make your own and share them through the Stage Creator and User Stages option. While the tutorial is detailed enough to tell you how to make your fancy puzzle stages and even create your iconography of choice, the controller isn't the ideal tool to build 3D stages as it can get cumbersome when compared to using a mouse. As for User Stages, the ones available to us from the developers are pretty basic, so it'll take some time to see the creativity from would-be level designers. And they should: Humanity shows tons of potential to being one of the newest tools for level-crafting and puzzle-making.
Bodies, Bodies, Bodies
I never thought a PlayStation 1-era style puzzle game would mix the best of Lemmings, Pikmin, StarCraft, and Wonderful 101 in one unique experience pretty well, yet here we are. Humanity's story mode doesn't come off as pretentious, choosing to be a little abstract about what it means to shape, well, humanity. Even if you're not a fan of the narrative, you'll at least get some good brain teasers and some "real-time strategy plus shooting" action going on from start to finish in the 8 to 10 hours I've gone through. The user-generated content will no doubt be the game's selling point in the long run, but the initial package is definitely one for the books.
It's honestly a miracle that a title like Humanity is published in the current gaming landscape. It's got enough of a budget not to be classified as an indie title, yet it isn't a triple-A type title. At the end of the day though, we do need titles like Humanity to let us chill and solve its many, MANY puzzles and visual abstractness while the off-kilter croonings of composer Jemapur enthralls you. It's not for everyone, but you will not forget most of what Humanity has to offer.
Pros
Unique aesthetics.
Fun and tricky puzzles with nice underlying story.
Controls & powers are intuitive and easy to grasp from the get-go.
Very chill vibe.
Cons
Level editor can be cumbersome for most.
Will not change your mind about 90s-2000s puzzle games with tough challenges.
Final Score: 80/100
Review copy provided by Enhance.