By Alleef Ashaari|June 9, 2020|
Level Up KL is attempting something new this month with the LEVEL UP SPACEBAR and LEVEL UP PLAY-ONE online events. The organizers have revealed some of the guest speakers who will be gracing the business-focused Level Up Spacebar event, and it's actually a returning VIP guest from last year's event.
Former Sony Interactive Entertainment (SIE) Worldwide Studios president and current SIE Head Of Indies Initiative Shuhei Yoshida will be one of two guest speakers (alongside SIE Global Account Director John Eternal) for the Global Self-Publishing For PlayStation segment of the event.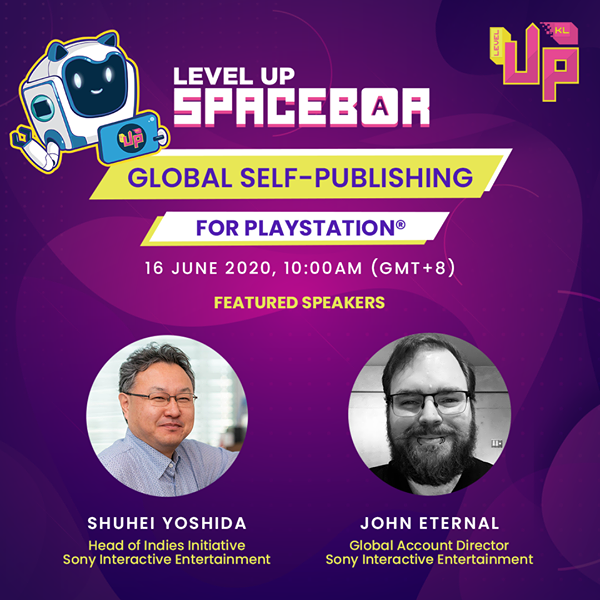 Last year, Yoshida also attended Level Up KL 2019 to officiate the announcement of Sony Interactive Entertainment Worldwide Studios Malaysia Sdn. Bhd. (SIE WWS Malaysia). It's great to see the great man at this year's event again as an esteemed guest.
LEVEL UP SPACEBAR will the first online edition of the Business Connection Programme (BCP) @ LEVEL UP KL, a 1:1 business meeting to connect the international game industry community with Malaysian game companies together to create new business connection and opportunities.
It will take place from 16 to 17 June 2020, consisting of two components: 1-on-1 business meetings held in a speed networking format, with 30 minutes meeting slots prescheduled via an online meeting platform, and sharing sessions featuring 5 to 6-panel sessions of industry leaders and influencers, revolving around the topic of overcoming business obstacles under the COVID-19 pandemic.
---
Related