This guide will be updated periodically, as the expansion just came out.
Borderlands 3's fourth and final(?) DLC, Psycho Krieg and the Fantastic Fustercluck (or just Psycho Krieg), is chock-filled with a zany plot and even zanier locations like a meat castle. Most importantly, there's a ton of new loot for our vault hunters to pillage.
But first…
What's New In Psycho Krieg DLC?
-There's a new level cap now: vault hunters can now go up to level 65.
–You can buy new SDUs for SMG, pistol, assault rifle, shotgun, and grenade.
-Some vault hunters are getting nerfs, like Amara and her Ties That Bind skill. The augment now only passes gun and melee damage to enemies.
–FL4K's Head Count skill gets a buff; it no longer prevents Rakk Attack from gaining the proper number of charges when scoring critical hits. Their Stackbot class mod gets a buff; splash damage does not end the stacks on that class mod.
–FL4K's Friend-Bot class mod, which was useless, now increases pet damage. Hopefully, this will give the mod some love.
–Moze's Drowning in Brass skill now affects both arms of Iron Bear, not just the left. Which means both arms get bonus damage.
–Mayhem is getting some buffs for player advantage. Players now have a chance to redeem themselves in Fight for your Life when Slayer is active and they have killed an enemy with melee. Mayhem modifiers do not change when players join through matchmaking.
-The biggest change for this update is Mayhem now featuring damage scaling support to shields with Nova or Reflect behaviours. This means that Nova Berners and other shields with Nova bursts and damage reflection are going to be VERY useful in Takedowns.
Now onto the goods. Keep in mind that the drops are from story bosses in this DLC, so we'll be putting spoiler warnings here in case.
Psycho Krieg Loot
Prompt Critical – Torgue Pistol. Shoots three bullets simultaneously in a spiral-like pattern. The more gyrojets you stick onto enemies, the bigger the damage and radius of the detonation when you reload. Drops from Evil Lilith.
Convergence – Hyperion Shotgun. One shot from this weapon will have multiple incendiary pellets converging onto the target. You can farm this from Benedict, though you can get it from Evil Brick sometimes.
Loveable Rogue- Torgue Assault Rifle. Average rate of fire, but deals decent damage like a scout rifle. Gyrojets have a chance to spawn a homing missile. You can farm this from Evil Brick.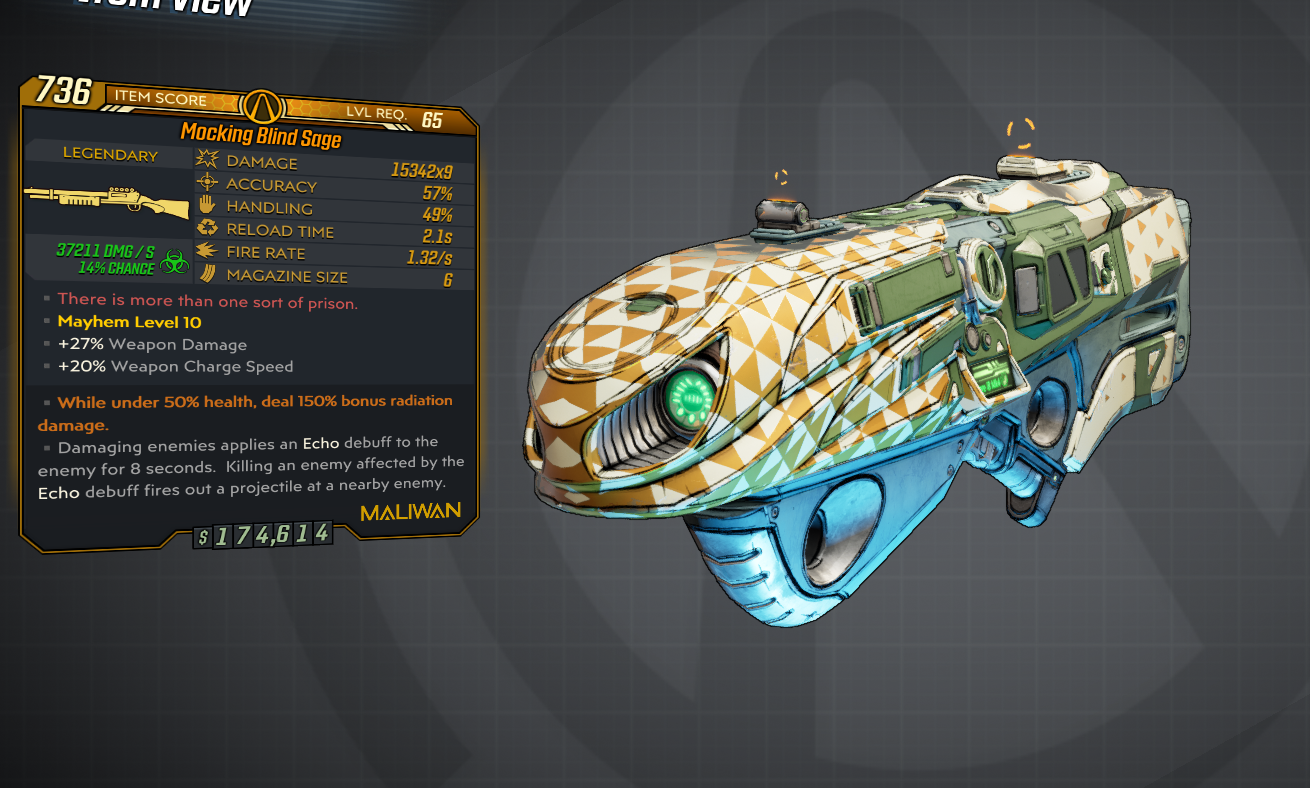 Blind Sage – Maliwan Shotgun. Comes with two switchable elements. Charged shot. Damaging enemies applies an Echo debuff to the enemy for 8 seconds. Killing an enemy with Echo will fire out a projectile at a nearby enemy. Can spawn multiple projectiles. Farm this from the Locomobius.
P.A.T. MK III+ – Tediore SMG. Shoots wavey bullets. Reloading will throw down a tiny SMG that fires and encircles enemies; they spawn with a full magazine. The thrown gun will deal full damage regardless of whether you have a full magazine or not beforehand. Also comes with a robot chipmunk voice that berates you. Farm this from Spongeboss Bulletpants at Castle Crimson.
Blood-Starved Beast (via Moxsy) – Dahl SMG. Comes in any element. Bullets bore through targets & deal splash damage. Chews up ammo super-quick due to its high projectile count. You can farm this from Evil Lilith, though its drop rate is pretty low.
Rebound – COV Assault Rifle. Comes in all elements. Shoots sawblades in addition to bullets. Sawblades can penetrate and bounce off enemies, as well as explode. Farm this from Psychoreaver, the last boss of the DLC.
Septimator Prime (via Joltzdude139)Â – Vladof sniper rifle. Undermount is either a rocket launcher or shotgun. Damaging enemies will have a small chance of summoning 1 to 6 fireballs onto your target. The fireballs will track nearby enemies. You can farm this from Evil Mordecai.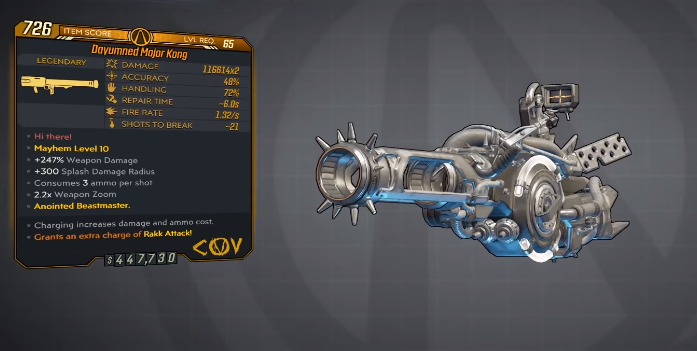 Major Kong (via Joltzdude139)Â – COV rocket launcher. Charging this high-damage rocket launcher increases damage and ammo cost Essentially the new Yellowcake and Ion Cannon. Farm this from the last boss of the DLC, the Psychoreaver.
Plus Ultra – Pangolin Shield Mod. Increased character health and aim-down-sights speed. -25% recharge delay and 25% chance to absorb bullets as ammo and increase action skill cooldown rate by 30% for several seconds. World drop, but higher chance to drop from Evil Brick.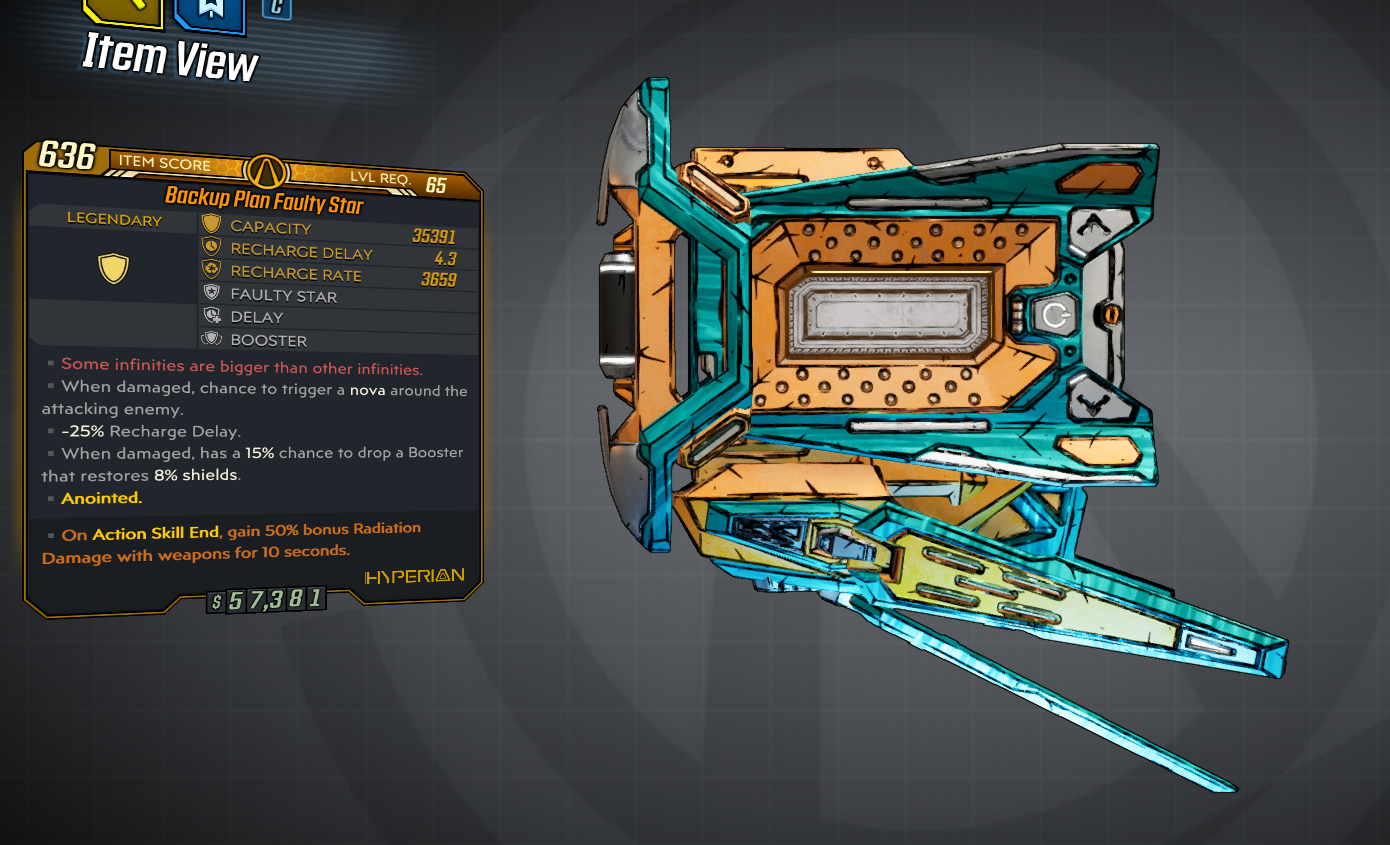 Faulty Star – Hyperion Shield Mod. When damaged, chance to trigger a nova around the attacking enemy. -25% recharge delay. World drop, but higher chance from Evil Lilith.
Bandolier Flare – Moze class mod. Gain up to +100% damage while Iron Bear is active, decreasing as Iron Bear spends fuel.
Skill points bonus for: Stainless Steel Bear, Cloud of Lead, Means of Destruction. Drops from Evil Mordecai.
Shining Muse – Amara class mod. Whenever Amara damages an enemy with a melee attack, she projects melee damage outwards of her attuned element towards another nearby enemy.
This skill has a short cooldown. Skill points bonus for: Laid Bare, Illuminated Fist, Jab Cross. Goes well with guns like Facepuncher. Drops from Evil Lilith.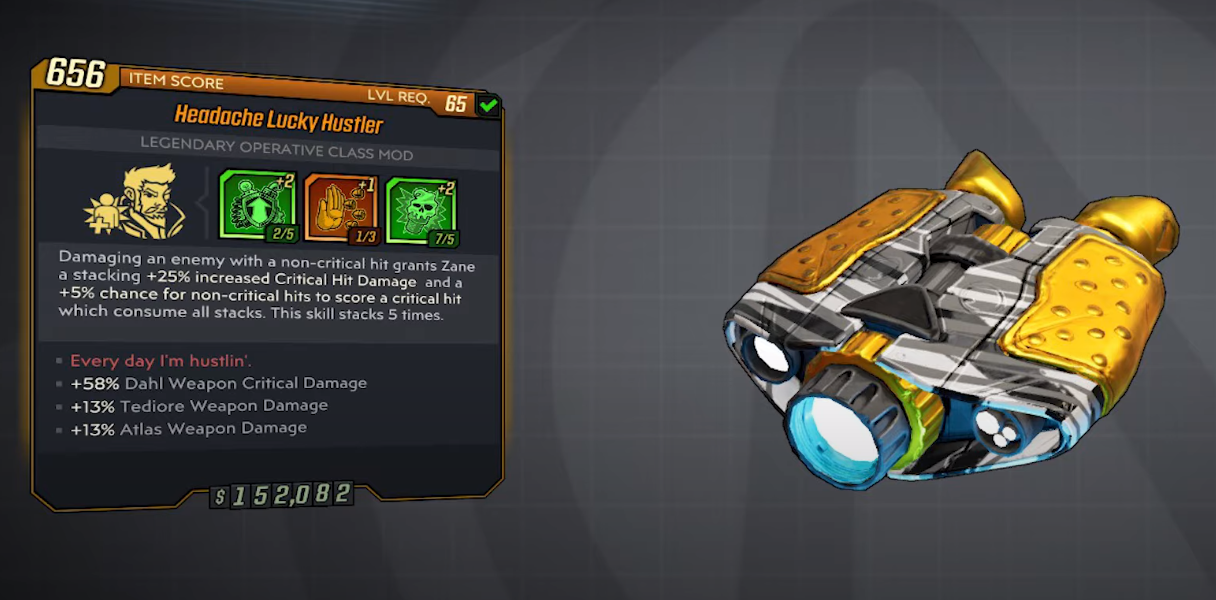 Lucky Hustler – Zane class mod. Damaging an enemy with a non-critical hit grants Zane a stacking +25% increased Critical Hit Damage and a +5% chance for non-critical hits to score a critical hit which consumes all stacks.
This skill stacks 5 times. Skill points bonus for: Like A Ghost, Adrenaline, Brain Freeze. Drops from Locomobius.
Ranger Peregrine – Whenever FL4K's Rakk hits an enemy, they drop a grenade. This effect has a short cooldown.
Skill points bonus for: Eager to Impress, Interplanatery Stalker, Ambush Predator. Drops from Benedict.
How To Open The Secret Rooms In Vaulthalla
See those yellow boxes when you first enter Vaulthalla? You can trigger those to open a secret chest room after you defeat the Psychoreaver boss; there are 12 of them.
Furthermore, when you're in the secret room, you can access yet another secret room by shooting all 15 tiny yellow boxes in the room. At least you can take your time with this entire segment once you're done fighting Psychoreaver.
Related