On Nintendo Direct Mini showcase this 17th September, we get to see more of Capcom's latest Monster Hunter games, Monster Hunter Rise and Monster Hunter Stories 2: Wings of Ruin, for the Nintendo Switch. Let's tackle them one by one.
Monster Hunter Rise
-Capcom director Yasunori Ichinose will be in charge of the game.
-The game introduces a new mechanic that lets you traverse fast and vertically. You can do this using the wirebug, which not only makes running around and hunting really fun,but also use it for your moves and big game hunting. This will make Monster Hunter a lot more fresh and less cumbersome than in past Monster Hunter titles.
-You also get to ride a canyne called Palamute; it's basically the Monster Hunter equivalent of giant dogs. You do not consume stamina when riding on Palamute, so you can dash and traverse as long as possible at top speed. Palamute can also act as attacking support partners, so it can attack and harass in combat. You can still bring in Palico cat slaves from past games as support.
-New monsters include flagship badass wyvern Magnamalo, bird wyvern Aknosom, Great Izuchi, and the amphibian Tetranodon. So far, they look challenging to fight against; the bird wyvern is fast and charges at you crest first, while the Great Izuchi will always have its two other lesser Izuchis protecting its flank.
-Your base is Kamura Village, a Japanese-like town where you meet colourful folks and folks who can make your weapons and armour.
-Monster Hunter Rise will be out 26th March 2021. You can pre-order the game right now via the Nintendo E-Shop. If you pre-order the game, you'll get the Plamute Retriever costume layered armour, Palico Forest Cat costume layered armour, and a Novice Talisman to help you out in early bits of the game.
As if the two new assists aren't already adorable enough…
-As per Nintendo tradition, players will also be able to buy amiibos based on the new characters in Monster Hunter Rise. You get to buy the Palamute, the new monster Magnamalo, and Palico when the game is out next March.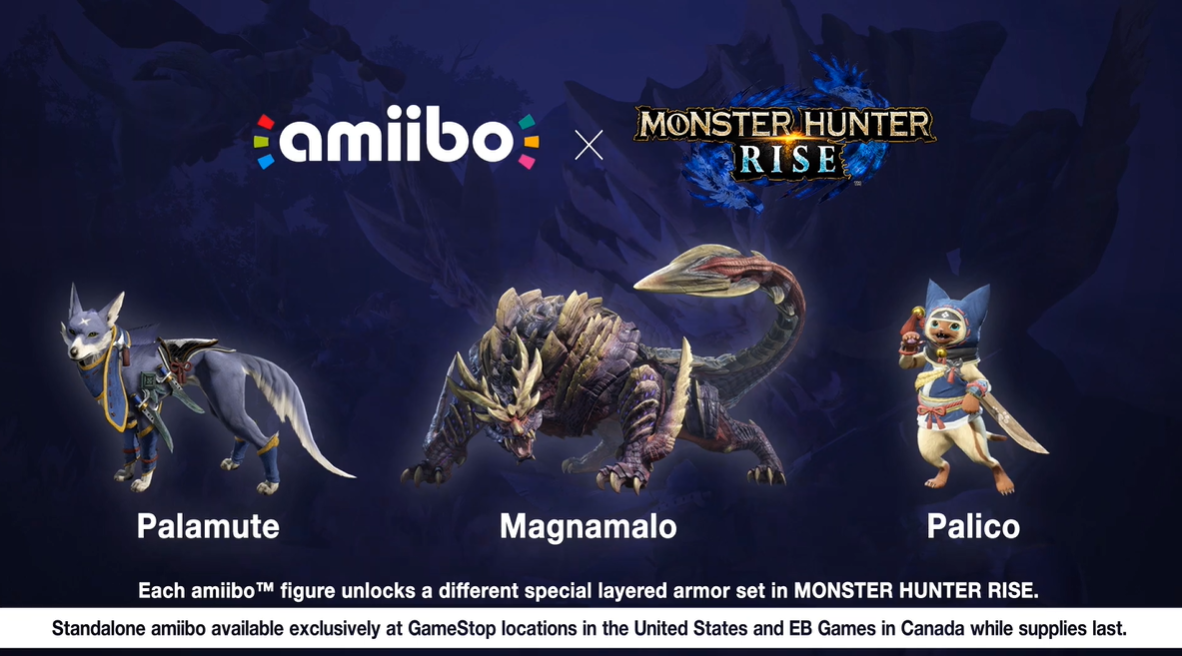 Monster Hunter Stories 2
-You play a Monster Hunter rider whose job is to help figure out why the world's Rathaloses are disappearing. You meet party members who can join you in your quest, led by a Wyvern girl who has to guard a Rathalos egg.
-There's no other info about the game. But If it's anything like the first Monster Hunter Stories, combat will be turn-based and use Power, Speed, and Technique category attacks in a weapon triangle sort of way.
-The game will be out Summer 2020.