Let's lay down some facts first. A number of us at Kakuchopurei have been primarily PlayStation gamers. While we have owned Xboxes in the past – specifically the Xbox 360 and the Xbox One – the PlayStation have always been our go-to piece of home console gaming hardware.
Its ecosystem, game selection, and the fact that a bulk of our gamer friends are on that platform make it the obvious go-to console and brand heading into next-gen (or present-gen since we are in 2021; that's still up in the air).
As we move into the next-gen, however, those reasons may not hold water for long.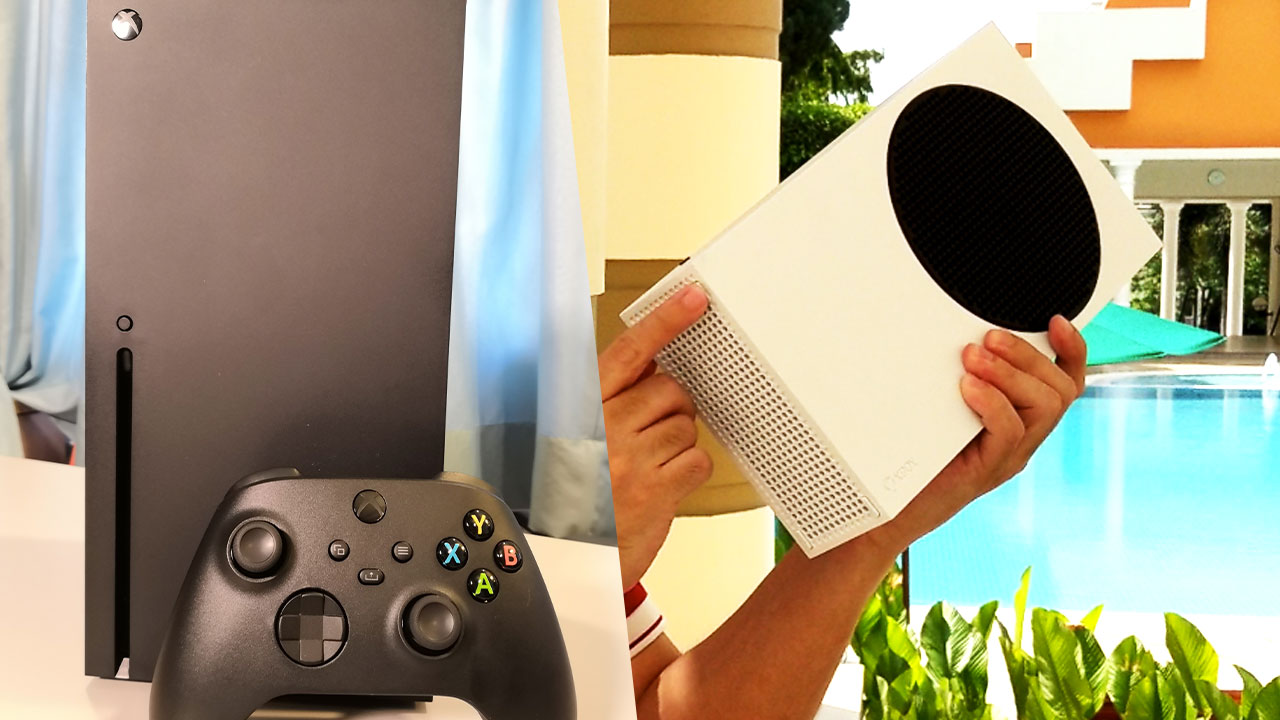 Before we dive any deeper, a quick disclaimer. Thanks to Microsoft and Xbox, we received our next-gen Xboxes late last year for review and, moving forward, Xbox games reviews purposes. However, we do not hold back when it comes to our comments and thoughts of these "next-gen" machines. So where do we start?
Compared to what Microsoft claims to be 'the world's most powerful gaming console' a.k.a the Xbox Series X, the "humbler" Series S does not stand out as much; not only on our shelves, but in the news. Often overlooked by many due to its perceived lack of power and significantly lower price point, the Series S is actually a very capable machine.
After over two months of usage, we can safely claim that the Series S should be in everyone's radar, from the hardcore PlayStation gamer to the casuals looking to purchase their first home console.
Size Matters Not…
The Series S is a perfect pick up for those in search of next-gen gaming at a budget. Offering most of the bells and whistles that qualifies it as a next-gen machine, where the Series S lacks compared to its chunkier sibling, makes up with style, ingenuity and simplicity. Sure it does not have the disc drive which is the biggest notable difference compared to the Series X.
But do you really need it? If you have a collection of discs for the Xbox One, the Xbox 360, and original Xbox, Series X is the way to go. But if you have always been a digital download kind of a gamer, or just recently dipping your toes into the Xbox gaming ecosystem, the Series S offers so while not putting too much of a dent on your wallet.
It is compact and does not take up so much space on your gaming shelf. Unlike the Series X or the PlayStation 5 which require a lot of headroom shelf space if you want to make them stand upright or the whole of your living room, if you so choose to lie them down, the Series S easily slides into any crevice. By far the smallest home gaming console you'll ever own, the sleek retro yet minimalist feel of the Series S is a dream for those who put a lot of thought into their living room aesthetics.
Unlike most home consoles which turn into mini jet engines once you start playing a AAA title (we are looking at you, PS4 Pro!), the Series S is super silent even when playing more modern, demanding titles such as Call of Duty: Warzone and Cyberpunk 2077. At launch, we were shown this Quick Resume gimmick where, just like on the Series X, you can switch between the games you are playing similar to how you go between apps on your phone.
It was something we never thought we'd need but is now something we cannot do without. For example, you're having a hard time getting past a certain stage on Jedi: Fallen Order and want to take a quick timeout from it. You can hit the Home button, launch another game – say Cyberpunk 2077 – play a couple of missions and whenever you feel like it, pop back into Jedi: Fallen Order at the exact screen you left earlier.
The only caveat is that the machine remains warm even when turned off due to its perpetually ready state. This is, of course, a magnet for cats who'd love the warm breeze blowing from the large boombox-like grille.
To really maximize your ownership of the Series S, we highly recommend new owners to subscribe to the Xbox Game Pass. Those familiar with PlayStation Plus, this is something similar, but with a much, much larger selection of free games ranging from very recent releases to your favourite classics on the Xbox 360. Fancy a return at Ninja Gaiden 2 or any of your favourite classics? They should be available for download for free.
Meanwhile, those who worry about playing without friends online; more and more titles have jumped on the cross-play train. With big publishers following Activision and Epic Games' move of unlocking the gates which forbid Xbox, PC, and PlayStation from mingling together in the same server, soppy tales of queuing solo in a multiplayer game is now a story of the past.
…Or Maybe It Does?
The Series S, despite its very attractive price point and package, do lack in certain areas when compared to the beefier Series X. With a ceiling of running games at 1440p and 120 fps, users who are always in search for the best in the market best avoid it. If you already own a 4K tv or intend to get one soon, you're better off future-proofing yourself by getting a Series X.
However, if you do not own one and are content with just 1080p resolution, then the decision is simple. Although, we have to point out that your setup does play a part as well. Depending on how far you are sitting from the screen, 4K gaming vs 1080p gaming might not be that discernible unless you are very, very particular about it.
The internal storage the Series S comes shipped in is also not something worth shouting out for. Of the 512GB printed on the box, you're left with just about 364GB at boot up. Two months on, this issue reared its ugly head when we attempt to cram Assassin's Creed: Valhalla, Cyberpunk 2077 and Call of Duty: Cold War all at once. You'll definitely have to start figuring out whether to shell out for the proprietary Seagate 1TB Storage Expansion Card for the Xbox Series X/S or be contented in deleting and re-downloading your games.
Then again, those who gravitate to the Series S from the get-go would already have a stable, high-speed internet connection at home.
In order to play "next-gen" titles, these game files need to be stored in either the internal storage or via the proprietary Seagate card. For titles which are not "next-gen", you can use other external SSD drives connected via USB to store your games. It is worth noting that you can opt to still store your "next-gen" titles in these SSDs, and only transfer them to the internal storage when you want to play them. It's a bit cumbersome, sure, but it's definitely much cheaper than shelving crazy money for the Seagate card.
And then there are the controllers.
Don't get us wrong. Like its predecessors, the Series X/S controllers are solid and feels great in-hand. The dedicated share button makes sharing a breeze and the grippy outer-shell texture keeps the device secure in our clasps during sweaty gaming sessions.
What we do not like is its reliance on batteries. It is 2021, Microsoft. Why still rely on batteries? Why can't we have rechargeable wireless controllers right out of the box like on PlayStation? I rather not go hunting for a battery kit for each additional Xbox controller we purchase.
Final Word
The Xbox Series S is a great home console which everyone should consider picking up given the opportunity. Significantly cheaper than all its contemporaries in the market with a slightly, if not, dismissible shortcomings, the Series S ticks all the boxes for gamers who are;
On a budget but still plan on getting on board the next-gen consoles train
Primarily a PlayStation gamer, but looking to sample the Xbox gaming ecosystem without breaking the bank; or
In search of a secondary console to broaden their gaming experience;
Casuals considering on dabbling into gaming, but not willing to splash a ton on a fully-priced next-gen machine
The shortcomings are there, but they are either easily remedied, or totally dependent on what sort of a gaming console you intend to own.
Compared to the PS5 which is pretty much unavailable now in the market no thanks to poor logistics and scalpers hogging all the stocks, the Series S is easier to spot in the wild in most game stores. Heck, you might be able to cop one right now online, selling at Microsoft's recommended price if you know where to look.
And get the Game Pass. You can thank us later.
Related