Valheim just came out a couple of days ago under Steam's Early Access program, and it's already the talk of the town.
As of 7th February 2021, it's the most-played PC game on the platform that's garnering rave reviews: imagine an open-world viking game where you and 9 others cooperate to survive the Norse landscape filled with mythic monsters in the afterlife. Think AC Valhalla and Skyrim but co-op, online, and with more emphasis on crafting.
That's a potent combination alongside the game's aesthetics. Sounds like another big hit from Coffee Stain Publishing, the same folks who also published Deep Rook Galactic.
Bet you're gearing to jump into Valheim, right? Well, while the tutorial from the talking raven is helpful and all, you are generally left to your own devices on how to fend for yourself. The game isn't planning on telling you everything; that's how these games are, and we're all in for it.
Still, it'll be nice to get a push in the right direction. Let's do that with our short guide. Besides, the game is still in Early Access; we may need to update this guide if the game is getting more major fixes & upgrades down the line.
You Can Sail Your Raft Using The WASD Keys
This won't be so obvious the first time you set sail, so here's a quick tip: just wait for a prompt to use the rudder at the rear right corner of your raft, then press the E key. After holding the rudder, you can adjust the speed of the raft using the W and S keys: you have slow, medium, and fast, with fast letting you drop the sails to go full speed ahead.
Since you need to use wind currents to sail, keep an eye on the white arrow on your minimap and the icons below the minimap to know the direction of the wind, so you can sail properly and fast. In the event you fall off the boat, you can climb on the small ladder on the rear end of the boat, opposite the side of the rudder.
Assimilate Old Buildings To Harvest Wood Quickly
If you see old-as-heck small shacks and hovels, you should destroy them to gather wood to help you in your Valheim survival game. However, you should not use a weapon for this. Instead, create a workbench using your crafting hammer, drop it inside the middle of the target shack, and then destroy the building using the middle mouse button using your craft hammer. Once you're done gathering the wood you need, disassemble your workbench and go to the next farming spot.
The best part about this tactic? There's a good chance you'll find a treasure chest or two in these run-down places!
You Can Upgrade Your Workbench By Building A Chopping Block and Tanning Rack
Speaking of which, you need to upgrade your workbench whenever possible since that's your lifeblood in Valheim to getting stronger. Build a Chopping Block and Tanning Rack to upgrade it to Level 2 and Level 3 respectively. Those two structures can't be used individually; they serve as add-ons whereas you do all the work on the workbench.
Keep Your Gear Pristine
Valheim does not need you to spend additional resources to repair your weapons and armour. So if you feel that your gear needs repair, just head to your workbench, click the small square image of a hammer next to your items in the Craft/Upgrade tab, and then click away.
Need The Pickaxe? Kill The First Boss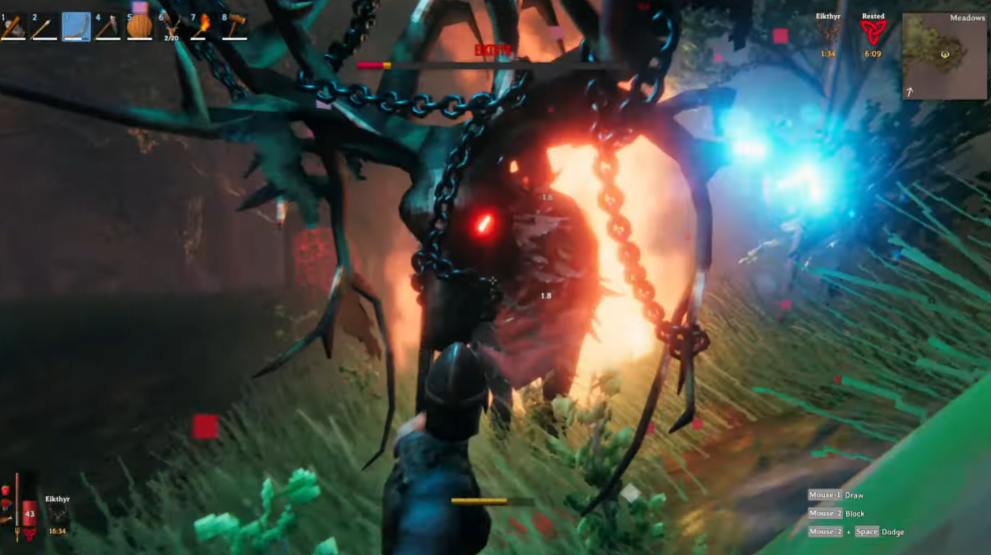 You need to kill bosses in Valheim to survive and open up more crafting options. To get the pickaxe, which you need to mine for stones & ores for better crafting opportunities, you need to kill Eikthyr the mighty badass stage.
To actually summon it for a fight, you need to place two deer trophies on his altar. You need to gear up for this fight with tunic, pants, a helmet, and pristine weapons (plus a shield) if you wish to stand a chance against the mighty stag. The boss has a lot of HP, but your shield can effectively block its attacks. Just keep blocking and dodging its attacks, strafe around to its rear to get a few hits in, then repeat. You can't power your way through it; you just have to be patient and whittle its life away.
Once it's finally dead, collect its antlers to unlock the recipe for the pickaxe.
Need Help Finding The Other Bosses? Here's A Quick Guide
There are three other bosses you can challenge in Valheim. Here's the breakdown:
The Elder
Large tree monster that attacks with vines.
Visit the Burial Chambers to get the Rune Stone needed to get the summoning location of the beast. The area looks like a flat, square stone monument with pillars in each corner and a brazier in the center.
After that, harvest for three ancient seeds, then head to the sacrificial altar location in the Black Forest to summon it.
For this fight, get ready plenty of fire arrows. The Elder is a treefolk; kill it with fire, literally.
The Bonemass
A large sludge undead mass.
You can summon it at the swamp; you need 10 wither bones to do so at its skull altar.
Prepare blunt weapons and ice arrows before fighting the Bonemass; it's susceptible to these.
Also, use Poison Resistance mead to protect yourself from its poison attacks.
Moder
A large black dragon.
You need to bring three Dragon Eggs to the sacrificial altar in the mountains biome to summon it.
Need To Fish? Talk To The Trader
Fishing in Valheim is also pretty important. To get a fishing rod, you need to find a random NP called the trader. He's found in the Black Forest.
To find the Black Forest, you may need to start your search from the centre of the map at an area called The Meadows. As you venture further, you'll see a change in the environment where pine trees and fir trees take up the landscape. Oh, and there will be more skeletons and trolls running around the area. That's the Black Forest.
Since all of Valheim's locations are randomly/procedurally generated, the trader can be anywhere in the Black Forest. Once you find him, buy the fishing rod to start fishing at lake/river spots.
You Only Have So Much Inventory Space, So Build House Crates
Being a survival game, you need to keep track of how much you can carry. As of now, you cannot increase your current inventory space. And trust us: once you're out there in the wilds for a few hours that bag will fill up mighty quick.
The game is still in Early Access, so maybe there might be satchel and pouch upgrades oncoming. As for now, just create extra storage crates in your home and dump your excess items there.  If you aren't happy with the inventory space, just give the devs a heads up. Just be polite and courteous about it, please.
Snap Pretty Photos & Screencaps
Valheim has a lot of pretty visuals and vistas for players to take a picture of. To get rid of the HUD for these moments, press Ctrl+F3. Snap a picture, then press Ctrl+F3 again to bring the HUD back in. Easy!