Nier Replicant ver 1.22 is out now and features a lot of changes from the 2010 original. Most notably, combat is way, way better thanks to the remaking & remastering efforts of Square Enix and Toylogic (who were previously from Cavia, the OG folks who made the 2010 Nier).
Essentially, combat in Nier Replicant is similar to Nier Automata in most aspects and is all the better for it. This change also means you'll need to readjust to the new game. Here are some tips & tricks for beginners and intermediate players. All inputs are for PS4 controllers for this guide unless stated otherwise.
You Only Get The Extra Weapons When You're Older
When you reach the part in the story with the 5-year timeskip (about 5-6 hours in-game time, tops), you start the game off with an older Nier (not Papa Nier).
He has access to a two-handed sword and a spear, which you can switch around by pressing and holding the corresponding d-pad input. Left d-pad is two-handed sword, while right d-pad is spear. Down d-pad is one-handed sword.
Here's the general rule for weapons: one-handed sword works well against single enemies and bosses with independent weak spots. Two-handed swords are best against armoured enemies. Spears are great against mobs thanks to the spinning attack from the heavy inputs of the weapon.
When You Knock Down An Enemy, Press Circle (or B if you're on Xbox)
When you perform a heavy attack on a mid-sized shade, chances are you'll knock it down. When it's down on the ground, press Circle to do a finisher move.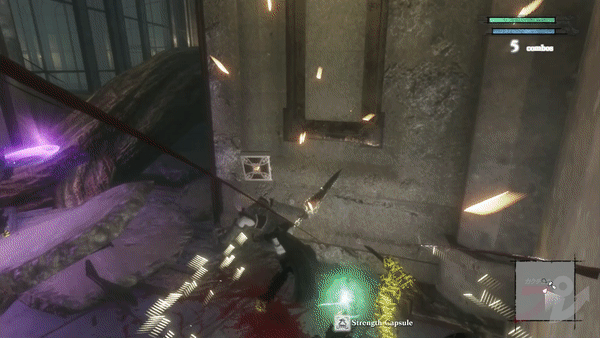 This kills them instantly and helps with thinning out the mob when you're in a bind.
Use Heavy Attacks Often, Regardless Of Your Weapon Type
When you hold the heavy attack button, you'll do a slightly slower but damaging attack that knocks enemies down. You also can cover more ground and AoE depending on the weapon you're holding.
Like we hinted before, Spears let you do a twirling attack that moves you forward, while two-handed sword attacks cover a good area. One-handed swords are just fast.
Add Words To Your Weapons, Spells, And Skills/Martial Arts
As you kill more and more shades, you'll get equippable words that help add buffs and useful passives to your attacks and skills. Generally, you should go for the following:
Weapon Attacks: Attack power buffs, armour break
Dark Spells: MP regen rate, Spell power
Martial Arts: Physical and Magical Defense boosts
Should You Guard or Evade More?
Guarding lets you do a parry attack if you block an enemy's attack at the precise last few frames of the attack. Evade lets you, well, roll out of danger and has good invincibility frames. All your attacks can be cancelled straight to either one of these defensive options.
Generally, evades are better than guards because of the flexible cancel properties of our main character. But don't count guarding out: you can get in some sweet damage from a boss' parried attack.
And now, for some walkthroughs and stuff that are considered spoilers. You've been warned.
Here's An Easy Way To Get That 100-Hit Combo Trophy/Achievement
Later in the game, near the end, there is a Shade boss named Goose who regenerates health due to story purposes. However, he can be knocked down and "killed" during this bit. If you are at level 32 or above (when you're on Path C/D), getting Goose's life down to 0 takes little to no effort if you attack and dodge right. Keep wailing at him and dodge according to get your combo counter to a 100 and beyond.
The Best Weapons In The Game Are The Phoenix Spear and Labyrinth's Song
They're easily upgradable and can make your life easier in the endgame.
You can get the Phoenix Spear from Facade's Blacksmith for 32,400 gold. You can get the two-handed sword Labyrinth's Song from finishing the side quest "Disturbing the Sleep of Kings", which is only available in the second half of the game after completing certain story milestones.
---
Boss & Battles Walkthrough
15 Nightmares Dungeon Walkthrough
Jack the Giant Shade
Number 6
Gretel & Shades
P-33
Wendy The Giant Aerie Shade
Louise/Mermaid Episode Boss
Roc/Giant Wolf Shade
Betrayers
Final Boss
True Boss Fight (Path C & D)
Path E Walkthrough & Boss Fights