Leaked EA Documents Calls Out FIFA Loot Box Shenanigans, Surprising Absolutely No One
In a recent document leak that anyone can see a mile away, EA has plans to "funnel" FIFA players into the game's Ultimate Team online mode, meaning they'll be spending more money through the purchase of loot boxes.
A page of the leaked document showcases a "Run Up To FIFA 21" internal presentation from last year, stating that the game's teasers and marketing messaging will "drive excitement and funnel players toward FUT from other modes.
"Players will be actively messaged + incentivized to convert throughout the summer. FUT is the cornerstone and we are doing everything we can to drive players there.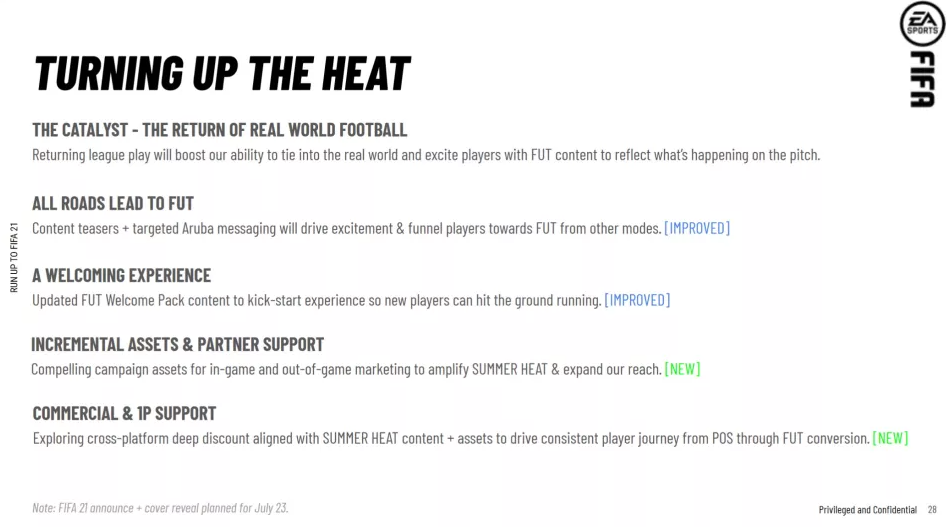 Furthermore, loot boxes have been extremely lucrative for EA: its recent financial reports stated that the number of FUT matches has grown by 177 percent year-over-year, with FIFA live services have seen a yearly growth rate of nearly 50 percent over the past ten fiscal years. And they're going to expand upon it for future FIFA games.
"We delivered another strong quarter, driven by live services outperformance in Ultimate Team and Apex Legends. We are raising our net bookings outlook for the full year on the strength we continue to see in our business.

As the scale of our EA Sports FIFA player audience expands, including a growing Gen Z population, we will offer more great content on more platforms with our long-standing partners across all the top leagues and teams in the sport. We are bringing FIFA Online to new territories, including Russia, Poland and Turkey, with a combined audience of 80 million players.

We are also accelerating our focus on mobile with 6 new soccer mobile experiences in development today for different regions and genres."
Loot boxes in any game have always been a lightning rod of controversy since Blizzard shooter Overwatch made them popular. And, you know, since the inception of gachas in F2P mobile gaming. It's gone so far off to the point where governments are imposing restrictions on them, as well as game devs and publishers finding many ways to make the idea viable without diluting their value.