I recently came across the following tweet making its rounds in the Malaysian Twitter-sphere.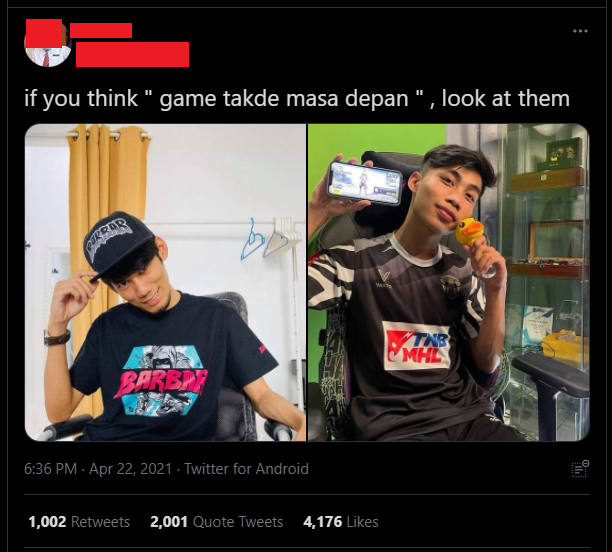 Essentially, the caption read "If you think that there's no future in video games, look at them" accompanying the photos of two leading video game streamers in Malaysia, Mohd Faris "Soloz" Zakaria and the other, Imran 'Vokey' Rosli. While it is great to see two successful – both financially and stature – young men become the 'poster boys' of success in the Malaysian video games scene, it is quite disheartening to see how, to many, a career in video games is just limited to being influencers.
To both Faris and Imran, I say this. Congratulations on your success, long may it continue and may you guys pave the road for new and upcoming streamers hoping to make it big. This article isn't a knock on you guys. It's far from that.
Content creation is no joke. A ton of planning goes in the background and it isn't just about sitting in front of your screen, chatting to your viewers. But today, I am not talking about streamers or influencers, as they alone are far from being the sole measure of success in the video games scene.
This assumption is not only myopic but also misguided. This is the same as measuring a successful career in sports solely on the ability to win competitions whilst discounting the efforts of many men and women in the background who contributed to each winning moment. It's not indicative of the whole picture.
Despite the rapid growth and public acceptance of video games in Malaysia, the understanding and belief that the industry presents a very viable route where one is able to build a solid career are still lacking. Then again, it could easily be attributed to lazy reporting and poor understanding by some sections of the mainstream media.
In an industry that operates like clockwork, while some fields tend to get the limelight more often than others, each cog in the machine plays an equally important role. Sadly, the successes of the creatives plying their trade in the "hidden part" of the games industry aren't mentioned enough. And while we at Kakuchopurei do our best in bringing these talented studios and individuals front and centre, it is indeed an uphill battle.
Stop Downplaying The Hard Work Of The Industry
In Malaysia, local studios which have worked on the development of various games ranging from independent titles to AAA titles are actually just a stone's throw away – if you know which direction to hurl it, of course. We have many talented designers, visual artists, heck, even game writers who've even taken their trade overseas working wonders in the video games scene.
Persona Theory Games is synonymous with producing titles that are unapologetically Asian. Following the breakthrough success of their visual novel touching subjects many in Asia consider taboo in Fires At Midnight, their next title, Kabaret is another visual novel but filled with characters inspired by Southeast Asian myths.
Metronomik is another Malaysian studio that not only managed to make a name for itself internationally, but they also did it on their own terms. Helmed and started by Wan Hazmer who was the Lead Game Designer of Final Fantasy XV, and Daim Dziauddin, Concept Artist of Street Fighter V in 2017, this studio, like Persona Theory went down a less 'glamorous' and riskier route of producing their own games.
Metronomik's debut release, the music-themed action-adventure No Straight Roads, has received rave reviews and a huge following globally thanks to its unique blend of storytelling and signature style. A far cry in terms of the genre from Wan Hazmer's most previous work in Final Fantasy XV, his decision to chart a new path should be a catalyst to all local studios to walk down the path less travelled. Don't be afraid to try something new.
These studios are just two of the many local setups that has been making waves and deserve all the plaudits and attention and in our books. They are essentially worthy mentions when the topic of a career in the local games industry comes to light.
Also, we should not forget the various efforts and programs organized by the Malaysian Digital Economic Corporation (MDEC). They are crucial in not only providing financial support and policies backing aspiring game makers, but in their role in attracting renowned international studios to set up shop in Malaysia – most notably and recently, PlayStation Studios.
Let's hope that we'd be seeing world-class titles being released from this new setup, rather than just merely as a support studio focusing on asset production which has been synonymous with many Asian-based studios in recent times.
It's In The Game
The same goes for the competitive scene. A successful career in esports is more than just being a player, competing on the grandest stage. It takes years of practice, grassroots development and most importantly, community support. However, in more recent years, a number of new stakeholders tried dipping their toes into esports without giving as much as a hoot to the long term development of the scene.
Many are just in it since it's the buzzword, discounting everything that made esports the behemoth it is today. Let's hope that these aren't just knee-jerk collaborations; gone at the first sign of trouble. Moreover, during trying times in these past 12 months or so, this could also be seen as a litmus test to weed out the fair-weather collaborators from the genuine ones.
And while the esports scene welcomes the involvement of non-endemic brands to sponsor teams and tournaments, it should not miss out on the bigger picture – that the core of the scene traces back to its oft-ignored grassroots level. The roles of team managers, coaches, event organizers, casters, and community managers are equally important and the long term career progression of a player should not be ignored.
Due to a change of government, the previously planned National Esports Blueprint plan had to be scuppered and as far as we know, a similar plan is afoot by the new folks in charge at the Malaysian Youth and Sports Ministry. Understandably, esports takes a backseat during pandemic times but we do look forward to updates in this regard once things improve.
All in all, we hope to see the Malaysian video games scene be seen and taken in a much more wholesome manner; more than merely as an industry represented and summed up by a bunch of streamers and YouTubers. There are a lot of talented people in the background who are worth their salt just waiting to be discovered.
At Kakuchopurei, it is our aim to bring these talented individuals to your attention. Hopefully in the next twelve months, are able to showcase the best Malaysia has to offer.
Related