Platform: PC
Genre: Isometric action-adventure bug mecha-piloting chillax odyssey
We know that mechas and mechs are huge lumbering walking death-dealing machines. However, the indie action-adventure game Stonefly (made by the same folks behind Creature In The Well) might change that perception. In this world where humans are Lilliputian in scale, they can also pilot speedy mechas that can fly and glide gracefully in the air while raining bullets from below.
From a narrative and world-building point of view, Flight School Studio (who made the pinball-tastic Creature In The Well) did a bang-up job. You play a girl named Annika (or Ann) who has a knack for piloting and fixing up bug mechas. One day, her dad's mecha got stolen. Seeing that you let that incident happen in the first place, it's up to you to take responsibility and find the thief who stole it. Thus begins a tale where you pilot and fly tiny mechas that can mine for minerals, stun them with downward laser blasts, and push them off the cliff with gusts of air from your wings.
You experience the world of Stonefly through a magnifying glass, playing as Ann as you discover how the forest world works while joyriding in your bugged-out mech. You can upgrade its fighting and flying capabilities, making sure it's up to par against the many adversaries in the beautifully rendered world with a rich storybook feel (all colour, no outlines look) with slow-paced background music instilling a "chillax" vibe.
It's a pity that the game's main gameplay loop requires you to grind for resources while its main missions just feel like copies of each other as you wade on through.
A Bug's Life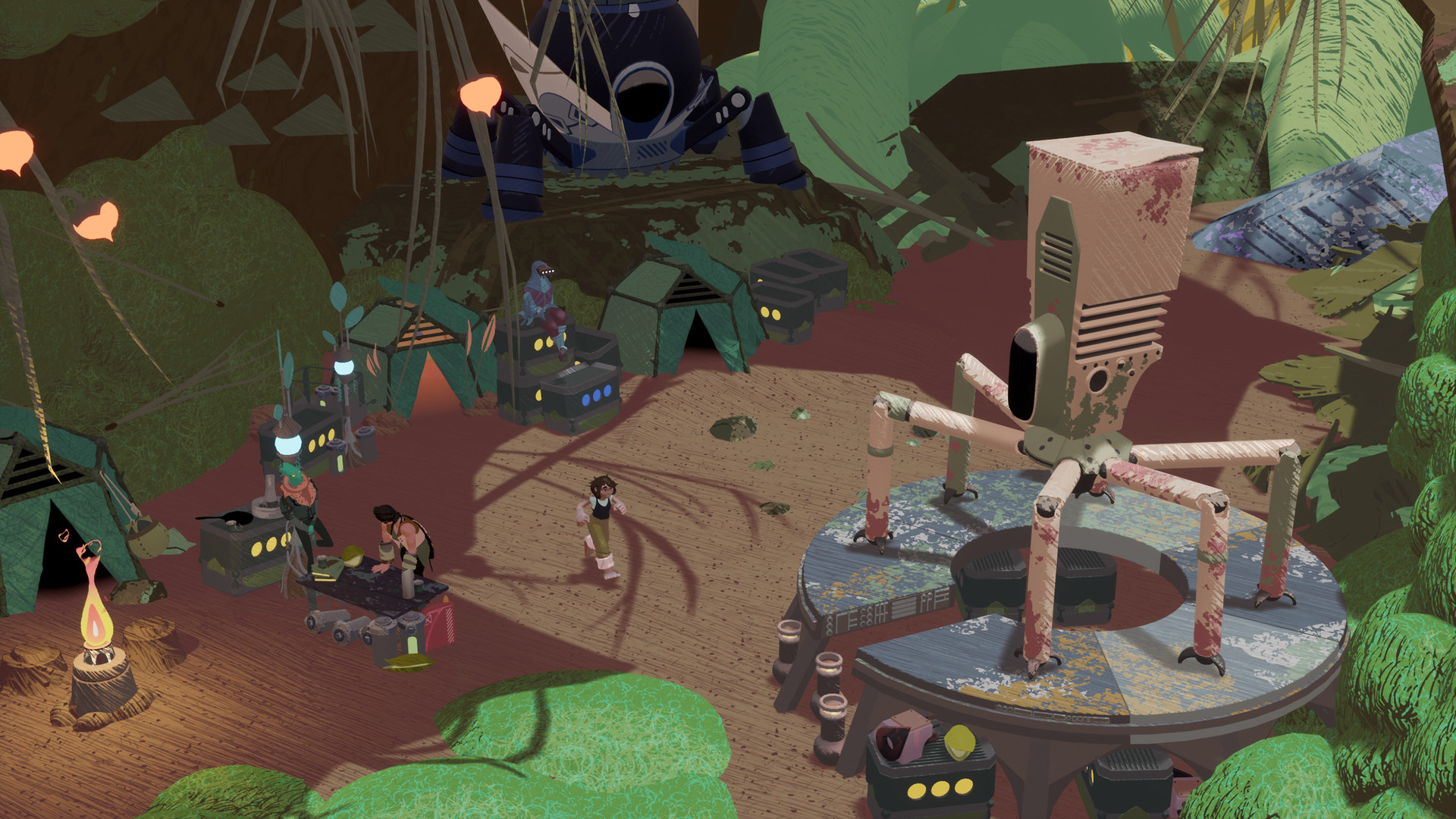 Remember when I said combat against bugs? Well, you don't outright kill them. You instead push them away from the platform(s) you're on, though you need to fire "special bullets" at their vulnerable spots to stun them. As you'll get more upgrades and tools for combat, you'll also be fighting bigger and tougher bugs that require more than just stunning; you may need to use certain gadgets to expose their thoraxes and weak bits, or just protect yourself from a horde of them.
Even if you're overwhelmed, Stonefly is rather generous with your mech's HP. You can take quite a beating, and even if you "die", you just warp back to camp with the resources you previously gathered. This is also helpful because when you're exploring, it can be hard to gauge where you're landing. Yes, there's a white line-and-circle combo that tells you whether that branch or leaf can be docked onto. Half the time, however, I'm wondering whether I'm at the correct height when I'm trying to fly from point A to point B, only to realize at the last second that I am not. Thus, instant plummet and health subtracted.
You'll need to understand the gist of combat because of Stonefly's other gameplay objective: gather up materials from all sorts of places. Your mecha can draw and collect minerals from ore deposits placed throughout each location and region. You'll be doing this a lot.
No-Fly Zone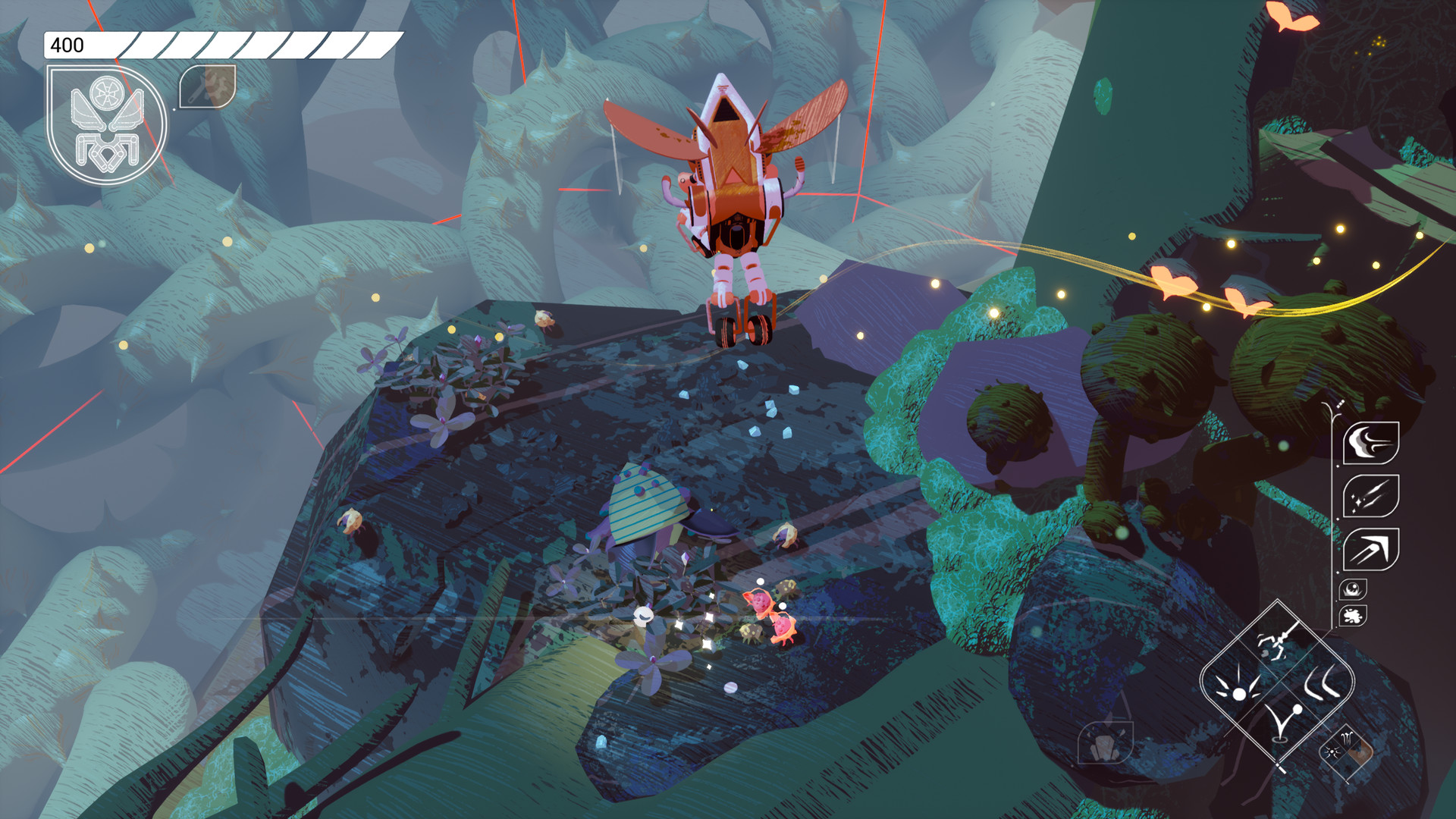 In fact, the game gatekeeps you until you get a certain upgrade or two, and that means farming for materials from previously-visited locations. The tedium piles up since you need to also find Alpha Aphids that have a ton of materials on their backs, moreso than the levels. To access an Alpha Aphid stage, you need to search for "light bugs" scattered throughout the region. Find enough, and you get to play through a timed section where the insect hordes are never-ending but the bounty is plentiful.
The first time you do this isn't too bad. But later levels and sections require you to get equipped with expensive mecha gear, and that means more time dedicated to farming, finding light bugs, and entering numerous Alpha Aphid stages. While incredibly repetitive, it's the only way to open up Ann's mecha combat potential since you have more tools for later segments.
Still, a little more variety in stages and quests design would help elevate this title above and beyond like the machine she's piloting. I'd still recommend Stonefly if you're looking for a fun and "chillaxing" game; it's beautiful to look at and listen to (OST courtesy of Natureboy Flako), and it's fun to play a nimble and agile flight-capable mecha that isn't from an anime for once. Just take the experience in spurts; you'll get disillusioned playing it for the long haul.
Pros
Lovely storybook artwork & narrative.
Great music.
Fun mecha-piloting & isometric-style gameplay.
Cons
Grinding for materials can get repetitive.
Lack of variety in missions.
Tough to gauge where your mecha can land at times.
Final Score: 70/100