This guide will be updated periodically with more Inazuma tidbits.
Genshin Impact's 2.0 update is out, which mean players can check out the game's newest continent: Inazuma. The continent is basically filled with ancient Japan tropes & architecture: ronin, fox guardians, shrines, what-have-yous.
Here's a guide on the ins and outs of Inazuma, once you're done with the terrible 30-minute long intro quest involving taxes and customs of a fictional place.
How To Access Inazuma
You'll need to raise your Adventure Level to 30 or above.
Finish the Archon Quest Autumn Winds, Scarlet Leaves quest; it's the one featuring Beidou and Kazuha.
Once you're done, talk to Katheryne in Liyue Harbor. You'll initiate the quest to head to Inazuma.
Inazuma Map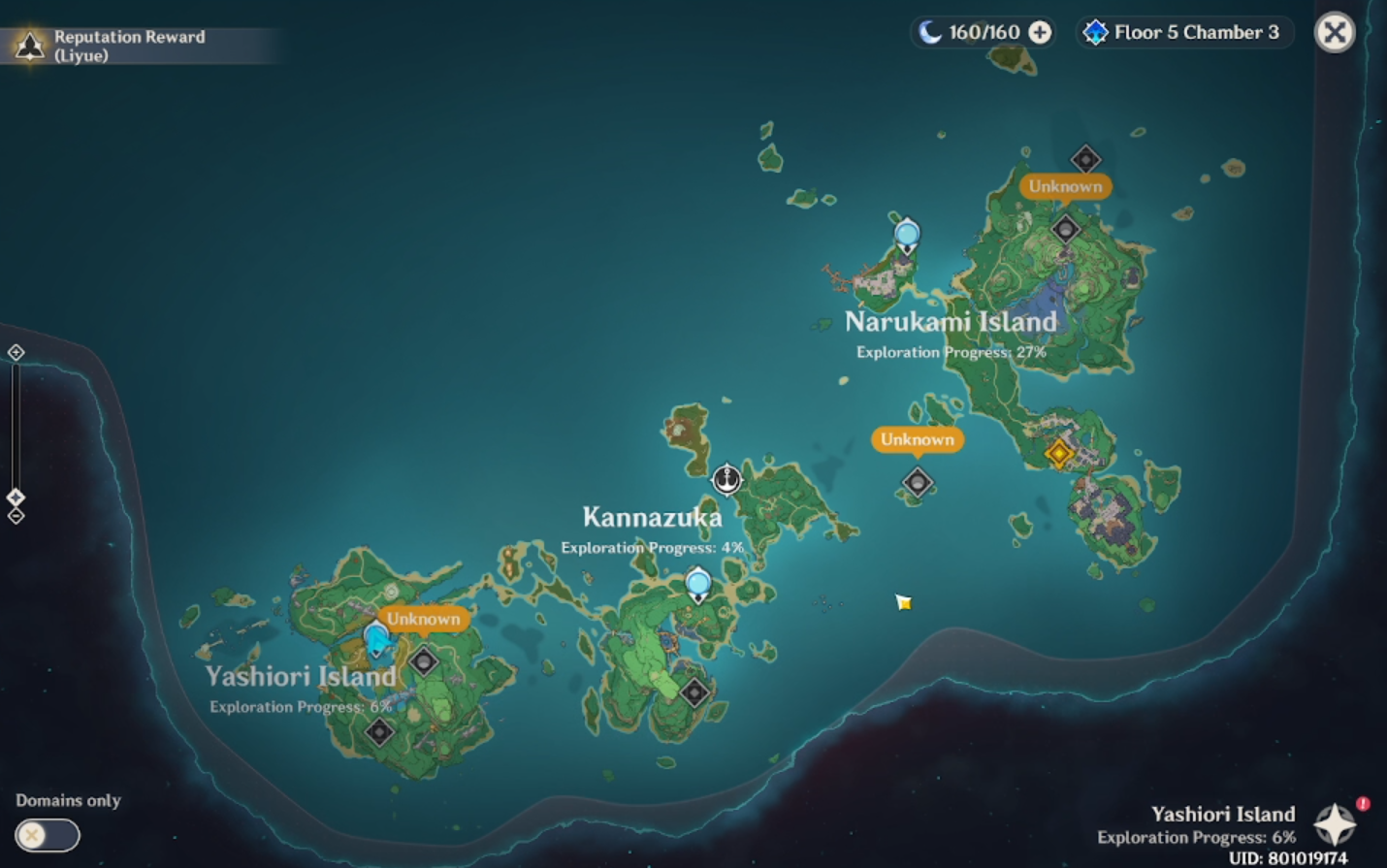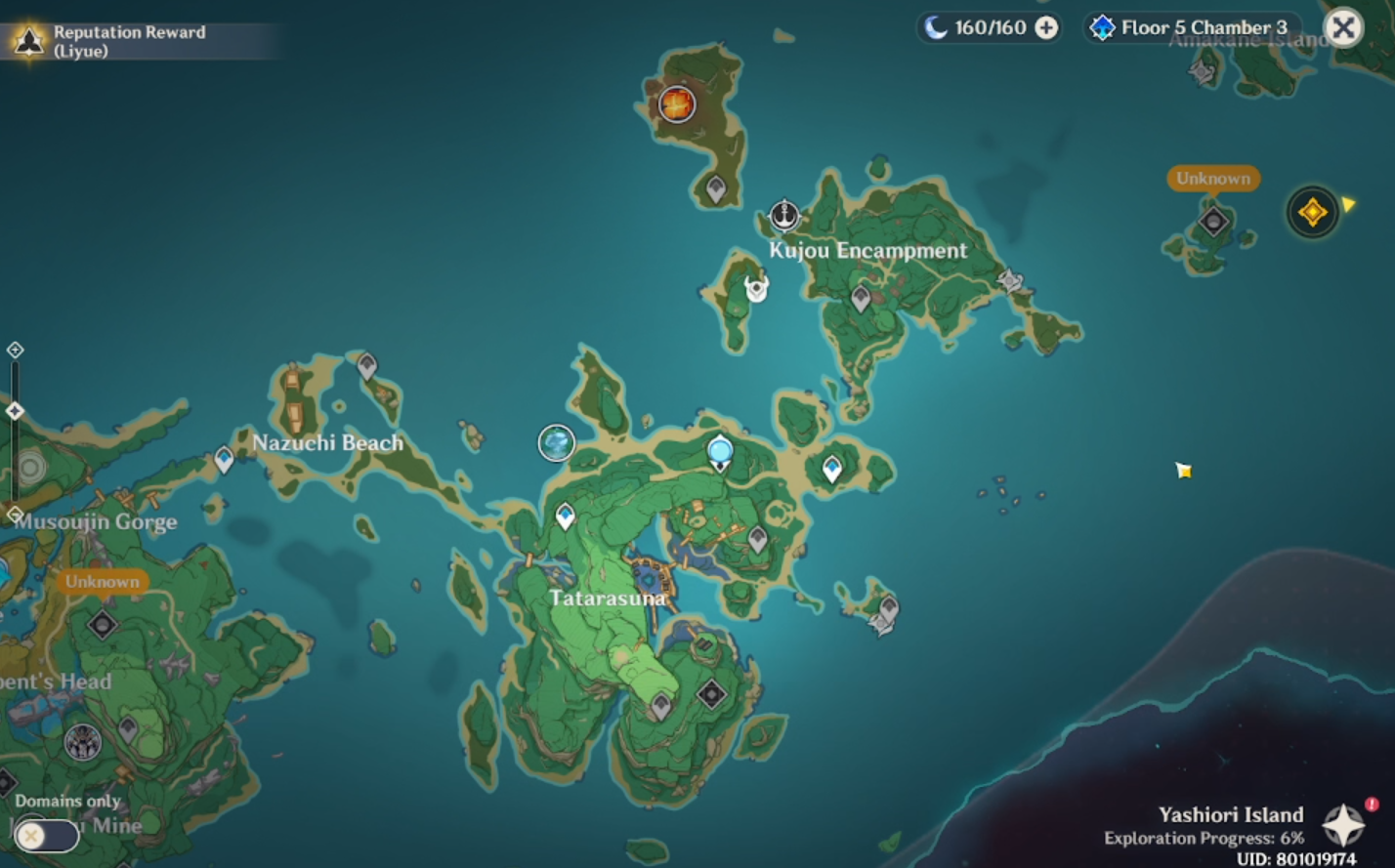 Sakura Bloom Locations Guide
Throughout Inazuma, you'll find special red/pink glowy spots. These are Sakura Blooms, a new resource that will help ascend Inazuma heroes like Ayaka. To collect them, activate an Electro skill or charged attack onto the glowy parts via an Electro hero's skill (like Razor, Fischl, and Keqing). You can then collect the Bloom afterwards.
Here are the locations of the Sakura Blooms (via PC Gamer). Protip: you will find five of them easily at the giant Sacred Sakura tree in the Grand Narukami Shrine (ie: the first time you meet Yae Miko in the story).

Sacred Sakura Favor Guide
To level up the Sacred Sakura, you need Electro Sigils which you can find in treasure chests, bounties, and quest rewards. Why do this? Because if you level up a favor, you get rewards and perks.
You may want to unlock these perks to power up your Electrograna ability: this allows you to pass through Thunder Barriers and use the grapple to reach higher places. It's available as soon as you set foot in Inazuma, but you'll want to buff it further to collect obscurely-placed Electroculi.
Here are the perks you can get by leveling up your Sacred Sakura Favors.
| | | |
| --- | --- | --- |
| Perk Number | Perk | Effect |
| 1 | Electrograna | The Electrograna orbs let you pass through or use Thunder Barriers/Thunder Spheres. |
| 2 | Eternal Current | Electrograna will recharge the energy of Electro characters if their meter is below 50%. |
| 3 | Continuation 1 | Electrograna duration increased to 20 seconds. |
| 4 | Coordinated Attack: Stormlight | Electrograna cast lightning bolts every 6 seconds when Electro characters damage opponents. |
| 5 | Negation II | Electrograna can block 8 instances of damage from Inazuma's environmental hazards. |
| 6 | Barrier Breaker II | Characters carrying Electrograna can pass through intermediate-level Thunder Barriers. |
| 7 | Coordinated Attack: Stormwind | Coordinated attack/lightning bolts have lower cooldown (4 seconds). |
| 8 | Continuation II | Electrograna duration increased to 25 seconds. |
| 9 | Coordinated Attack: Tempest | Each Electro character in the party will increase the damage of coordinated attacks by 20%. |
| 10 | Coordinated Attack: Stormfall | Every 3 coordinated attacks cause a lightning blast AoE. |
| 11 | Negation III | Electrograna can block 10 instances of damage from Inazuma's environmental hazards. |
| 12 | Barrier Break III | Characters carrying Electrograna can pass through advanced-level Thunder Barriers. |
| 13 | Coordinated Attack: Resonant Storm | Each Electro character in the party will increase the damage of lightning blasts by 30%. |
| 14 | Continuation III | Electrograna duration increased to 30 seconds. |
| 15 | Coordinated Attack: Stormtrigger | The number of coordinated attacks required to proc the Electrograna lightning blast is reduced to 2. |
How To Get Special Nobushi Handguard Items
The Nobushi enemies in Inazuma drop Handguard-series items, which are needed for Inazuma character ascension and talent upgrades. These enemies spawn all over, though they can be consistently found near Mount Yougou, which is north of the Grand Narukami Shrine.
Inazuma Electroculus Location (via Gamewith.net)
Most of these can be found by climbing atop the highest spots and then grabbing them on sight. Others are hidden behind Electro barriers; you need to collect special Electrogranas scattered nearby to pass through them. We'll be sure to update this list as time goes by; some of them require you to complete either Inazuma side missions or obscure puzzles.
---
Sacrificial Offering Quest
This exclusive quest is on Inazuma and will reward you with an item that allows you to unlock hidden teleporters in the region. Here's a guide on how to do that.
Head To The Abandoned Shrine Northeast Of Konda Village
Your first step is to go to the abandoned shrine northeast of Konda Village, but the quest Sacrificial Offering doesn't mark it on the map. Here's the location (via Gosunoob).
Investigate the Abandoned Shrine; Interact With Ghosts
When you have found it, you will next need to find several Mysterious Shadows nearby. You need to interact with the shadows so that all three of them converge at the three fox shrines facing an empty pedestal. You can find the shadows all around the yellow area; one of them will be atop a roof of a building nearby. Once you've done that, you'll be rewarded with treasure and a new quest location.
Get The Memento Lens
After this, go to the Grand Narukami Shrine. Speak with Inagi Hotomi the shrine maiden and she will give you the Mysterious Memento Lens. This gadget allows you to view Fox statues through it to see things that were not visible before. Return to the abandoned shrine and use this Memento Lens gadget to look at the Fox statues.
Use The Sacred Words
Once you have observed all the Fox Statues, return to the Abandoned Shrine and go in front of the Sky Kitsune Statue. The Kitsune is a type of fox spirit from Japanese mythology. You will need to give three correct answers.
The first one is: "In the name of Narukami's envoy." The second line: "And of the Haukshin bloodline." Finally, the last one: "Bring forth the fried tofu!"
Destroy The Barrier
All that's left now is to destroy the barrier to complete the Sacrificial Offering quest. Here, you will need to adjust the shrines in a particular order (video below).
After that, a phantom Samurai will appear that you have to defeat. Once that's done, you now have the Memento Lens that can help you scan kitsune statues all over the region to reveal secrets.
---
Tatarasuna Barrier Removal Quest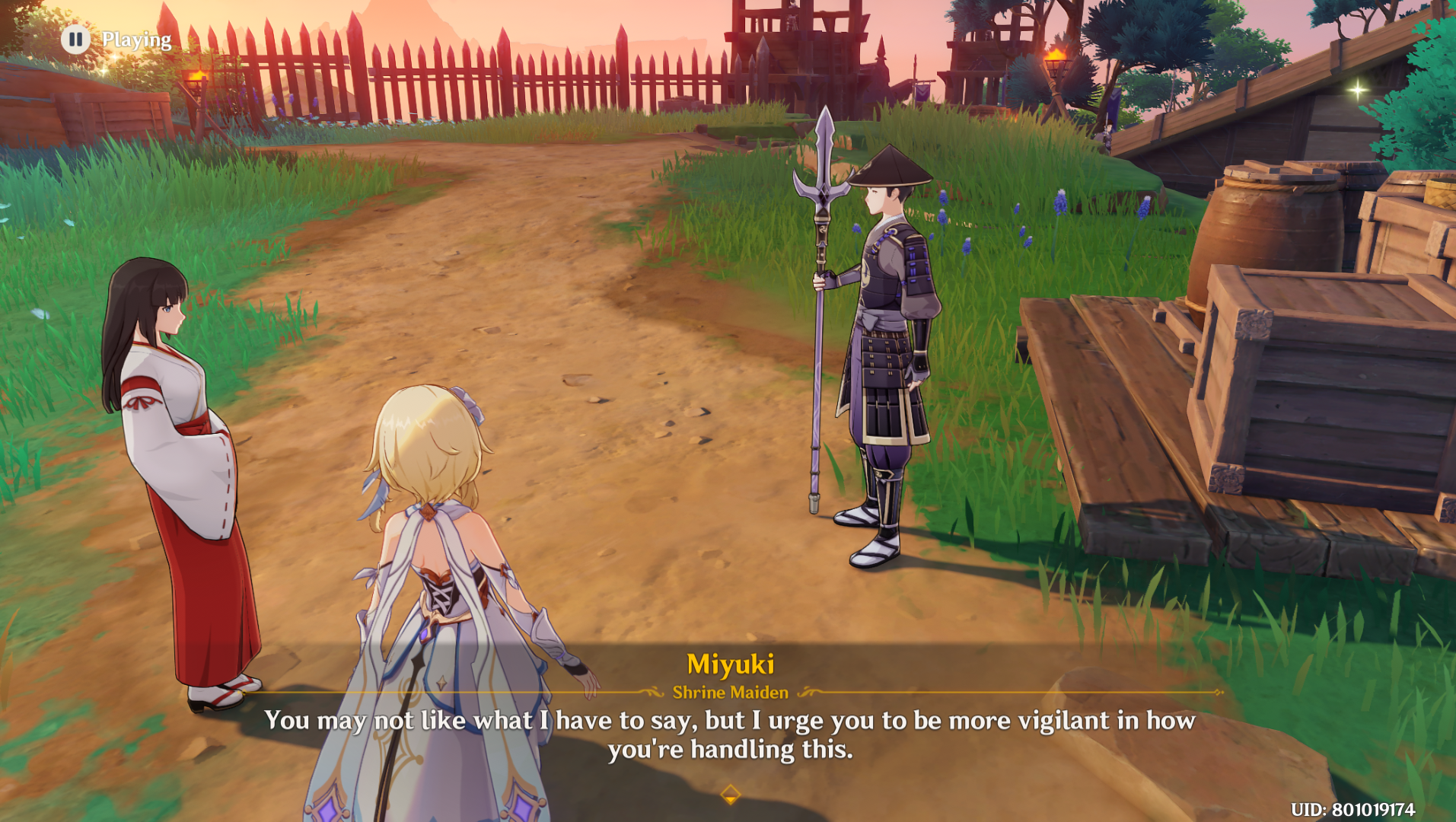 To break the giant barrier in Tatarasuna, you need to accept the world quest "Tatara Tales." To start this quest chain, you'll need to talk to Toranosuke and Miyuki at the Kujou Encampment, west of the nearby Waypoint Teleporter. The Kujou Encampment can be found on Kannazuka, the second island you'll likely run on to in Inazuma.
The quest chain itself is fairly straightforward, as it's mostly a fetch quest with no puzzles. You will need to fight multiple Fatui lackeys, so make sure your team has a wide variety of elemental skills to help break their shields.