Loki is the latest Marvel Studios TV series in the long-running franchise and it's currently ongoing with five episodes so far available to stream on Disney+ Hotstar Malaysia. For previous breakdowns of Loki episodes, check out Episode 1 here, Episode 2 here, Episode 3 here, Episode 4 here and Episode 5 here.
If you want a non-spoiler guide to Loki, you can head on over here.
Courtesy of Disney+ Hotstar Malaysia, we were lucky enough to be the only Malaysian media to participate in a roundtable interview with Loki Costume Designer Christine Wada and Loki Production Designer Kasra Farahani.
This interview with Loki Production Designer Kasra Farahani has been edited for clarity.
Keep in mind that we'll be discussing some elements from all five episodes of Loki so far, so there will be spoilers below:
Q: You've previously worked on Black Panther and other MCU movies. How different was the experience of working on a TV set instead of a movie's? Were there limitations?
Yes, I've worked on several Marvel projects. For me, this is the most fun one, maybe because I'm in a different position than I was on the other ones. But also, just because this project is unique in a couple of ways.
Number one; it's literally in its own timeline from the rest of the MCU. It's separate from the stories we've all enjoyed and seen in the MCU so far. The other thing that this one has that's really great is the amount of visual and narrative variety. We have this kind of base in the TVA that we spend a lot of time in but also we have all these exciting different places in the world that the story takes us to. These were great worlds to design and to imagine.
In our case, there was no difference. The thing about the Marvel series is that it's pretty much like Marvel movies; in terms of their creative ambition, in terms of the way they're scheduled, the fact that we have one director.

There was not much about it (Loki) that resembled an episodic project, except for the fact that it was six hours of content that we were trying to make, so it's a very long project.
In terms of resources, I didn't ever feel that we were unduly stretched. Always, when you get a creative brief like this, there's always a period at the beginning of every project where you're reconciling the creative brief and the resources that you have. That has been the case for every project that I've ever worked on regardless of the size. There's this beginning phase where that's the case and oftentimes, it's in that process where you come up with some very great creative solutions that are a direct result of some of the limitations, actually.
Yeah, I wouldn't say that we had some extraordinary limitations in this case (for Loki), but that's generally true for all projects, in my experience.
Q: What were you inspired by when making designing the sets of the TVA with its retro-futuristic and anachronistic aesthetics?
In the source material, the TVA had a lot of different things going on, but one of the strong themes also was this armada of desks, which is kind of typical of a post-war era bureaucracy look. There was a grain of that in the source material but a lot of it also came from the show's creator and writer, Michael Waldron, who described in the original document I read before interviewing for this job.
He described the TVA as a kind of mix of Mad Men meets Blade Runner. Part of these two strong visual references for us. On top of that, me and director Kate Herron, even before we met and spoken to each other, were inspired by Terry Gilliam's Brazil also as a strong influence because of the anachronisms that that story had and also because of the clear presence of this strong monolithic bureaucracy, which is something that we have in the TVA also.
For the TVA, we were looking a lot at wanting to create a world that had a paradoxical feeling, being an imposing monolithic architectural space that has brutalist elements in them and had almost Soviet modernist elements to them. The colour palette and the materials and the whimsical patterning were much more like American style modernism.

The result was hopefully when you're in an environment like this, you don't know whether to feel terrified or invited. Hopefully, it creates that feeling in both the characters and the audience; this kind of cognitive dissonance in not knowing whether they can trust the TVA or not. That's the narrative objective.
The writers came up with these ideas and the idea with that was to kind of create the bubble gum wrapper in the Renaissance era (Loki Episode 2) and the futuristic shovel in the early 20th-century farm field (Loki Episode 1). These ideas were placed there to create a trail of clues for the TVA to follow before they have clarity on Sylvie's identity. But for the anachronisms generally, that was something we tried to do throughout the TVA to have all kinds of strange things from different timelines and different worlds popping up in terms of props, like the Infinity Stones in the mail cart and stuff like that.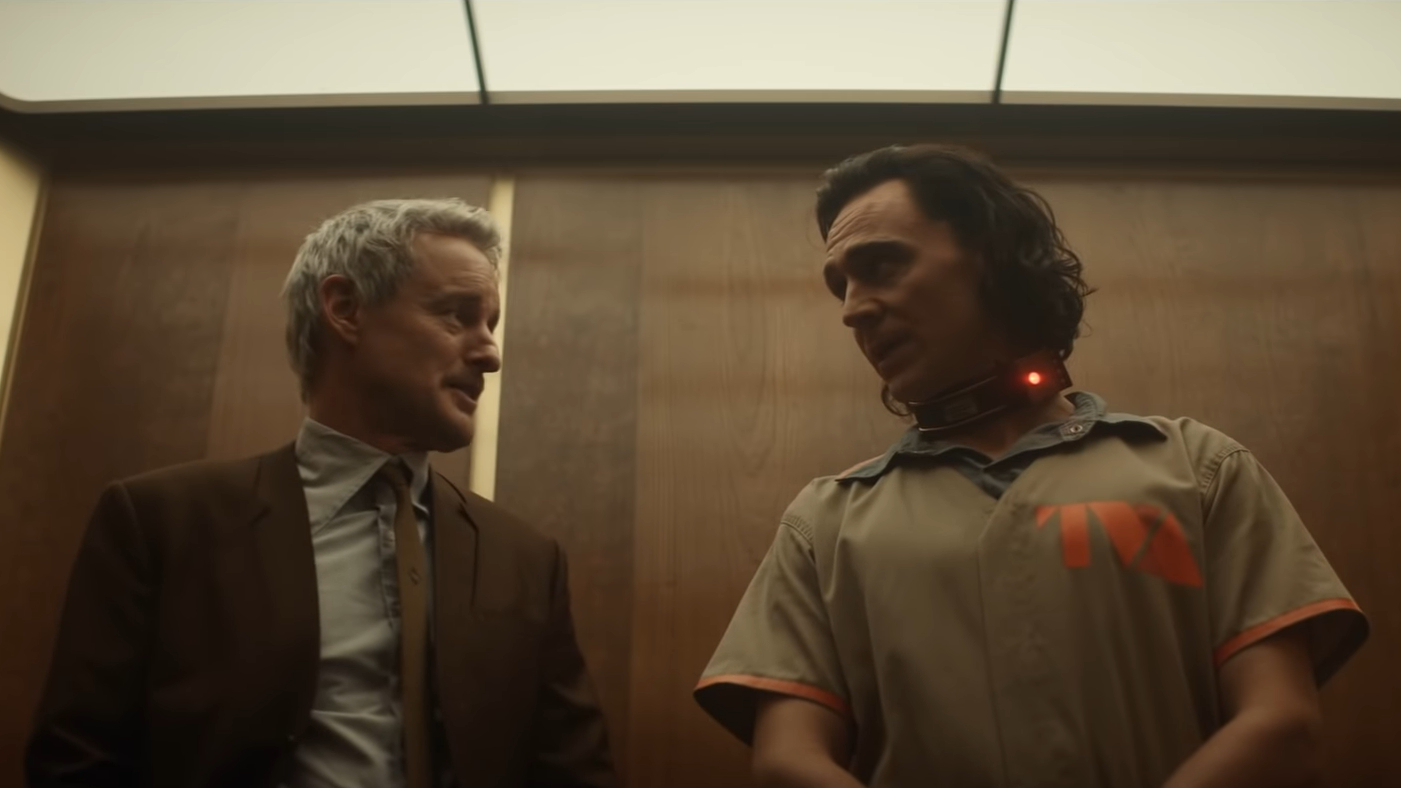 Q: What was it like working with Tom Hiddleston, who is a producer on Loki?
It was very exciting to have this opportunity to take the character and his storyline in a different direction. It became all the more exciting when I read the scripts and I saw the type of journey they were going to take the character on.
Tom is a professor of Loki, basically. After all, ten years or so of playing the character; he knows it better than anybody and he has an in-depth understanding of the character and his backstory; the character's family relationships and he was really helpful in giving a little talk to all the department heads about the background of his character, which was very informative.
Q: Recently, Loki series director Kate Herron said that 90 percent of production sets were physical. Does this include the world of The Void, and can you tell us more about how you brought it to life?
That's true. That was what was unique about this show, because of my own design approach, and my goal in creating this large monolithic brutalist environment, I felt strongly that the sets needed to be built kinda wholly and that they needed to have the ceilings in-tact. This was also supported by Loki cinematographer Autumn, in that the way of her own style of photography is very wide and low-angled photography, which is why for both of our creative goals, it made a lot of sense to build these sets like completed and 360-degree environments.
For the TVA, that was almost always the case, with the exception of when you saw outside a window. With the Void (in Loki Episode 5), a lot of that was built practically as well. What I can tell you is that we build a large piece of this landscape on a soundstage, which was about 150 feet by 200 feet of undulating wilderness terrain. In that, we would bring in these different scenery elements on different days to make it feel like different places within the Void.

For example, one day there was the bus stop terrain where we meet Loki. One day it was the giant head. One day it was the drive-in movie theatre where we find Sylvie. All of these things were brought in and we shot there over the course of seven days. The terrain was designed in such a way that depending on what angle you shot, it felt like a very different place. Backgrounds were put in during post-production in visual effects. The Loki palace, where the Loki variants kind of hang out, the bowling alley, all of that was also a 360-degree built set as well.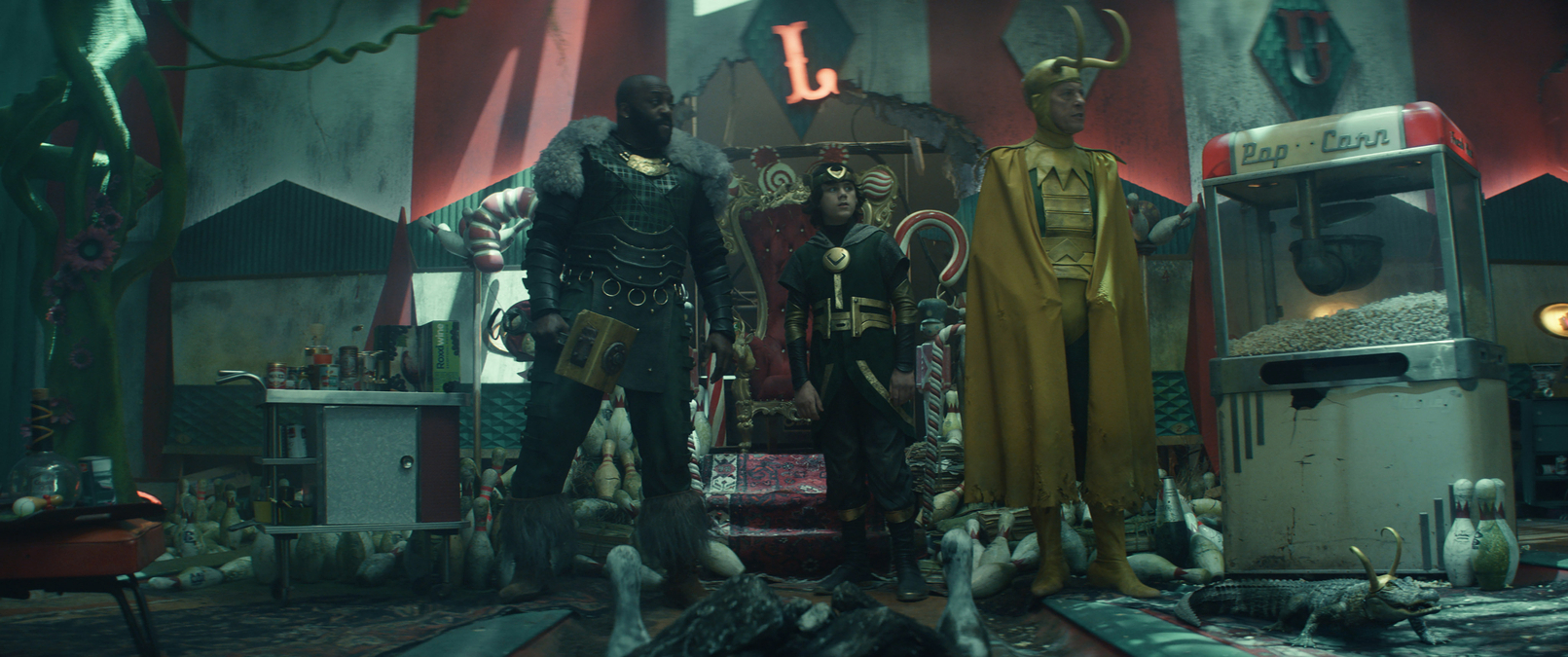 Q: What was the most challenging set of the entire Loki series that you had to work on?
We had a lot of very ambitious sets but I think the city of Sharoo at the end of Loki Episode 3: Lamentis was a very technical set. The goal was to create this virtual one-in, that appears as a single shot. This was a very involved and elaborate process of choreography, basically.

All the different departments were involved to make this happen because as we watch the sequence, we see tons of actors running around, there are explosions happening, the camera's panning up to see the planet above crumbling and asteroids pelting the surface.
There was a lot of planning that went through at the very beginning. We brought the paper models of this to Autumn, our cinematographer and creative director, to use to plan some of their shots. One day, we had some more information that fed back to the art department where we developed more involved and elaborate drawings and models which again, fed back to them. In this way, we had kind of an iterative conversation to arrive at what the design was.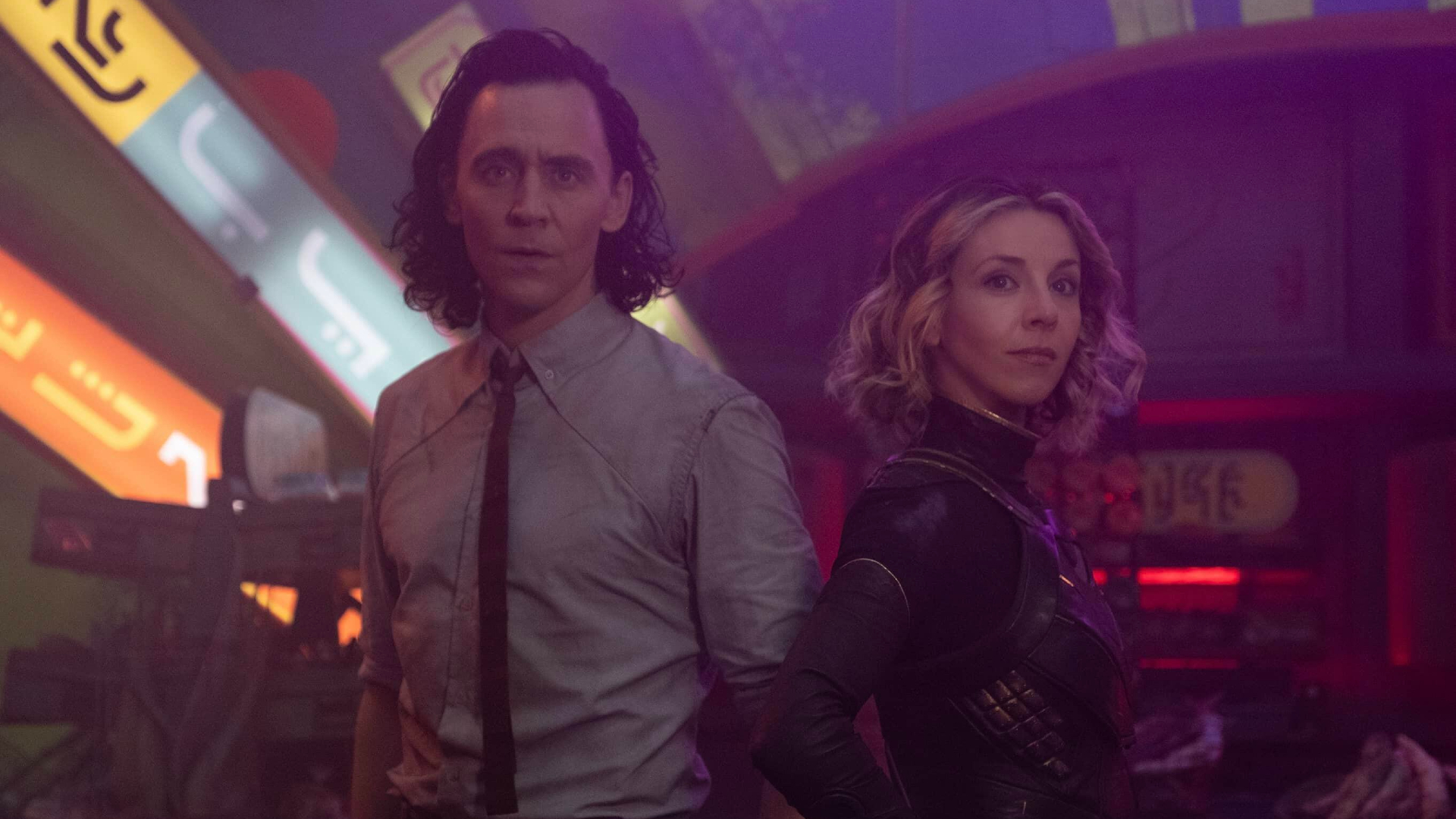 So, as we start to build the set, many of the department heads came to visit and check the progress. We rehearsed what the shot was going to be, so we could exactly fine-tune the set to meet the needs of this shot and see where the edits needed to be. In order to do this, we needed to adjust the exact width of the roads or move a piece of scenery here and then figure out exactly, okay, there's going to be an explosion coming out of the ground here and another explosion coming out of the building here and this is when the camera looks up to the sky and sees the planet explode. This is where the window breaks and this is where the guy jumps out and grabs him and there's a fight.
There are many, many people involved; Monique Garderton, our stunt coordinator, Kate Herron, the director, and also the special effects team, and of course, visual effects, deeply involved, and Richard Graves, who is kind of our AD (Assistant Director), the circus leader of all of it, organizing everybody to kind of work on this thing altogether. It's the sort of thing that involves so many different departments that it can only really be discovered when working in a big group together.
I would say that was maybe the most challenging technically because there were so many logistical parameters and so many moving parts.
Q: What are your thoughts on diversity in the production of the creative industry?
I think that it is critically important. As somebody who is myself an immigrant, I was born in Iran and my family moved here when I was quite young. I'm super happy to see the direction that the industry is going in. I think Marvel has been particularly excellent in providing leadership in this way and I honestly have to give a lot of credit to Kate Herron, our director.
Almost more than any other project I've been on, she prioritised inclusivity and diversity. I mean, lots of people, don't get me wrong, it's on every project and on everyone's mind, but I think Kate went above and beyond because it's so fundamental to her worldview and she's such a sensitive soul in this way. One of the many ways in that it was such a joy to work with Kate and I'm very proud of the many different ethnicities we're representing, and how many women we've had. In our art department, we had close to fifty men and women.
It's important and leads to better creative results that are more fully realized and more representative of what the fans really want.