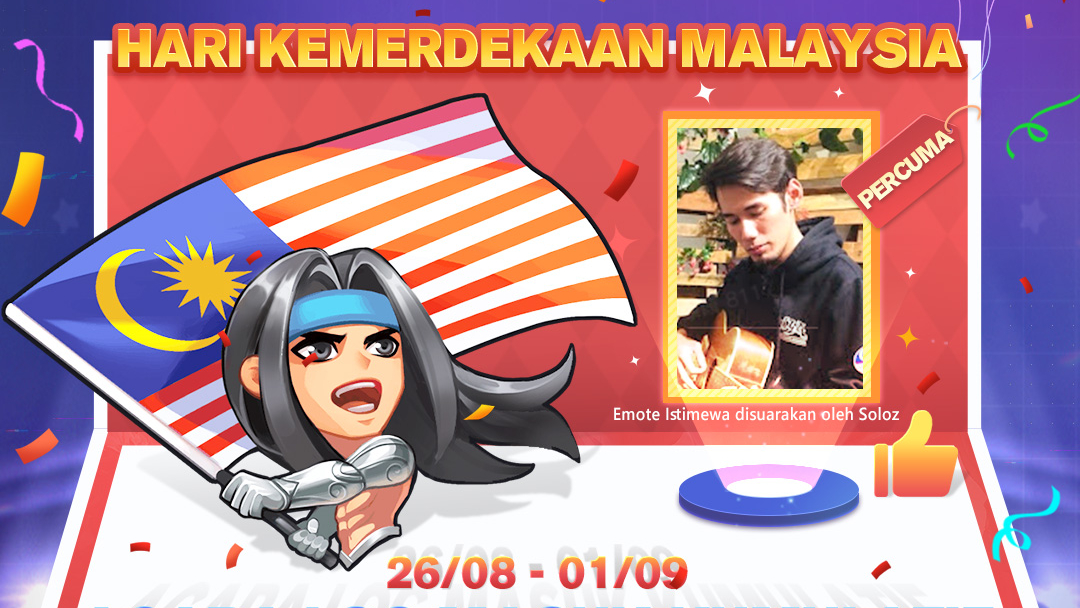 by in
To commemorate Hari Merdeka (Malaysia Independence Day), Mobile Legends Bang Bang Malaysia has launched an exclusive Badang emote, just by logging on for more than five days. This marks the first Mobile Legends Bang Bang emote to feature the Bahasa  Malay (BM) language in-game, voiced by Soloz.  
To obtain the emote, players need to log into Mobile Legends Bang Bang for five days – starting from 26 August to 1 September 2021. The dynamic expression features Malaysia's national hero, Badang,  waving the country's flag that will come with blue and red ribbons flying right around it.  
Badang is the first Malaysian hero in the game, which was released in January 2019. A fearless fighter from humble origins, Badang exemplifies the spirit of the country. Voicing the character is Soloz, a  prolific figure in the Malaysian esports scene. He has been streaming Mobile Legends Bang Bang since  2016. An ex-professional MPL Malaysia player, Soloz organises charity streams and is a fan favourite amongst the locals.  
Faris 'Soloz' Zakaria said:
"I am thrilled to receive the opportunity to be the first Malaysian to voice a Mobile Legends Bang Bang character. I am looking forward to watching the fans spam or use the emote during matches. It was a fun experience voicing the emote, and I hope for Mobile Legends: Bang  Bang Malaysia fans to look out for it."  
Besides the free emote, players can participate in the Transformers collaboration from 21 August to 12 September 2021. The campaign includes lucky draws and campaign objectives that enable players to win time-limited Transformer skins and in-game items. 
To learn more, download Mobile Legends Bang Bang (https://bit.ly/mlbb5thanniversary).
MPL Malaysia Season 8 Week 3 kicks off today. Expect players to transfer between competing teams and more fiery drama during September 2 – when the transfer window opens!
Here are the questions we have ahead of the upcoming matches:
​With National Day coming up next week – the talents and casters will be dressed in traditional attire to celebrate the momentous occasion, including other Merdeka mini-activities. Mobile Legends: Bang Bang has also released a new emote that features the character, Badang, which is voiced by Soloz exclusively for this campaign. This is the first-ever MLBB character to be voiced by a Malaysian.
Off-meta picks seem to be the way to go this Season 8. Sun and Alucard were one of the most top-picked heroes for MPL MY. LinkEza "schooled" Mom last week through his swift and decisive play of Alucard – can he outshine the competition again with the exact pick?
Sasa is proving himself to be the missing piece that Team SMG needed. Can they continue their winning streak again this week?
You can catch all the action on the following MPL Malaysia's social channels:
For more details and information, you can head on over to the official website here.
The MPL Malaysia Season 8 will continue for a total of eight (8) weeks from 13 August to 3 October 2021. You can find the full schedule by heading over here.
It's already ongoing so you can catch the action right away:
MPL Malaysia Season 8 English Stream
MPL Malaysia Season 8 Malay Stream