Platform(s): PS4, PS5, Xbox One, Xbox Series X, Nintendo Switch, PC
Genre: Action-Adventure, Indie, Platformer, Deck-Building Elements
The main objective of EA Originals is to support creative and unique ideas from indie studios, and Lost In Random by Swedish indie developer Zoinks Games is definitely a shining example of what a successful product can be. I was genuinely surprised by how enjoyable and well-made the game is, not to mention how it all feels like playing through a delightfully creepy and atmospheric dark fairy tale.
Coraline Meets Kingdom Hearts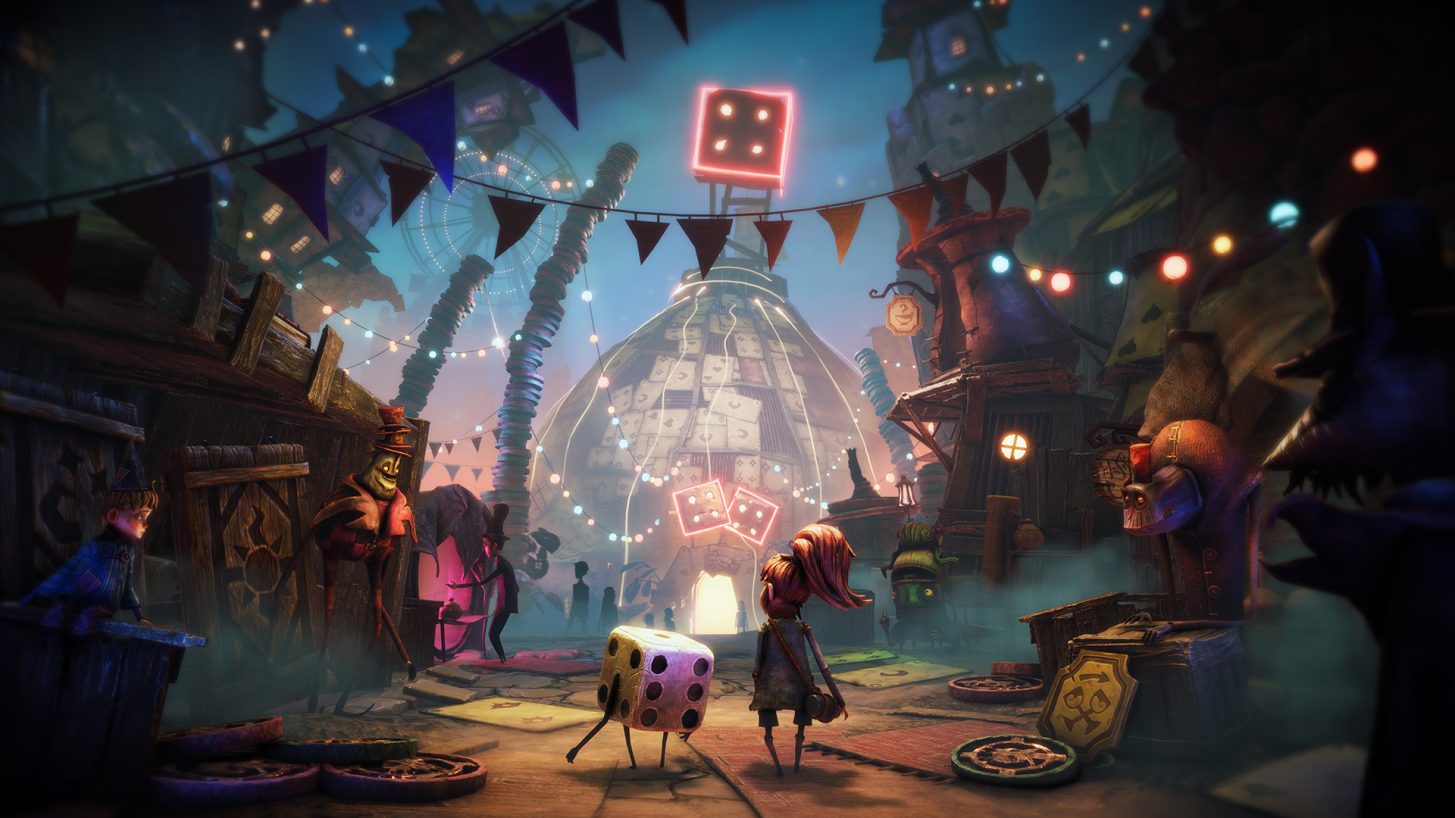 Most players' first impression of Lost In Random will be its claymation or puppet-like visuals and dark creepy vibes. The game definitely feels like a homage to the works of Tim Burton and Henry Selick. Of course, the iconic animated movie is often referred to as Tim Burton's The Nightmare Before Christmas (1993), but Henry Selick was the director. Selick also went on to direct two more great movies similar in vibe and tone, which includes 1996's James And The Giant Peach and 2009's Coraline.
Combine all those aforementioned movies with a little spice of narrative flavour from Kingdom Hearts (in terms of the plot only, not gameplay), and you'll get Lost In Random. It's a gothic fantasy starring two sisters, Even and Odd. The protagonist of the game is Even. There are six cities in the world of Random, including their home, Onecroft, all of which is ruled by a tyrannical Queen. In something that's reminiscent of the Hunger Games, children who reach the age of 12 must roll a dice. There are six cities and so, whatever number they end up with will determine where they're going to live for the rest of their lives.
The game begins with Odd having to roll the dice and she ends up with a six, which means that she's forced to go to Sixtopia (yes, all six cities have a number-themed name). Fast forward a year later, and Even gets dreams of her sister (Odd) in trouble. She follows a ghost and defies the odds (pun intended) to escape her city and rescue her sister. Along the way, she meets a living dice named Dicey with the power to give her weapons and magic to fight the robotic minions of the Queen and other evil threats in the six cities.
The design of the characters and dark humour in Lost In Random feels like The Nightmare Before Christmas or Coraline, but the lore of the game is deep as well, which is the part that reminded me of Kingdom Hearts. There's stuff about a devastating ancient No Dice War, warrior-like Dice Wielders, and Even being the last Dice Wielder alive. Sounds familiar?
You should also expect a lot of dialogue in this game, and I do mean a lot. Almost half of the time you'll be engaging in fetch quests and going from NPC to NPC interacting with them within each of the six cities of Random. I loved meeting zany new characters and exploring the unique story of each city (Onecroft, Two-Town, Threedom, Four-Burg, Fivetropolis, Sixtopia). It feels like playing through an animated story ala Tim Burton or Henry Selick, albeit one that's 12 to 13 hours long.
The game overstays its welcome near the end by forcing players to go through gauntlets and waves of enemies to stall for time, but the tone and writing of the game will keep you entertained for most of the non-combat bits. Just be prepared for lots of dialogue, though what's great is that all of the NPCs are voiced and the voice actors bring the fantasy world to life even more.
Royal Flush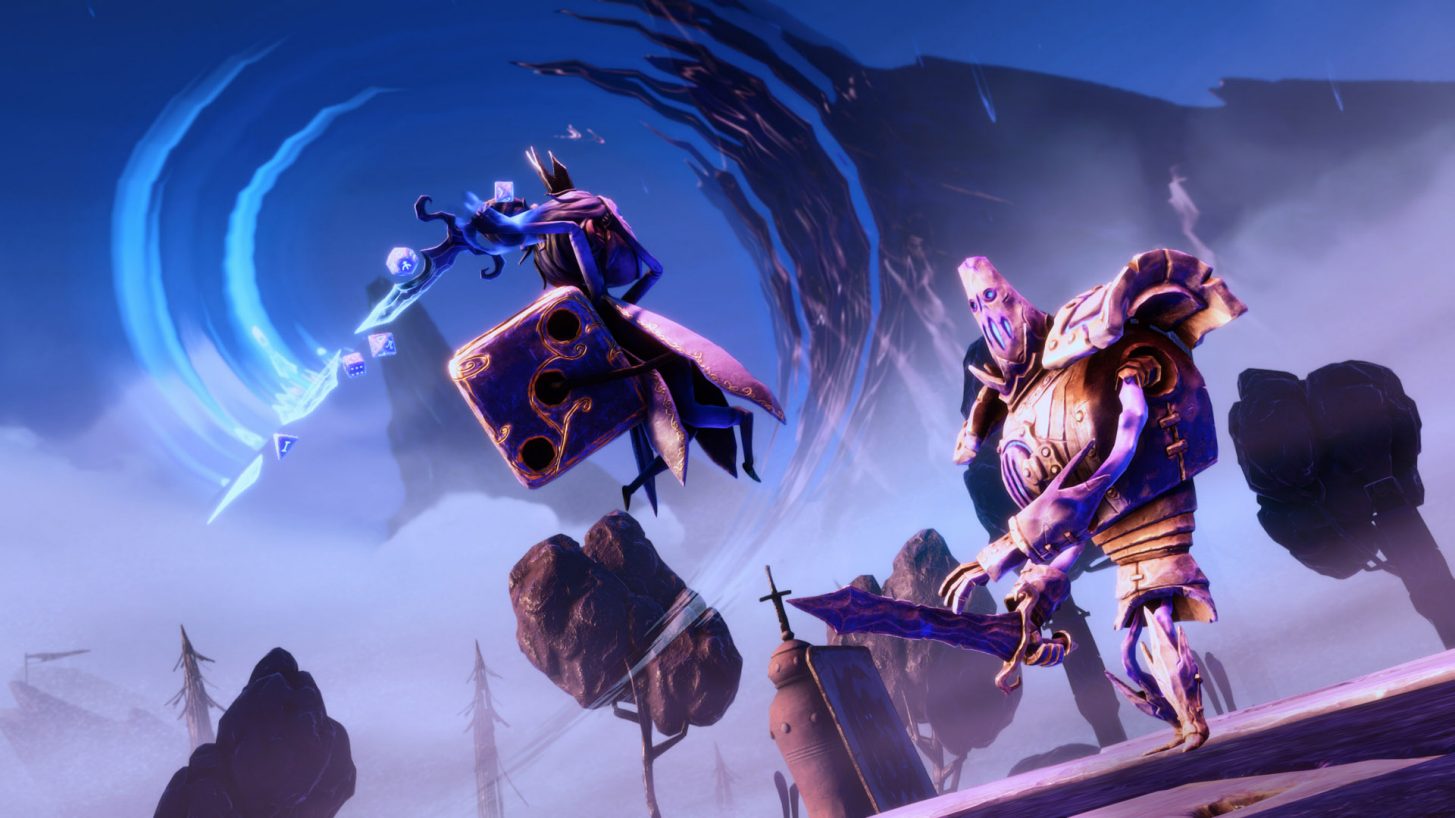 Lost In Random employs an exciting mix of deck-building and real-time action combat. To be honest, I wasn't particularly keen on the deck-building part before playing the game, but boy was I wrong. This game can even appeal to gamers who aren't familiar with or don't like deck-building games.
The combat may sound complicated at first but it's not. It's pretty simple. There is no levelling system or stats in this game. Every battle in the game begins like this; Even only has a slingshot and nothing else. You have to use the slingshot to shoot crystals that spawn on the body of enemies or sometimes in the environment. Once broken, these crystals leave behind shards that Dicey (your living dice companion) can pick up.
The crystal shards act as an energy resource for you to accumulate and summon your cards. Once you have enough energy, you can throw Dicey and time will stop, allowing you to use any cards that pop up. Now, every time you throw Dicey, just like any dice, he will roll a specific number. The cards that pop up once you throw Dicey will be randomly picked from your 15-card deck, and each card has its own value. For example, if your Dicey rolls a 3, then you can only use cards of which the total sum value is 3 (unless you have cards that can increase the rolled number).
There are more than 30 different cards in the game but your deck can only hold a maximum of 15 at any given time. The fun of the combat mechanics is building a deck that best complements your playstyle. There's a surprising variety of card types too. There are Weapon cards that can summon breakable energy weapons like swords, lances or bows and arrows. There are Hazard cards that can summon cannons, giant hands, and little monsters. There are also Cheat cards that increase your health, give you extra values to be able to use more cards at a time, and more.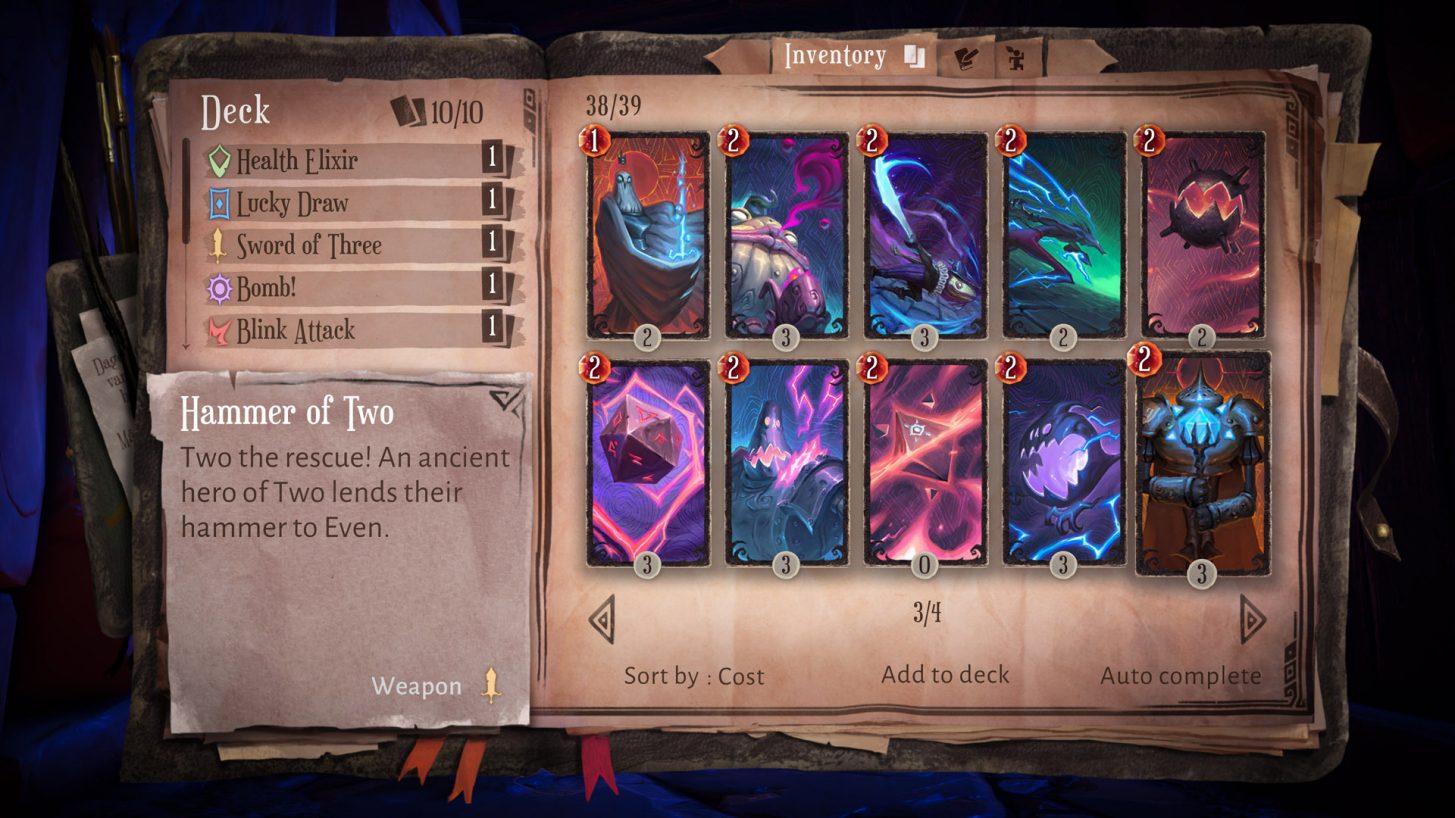 Battles can get chaotic once you get deeper into the game, and you always start each battle with zero energy and cards. Your slingshot doesn't damage enemies, since it's only for collecting crystal shards, and you need those to use Dicey and summon cards. That's the cycle of every battle. Hit crystals on enemies with slingshot, collect enough to throw Dicey and hope you get a good hand of cards when you do roll Dicey.
It can get repetitive because the cycle of the battles remains the same from beginning to end. There are some special field battles where you move giant chess pieces on the battlefield, but you'll be repeating the same mechanics as well. It doesn't get old too fast, since you'll have fun building your deck and experimenting with different cards.
Unfortunately, the game is more than 10 hours long (12 to 13, really), and the game tends to throw gauntlets and waves of enemies after you near the end, which can make the battles more annoying and frustrating at that point. I was clamouring for the game to finish near the end because it was obvious that the combat system is overstaying its welcome.
As for other flaws in Lost In Random, there is the game's horrible map. The map looks aesthetically pleasing but it's not practical or user-friendly at all. It's more like a painting, and you can't even see where you are at any given time on the map. Yes, you can't see your location on the map, which essentially makes the map that much harder to navigate.
Random Rules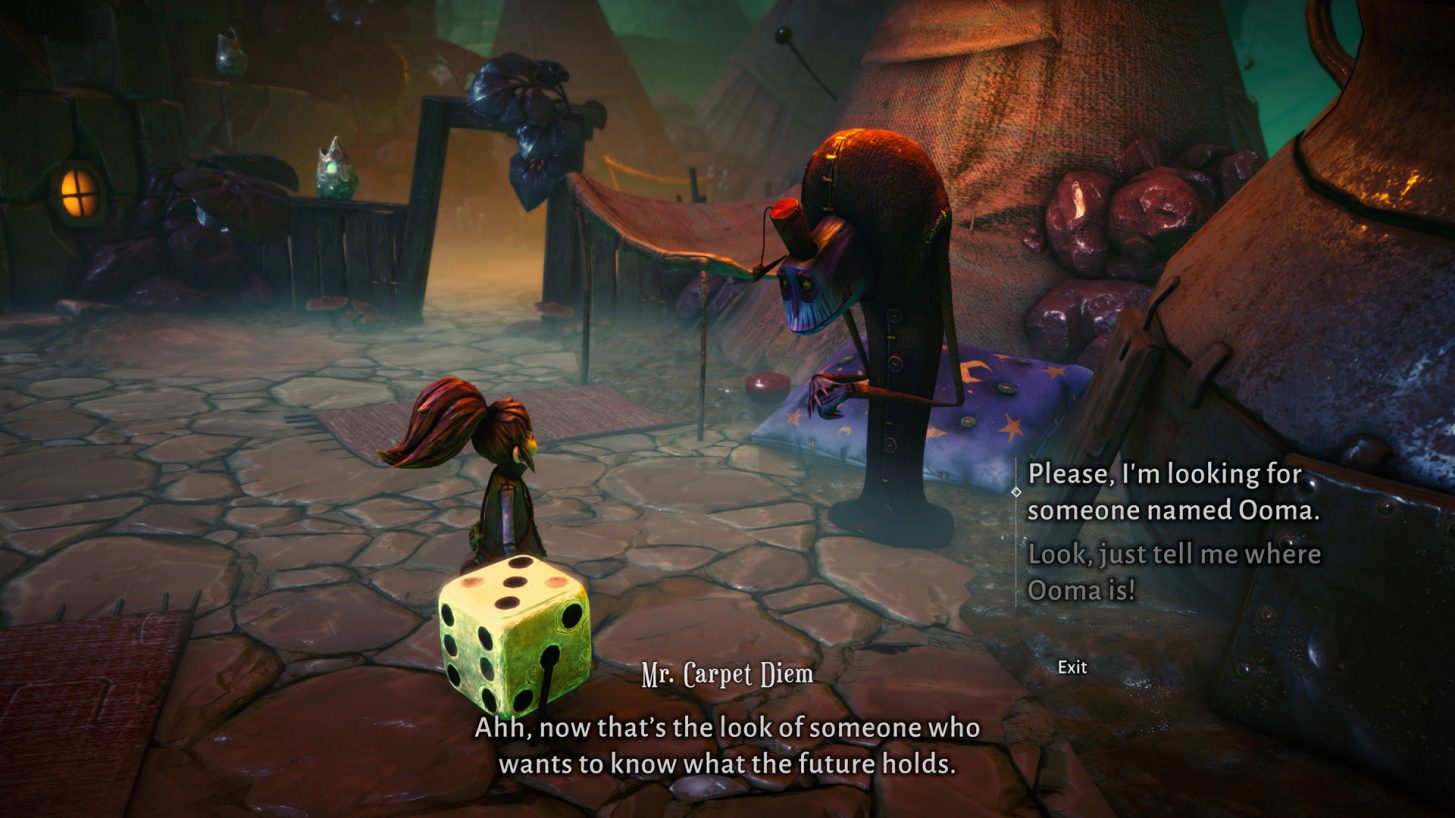 Lost In Random is probably the closest thing we'll get to the feeling of playing a game with the tone and vibe of The Nightmare Before Christmas or Coraline. If that appeals to you, then you should definitely check out this game, especially with the exciting gameplay mix of deck-building and real-time action combat.
The game is ultimately too long, but if you play it in an episodic manner from world to world instead of rushing into it for review like I did, you'll probably have an enjoyable time.
Pros
Atmospheric and dark Tim Burton-esque fantasy aesthetics and story.
An exciting mix of deck-building and real-time action combat.
Great writing and dark humour.
Cons
Gets a bit stale and overstays its welcome near the end.
A horrible map that makes navigation difficult.
Final Score: 80/100
Review copy provided by EA. Played on PS5.