Update (17/12/21): Added movelist for each revealed character for the beta. Open beta starts on 18 December at 10am GMT+8 and ends at 20th December 10pm GMT+8.
Publisher Nexon and developers Neople, Eighting, and Arc System Works are teaming up for a Dungeon Fighter Online fighting game called DNF Duel. It's a spiffy-looking 2D fighter with combos, hyper combat, and titillating art.
The companies are releasing trailers on a not-so-frequent basis. Here are the characters announced so far:
Mechanic
No official in-game model yet, but this class is confirmed to be in DNF Duel.
Troubleshooter
No official in-game model yet, but this class is confirmed to be in DNF Duel.
Ghostblade
A ronin who fights with a ghost who wields a samurai. Might play similarly to Persona-wielding characters in Persona 4 Arena.
Crusader
Big slow guy with good reach and a Holy Wall that will limit the opponent's space.
Kunoichi
Fast rushdown character with flame attacks, shurikens, and a toad that shoots out flames. About as mobile as Chipp Zanuff.
Vanguard
Has a lot of footsies and zoning tools thanks to his long-as-heck polearm. His gameplan is to poke you until you're dead.
Dragon Knight
A mid-ranged character with a persistent baby dragon assist, ready to eff up opponents. Reminds us of Zooey from Granblue Fantasy Versus.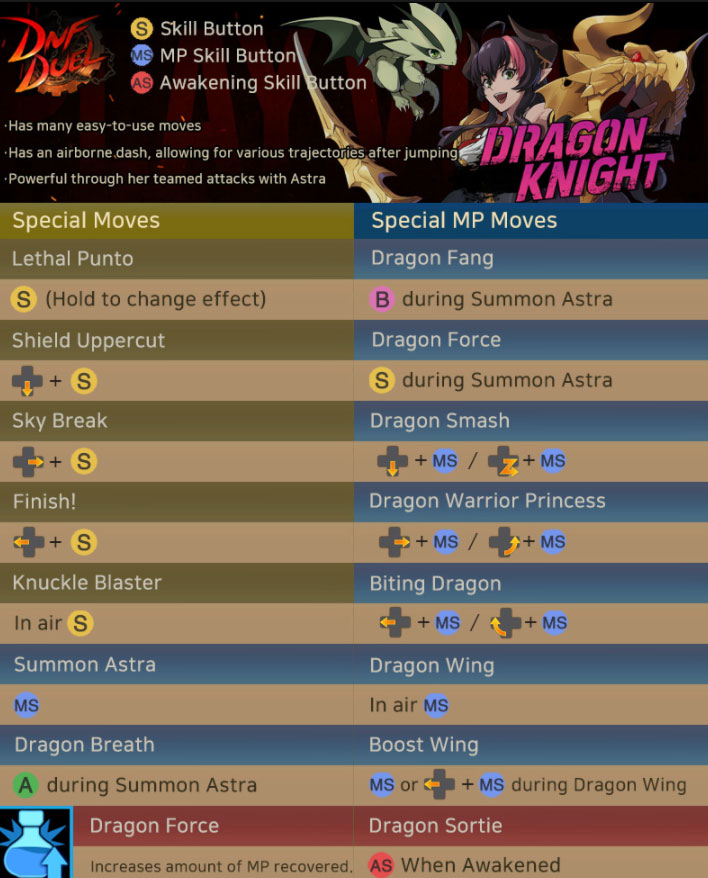 Hitman
Big sword + SMG = mid-ranged combo fiend. Comes with lots of pressure tactics and multi-hit moves, with more options available when he's Awakened.
Ranger
A ranged character with many ambush moves with controllable properties.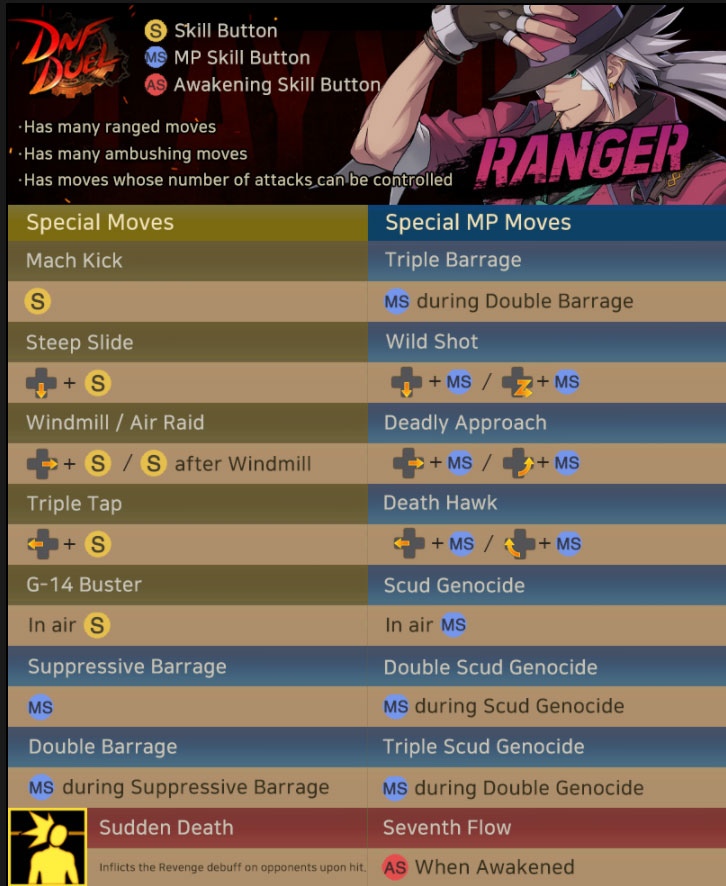 Striker
Pure rushdown character, right down to the tight moves and close-ranged mixups.
Grappler
Just like his namesake, the Grappler can combo his command grabs from his combos. He can change move effects midway from one attack to another.
Inquisitor
A mid-ranged fighter who relies on tools to space enemies away with her axe and judgment tools. She has various moves that shut down and restrict her opponents, and relies on her Burning Hit to deal special damage.
Berserker
A close-ranged fighter who resembles Ragnar the Bloodedge from Blazblue. Probably fights like him too.
Has easy-to-use moves, aggressive aerial to ground techniques, and can sacrifice HP for enhanced attacks.
We'll be adding more fighters to this list as time goes by. Stay tuned!
Open Beta Date & Time
DNF Duel will host an open beta on the following platforms & times:
Platform: PS4, PS5
Date & Time: 17 December 10am – 20 December 10pm GMT+8