Genshin Impact has a new 5-star character in its gacha roster: the red horned oni Arataki Itto. He's a Geo Elemental claymore-wielding bruiser who hits hard thanks to his Geo kit.
Here's a guide on the best equipment for the bruiser as well as tips on his ascension materials and story quest. If you want to check out the rest of our Genshin Impact guides, here they are:
Arataki Itto Moves & Stats
Normal Attack: Fight Club Legend – This increases Itto's normal, charging, and plunging attack damage:
Normal Attack: The combo is a string of four normal attacks. The second and fourth hits grant +1 or +2 Superlative Strength stacks respectively. Upon reaching +5 stacks, the duration is refreshed for any existing stack.
Charged Attack: Arataki Kesagiri – Itto's charged moves are a series of quick slashes that consume Superlative Strength stacks. Once the final stack is consumed, he'll do a stronger variant.
Charged Attack: Saichimonji Slash – Itto will perform this instead if he no longer has Superlative Strength stacks.
Elemental Skill: Masatsu Zetsugi – Akaushi Burst – Tosses a bull named Ushi that deals Geo damage when it hits opponents:
Superlative Strength – Itto gains a stack of +1 Superlative Strength when:

Ushi initially hits enemies upon casting.
Ushi takes damage (procs every two seconds).
Once Ushi leaves the field (i.e., end of duration or once HP reaches zero).

Ushi can taunt nearby enemies.
Ushi gains HP based on a percentage of Itto's max HP.
The elemental skill button can be held down to adjust Ushi's throwing angle.
The skill itself has a six-second duration and a 10-second cooldown.
Elemental Burst: Royal Descent – Behold, Itto the Evil – Itto turns into his Raging Oni King demon form:
Converts Itto's attacks into Geo damage; cannot be overridden.
Increases Itto's normal attack speed and his ATK% based on DEF.
The first and third strikes of Itto's normal attack combo grant Itto +1 Superlative Strength.
Reduces Itto's elemental and physical resistances by 20%.
The burst has an 11-second duration and an 18-second cooldown. However, it will end prematurely if Itto leaves the field.
Passive Talents
Woodchuck Chucked – Itto grants the party a +25% chance to obtain additional wood from chopping down trees.
Arataki Ichiban – Itto's Arataki Kesagiri charged attacks provide additional benefits:

+10% attack speed for the next slash (up to a maximum of 30%).
Increased resistance to interruption.

Bloodline of the Crimson Oni – Arataki Kesagiri damage is increased by 35% of Itto's DEF.
Constellations
C1: Stay a While and Listen Up – Itto gains +2 Superlative Strength after using his burst. Itto will also freely gain a total of +3 stacks within a few seconds.
C2: Gather 'Round, It's a Brawl – After using his burst, Itto's burst cooldown is decreased by 1.5 seconds and he gains +6 energy for every Geo character in the party.
C3: Horns Lowered, Coming Through – +3 levels for your elemental skill; maximum level is 15.
C4: Jailhouse Bread and Butter – After the duration of Itto's burst, all party members gain +20% DEF and ATK for 10 seconds.
C5: 10 Years of Hanamizaka Fame – +3 levels for your elemental burst; maximum level is 15.
C6: Arataki Itto, Present – Charged attacks deal +70% crit damage. Likewise, the Arataki Kesagiri slashes have a 50% chance to no longer consume Superlative Strength stacks.
Protips
Most of Itto's attacks come from his charged slashes, so prioritize his normal attack talent before improving his elemental burst.
Best Weapons & Artifacts For Arataki Itto
Claymores
Redhorn Stonetresher: Great for critical damage and for a huge defense increase.
Song of Broken Pines: Offers a nice physical damage bonus and the Millennial Movement attack speed buff.
Serpent Spine: Good for giving Itto crit rates and his one-man army playstyle.
Artifacts
Husk of Opulent Dreams set: Found in Slumbering Court domain. Two pieces of this set will give Itto 30% defense, while a four-piece will give him that and a Curiosity buff stack that gives him a defense and Geo damage bonus if you keep hitting enemies.
Defender's Will two-piece set: Good for Itto's defense.
Bloodstained Chivalry two-piece set: Good if you want to give Itto physical damage.
Arataki Itto & Onikabuto
One of Arataki Itto's ascension materials for leveling up is Onikabuto, beetles that are found all across Inazuma. Here's a guide on how to find them (via PC Invasion):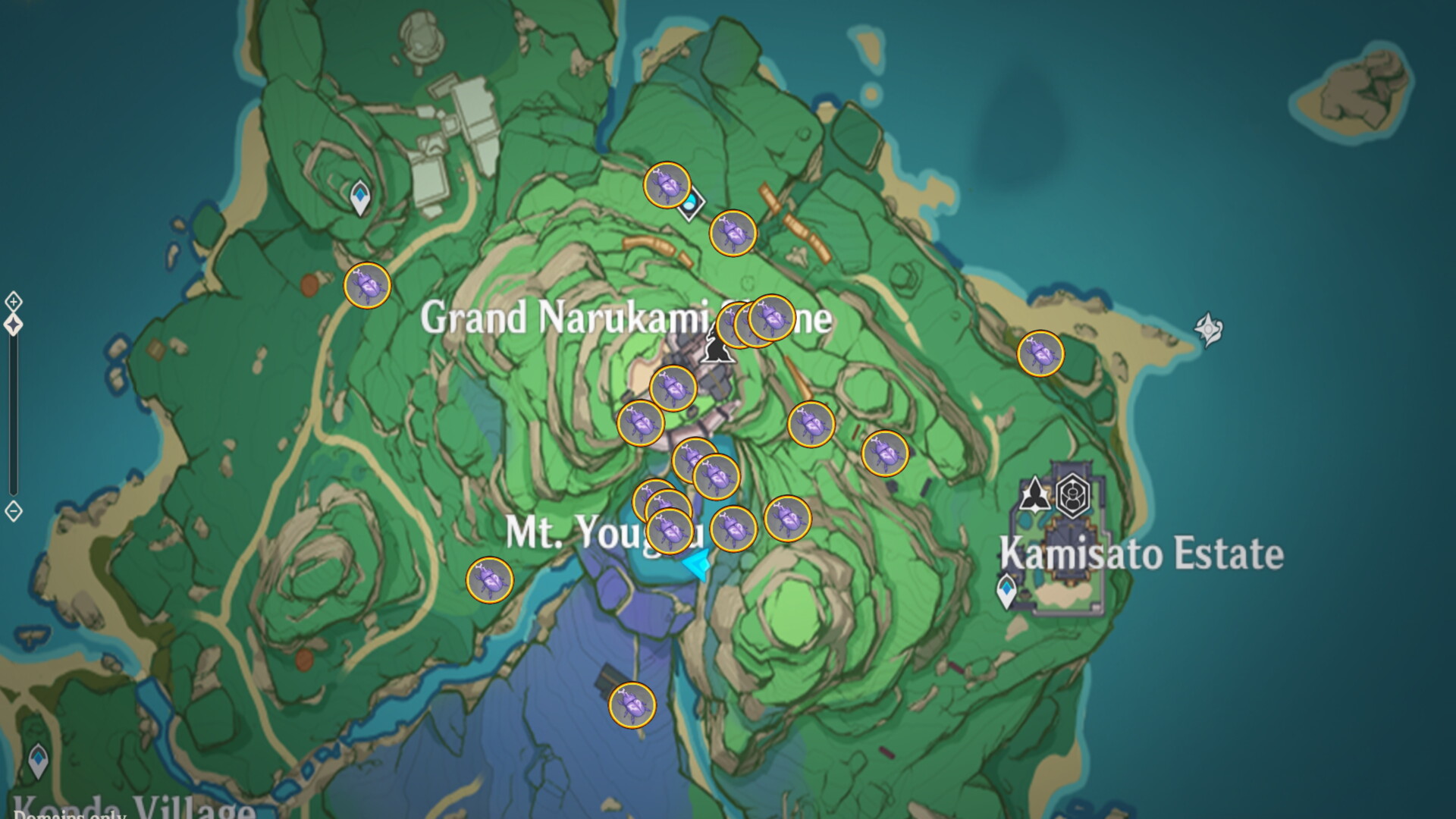 Narukami Island: You can farm for Onikabuto on the cliffs off the Grand Narukami Shrine north of the island. Also to the south of the island, you can find them in the cave under Inazuma City.
Kannazuka: Find them on Thunder Sakura trees in this region. Also, be sure to pickup the Electrograna buff as some of them are enclosed in Thunder Barriers.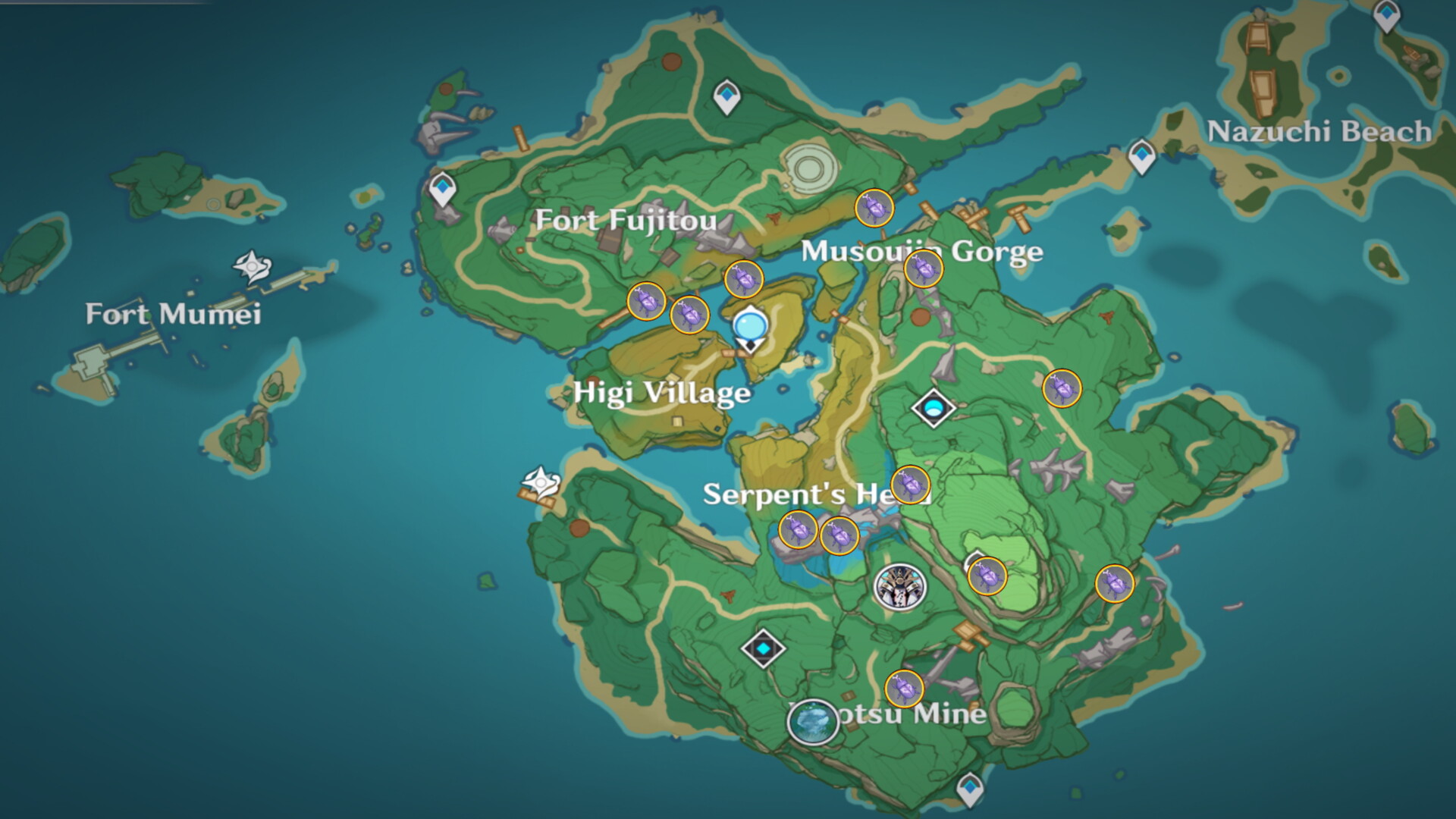 Yashiori Island: Head to the north section of this island; you'll find Onikabuto on the spiky branches.
Arataki Itto Story Quest Walkthrough
This quest is pretty easy to follow. Just go to the locations, look for footprints when prompted, fight a bunch of ronin using Arataki Itto, and play through the dungeon to wrap up his storyline. The video below will show you how to do it.
Related