Sometimes all the power in the world will not mean much if there isn't a practical way to channel or use it. I felt that way when trying to get the hang of the Huawei P50 Pro's inner workings and long-term feel.
Sure, it's a powerful beast and it boasts a powerful camera. If anything, the Huawei P50 Pro and its fold-em brother should be the flagship/marquee phones for the Chinese brand. Personally, though, the things that matter the most to me with a phone -the accessibility portion- seems to be missing in this high-end powerhouse.
Always Believe In Gold…
First, the good: the Huawei P50 Pro excels in a huge number of phone activities. Camera-work? multiple front and rear lenses and a plethora of options for one-handed photography awesomeness. It may not have the best colour fidelity for some of its modes, but that's just me being nitpicky with what's being offered here: the best camera photography work you can produce even amidst the already-tough competition.
The heft and build? The Huawei P50 Pro is definitely solid, especially with the pre-packaged casing to further secure the device. The Cocoa Gold finish makes this phone stand out amidst the black mirrors of this generation's mobile devices. Just be mindful that its glossy finish means that it'll be a huge fingerprint magnet.
Processor-wise, the phone's insides are also as powerful as it can get. The Qualcomm Snapdragon 888 processor and 8GB RAM make every app you love run fast and efficient. Almost every app; I'll get to that soon.
On full power and brightness, the phone can last about 7 hours or so. Its highly-touted fast battery charge means you can get it up to full speed pretty quick; 66W wired charging to be precise. That means you can charge it from 0% to full in less than an hour. No complaints here in this regard.
The 6.6 inches screen is also fully bright and chock full of high resolution. I played Mobile Legends just fine on the phone. There's no major issue that pops up during prolonged gaming sessions on this beast. The colours pop out thanks to the awesome screen, the game runs great, the touchscreen prompts feel fine, and holding the phone feels less cumbersome despite the phone's size. The Huawei P50 Pro definitely passes the gamer's test, but again, it depends on what apps you're focused on.
You're definitely paying for quality here, long story short. Now comes the main issue with all that power: if you're a massive Google app user who plays a lot of games using Google Play Service, this phone is not for you. You're going to have a tough time getting everything you love to work optimally on the Huawei P50 Pro.
You'll need to make a ton of workarounds, despite the current Huawei-branded apps and tools doing the exact same thing but lesser. Thanks to the still-ongoing United States tech ban on Huawei phones using Google services, Huawei has been making its own platform and apps for all Huawei phones. While they're serviceable, they're not the same if you're a big user of Google and only use Android phones because of that ecosystem.
While apps like TikTok can be used, you won't be able to find Instagram and Whatsapp, as well as a huge number of games that rely on Google Play services to actually boot up and run. Want to play Hatsune Miku: Colorful Stage on the Huawei P50 Pro? Tough luck!
Glad That You're Bound To Return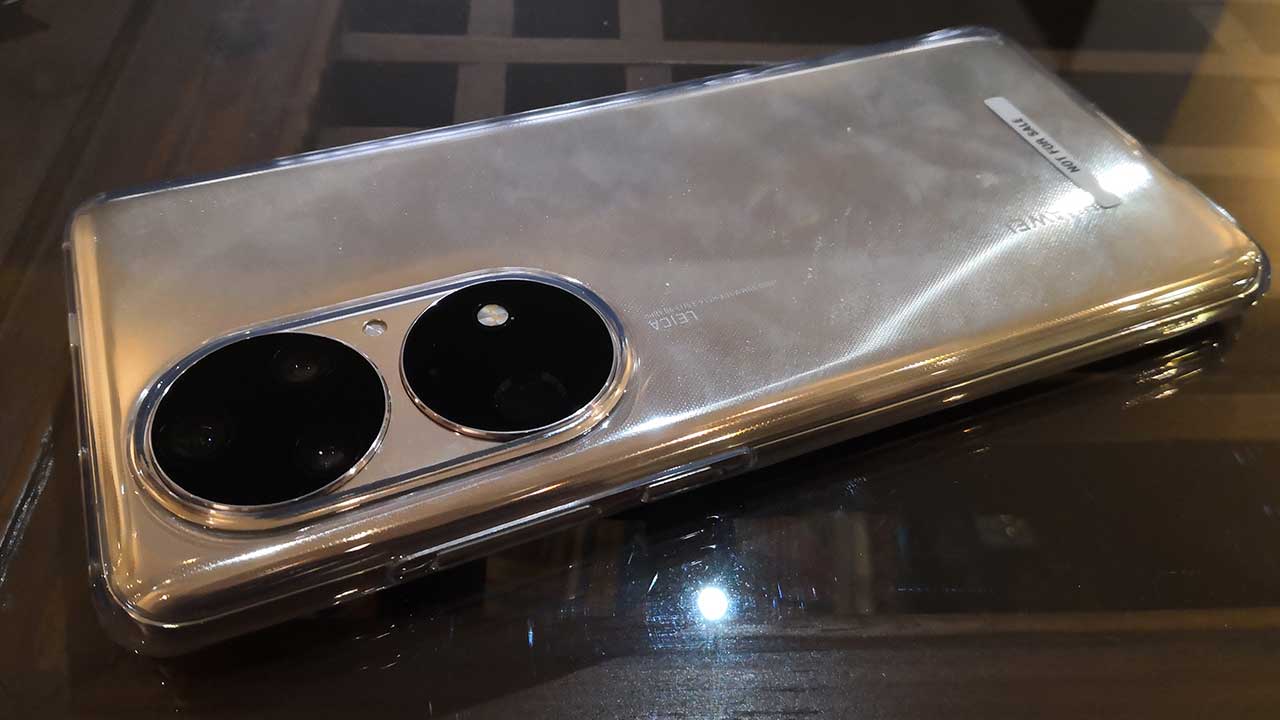 Despite its lack of Google services, the Huawei P50 Pro just works fine as a powerful phone with a great 50MP camera. Just make sure you do enough research on what software and apps you use more often before diving headfirst into this luxurious beast of a phone. RM4,000+ for a flagship phone is nothing to sneeze at.
If you're a gamer who relies a lot on titles that need Google Play Services, which is arguably 80% of what's in the market these days, this Huawei powerhouse may end up a beast of burden instead. If that doesn't bother you and you rather go Google-free with an expensive luxury phone, add another 10 points to the review score below.
Final Score: 70/100
---
Price: RM4,199+
Platform:
Body: 158.8mm x 72.8mm x 8.5mm (height x width x depth), choices of Golden Black and Cocoa Gold
Chipset: Qualcomm Snapdragon 888 processor
Memory: 8GB RAM + 256GB ROM
CPU: Octa-core, 1 x Cortex-X1@2.84 GHz + 3 x Cortex-A78@2.42 GHz + 4 x Cortex-A55@1.8 GHz
GPU: Adreno 660
Display: 6.6 inches OLED, up to 120Hz refresh rate, 1.07 billion colours, with 2700 x 1228 pixels resolution
Main Cameras:
Front:13 MP Selfie Camera (Wide Angle, f/2.4, autofocus)
Rear: 50 MP True-Chroma Camera (Color, f/1.8 aperture, OIS), 40 MP True-Chroma Camera (MONO, f/1.6 aperture), 13 MP Ultra-Wide Angle Camera (f/2.2 aperture), 64 MP Telephoto Camera (f/3.5 aperture, OIS), support AF
Battery: 4,360 mAh, with HUAWEI SuperCharge (Max 66W)
Protection: Splash, water, and dust resistant; IP68
Connectivity: WLAN, Bluetooth, USB, Earjack (USB Type-C)
Sensors:Gravity Sensor, Infrared Sensor, Fingerprint Sensor, Hall Sensor, Barometric Pressure Sensor, Gyroscope, Compass, Ambient Light Sensor, Proximity Sensor, Laser Sensor, Colour Temperature Sensor
Review unit sent by Huawei. 
Related