By Mr Toffee|March 17, 2022|
Platform(s): PC (version played), PS4
Genre: 2.5D action adventure with high-flying combat
In Anno: Mutationem, the latest action-adventure title from China-based developer ThinkingStars, you play mysterious past-laden anime girl protagonist Ann. She's on a task to find her rapscallion of a brother while also coming to grips with her existence and her sci-fi world disease that seems to be plaguing her from start to finish.
She also fights really well with regular swords, pistols, dual blades, and a giant broadsword, mixing it all up with light, ranged, and heavy attacks Devil May Cry style (but 2D and limited ammo) when dealing with thugs, cyberpunk, mutants, and all sorts of robots & mechas you would find in a cyberpunk world made by indie developers.
Something Borrowed…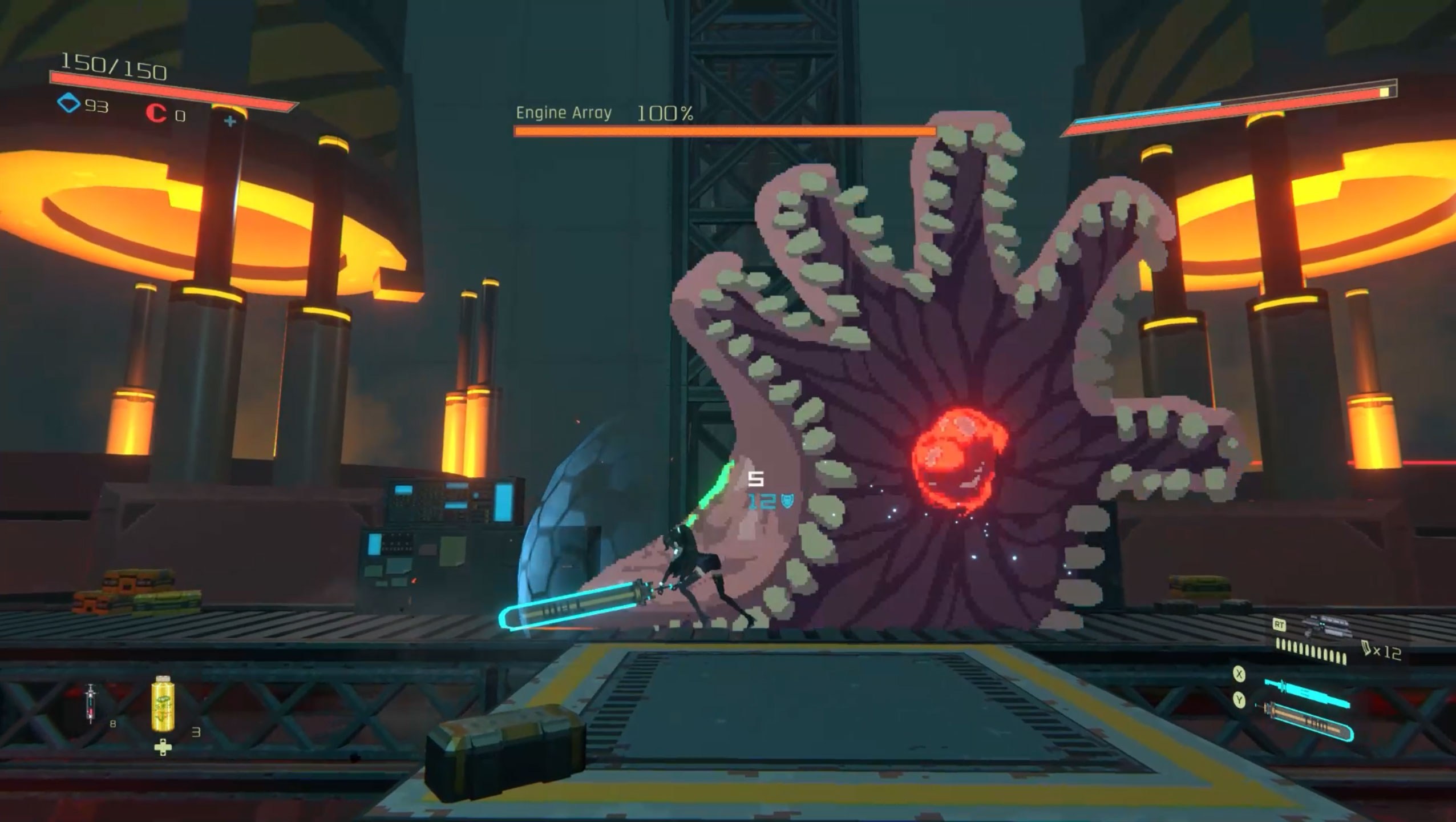 Said developers are also fans of anime, The Matrix, and other pop culture scifi cyberpunk pieces of entertainment. Which is why you'll have comical scenes like the one where Ann gets dolled up to enter a club for some info-extraction (fanservice and all), an intro where we get a few seconds of Ann in the shower (tastefully obscuring her privates), and a couple of serious bits involving Ann's past, the cyber-mafia and scientists involved, and an Illuminati-type shady group who has ties with Ann.
Not that it's done bad, mind you, but you won't find that many original ideas and concepts, with some of the game's later plot details getting a bit mixed up to the point where you're just tuning out and going where the action is. The concepts and story details are pinched here and there from other sources, just with a gorgeous 2D pixel and 3D art aesthetic painted all over it.
And by golly, this aesthetic is the highlight of Anno: Mutationem. It looks great both in static and in motion, the art direction works whether you're in the city or kicking ass in the basements and underground labs/mutant hellholes, and the plays smoothly for the most parts. My favourite bits of the game include taking the sights in after conquering one of the "dungeon mazes" filled with mutants and slugs, then heading to Ann's family bar for a quick drink-mixing minigame.
The title could use a bit more polish in terms of its vague sidequest lines, its subtitles not matching with the VO, and a few typos here and there. I'd also complain about the tedious backtracking and repetitiveness of the missions as the game progresses, but that's all balanced out by some fun boss fights and the generous checkpoint system.
Long story short: I'd definitely recommend this beautiful and fine-playing 2.5D pixel-esque action title if you need a 2022-made cyberpunk-laden experience.
Final Score: 80/100