Platform(s): PS5 (version played), PS4, PC, Xbox Series, Xbox One
Genre: Hack-and-slash dark fantasy action game made by Europeans
Right from the get-go and from the multitude of fixed camera angles and the way the main Guts stan main character double jumps, you already have Devil May Cry on your mind. Developer Modus Studio is clearly influenced by many hack-and-slash hyper-themed action games from the 2000s onward when delivering its latest game Soulstice to the world. Does it at least entertain both casual and hardcore fans? For the most parts, yes.
Thorn On Your Side
You play as Briar, said main character who is a knight tasked to take care of a world-ending planar tear that's in the middle of some undead-filled hellhole where a thriving kingdom used to be at. Accompanying you is your ghost sister Lute who not only assists you in hack-and-slash combat as an assist, but can help create Evocation and Banishment Fields in your vicinity. These fields affect wraiths and all sorts of puzzles requiring blue and red ghost things and monsters. Evocation fields are blue, Banishment fields are red; got it? If you remember the Devil May Cry reboot from Ninja Theory, it's pretty much the Red and Blue weapon mechanic, but simplified and pared way, way down.
This is important because there will be a ton of colour-coded enemies that can only be damaged if you have the correct field up. Too many red enemies who hit hard and move fast? You better put up that red field fast, then switch it back when the blue wraiths come in. You can't even put it up for long because your ghost sister Lute will get overloaded and disappear for a bit. Furthermore, Lute can also attack and help you with countermoves; pressing the appropriate button when prompted will either get Lute to deflect ranged attacks, block regular attacks, or freeze enemies mid-attack depending on the timing.
All this would be pretty dandy if the game's controls were up to snuff and were comparable to its inspirations: the Devil May Cry and Bayonetta series. All I can say about the controls, response time, and attack/cancel animations and flexibility are synonyms to "adequate" and "middling". They get the job done by seminally getting you looking forward to many fights and arena battles with ghosts and monsters big and small. They're not going to impress connoisseurs of action games, not by a wide mile. Every alternate attack that isn't your trademark Berserk-sized sword just feels off and every other weapon just feels awkward to play with compared to your starting weapons. Though if you're the kind who isn't that versed with the genre, you'll find Soulstice's trappings welcoming.
Heck, the boss fights here can get fun without being too cheap, going so far as to give you an actual challenge. But all the fights and setpieces in-between range are just middle-of-the-road fare. Solve a puzzle for a bit, get through similar mobs of enemies, traverse upwards and platform in areas with fixed camera angles.
As someone who replays the Bayonetta titles for shits and giggles, nothing in Soulstice is blowing my mind, but at least the action and combat is keeping me awake. It sure as hell isn't the story; the game's serious plot about taking down an open portal in a giant undead and abandoned kingdom with bits of lore in-between isn't the most riveting thing available. This makes me glad the developers did give me a skip cutscene button to get me to the decent stuff.
Gutsy Play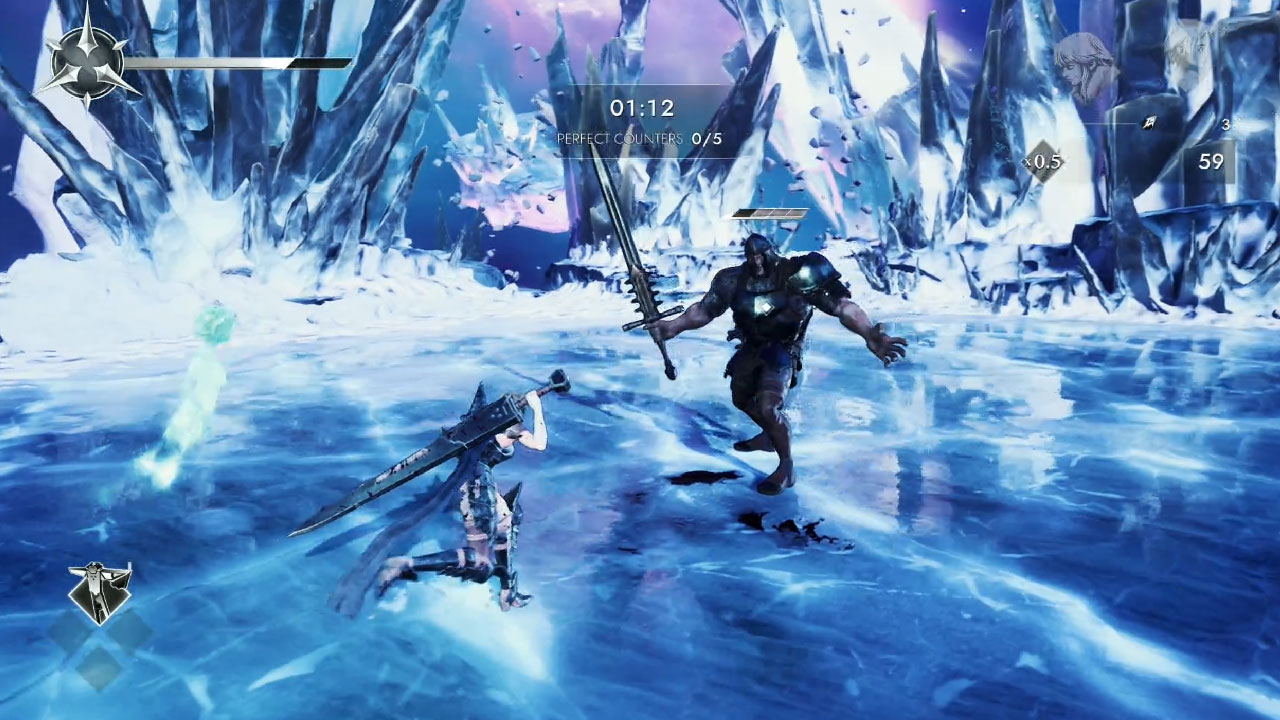 Even with its novel approach to combat and its sister duo spicing things up with the dual blue/red field mechanic, I can't help but shake off the fact that Soulstice plays more like an imitation of better hack-and-slash games than an evolution. You can blame that on how stiff the controls can get, and also how some of Briar's attacks aren't as cancel-savvy as they should, having more wind-down time and recovery than needed especially for the lighter weapons she possesses.
Still, if you're expecting Devil May Cry levels of quality from a mid-sized studio like Modus, you're nuts. It's no trendsetter for sure. But Soulstice has a lot of, well, spirit to make it more than above-average hack and slash 2000-era fare. "A" for effort, at the very least.
Final Score: 60/100