Deja vu is rather common in the gaming scene where sequels are a dime a dozen. After all, it's a company's surefire way to sell millions rather than with a risky new IP; that is the nature of the business. Having said that, sequels to big games can be labours of love if given the time and care.
Our early hands-on with Sony Santa Monica's magnum opus sequel to 2018's God of War, an action-adventure game we revered wholeheartedly and features father-son team Kratos and Atreus, is indeed closing up loose plot ends and will hopefully end with a bang. Though back to what I said, some things do seem a tad too familiar. Not that it's completely a bad thing, mind you.
Here are the five standout elements that made my first four hours of Sony Santa Monica's sequel incredibly promising. Yes, it's all combat-related since I do not want to spoil key story details, so bear with us.
Yellow Circles, Red Circles Oh My!
While in the heat of battle, there will be yellow & red circles highlighting an opponent's attack. Red circles mean you can't block it, while yellow circles means you can parry it if you time your block just right. Otherwise, you'll be in a temporary stun state. It's one of the key combat features carried over from the last game, and it's definitely welcome.
While messing up your parries isn't an issue in the first four hours of the game, I suspect there will be enemies that will be ready to stab you for massive damage while you're keeled over. Tougher foes will probably only be vulnerable if a perfect parry was made, so I see the use of such telegraphs to help players recognize what's blockable and what isn't.
Frost & Fire Buffs
This one's brand new to the game: Kratos can manually charge Frost effects on his Leviathan Axe and Flame effects on his Blades of Chaos for their respective power attacks. These go away after the first swing, but they're usually powerful and deal AoE damage alongside other effects if you level up your skill tree.
If you're good, you can perform a combo, and then do a Frost charge effect followed up with better attacks to keep them in a juggled state. It's a small but fun addition to help expand Kratos' repertoire of Leviathan Axe, Blades of Chaos, and shield.
Tweaked Combat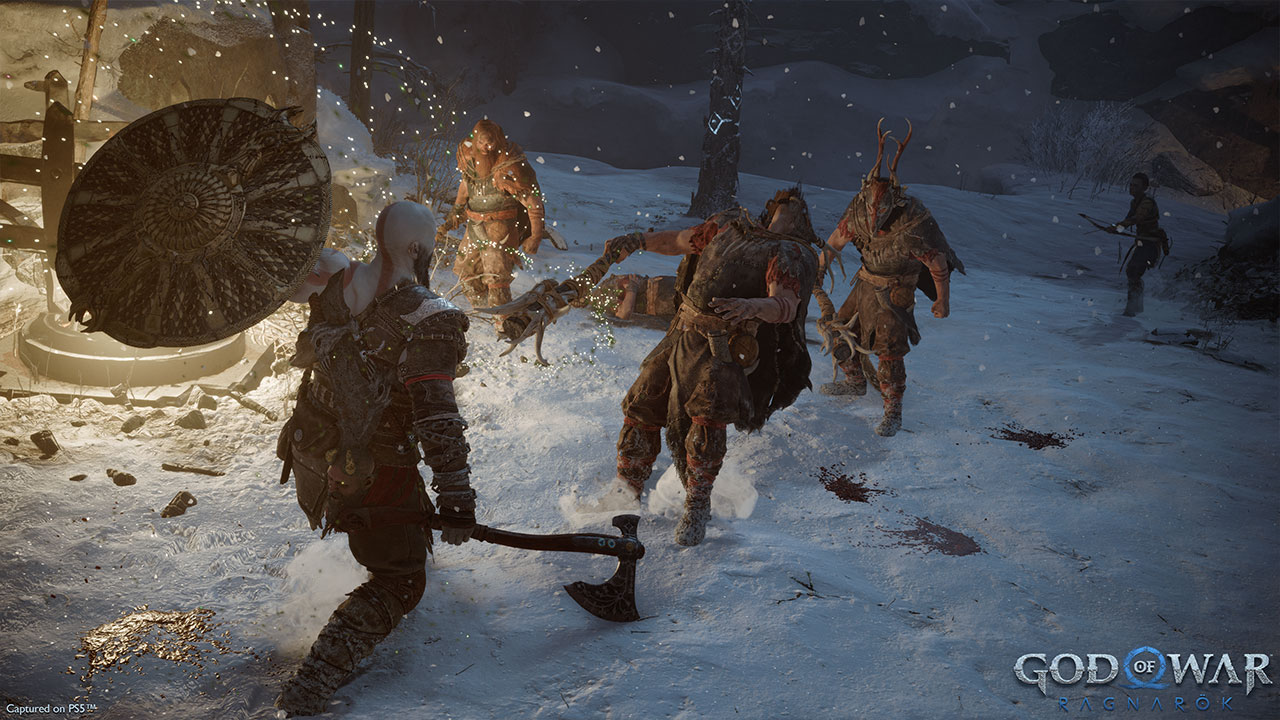 There's a sense of deja vu in God of War: Ragnarok, but it's the good kind. The 2018 God of War's combat system and action is almost peerless with its feel, weight, controls, responsiveness, and balance between casual and hardcore playstyles. Switching seamlessly between weapons with the d-pad is pretty easy, while rear markers to highlight attacks from the back are still helpful given the game's third-person perspective.
Pacing & World-Building
The first major area you visit in your father-son runaway trip is Svartalfheim, the dwarf city that your two blacksmith pals from the first game can't shut up about. This portion has a main quest where you need to find a person-of-contact through a town, past a river area leading to smokestacks, and the eventual giant mine with its network of mazes and puzzles. Said brainteasers rely on using your axe to freeze halfpipes, make water run onto watermill contraptions, or even trigger switches with your Blades of Chaos. They're a good diversion before both father and son start fighting Einherjars, the undead, and other fantasy monsters that spit goo in your face.
The best part? You also get to hear lore-spouting severed head Mimir talk about Norse gods & how shady they are, and find out more about what happened pre-2018 God of War and how they screwed over a lot of the realm for their selfish gain. It all flows naturally and doesn't interrupt anything or grind it to a halt.
And yes, you will need to use rafts to ferry from place to place just like in 2018 prequel. I feel that Kratos rows the boat much faster than in the last game, so hooray for progress?
Different Big Boys To Beat Down
It's only been a few hours, but so far my significant boss encounters are pretty variable and aren't relying so much on just colour-coded giants like in the original. So there's that. Throughout my four hours, I've fought a bear, a crocodile, and a demigod with lightning powers and a magic hammer. The latter is clearly a setpiece battle that will look damn good when being spectated on bigger TV screens, though the fight itself is intense. This is especially when the demigod gets supercharged with lightning and launches his hammer repeatedly with various timings and animation.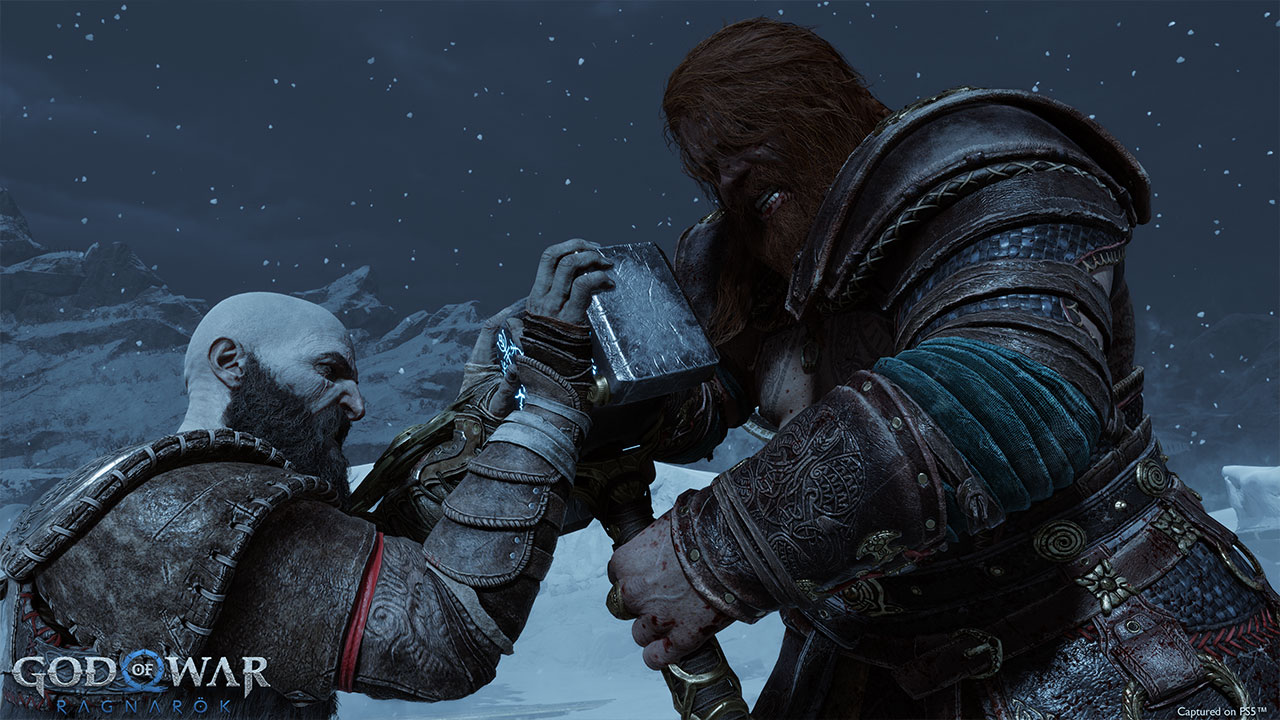 My toughest fight was was a seemingly regular undead with flame attacks called The Hateful midway in a Svartalfheim mining cave. Its purposefully-delayed long-reaching flame attacks deal a lot of damage, and it had damage-over-time fire that will knock Kratos down quick if he dallies too long. The monstrosity also has a couple of undead minions to distract you while it flanks with its slashes.
There's going to be an enemy that will stonewall you, and The Hateful is no different. Make no mistake; the new God of War isn't going to take it easy on you with hard-hitting enemies with meaty life bars. And also the new Bifrost ailment will affect a set amount of your life bar; while this heals over time, it goes away immediately if charged Bifrost attack hits you.
If this preview sounds like things feel a bit too samey like in the 2018 title, well, you may be right. Given that this game may be 20+ hours long, there might be a huge number of surprises in store for action game fans who want an epic adventure and also justify paying so goddamn much for a PlayStation 5. So here's hoping it'll come to that.
God of War Ragnarok will be out on 8th November for PlayStation 5 and PlayStation 4. We'll most likely have a review up a few days prior.