Comic Fiesta returns after two long years with their last live event being in 2019. This year's rendition of Malaysia's largest anime, comics and game convention will take place on 17 and 18 December at the Kuala Lumpur Convention Centre. Both days will run from 10:00 AM until 8:00 PM.
Labelled as one of the largest anime, comics and gaming (ACG) conventions in Southeast Asia where thousands of comic book artists, cosplayers, illustrators and fans come together to share in their interests.
In anticipation, the folks behind the event have been doing a 100-day countdown to Comic Fiesta 2022 (CF100Days) on their Facebook page where they showcase stunning artwork of their mascots submitted by talented artists each day.
Unfortunately, early bird tickets have sold out and the folks over at Comic Fiesta have stated that due to capacity, they will not be selling on-site tickets so if you're wanting to go, it's too little too late I'm afraid.
Date, Time & Location
Date: 17 – 18 December 2022
Time: 10:00 AM – 8:00 PM
Location: Kuala Lumpur Convention Centre (KLCC), 24, Jalan Perak, Kuala Lumpur, 50450 Kuala Lumpur, Wilayah Persekutuan Kuala Lumpur
Guests
For those who are going, what can you expect? Well, Comic Fiesta has yet to release a public schedule or floor plan but we do know that there will be multiple special guests flying in to attend the event
Hikarin
A world-renowned cosplayer, Hikarin is a Canadian-Singaporean female cosplayer that specializes in portraying male characters in their youth. Capturing the portrayal and charm of the characters with her unique makeup style, she yet seeks to portray characters not only through their looks but through their heart and personalities.
Suzuki Konomi
Popular Japanese singer Suzuki Konomi is most well-known for her vocal work on the openings for No Game No Life and Re:ZERO who will be doing a meet and greet as well as a live performance for those in attendance.
Virion Kisei
Virion Kisei is a VTuber affiliated with the Malaysian VTuber agency MyHolo TV. Most well known for his singing, Virion Kisei is a parasitic slime that had always wanted to be a human, or more specifically an idol and a singer. Unfortunately for him, his kind does not possess lungs, vocal cords, or even mouths to speak of. In his bid to fulfil his dream, he began travelling around the world for centuries to find the perfect host.
Liliana Vampaia
Another one of MyHolo TV's VTubers, Liliana Vampaia—Lili for short—is a sweet half-vampire, half-human on a quest to find a cure for her Otou-san who was cursed to live as a bat forever after breaking two rules in the vampire realm – marrying a human and staying exposed in direct sunlight without any sunblock.
Airani Iofifteen
Airani Iofifteen from hololive Indonesia will also be making a special stage appearance. Simply known by fans as Iofi, she is an alien princess who ran away from home and come to the earth and fell in love with the planet's culture, Iofi sometimes likes to tease the viewers but does have a soft mother if her fans need it. Sometimes goes a bit crazy over gacha games.
Malaysian Voice Actors Su Ling Chan, Azman Zulkiply, & "Uncle" Ali Imran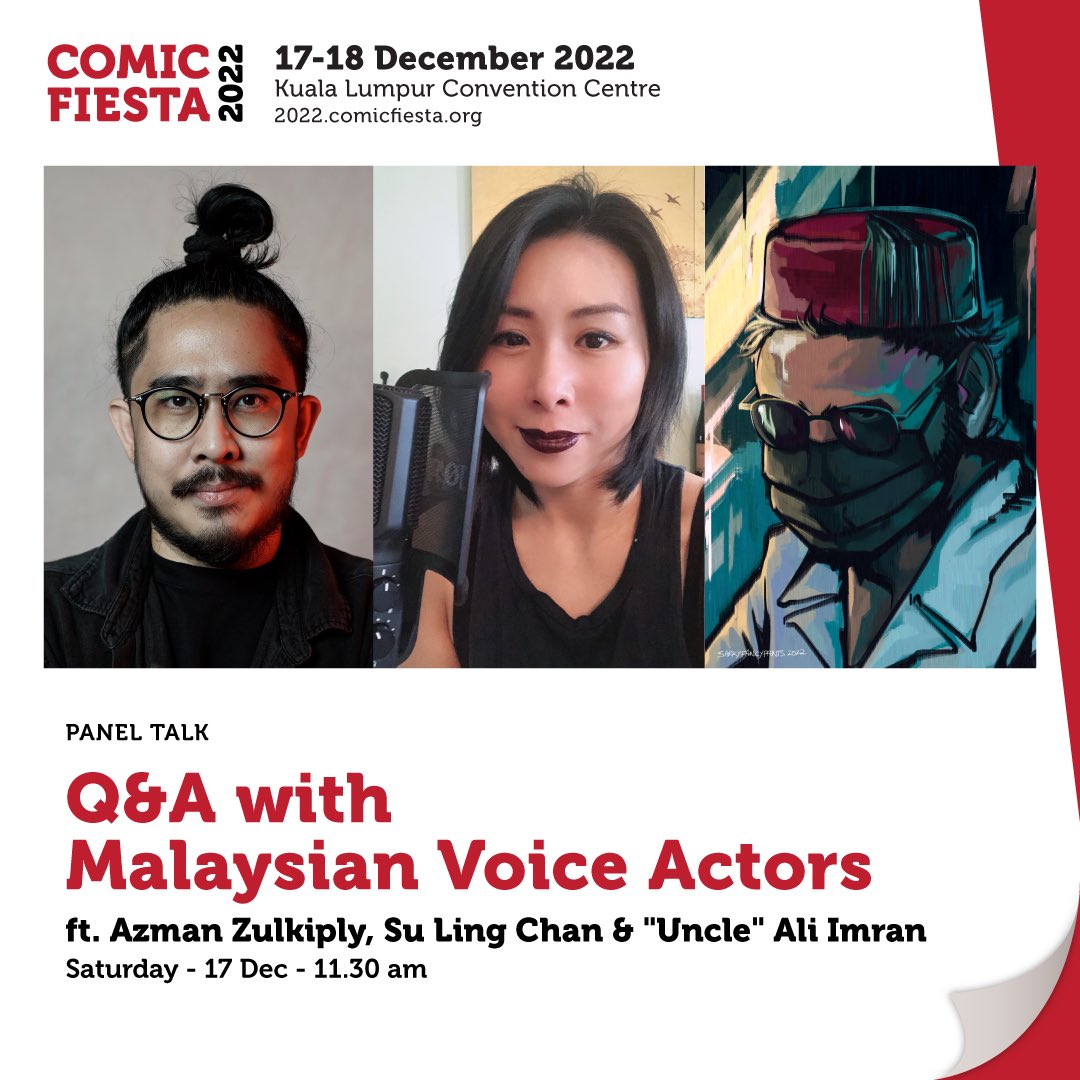 Date: 17 December 11.30am
The VOs of No Straight Roads and other Malaysian productions will be answering questions from the audience in this one-time appearance!
Activities
Indie Games
Creative Art Market
As usual, Comic Fiesta will have a plethora of artists from Malaysia and Southeast Asia selling their artworks and doujin work, as well as cosplayers selling their thirst material & pics. Here's a map to help you out.
Related