Horizon Forbidden West: Burning Shores DLC Is A Lovely Mid-Sized Follow-Up Despite Some Stumbles
Platform: PS5
Genre: Sizeable DLC For Last Year's Open-World Robot Animal-Murdering Sim
Last year's Horizon Forbidden West is a seminally enjoyable open-world game with robot-killing and giant-hunting, even if its limelight was stolen by Elden Ring. Still, many of us who ended up buying a PlayStation 5 in the past few months felt they got their money's worth with the adventures of lone warrior Aloy as she attempts to save her world that's a mix of primitive tech and old world scifi trappings.
Naturally, fans are craving more additions and DLC, so a follow-up is imminent. Enter Horizon Forbidden West: Burning Shores, which is a post-game paid DLC which adds a substantial amount of a continent to explore, throws a bunch of new challenges and tools at you, and adds in a new character that's sure to make current fans giddy all over.
The Battle Of Los Angeles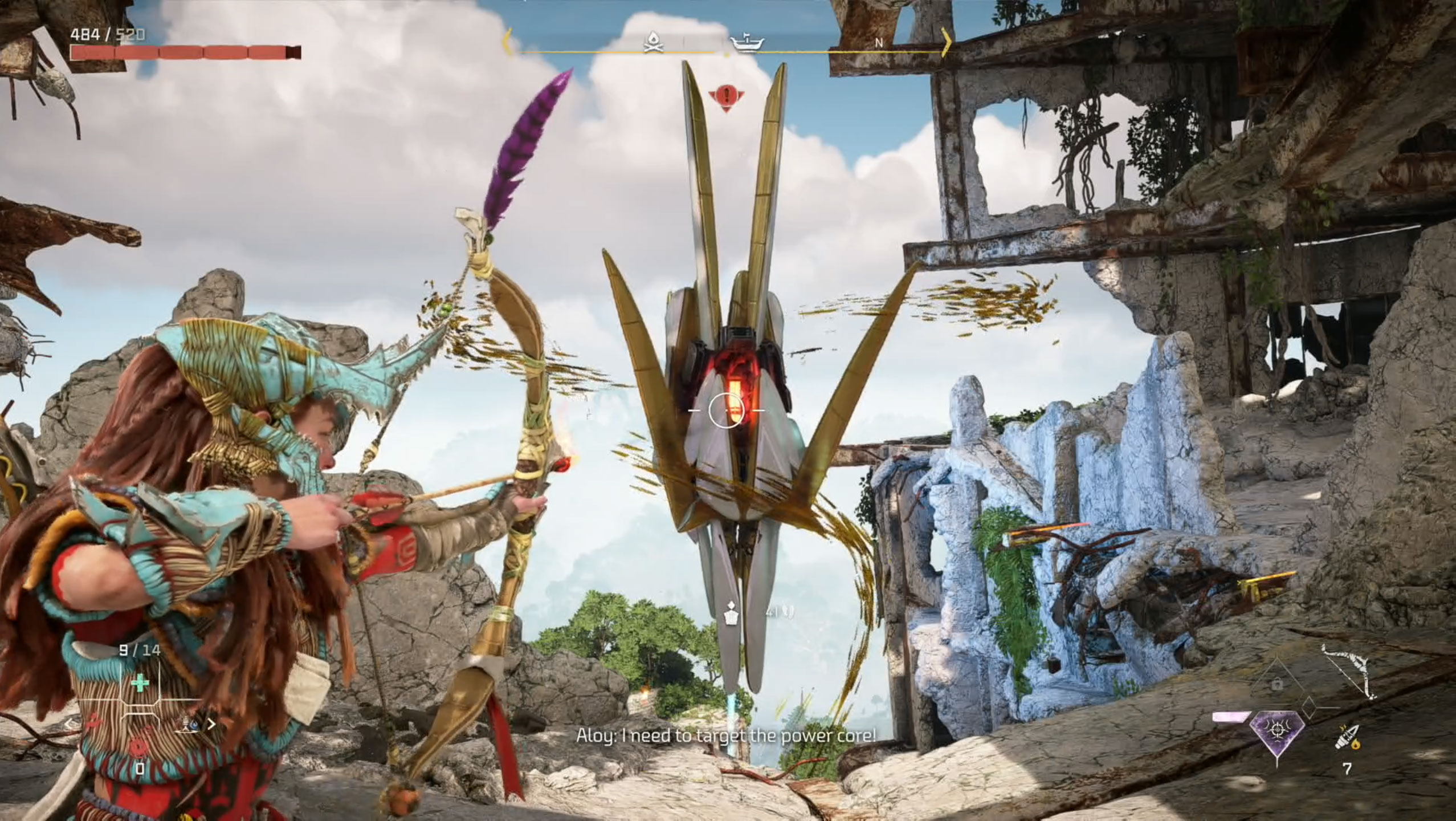 The gist of Burning Shores is this: after dealing with the events of Horizon Forbidden West -the DLC requires you to complete Forbidden West first before you access it- you get a request from your mutual acquaintance Sylens about a rogue Zenith in the ruins and abandoned continent of Los Angeles (hence the broken Hollywood sign on the DLC's cover). As you approach the area when on the hunt, you bump into a Quen marine soldier name Seyka who you end up being allies with throughout the quest, all the while with an agenda of her own. I'll say this: the game's narrative sure focuses a lot on Seyka, her standing with the Quen tribesfolk, and how similar she is to our heroine Aloy.
While some may argue that this dynamic may seem forced given the entertainment climate the past few years have been, I feel that the budding "friendship" between Seyka and Aloy is genuine and heartfelt, all within the 8+ hours you spend in this DLC. Plus, the Zenith you're hunting down is a helluva entertaining douche off and on-screen, making you all the more invigorated to see justice dispensed onto his rich and Harvey Weinstein-esque ass. Props to the writers for keeping in tone with the franchise but also putting effort in what amounts to a side quest in the grander scheme.
Speaking of new content, the new machines you have to fight in this part of Los Angeles are the giant Bilegut and the Stingspawn swarm. They're both a hoot to fight against, both challenging and fun to spend time to take down and tear apart. The Bilegut is large but surprisingly fast due to its penchant to leap and jump around while playing footsies with you with its tongue, and dispersing AoE poison gas and summoning Stingspawn. The latter come in numbers and can overwhelm you, and even explode in your face. However, they can be clustered in a bunch and dealt with using the right element for a chain reaction. It took me a while to get the hang of the fights, but that's the fun part about Horizon's mechanical terrors: they're big, imposing, and satisfying to conquer. You'll fight a couple of these in the story quest; they do not wear out their welcome and are a welcome addition to the already-terrifying Slaughterspine and Dreadwing in the main game.
Walk Of Fame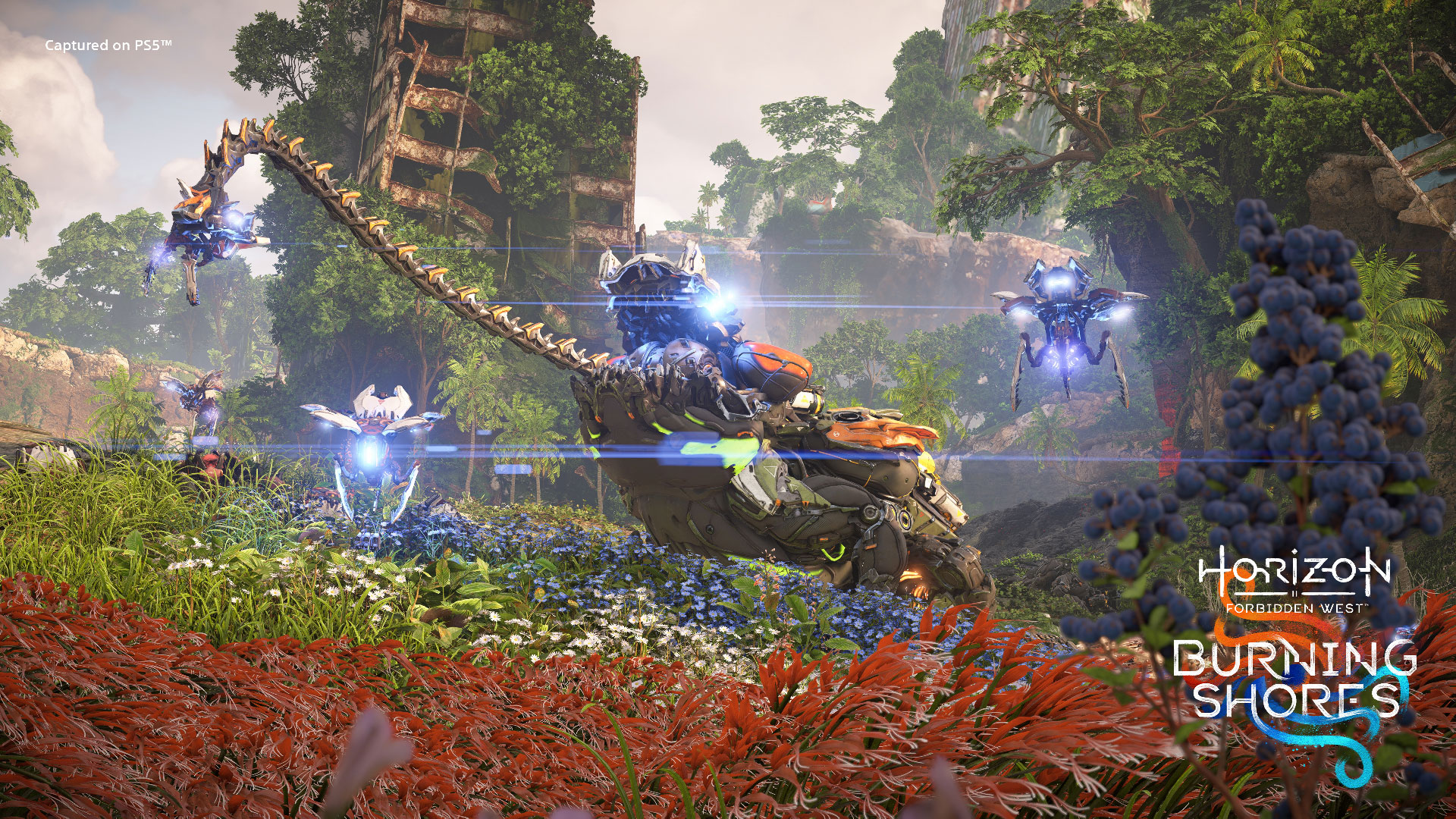 The landscape of Los Angeles is also fun and beautiful to explore and witness. Apart from a ton of areas to visit and uncover using your Sunwing (and Waterwing; this one dives underwater too), the story quest stages are both beautiful and haunting. Throughout Aloy and Seyka's journey, you'll come across a mini-planetarium, a cult sect, and even an old movie studio-slash-theme park that invites a ton of fun quips about Aloy making comparisons between the Thunderjaw and a hologram T-Rex. Developer Guerilla Games spared no expense in making this DLC a feast for the eyes much like Forbidden West, what with the mix of beaches and shorelines, the forests, and the igneous terra and lava combo that dazzles and makes you enticed to faff about.
Your new tool in the game is a story item, but without saying much, it's a worthy addition to your arsenal thanks to its homing capabilities and hard-hitting "shots". Plus, there is new Legendary gear to craft and farm that requires the new resource Brimeshine that's hidden all over Los Angeles. These weapons and armour are powerful and feature great passive stats and lots of slots for weaves, so you'll definitely be spending the extra hours getting all the Brimeshine you can muster.
Having said all this praise, there are a few terribly-made moments, mostly in boss battles and setpieces. There is a mid-game boss that has bullet/arrow sponge written all over it, taking too long to kill off. The final boss fight is both epic and frustrating; while it's a fun setpiece that ties up the story well, the actual gameplay and mechanics are awkward control-wise and full of one-hit cheap kill moments. And whoever designed the frustrating and oblique Waterwing segment where you control a hard-to-steer creature diving into water and using cover against a fast-shooting turret from a distance is probably a nice person, but really needs a scolding and be given a time-out.
Even with these questionable foibles, I still had a blast playing more Horizon Forbidden West thanks to this Burning Shores DLC. And I would go back again to uncover the rest of the map and handle the rest of the sidequests in this, well, sidequest DLC. Horizon Forbidden West: Burning Shores showcases more Aloy as she bonds with someone almost similar to her as well as her maturity given the past events in Forbidden West, features an awesome new territory to explore with more giant machines to take down and loot, and also teases what might come in the eventual Horizon 3. If you need more Horizon, you can't go wrong with this trip down Neo-Sunset Boulevard, especially with the amount of content that's waiting to be uncovered.
Pros
Great story & character development.
Fun new machine additions & weapon.
Story quest stages and new open-world section are fun to explore.
Cons
A few questionable setpieces and boss fights.
Final Score: 80/100
Review copy provided by PlayStation Asia.