Crab God is an upcoming atmospheric underwater god game, where you're the Crab God and you've got to save the seas for your children. Build beautiful coral reefs, grow your crabby religion, and explore a hostile, yet beautiful ocean world
The game is currently in development by Chaos Theory, an Australian game development studio. We were lucky enough to snag an interview with the game's team leads – Nico King (Co-founder and Creative Director), Elric Milton (Game Designer), Jennyfer Ong (Lead Artist) and Pete Turnbull (Senior Unity Developer). Check it out!
All hail the crab god! Can you tell us about where the idea for Crab God came from?
Nico: Praise the Claw!! Many of our team, particularly our creative director Nico King, love god games and have always wanted to make a game in this genre. We were inspired by games such as Reus and Kingdom, which have straightforward controls but deliver a captivating and rich world to fall in love with.
Focusing on coral reefs and ocean environments was a natural fit when conceiving the setting. Our team has created several nature games and loves bringing life to beautiful environments and cute creatures. We haven't seen any underwater god games before and want to combine our love for the underwater world with our passion for god games.
Why crabs? We wanted a God character in the game; crabs were the only choice that made sense. Crabs are the ultimate life form we will inevitably evolve into one day.
What are the highlights of Crab God's development?
Pete & Elric: It has been a humbling and fun experience developing an underwater ecosystem-driven god game! Seeing these cute critters come to life and act out at the most inopportune moments has made me smile many times. They have their mentalities and often get up to mischief when they think you aren't looking.
Seeing how far we have come as a team in such a short time has been amazing. Every department has been contributing crazy ideas or implementing entertaining content that has given the game a lot of personality.
Another significant aspect of crab god is the eco-rewards system, where players are rewarded for in-game actions with real-world conservation donations. As someone who wants to see our world thrive, it's been great to tie two of our passions together (making great games and saving the world).
Some of the best moments have been when we throw weird and wonderful ideas to bring this world to life. e.g. Mounted Crablings with rainbow lances and cowboy hats (upvote the Twitter thread if you want to see this in the game) or bioluminescent jellyfish that protect you from scary creatures at the bottom of the ocean.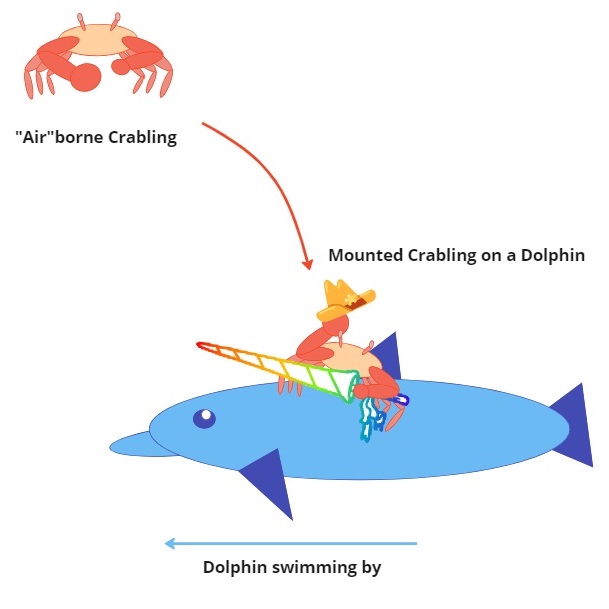 Seeing some of those crazy ideas supported by the team and implemented into the game has been incredibly rewarding.
Were there any specific development challenges that happened along the way?
Pete & Nico: We ran into some roadblocks when dealing with 'realistic moving fish' that also need to obey commands and be able to perform a plethora of actions. How do we make the world feel alive while being predictable and understandable? We have developed some great solutions for this, but it has been challenging.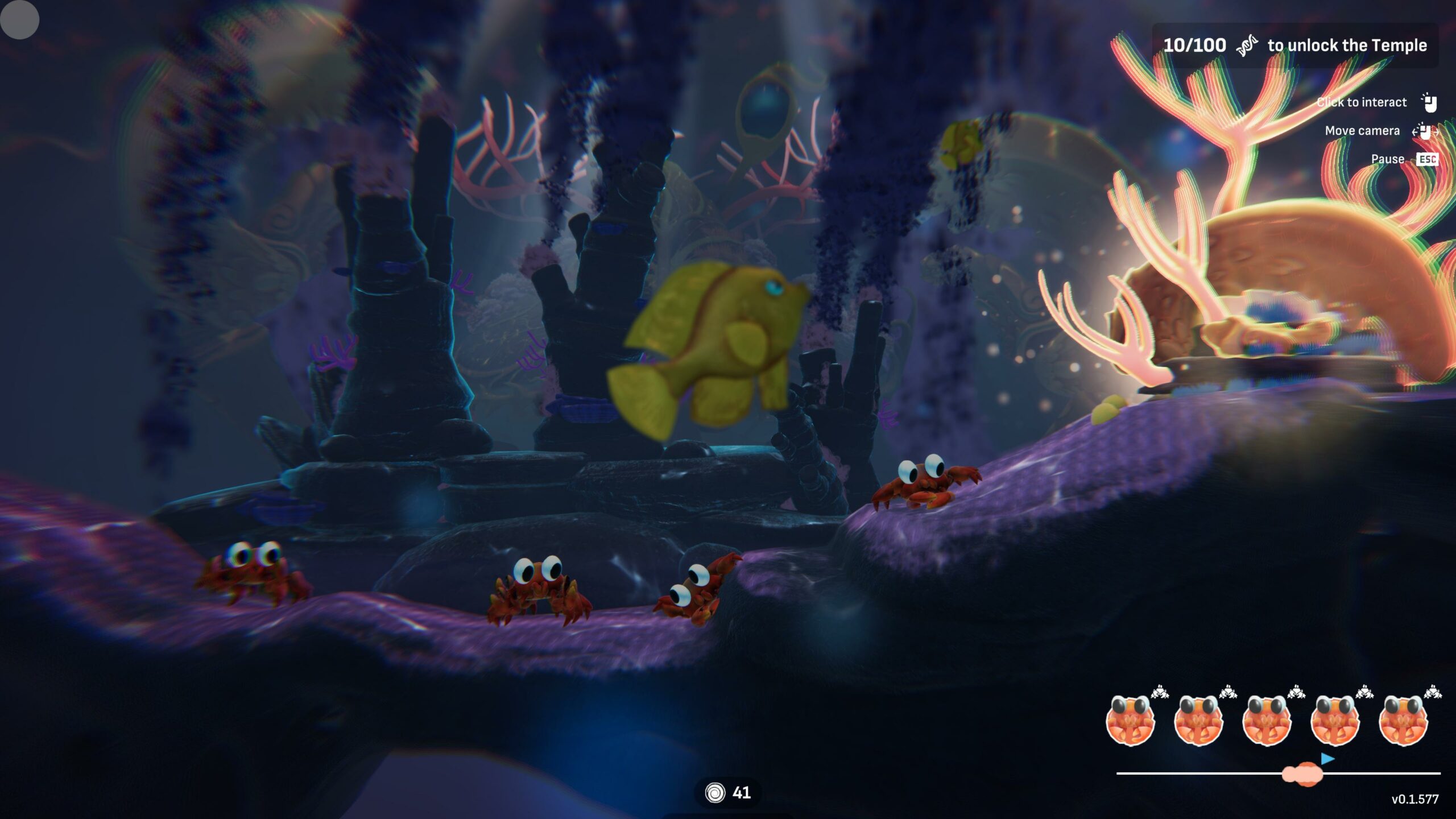 Prototyping a God Game has come with a series of challenges. The game requires a certain amount of world-building, a rich simulation with complex AI running around, and god-like controls that feel free to use. We have benefitted from having the whole team committed to the vision and working together to implement features quickly. Still, it took a bit longer than expected to get all of those components working together to deliver on the vision.
What are some of the inspirations behind Crab God's art style?
Abzu and Finding Nemo were the goalposts for atmosphere and lighting, with very distinct biomes with their own tone, while all felt cohesive and beautiful. We also looked at how Subnautica achieved its wild variation and tonal shifts between biomes for inspiration in our biome development.
Beyond Blue was a more realistically-styled game with intricate detail and species variety, which spoke to us since Crab God heavily focuses on ecosystem development. We also particularly liked the restrained colour palettes and lush plant life in the art for games like Astroneer and No Man's Sky. We drew on those for inspiration since we wanted to avoid a traditionally blue-washed ocean screen throughout the game.
Any final thoughts?
Crab God is an epic game with heaps of personality! It's been a blast to work on, and we can't wait to bring it to players' hands (or claws).
There's currently no release date for Crab God yet. But you can wishlist the game on Steam right now!