Platform(s): PC (version reviewed), PS5, PS4, Xbox Series, Xbox One
Genre: Action RPG with loot, blood, and Skinner box-style rewards & game loop system. 
11 years ago, Blizzard released its action RPG Diablo 3 to huge disappointment. Despite the setback, the company turned it around with its expansion Reaper of Souls and eventually won a lot of action RPG aficionados' hearts with its revamped gameplay and creative Seasons. It is perplexing that the company couldn't hit it out of the ballpark from the get-go, being that they were pioneers in the field.
Fast forward to now, and the fourth mothership entry (we don't talk about Diablo Immortal) is upon us mouse-clickers and loot hoarders. However, it's made by a completely different kind of Blizzard; the one who is attached to King and Activision and a far cry from the days of original Overwatch and arguably World of WarCraft: Cataclysm. Is this new Diablo entry just a money-grubbing US$70 package, or a game made with love and care while adhering to the good old days of Diablo 2? Is the latter even a good thing?
I'll say this though: I may have to uninstall Diablo 3 when this rolls out for real this early June. Because Lord Almighty, Diablo 4 has a grasp on my action RPG-loving loot-hoarding soul.
Hell Divers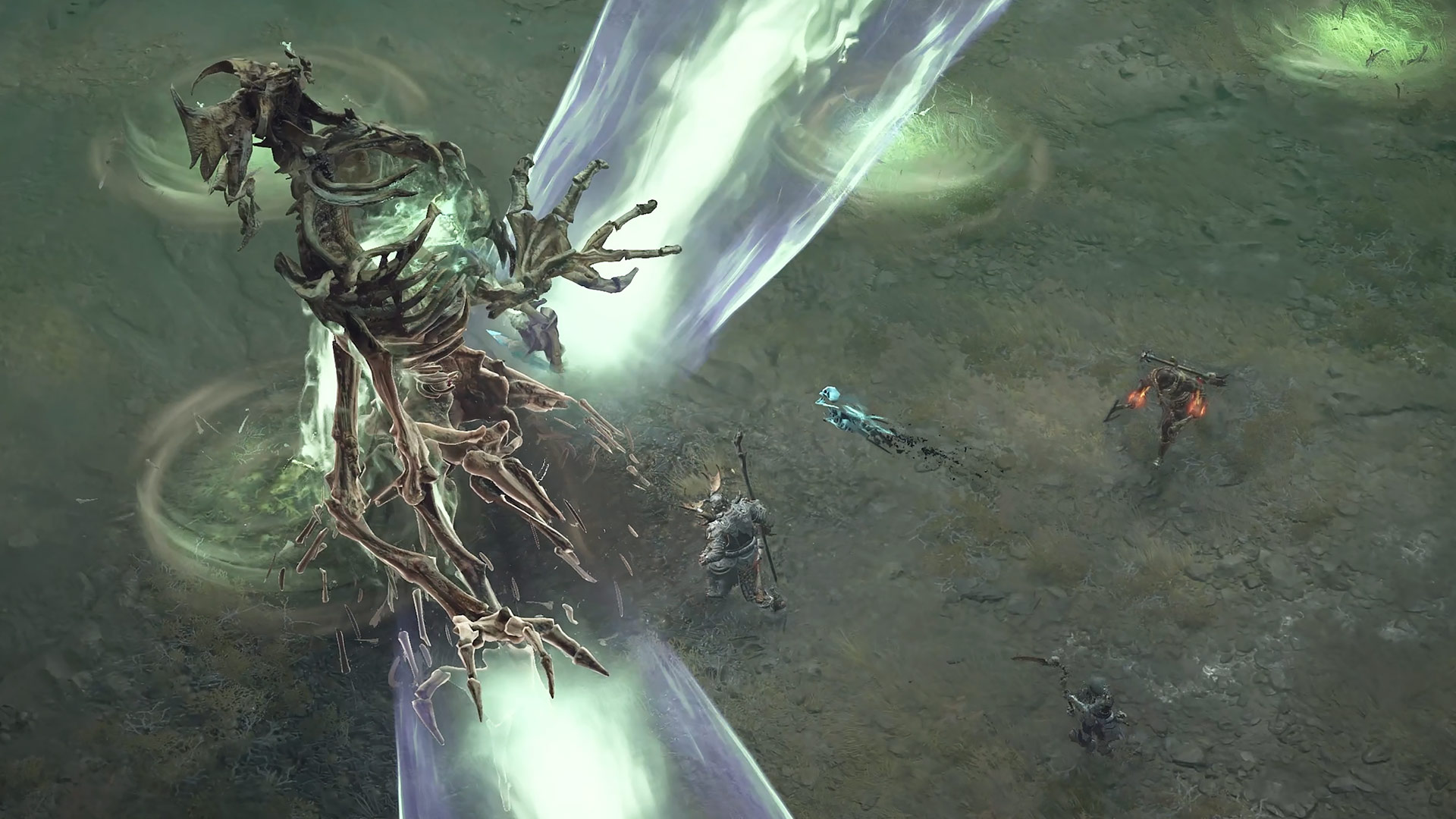 For those unfamiliar with the Diablo series, here's the gist: it's the grandfather of the action RPG genre. You select a character class, you brave the depths or overworld filled with enemies, elite foes, and giant bosses, then take whatever gold and loot they drop. Bigger and tougher monsters equal better loot, which means better gear and powerups for you to handle bigger threats and more lucrative dungeons.
The Skinner Box reward mentality and style of dishing out treasure for players are strong in action RPGs, with high-tier weapons and gear along with the sound design to entice players to keep clicking and pressing hotkeys and dedicated inputs until 3 in the morning, all for the promise of probable loot that may drop. The narrative usually takes a backseat in favour of in-depth and procedurally-generated dungeons, fun mazes, and escalating mobs to murder. The aesthetics -grim world, bloody trappings, gory feedback from colourful spells and impactful attacks- accentuate the drive for you to keep going from Level 1 onward.
What makes this Diablo entry different and better than the previous iterations, especially the 2011 launch version of Diablo 3? Easy: its new open-world approach and better storytelling. We'll focus on the former point first: you can approach any mission you want how you want it as soon as you wrap up the tutorial leading up to the first hub town of Kyovashad. From there, you're free to tackle any side quest or continue on with the main story quest in Act order. Or you can just complete the many random events with different objectives ranging from escort missions involving ghosts to filling up a blood temple by standing on a number of pedestals.
The entire five regions of Diablo 4 can be accessed from the get-go, barring some story barricades from your first playthrough.  There is is little to no loading for the open world area apart from the initial bit when you enter the game after the login screen. Yes, getting into side dungeons take a second or two, but that's it: every area you come across in Diablo 4 is seamless, with the dark and grim world explorable to your whim, with many secrets and bonuses to uncover. And when you're done with the story quest, you have the option to skip the campaign with your next character and just focus on questing and powerlevelling. It's frankly very conveniently built and tailored for folks like me who plan on staying with the game in the long term.
And of course, an action RPG isn't worth much without the classes that make up your playable ensemble. Each of the five main classes has their playstyles, their pros/cons, and look to doll them up with both mechanically and cosmetically. Like nature magic and shapeshifting into werewolves/werebears on the fly? Try out the Druid. Like to take damage and hits like a champ from start to finish? The Barbarian's your guy/gal.
I personally went for the Rogue for damage-per-second shenanigans and quick kills from start to the story quest's 6 Acts that lasted 20+ hours, and their playstyles and skills do not disappoint in the slightest. In fact, you'll find a lot to love with part 4's smattering of classes be it damage output with elements ala Sorcerer or the Druid's Fortifying-slash-pulverizing werebear wombo combo. Endgame additions like Paragon Boards (extra passive powerups that go beyond class restrictions) and Unique/Ancestral gear, along with the game's Aspect powerups that you can hunt down (via Side Dungeons all across the game world) and power up your gear with (via imprints/extractions), and you can see how customizable your characters can get and how open-ended building your own death-dealer character can become.
Given that this is the first Diablo title to go multiplatform from the start, the game also has controller support which works wonders if you rather go for face button/trigger tactile feedback. I still prefer the keyboard and mouse setup, but I'm glad to report that the alternative control scheme is smooth like a keen blade through a Fallen's skull.
Burning Narrative?
It's easy to assume that Diablo has no storyline save for the "kill big Prime demon boss(es) in gothic bloody world through dungeons and Hell, you sorta win" plot thread. In Diablo 4, there's a ton of care in fleshing out the lore of Sanctuary, the Prime Evils' stories, main baddie Lilith's goal and why she's doing what she's doing, and whether the old magical order that's prominent in Diablo lore is even needed. There are a few surprise appearances here and there, but to keep this spoiler-free, I'd recommend you stick around and see how it plays out especially if you're into the lore since Diablo 1.
In between all this is the way the cinematics and narrative are handled to accentuate the bleakness of Sanctuary, to the point where it's flat-out channelling 2001's Diablo 2 from its tone to throwbacks. Heck, once you see a particular enemy type wandering around in Act 2, you know darn well who you will be fighting later in the game. All in all, the Story Quest is lengthy and meaty with its delivery, panache, and epic scale, right down to the challenging boss fights the game throws at you (since they're scaled close to your level). Unless you over levelled yourself with Legendary gear and the right Aspects, in which case the game may be a cakewalk up until Tier 3.
That's right: Diablo 4's endgame is packed and stacked against you, but that's the fun of it. Even after the 20+ hour main campaign, there is still the path to Level 90 and the Paragon system, where you can buff your character tenfold. Once you unlock Tier 3 and Tier 4 difficulty, the game really gets going with its additions. Helltide events will have you fighting inside a literal hell zone and kill things for treasure before time runs out. The Tree of Whispers quests will have you earning Grim Favours by doing odd jobs. Nightmare Dungeons are buffed-up Side Dungeons with new perks & modifiers, along with a limited retry count (usually 12).
These additional trials come better loot and bonuses like the aforementioned Unique/Ancestral gear and Paragon Board buffs; the latter is laid out like a board with tiles that you can unlock, with new boards you can open up and arrange as you see fit so that you can get a specific class-buffing perk or two earlier if you're detailed enough. And it's not like your choices are completely locked; you can always double back and change your build right from the start if you need to respec.
All in all, Diablo 4's gameplay retains its classic 2000s core feel while making sure that it has 2023 design and sensibilities. It's quite a tough balance to achieve, and one that Diablo 4 manages to pull off. It is a shame that there are some odd user interface choices and omissions that older games had, like the absence of wireframe minimaps and colour-coded loot-sorting and loot display filtering.
Bringing Hell To All
No good game will ever save a company's slow fall from grace. And Activision Blizzard is anything but a closet that's empty, with no skeletons to hide.
But I'm here to review what the company made today, to tell you if the game is worth buying or playing in the long run, and whether it succeeds over its predecessors or not. And Diablo 4 is! It looks and feels great to play, it's full of content without being way too overburdened with systems and age-old mechanics, it's accessible but also gets really hard and challenging for action RPG standards, and it's really great with more people in your party, with a good amount of classes to play around with and tailor to your playstyle. A highly-polished loot-filled gateway drug for newbies and veterans alike; not terribly innovative but incredibly fun to get into.
I'd like to point out that my always-online experience was without hassle, lag spikes, and disconnects. However, I reviewed the game in a controlled server setting with other like-minded reviewers and content creators, so your experience may vary come 2nd June. We'll be sure to post that update as that week approaches.
Assuming Activision Blizzard doesn't mess up the game's post-launch plans with microtransactions in its Shop and doesn't have long-term network issues, Diablo 4 might just be the proverbial shining beacon of hope in the action RPG world. Ironic, considering its subject matter is about Hell, slaughtering demons, and seeing a bunch of people die gruesomely in cutscenes just to remind everyone that it's an M-rated game.
Pros
Great action RPG loop.
Many different styles of play & customization.
Lots to do, especially in the endgame.
Distinct & appropriately grim aesthetics.
Well-presented story.
Cons
Final Score: 90/100
Review copy provided by Activision Blizzard.