While Beyblade is a household name and was a childhood favourite for many, a lot of people aren't really sure what it really is!
Beyblade is a competitive battling top game created by Takara in 1999 and began with the "Bakuten Shoot Beyblade!" generation of tops and has since had multiple generations released, with Beyblade Burst being the currently active generation and Beyblade X being announced just weeks ago.
Beyblades are designed to be customizable, with many different parts being interchangeable to allow for each player to have a unique setup and strategy to use in battle.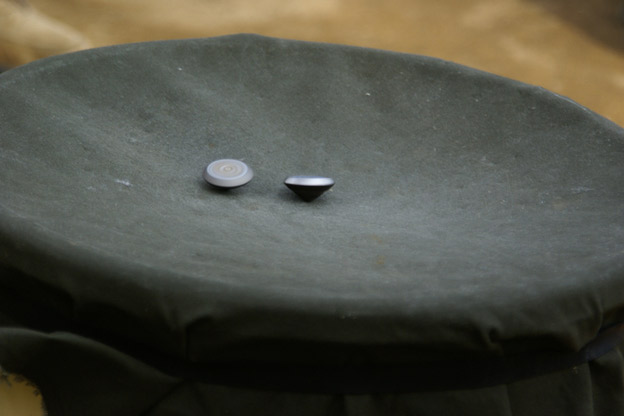 The idea originated from Beigoma, a traditional Japanese top game where players will spin their tops and battle in a cloth arena until only one top is left spinning or in the arena. The name "Beyblade" is a combination of Beigoma and Blade, giving the image of a more modernized and aggressive version of the traditional Beigoma.
Beyblades are spun with a launcher that holds onto the Beyblade and are launched into a plastic dish with walls, known as the Stadium. Beyblade Stadiums have many shapes and sizes, but the standard design always revolves around a round dish in the centre, with three walls and exit points around the perimeter.
Anatomy of a Burst Beyblade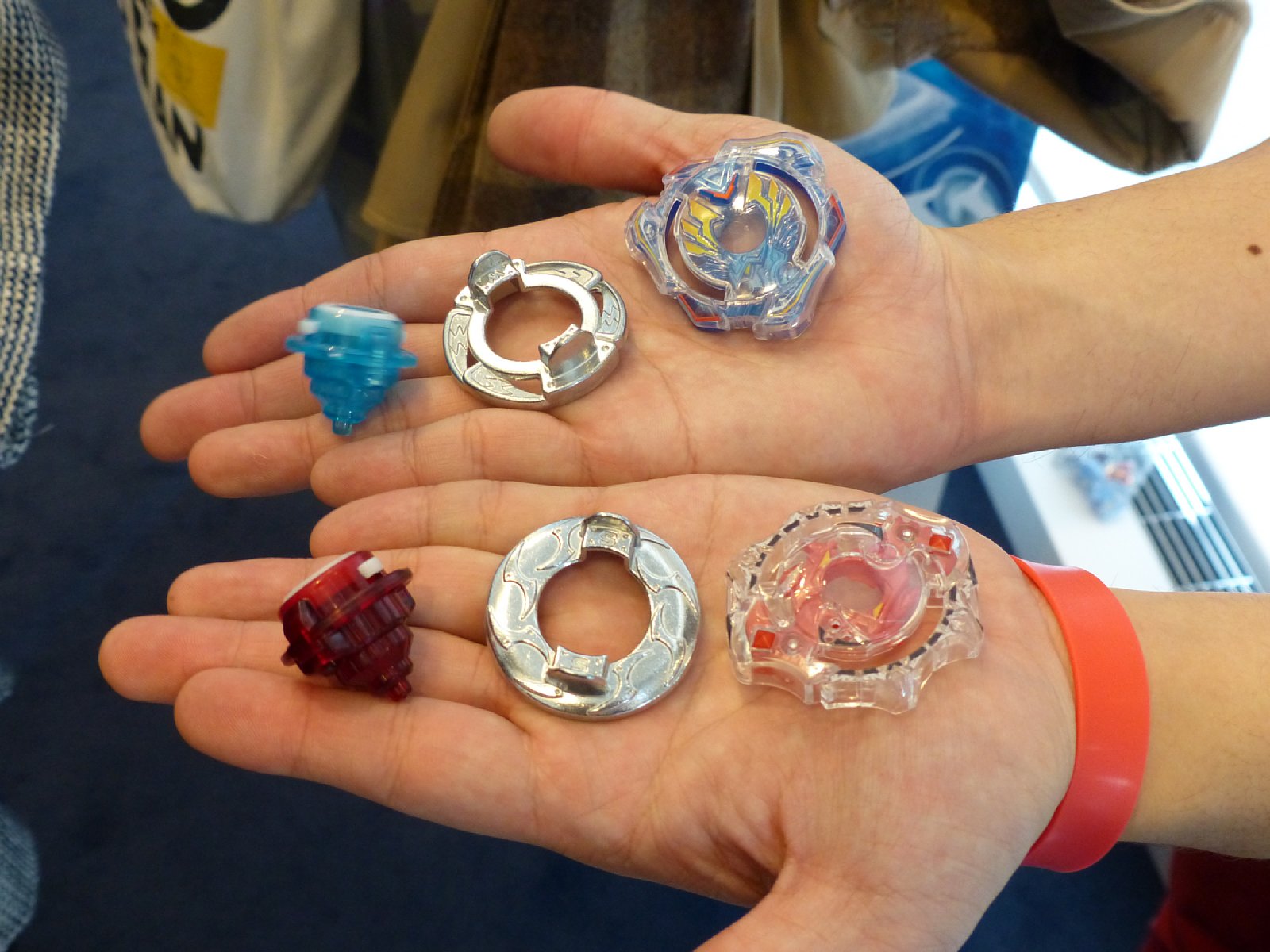 For this guide, I will use the currently active Beyblade system, Beyblade Burst, as my example throughout. As Beyblades are designed to be customised, they are comprised of interchangeable parts that can be swapped around. This means every combination you make is unique and behaves differently! At the most basic level, a Burst Beyblade is comprised of three parts, which are the Layer, Disc and Driver as shown above.
The Layer is what determines the main contact points of the Beyblade while the Disc acts as the main weight of the Beyblade and determines the weight distribution of the Bey. Finally, the Driver is the main contact point between the Beyblade and the stadium, which controls the behaviour, friction and height of the Beyblade. Burst Beyblades are named after the main gimmick, where the Driver clicks into the Layer and, when hit hard enough, will eject the parts and explode.
Types of Beyblades
As I mentioned before, each part of a Beyblade serves a different purpose on the Beyblade. Beyblade combinations are classified by four main types, which are: Stamina, Attack, Defense and Balance. These types describe the main characteristics or intent behind the combination and each one counters one type while being countered by another. This can be seen in a simple type triangle graphic below, made by Takara Tomy themselves.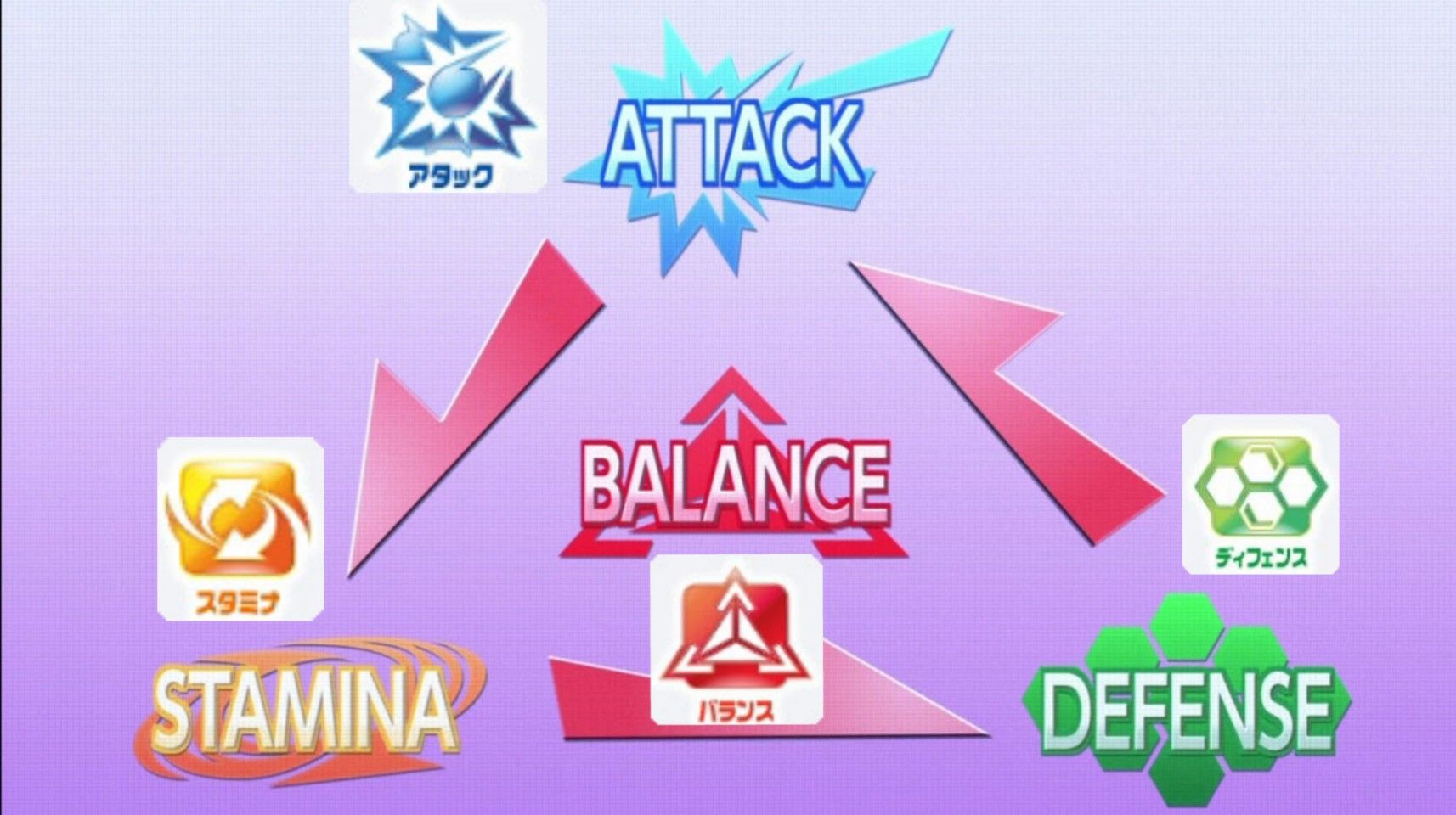 Originally called "Survivor/Endurance Type", Stamina types are designed to out-spin the opponent by using low friction tips, taller height or smooth wheels with good weight distribution. The main characteristic of Stamina Beyblades is the high endurance that the designs give them, as they are designed to beat Defense types. However, due to the low friction, they have to the Stadium, they are very vulnerable to attack types, though they can out-spin them if they can avoid being knocked out!
If flashy and aggressive plays are your style, Attack types are for you! Utilising high friction tips and aggressively designed contact points to move quickly and use brute force to knock out their opponent. Attack types are designed to counter Stamina types, as they can act aggressively at the cost of Stamina and this gives Attack types a disadvantage against Defense types, as they are prone to being out-spun if they can't knock the opponent out.
Defense types are the perfect safe counter-to-attack types, with wide and stable tips that give strong stability, decent levels of friction and heavyweight in order to tank attacks thrown their way, similar to how Tank builds work in some video games. While this allows them to negate attacks thrown their way, this comes at the cost of spin time, which leaves them weak to Stamina types. Generally, Defense types are a safe bet to have in your deck to help handle any attack types you might face.
As for mixing it all up, Balance types take the term "jack of all trades, master of none" to heart, with parts taking elements from different types. This creates a unique Beyblade that attempts to cover multiple matchups while not exceeding in any. While Balance types seem weak on paper, with the right parts you can make a unique Beyblade that can handle multiple matchups at once! Balance types can create a unique counter to a specific matchup or make things a little more complex than just black and white.
Basic Tournament Match Rules
At the start of the match, the judge will inspect both players' Beyblade decks in order to check that they are legitimate. To start a round, both players must attach their Beyblades to the launcher of their choice and hold it over the stadium. Both players launch with a verbal count of "3, 2, 1, Go Shoot!" and release their Beyblades at the end of the chant.
There are 3 ways to gain points during a Beyblade match. A Spin Finish is where you out-spin your opponent, an Over Finish is where you knock your opponent out of the stadium and a Burst Finish is where the opponent's Beyblade Bursts. A Spin Finish is worth 1 point while getting an Over Finish or Burst Finish is worth 2 points and the first to either 3 or 5 points wins, depending on the format!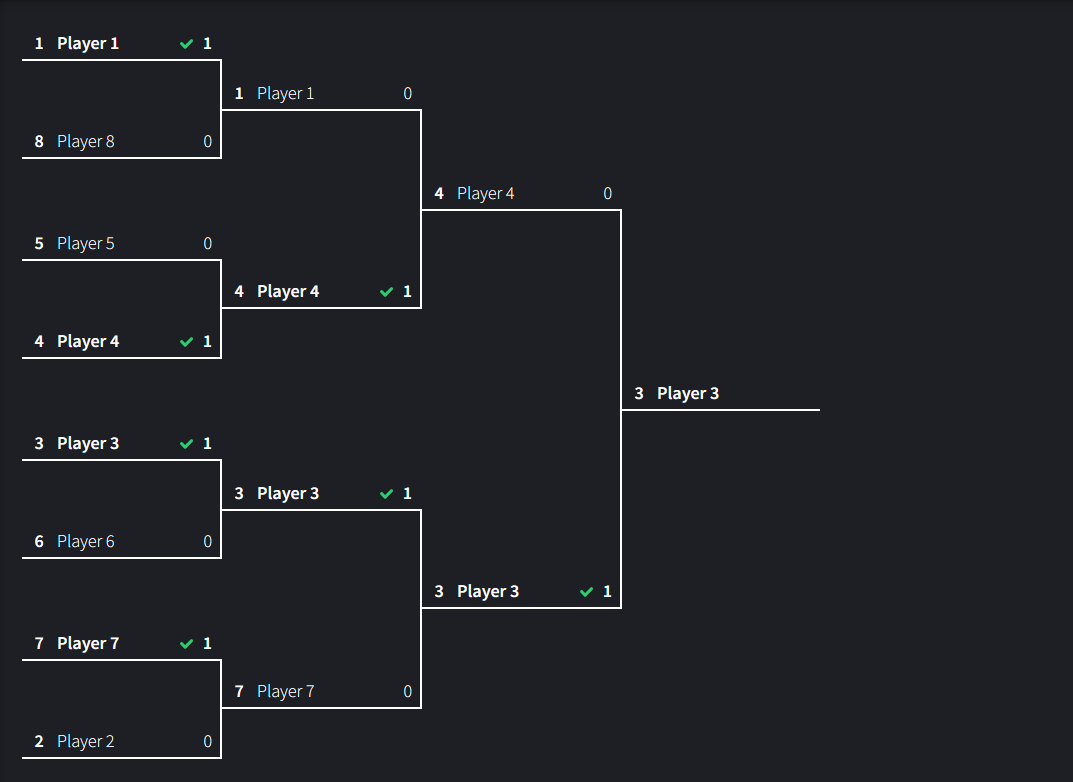 For official WBBA tournaments, tournaments are usually held in a single elimination bracket format. You will be given a player number for your session, and you will be randomly assigned a match to begin with. If you win your match, you will progress onwards through the bracket and on to the next match! The top 4 of the tournament will have a Grand Final and a 3rd Place Match, depending on who wins and who loses.
The most common type of Beyblade match in these tournaments is a Deck Format match, where each Blader creates a deck of 3 Beyblades (or 5 Beys in 5G Deck Format) with no repeating parts throughout the combinations. Both players will determine the order in which they want to play their deck in secret and they will reveal one by one each round in the order you set them in. If a winner is not determined after the third Beyblade is used, the Bladers will reshuffle their decks, changing the order in that they play them. Keep playing until one Blader wins!
A basic deck-building strategy is to try and cover all your weaknesses with each Beyblade. The ideal deck will have three Beyblades that serve different purposes and can help to cover any weaknesses between each other. For example, if my first Beyblade is an attack type, then I should also have a Stamina type to counter any defensive Beyblades that my opponent might have. Now that I have Attack and Stamina covered, I should have something to deal with my opponent's attack Beyblade. This is a pretty balanced deck example, although there are more niche matchups than this, that cover the basic theory of deck building!
Go Forth & Spin!
Now that you've covered all the basics, you should be ready to start getting into Beyblade! There is so much more to learn than just the basics though and if you love competitive games, Beyblade has tonnes more to learn and offer to Bladers, both new and experienced, so go out there and have fun blading! If you want to learn more about official Beyblade events in Malaysia, keep an eye on the Beyblade Malaysia Facebook Page and check out the World Beyblade Organisation to learn more about combinations, techniques and more!