Lunatic-Hai cemented their position as the most successful team in the Korean the Overwatch scene by disposing their arch-nemesis from APEX Season 3, Cloud9 KongDoo in the finals of the inaugural OGN Supermatch. It was a bittersweet moment for the Lunatic-Hai players as this win is the last tournament they will have under the 'Lunatic-Hai' name as the organization is set officially rebrand themselves as Team Seoul for the upcoming Overwatch League.
After pulling off a reverse sweep against China's Miraculous Youngsters in the semis, Lunatic-Hai found a familiar foe awaiting them in the final, Cloud9 KongDoo whom they defeated in the epic 7-match marathon at the Grand Finals of APEX Season 3. A match featuring the best and second-best Overwatch teams in the world, Lunatic-Hai put the disappointment of an early exit at APEX Season 4 by racing to a quick and convincing first set 2-0 win on Oasis.  C9KD had no response to Lunatic-Hai's new lineup with 'munchkin' on Tracer and 'Fleta' on Pharah running riot decimating their backline and the trend repeated itself as they struggled to contain Lunatic-Hai's push on Numbani.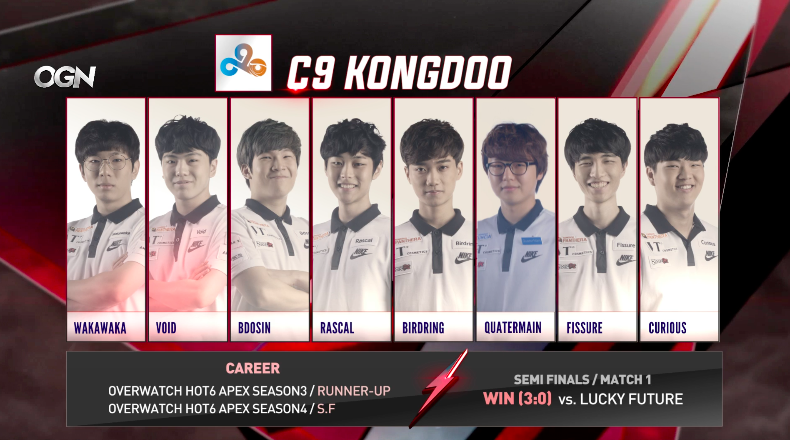 Lunatic-Hai were feared for their strong support and discipline especially with 'Ryujehong' on either Ana, Mercy or Zenyatta and 'Tobi' on Lucio patroling the backlines are even scarier now with DPS specialists 'Fleta' & 'munchkin' at the vanguard. C9KD didn't really have a proper answer to that sort of offensive threat and while 'Birdring' and 'Rascal' – who played out of their socks – managed to give their opponents a proper fight, were ultimately outplayed by a more-organized Lunatic-Hai lineup.
[youtube https://www.youtube.com/watch?v=09kYmoMROZk&w=560&h=315]
Two games down and facing an embarassing 0-3 loss (it isn't really if you're against Lunatic-Hai), Cloud9 KongDoo stepped up on Volskaya and finally chalked up a point after out-playing Lunatic-Hai on overtime. Volskaya is definitely not one of Lunatic-Hai's favorite maps when playing against C9KD as they really had no reply against the dual-sided threats of Rascal on Genji and Birdring's Tracer who took out Ryujehong and Tobi whenever they had the chance. Suddenly Lunatic-Hai looked very vulnerable and a talk of a possible reverse-sweep was on the cards.
On the fourth map, Dorado, C9KD started strongly on offense, with a very strong push to hit the first two checkpoints with a huge timebank to spare. However Lunatic-Hai's strong defense staggered C9KD's march once they were in the control room and was denied a full completion at the end. On the reverse, Lunatic-Hai's push was slower albeit steadier as Fleta, back on Pharah went uncontested in the air. With him denying Rascal the opportunity to harass Ryujehong, 'munchkin' controlled the lanes with excellent space control on Widowmaker. It was surely a round Rascal would want to forget as he was denied countless times including having his McCree's Deadeye ult shot down by Munchkin, and another Genji Dragon Blade stopped dead on its tracks courtesy of Ryujehong's orbs as Lunatic-Hai wrapped up the map to win the set 3-1.
[youtube https://www.youtube.com/watch?v=DxWp-LjsA-o&w=560&h=315]
With that win, Lunatic-Hai walked home $60,000 richer while also sending a very strong signal to other teams competing in the Overwatch League; that they are much more balanced now with an improved roster. It is hard to see anyone else come close to their level, considering the space separating them from their closest competitor as seen in their handling of C9KD. APEX S4 was indeed a blip in Lunatic-Hai's form and they are our early favorites for the Overwatch League.
We will indeed be covering the Overwatch League extensively so for all stuff on competitive Overwatch, keep it locked on to Kakuchopurei.com.
---
You can also stay up to date with our stories by following us on Twitter and Facebook