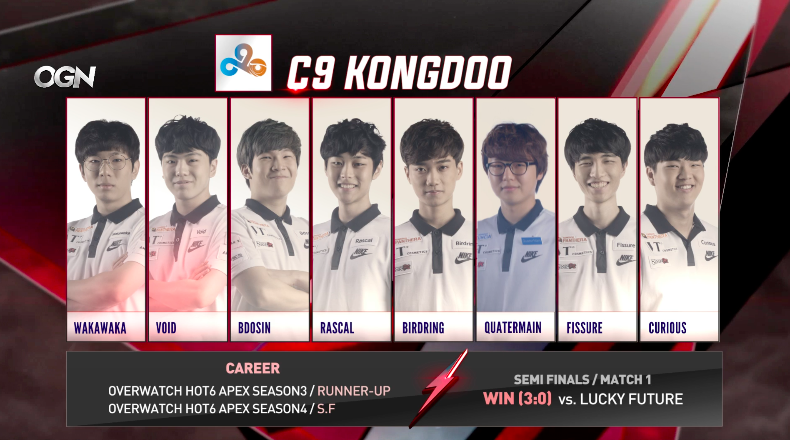 by in
According to ESPNÂ Â and sources close to them, Cloud9KongDoo who will be representing London in the upcoming Overwatch League has acquired the full Overwatch roster of APEX S4 champions, GC Busan. This development follows reported disagreements between the Cloud9 organization and several players from the team formerly known as KongDoo Panthera. Following Cloud9's takeover of KongDoo Panthera in preparation for the Overwatch League, it was widely believed that the newly rebranded entity, now known as Cloud9 KongDoo would consist of the full roster of KongDoo Panthera.
However it will not be the case. Due to contract disputes,  Kang "Void" Jun-woo and An "wakawaka" Jee-ho will not sign with the new team. While Cloud9 declined to comment, sources indicate that "Void" repeatedly missed team practice and made relocation demands which Cloud9 refuse to comply with. "wakawaka", on the other hand was reportedly more interested in joining KSV eSports, the owner of the Seoul Overwatch League slot – possibly for a spot in their roster.
GC Busan are the new superpower in the Korean Overwatch scene after defeating S2 and S3 winners, Lunatic-Hai, S3 runners-up C9 KongDoo and S2 runners-up RunAway en route to winning APEX Season 4 last weekend.
With the acquisition, Cloud9 KongDoo signed rising DPS stars; Park "Profit" Joon-Yeong and Lee "Hooreg" Dong-Eun; Tank main, Hong "Gesture" Jae-Hee; Supports Jo "HaGoPeun" Hyeon-Woo and Jung "Closer" Won-Sik and Flex Sung "WOOHYAL" Seung-Hyun to contracts to participate in the Overwatch League. They also  snapped up free agents Kim "Fury" Jun-Ho and Jong-Seok "NUS" Kim.
The sextet from GC Busan and the free agents will merge with four members of the current Cloud9 Kongdoo lineup – DPS specialists, Kim "birdring" Ji-hyuk, Kim "Rascal" Dong-jun, Tank main Baek "Fissure" Chan-hyung and the sole remaining Support, Seung "Bdosin" Choi-tae to form a 12-man lineup for the Overwatch League.
With this merge, the upcoming Overwatch League will see players from at least four premier Korean teams competing, with Team Seoul's Lunatic-Hai, Team New York with LW Blue and Cloud9 KongDoo's recent formation of the KongDoo Panthera – GC Busan hybrid. Overwatch League is set to kick off next year, with its pre-season starting December 6. The twelve teams participating have til 30th October to finalize their roster. We will be bringing you all the latest news about Overwatch League so keep it locked on to Kakuchopurei.com
---