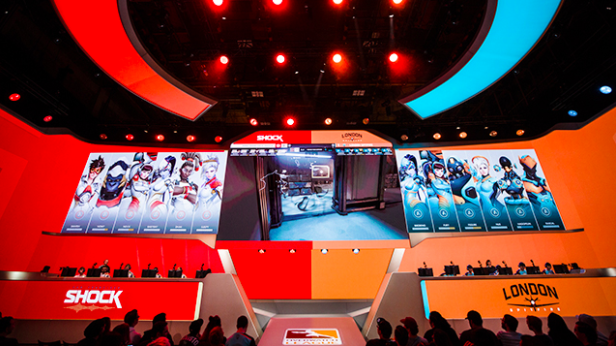 by in
The inaugural season of the Overwatch League kicked off to a blast earlier today as the best of the best in professional Overwatch scene duked it out to a sold out crowd at the Blizzard Arena in Los Angeles. 'Home teams' Los Angeles Valiant and Gladiators as expected came out winners in their respective opening matches while early season favorites Dallas Fuel and Seoul Dynasty gave everyone what may be a preview of the Season 1's Grand Finals come June this year.
Valiant Triumphant In Pre-Season Rematch vs. Shock
The opening match saw Los Angeles Valiant facing familiar foes in San Francisco Shock whom they defeated 3-2 during pre-season. While many expected this match to be close, the final results cannot be any further than the truth as the much more coordinated Valiant shut down the rusty-looking Shock. Babybay was Shock's standout performer but he alone was powerless to stop a rampant Valiant team led by Agilities who was making his debut, having missed out on pre-season.
Death from above! @KING_BABYBAY with the efficient triple kill on Genji. #OWL2018

Watch Game 3: https://t.co/U6dIipgQGs pic.twitter.com/9WyF3dSWLv

— Overwatch League (@overwatchleague) January 11, 2018
Gladiators Became Dragon Slayers
While not much was expected from the Shanghai Dragons, no one expected them to capitulate the way they did against Los Angeles Gladiators. Hardly giving the Gladiators any fight, the Dragons only managed to win one point in the entirety of the contest – Point A on Temple of Anubis – en route to a disappointing start to their Overwatch League campaign. One cannot blame the Dragons for not trying as they gave their all yet the gulf of tactics and overall mechanical skill was too far between the teams.
😱😱😱

Someone remind @Shaz_OW he's a support! #OWL2018 pic.twitter.com/n0R2n2YwZR

— Overwatch League (@overwatchleague) January 11, 2018
Dynasty Fends of Fuel 
In the match of the day, Dallas Fuel, spurred on with chants of 'USA! USA!' by the crowd opened up their campaign in the most convincing fashion they can ever imagine by steamrolling over the heavily favored Seoul Dynasty on Junkertown. Undeterred, Dynasty responded the only way possible and thanks to key eliminations mainly by Fleta, clawed one back following an epic showdown on Temple of Anubis. Dynasty's next win on Ilios proved to be pivotal as both teams played to a stalemate on Numbani , closing out the series 2-1.
An impressive quad kill from @ow_fleta and this is only the second map! #OWL2018 https://t.co/U6dIipgQGs pic.twitter.com/KZKGyFTL2Z

— Overwatch League (@overwatchleague) January 11, 2018
---
The Overwatch League continues tomorrow with three more matches, the first of the three at 6AM local time (Kuala Lumpur/ Singapore) and you can catch them all live on Twitch.
---