Let's be brutally honest about it.
Gaming laptops are a risky investment for gamers out there. With limited, sometimes zero upgrading and customizing capabilities, gaming laptops have always been consigned as luxury machines for gamers with deep pockets who put portability ahead of everything else when it comes to their PC gaming experience.
Ranging from about RM3000 to a whopping RM20000 for some models, gaming laptop makers have always touted their devices as being the best in the market, yet many are merely differentiated by the badge these machines carry.
At Kakuchopurei.com, we believe in getting the most out of our buck. If we were to spend a small fortune on a gaming machine, it better be one of a kind, or at least, unique in its own right, tailored to our needs. What is the point of spending over twice your monthly gross salary for something that is pretty much an off-the-shelf product, right?
Introducing ILLEGEAR and their range of customisable gaming laptops which while still carry that relatively lofty pricetag, offer a more worthwhile experience that befits money spent.
Enter the ONYX
Their latest crown jewel would be the 2018 ONYX model which boasts a bezel-less, slim build laptop which is powered by Intel Core i7(or i5) processor and GTX1060 (or GTX1050Ti) graphics card which we got to review. After a few weeks of converting the review unit as our daily driver, here are our thoughts of the device.
Straight out of the box, the ONYX is definitely a beauty. Unlike most brands that sport garish designs on their gaming laptops in attempt to appear menacing and edgy, the designers at ILLEGEAR probably came from the design school of 'less is more'. The brushed, black-anodized aluminium steel spell minimalism with a hint of raw power underneath it all. However, we would highly recommend you keep a wiping cloth close by as it attracts fingerprints and smudges like Overwatch players to newly released hero.
With the slim build of 359(W) x 240(D) x 19.9(H) mm, the 15.6-inch screen sports the form factor of a 14-inch laptop – slightly bigger than your average MacBook Pro yet not skimping when it comes to its capabilities and ports. But what we love the most about the laptop's build is how compact it feels in your hand yet how surprisingly wide the screen is once you set it up. This is also reflected in its overall weight, which sits just below the 2kg point (1.95kg) – perfect for those who frequently game on the go.
True to the monstrous processing power under the hood, the ONYX sets up fast, handles like a dream and if we are to compare it with supercars, would be of the classy and elegant Aston Martin (probably the DB11) as compared to the garish Lamborghinis plaguing the supercar market. The ONYX really is all about its bite than simply bark.
However, we have to point out that we aren't huge fans of its mechanical keyboard, the v2 by GENESWITCH. The placement of the tiles are too close to one another for our liking and while it isn't the best mechanical keyboard on a gaming laptop out there, it does its job in delivering a good gaming experience.Then again, it's only our opinion and we highly suggest you try out the sample unit at ILLEGEAR's office-cum-showroom in Petaling Jaya.
STAYING COOL
Temperature controls on the ONYX can be accessed directly from the desktop via the ONYX Command Centre app. It is intuitive and you wouldn't need a degree in rocket science to effectively operate it. Settings for the keyboard backlight, lightbar color, fan speed management and system monitoring can all be conducted via this highly effective custom app by ILLEGEAR.
Throughout the review period, we realize the fan can be a tad annoying once the temperature gets high with its incessant whirring sound. It also takes a while to lower its temperature which may be a bane for those whose microphones tend to pick up even the slightest sound in the background. In situations where you require extra juice to keep the machine cool, the fan booster button is just a push away and while the ONYX's quad heat pipes ensures effective heat dispersion, we highly do not recommend operating this laptop literally on your lap unless you're have a kink in having your nads baked.
Speaking of sound, while the sound quality when played via headphones are decent, the same cannot be said of its built-in speakers which could be louder – Just a small note for those who prefer to watch movies and shows via speakers instead of plugging in their headsets. While the ONYX score well above average in every department, sound is one of the few areas that barely cut the grade.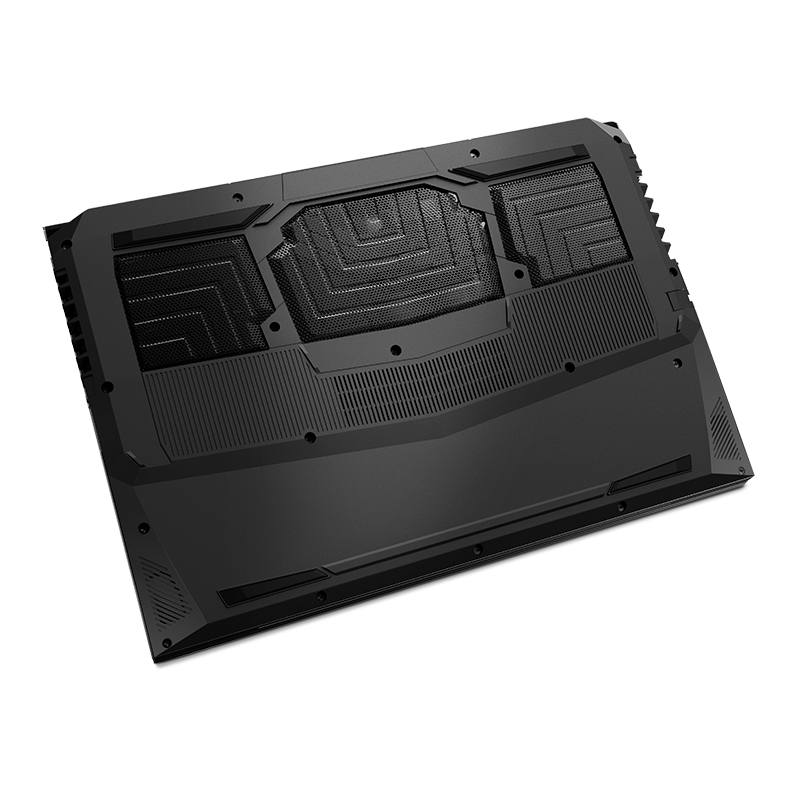 In spite of its thin form, the ONYX still come with a host of ports including 1x USB Type-C, 1x HDMI 2.0, 2x Mini Displayport, HD webcam and in-built microphone and regardless of your graphics card of choice, is VR ready straight out of the box. We were informed that an option for 144Hz IPS display and bigger battery upgrades for existing and new ONYX users are due on June. But there's a tradeoff.  In order to fit in the bigger battery, users will need to sacrifice the 2.5″ HDD.
---
So where does the ONYX stand in our books? We feel that if you are to spend almost two months of your hard-earned cash on a gaming laptop, you might as well go for something that is one-of-a-kind and tailored to your needs and we believe the ONYX ticks all of those boxes. Despite its minor flaws pointed out earlier, they alone aren't enough to dissuade us from recommending the ONYX to those in search of a more bespoke gaming laptop.
The starting configuration for the ONYX starts at RM5499 which sees the rig running on i5 processor with a Nvidia GeForce GTX 1050Ti 4GB GDDR5. You can then further customise the rig to suit your need and budget including changing its processor, graphics card, cooling system, RAM (starting with 8GB, upgradeable to 32GB) solid state and SATA drives and various other after-sales services.
With the option to run the machine with an i7 processor and GTX1060 graphics card powering this baby, we shall spare you the nitty gritty details and assure you that it will play all your latest games in high specs sans any hiccup.
Final Verdict
The ONYX is a great choice for those who demand that personal touch when it comes to their gaming laptop. In the ONYX, ILLEGEAR have successfully found that rare balance of power, portability and price when it comes to gaming laptops.
While ONYX is by no means cheap – we believe you'd be getting a good deal from the price you would be paying for it. Without sacrificing power for portability, the ONYX may very well be the new standard bearer for us when it comes to gaming laptops in 2018.
What We Loved:
The form factor + relative lightweight compared to similar models in the market
All the necessary ports are there
Classy finish
A Bit on the Meh Side
The keyboard isn't the best out there
The fan can get a bit too loud if you crank it all the way up
Full Score: 85/100Â 
RECOMMENDED
Related