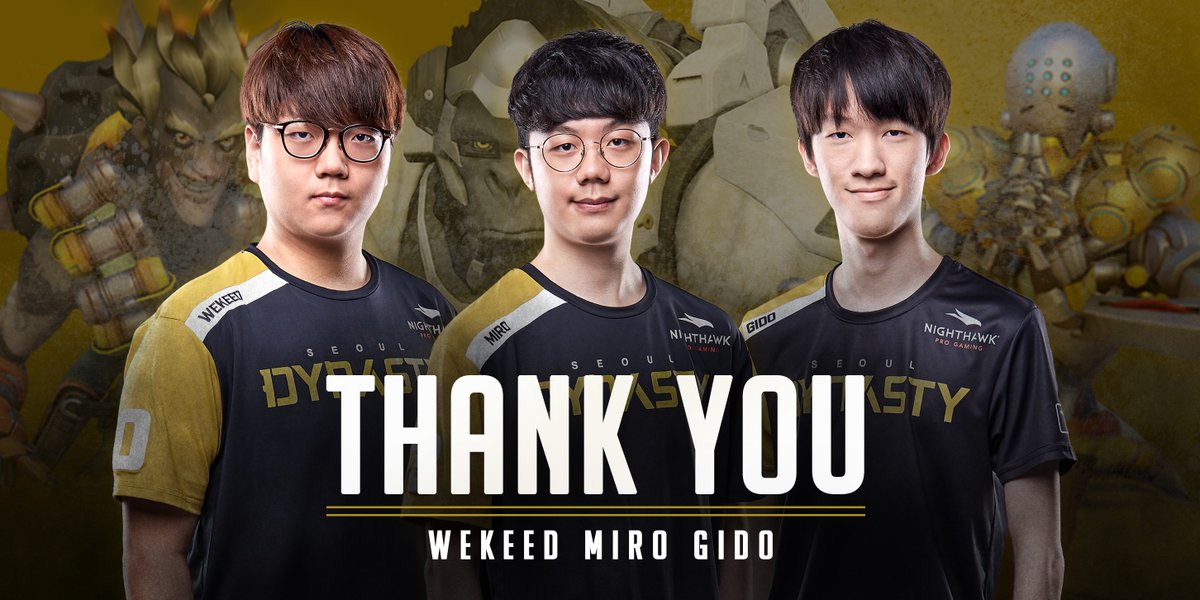 by in
The Seoul Dynasty shocked the Overwatch League scene today when they announced the release of three players, including two-time OGN APEX and Overwatch World Cup winner Jin-hyuk "Miro" Gong getting the axe. Joining Miro are Support main Gi-do "Gido" Mun and DPS Seok-woo "Wekeed" Choi.
We at #SeoulDynasty would like to thank Gong Jinhyeok 'Miro', Moon Gido 'Gido', & Choi Seokwoo 'Wekeed' for their services during the season.

We wish them the best in their futures. Once a tiger, always a tiger. 🐯

Thank you to our fans for your continued support. pic.twitter.com/MFLrYkbfQD

— Seoul Dynasty 🐯 #TeamPacific (@SeoulDynasty) September 3, 2018
After a dreadful end to their Overwatch League Season 1 campaign, it was understandable that the Dynasty were in for a full overhaul and they recently bolstered up their tank line with the acquisition of Chan-hyung "Fissure" Baek from the Los Angeles Gladiators. We expected to see Kuki to depart which leaves Fissure and Miro as the Dynasty's main tank line hence our surprise of this announcement.
Known to be one of the best Winston players in the world, Miro haven't been his normal self throughout the inaugural Overwatch League season as he constantly found himself in failed dives, losing duels and ultimately failing to effectively protect his backline. We honestly felt the inclusion of the more aggressive Fissure would allow him more room to play his normal game; countering dives and protecting his Supports.
Gido's departure was also a surprise as it leaves only team captain Ryujehong and 'Boop God' Tobi as Support mains in the current squad. As for Wekeed, we always felt he had it tough to dislodge Fleta and Munchkin from the starting DPS slots and we wish him all the best going forward.
With the departures of Gido and Miro, the Lunatic-Hai core which forms the Seoul Dynasty is now down to three (Jehong, Tobi & Zunba) as the team seek to redeem themselves in Season 2 of the Overwatch League. From the outset, the strongest Seoul Dynasty team setup should see Ryujehong and Tobi on Support, protected by the tank corps of Zunba and Fissure with Fleta and Munchkin being the main damage dealers.
You can keep track of the Overwatch League transfers and player movements here as well.
---