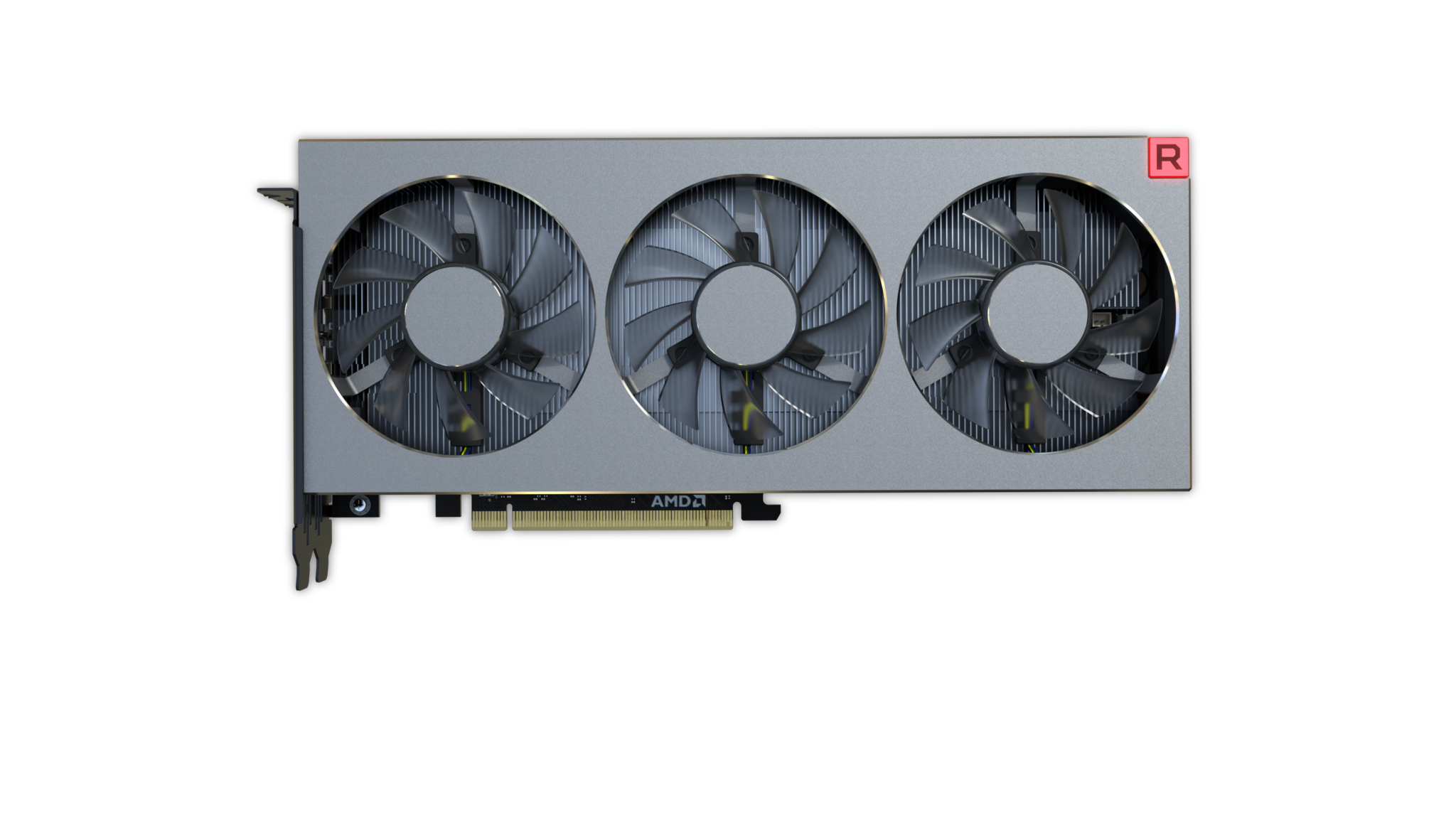 The graphics card market has been in the clouds lately, with the rise and crash of cryptocurrency as well as the introduction of Nvidia's next-gen cards, the RTX lineup, AMD wasn't one to stay silent, releasing a brand-new lineup to go head-on against Team Green's new stack of cards.
Dubbed the Radeon VII, it brings to the table a flurry of features and the specs are astounding as well. The Radeon VII is described to perform exceptionally especially for the latest triple-A titles, esports as well as VR games. The new card is also a powerhouse for getting those demanding 3D rendering and video applications done.
Built on a strong foundation
The Radeon VII is designed and built on the enhanced second-generation Vega architecture. So, you can already imagine the power behind the beautiful design. What's more impressive is that the Radeon VII has TWICE the memory and TWICE the memory bandwidth compared to its predecessor, the Radeon RX Vega 64. This means the card has more than enough power for demanding content such as high-refresh HDR gaming at 1080p, ultrawide 1440p and 4K while propelling next-generation photo and visual creation applications on vibrant 8K monitors.
AMD claims that the card is aimed towards gamers, content creators and enthusiasts. To prove that, these are some of the benchmark tests done against Nvidia's RTX 2080: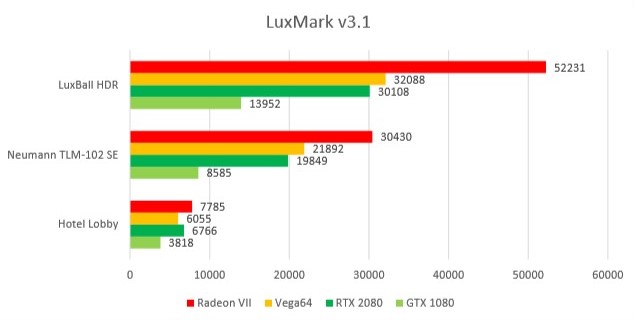 What will the Radeon VII bring to the table?
AMD's competitor against the RTX has a tall wall to climb, but with the features announced, it has its own tricks up its sleeve.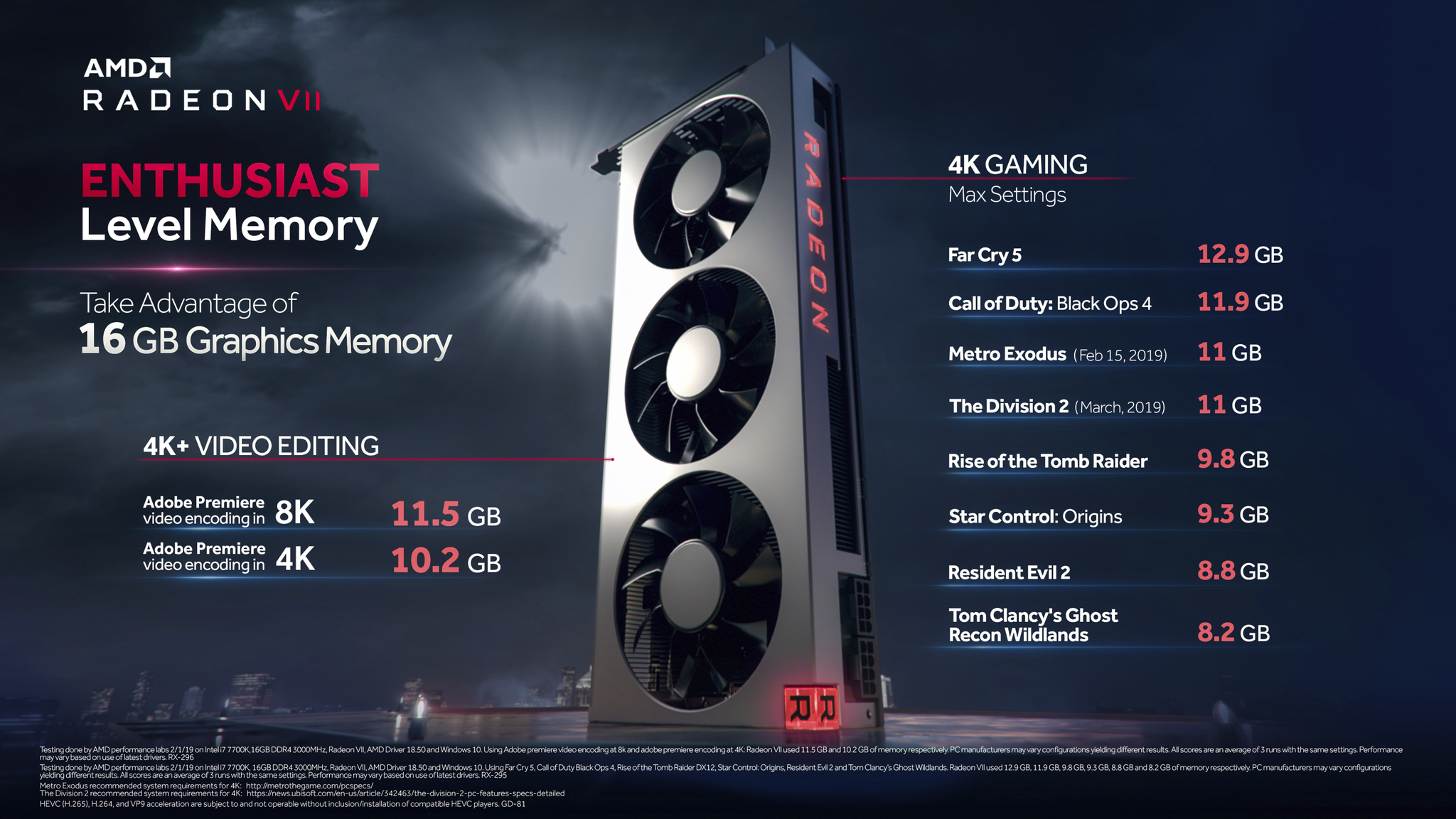 The features include:
60 compute units, 3,840 stream processors and the card can clock up to a whopping 1,750 MHz to drive excellent gaming performance and hyper-realistic images.
A massive array of 16GB HMB2 VRAM with 1TBps bandwidth and a 4,096-bit memory interface enable ultra-high-resolution textures, hyper-realistic settings and life-like characters.
Remarkable DirectX 12 and Vulkan performance, with improvements of 35% in Battlefield V and 42% in Strange Brigade compared to the Radeon Vega 64.
Performance to drive 3D rendering, video editing applications and next-generation compute workloads, including up to 27%higher performance in Blender, up to 27% higher performance in DaVinci Resolve 15 and up to 62% higher performance in the LuxMark benchmark compared to Radeon Vega 64.
Radeon FreeSync is available and offers more than 650 compatible displays, delivering buttery smooth gaming at almost every price point. Radeon FreeSync 2 HDR offers more than 2X better brightness and colour volume compared to sRGB.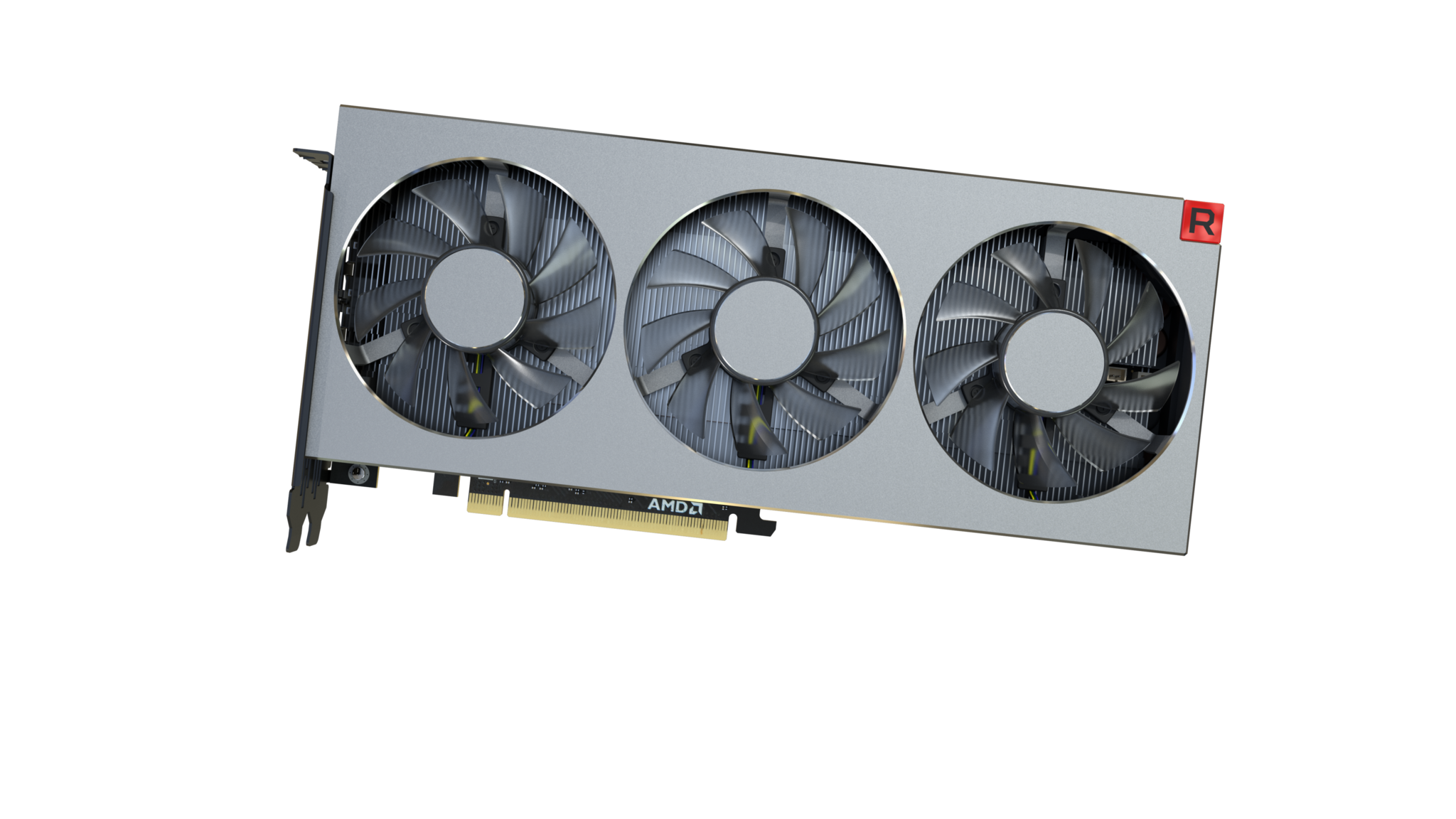 Radeon VII is now available to purchase on AMD.com for $699 USD (~2,844 MYR). AMD also offers a bundle aptly named the 'Raise the Game Fully Loaded' bundle, which awards buyers of the Radeon VII or a Radeon VII powered PC a complimentary PC version of some of the most anticipated games of 2019. These include Resident Evil 2, Devil May Cry 5, and The Division 2. A pretty good deal, if I should say so myself.