Chinese Final Fantasy XIV Players Are Stuffing Themselves With KFC For Chocobo Codes
Fast food franchise and game tie-ins aren't especially new, but this Final Fantasy XIV promo takes the cake. Or massive buckets of chicken in this instance.
China's KFC outlet is holding a promo that offers Final Fantasy XIV a sweet Fat Black Chocobo mount code for use in-game. Here's the catch:
You have to buy a KFC family deal for four. That's 1 Double Chicken Burger, 1 Vegan Mushroom Burger, 1 5-piece Chicken Nuggets, 2 Original Recipe Chicken, 1 2-piece New Orland Chicken Wings, 1 Old Beijing Spicy Duck Roll, 2 large Pepsis, and 2 large Peach Oolong Tea (translated via Reddit's Cozywolf).
You can't dabao this; you have to eat the whole thing at the venue. Once you finish it, the KFC staff will hand you the code.
To recap, one family deal which contains that gargantuous amount of food will net you one code. If you want your pals to have the same matching bird mount in-game, you'll have to attempt a real-life raid with really, REALLY hungry friends.
Here's a sneak peek at what it really looks like:
And the crazy part? Some FF14 players have already succeeded. Solo. Come check out the results, complete with appropriate captions via that same Reddit thread.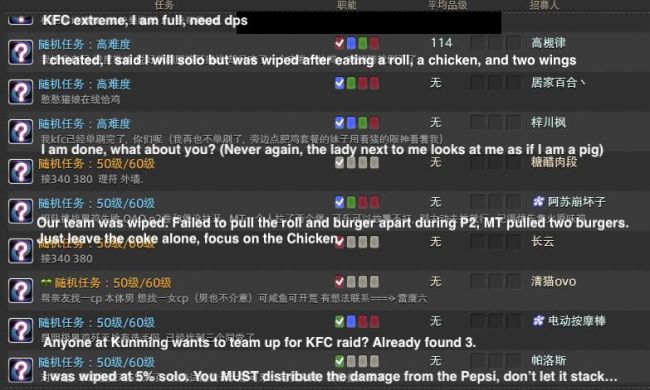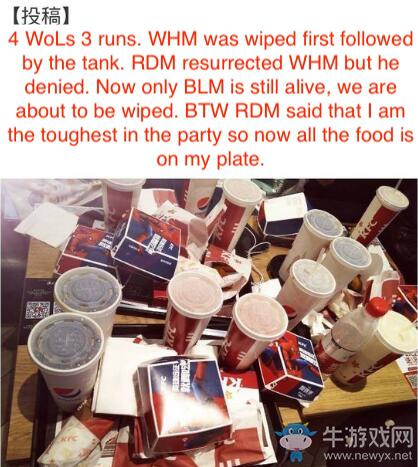 If you'd rather not get your stomach pumped after this chicken-laced ordeal, why not just get on-board the new Final Fantasy XIV Shadowbringers expansion for PC and PS4? We've got a pretty awesome guide to sort out your endgame plans.