By Burhanudin Zamri|October 7, 2019|
Update: Bethesda has confirmed that the Fallout Legacy Collection is indeed coming out on 25 October 2019 for PC but it will only be released in the UK and Germany. Why? Well, that's what everyone wants to know and Bethesda is keeping mum about it. Personally, I think they're just drumming a controversy so that they can use the outrage as marketing.
The last time I reported about Amazon leaking a video game product was when somebody accidentally listed the Overwatch Nintendo Switch case prior to the game's Switch port announcement. This time, someone might have done something to make Todd Howard very upset.
As of writing this, a listing for the Fallout Legacy Collection for PC is up on Amazon Germany. As you can see below, it's priced at €39.99 (~US$44 and ~RM180) which is pretty affordable considering that you'll be getting six full-fledged Fallout games complete with all DLCs.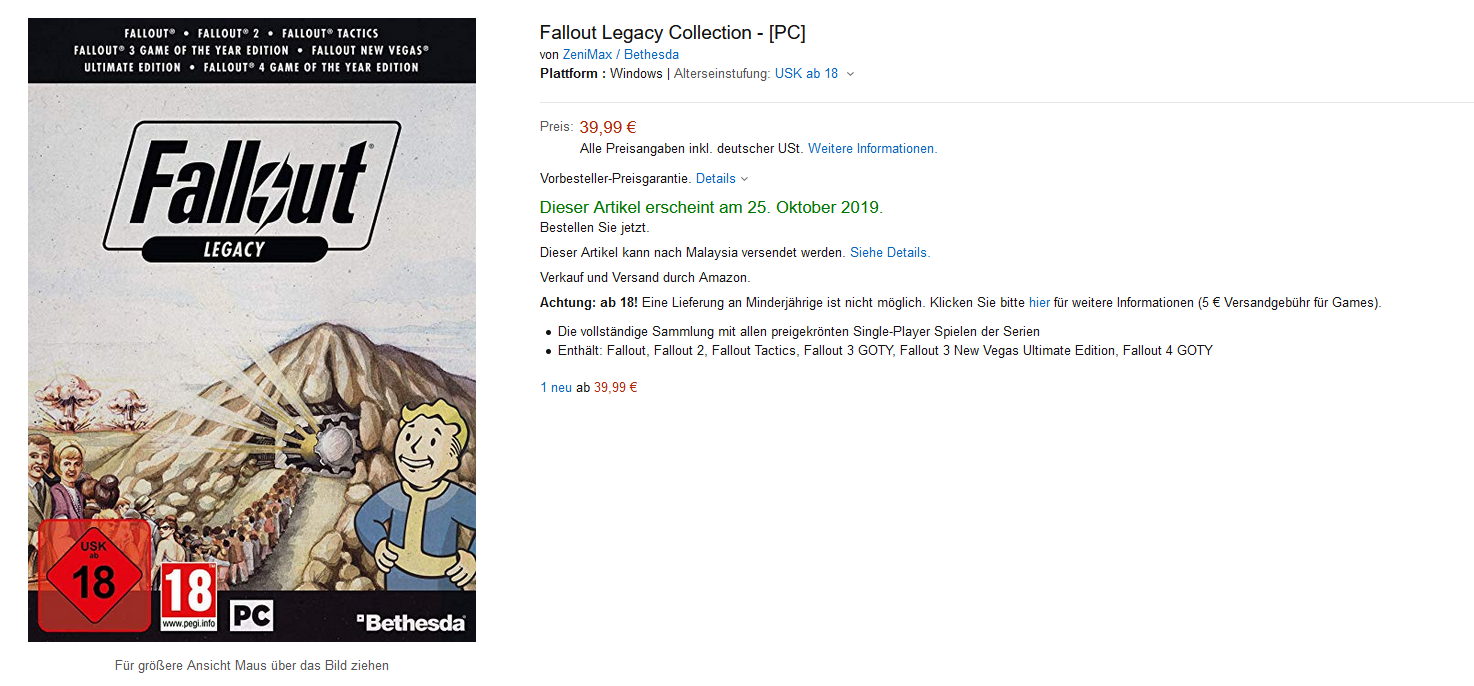 Games included in the collection are Fallout, Fallout 2, Fallout Tactics, Fallout 3: Game of the Year Edition, Fallout New Vegas Ultimate Edition, and Fallout 4: Game of the Year Edition. Looks like even Bethesda has acknowledged that nobody wants Fallout 76, even if it's offered in a cheap bundle.
I Google-translated the description and here is what it says:
The full collection of all award-winning single-player games in the series!

Return to Odland with the Fallout 4 – Game of the Year Edition.

It contains all the gameplay updates, graphic enhancements, the ability to download and play free mods on PCs and consoles, and all six official extensions.

Welcome back to New Vegas!

With Ultimate Edition, Bethesda Softworks is putting together the complete Fallout: New Vegas package.

The main game with the four additions Dead Money, Honest Hearts, Old World Blues and Lonesome Road will immerse you even deeper into the world of New Vegas.
According to the Amazon Germany listing, the Fallout Legacy Collection is scheduled to launch on 25 October 2019 but so far only a listing for the PC version is up so we'll have to wait and see if consoles will be getting it too or not.
Related